There is no doubt videos perform much better than images and text, that's a given fact. But, being on a video like Youtube or any other video platform can be a little intimidating for some people like me.
Today, in this day and age, TikTok is taking the world by surprise. A platform for short videos that are geared mostly towards a younger audience. My kids, who are 6 and 9, know how to use it and record videos daily.
Ok, that's for them, they just want to have fun and that about it.
For others, it is a money-making machine. They were able to make sales, have leads, and make an online business out of TikTok.
If you prefer to watch a video version, it is here
In this 15 Second Free Leads Review, I am going to address the following:
WHAT IS TIKTOK?
It is a platform for making short videos attractive to younger generation for it's ease of use and simplicity.
It was available since 2017 but gained popularity in late 2018 and
especially, 2019. It is unique in the sense of the ease of creating simple
videos and sharing them.
To see the power of TikTok, let's see the table below
| Downloads | 1.5 Billion |
| --- | --- |
| Downloads on app store | 33 Million |
| Demographic | 41% age 16-24 |
| Users in USA | 123.8 Million |
| Time spent on TikTok per user per day | 52 Minutes |
| Availability worldwide | 155 Countries |
| Adult users growth in the last 18 months | 5.5 times grouth |
See below how TikTok is trending over the last 12 months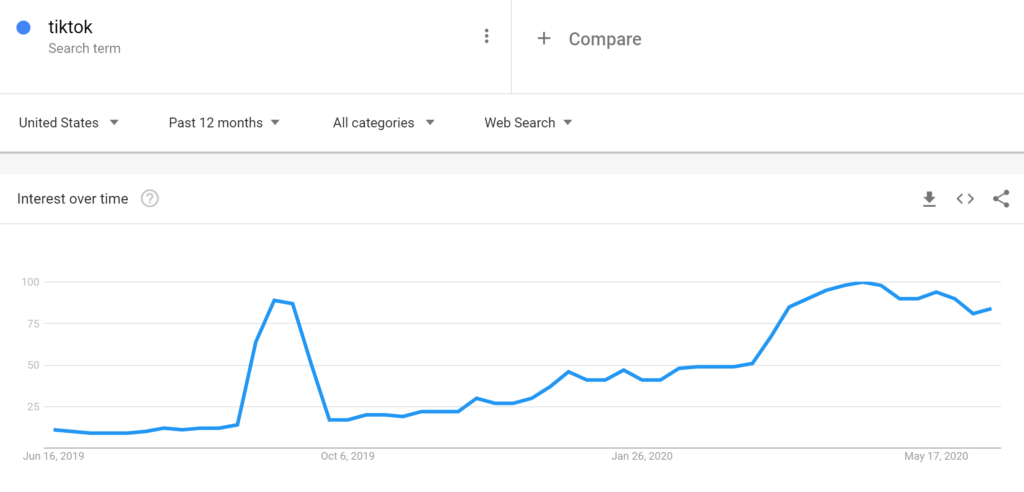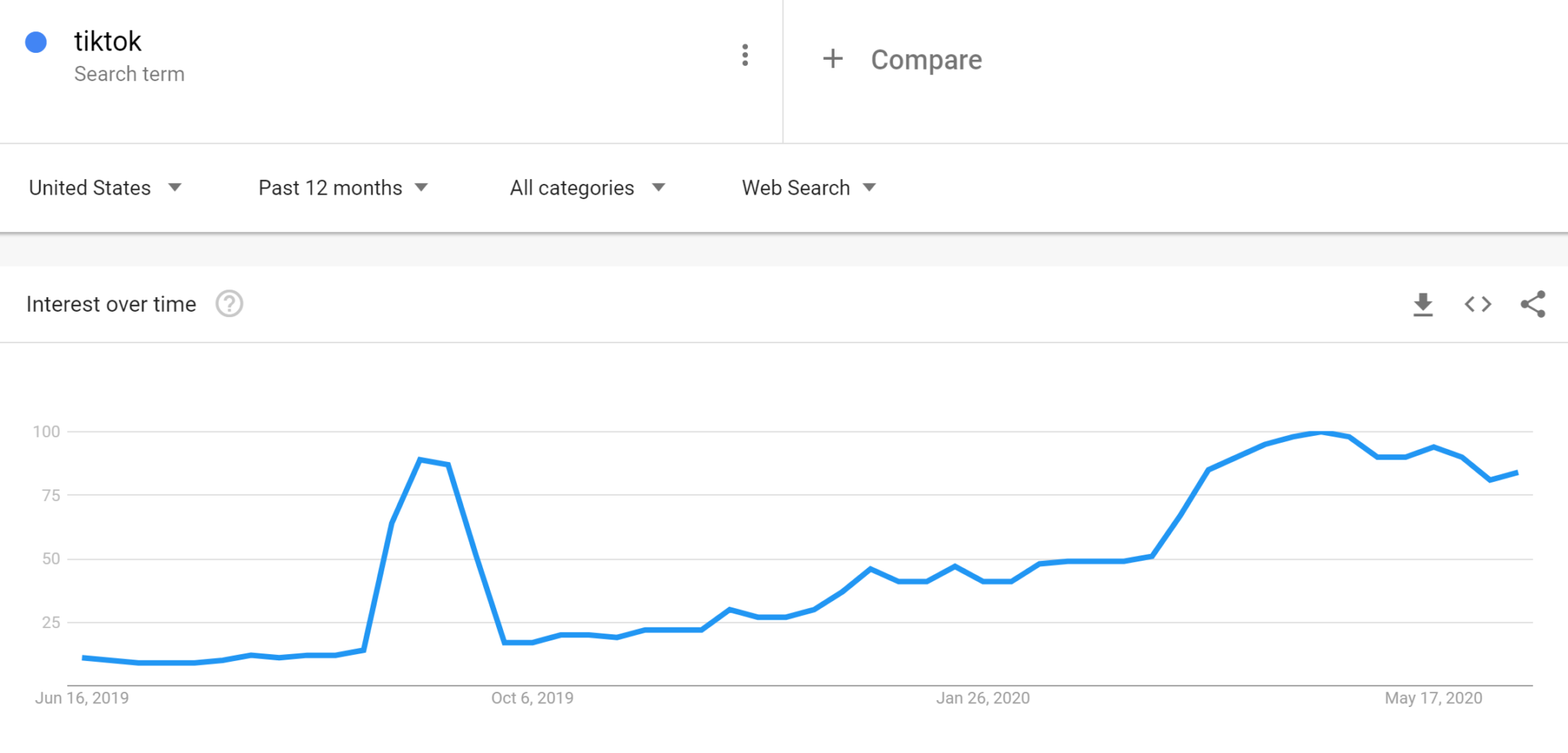 WHAT IS 15 SECOND FREE LEADS REVIEW!
15 Second free leads is a course presented by Legendary Marketer to teach you everything you need to know to gain followers on TikTok and eventually free leads to your affiliate program.
The course explains everything about TikTok that you need to know from how to set up your frofile, what kind of videos you need to post, the best time to post on TikTok, how to make money, and many more.
It is a video course created by Legendary Marketer interviewing people who had success using TkTok to generate leads to their landing pages and sales funnels.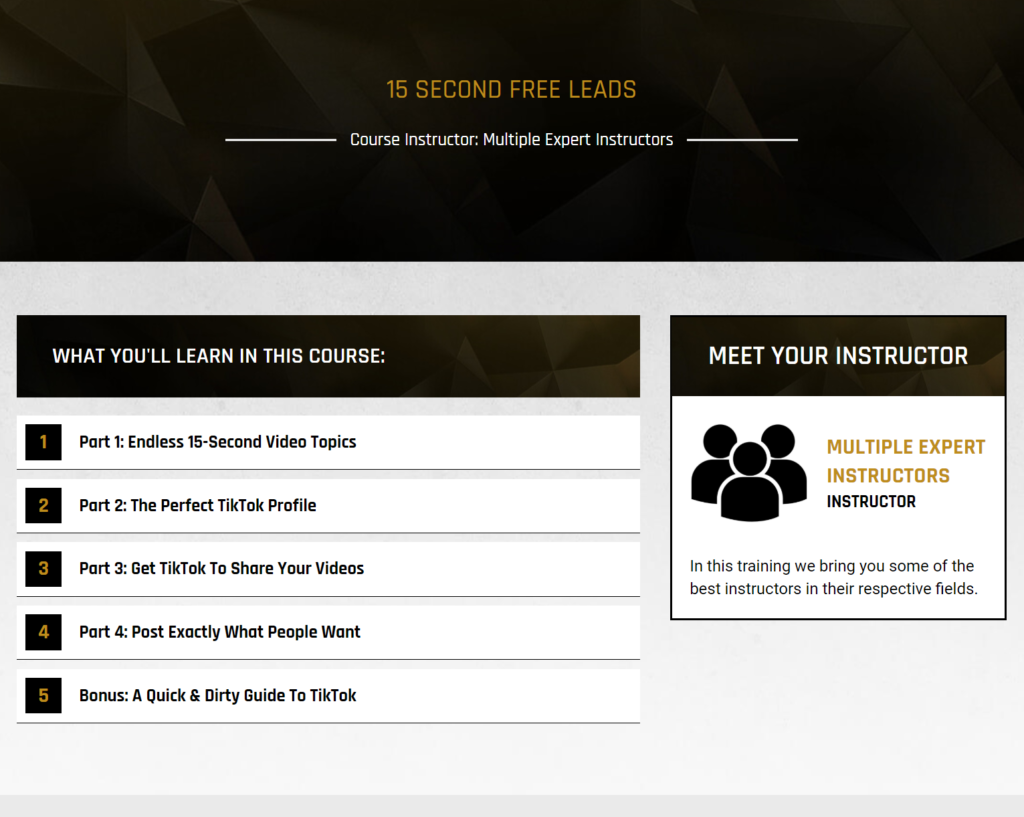 The course is hosted by Dave Sharpe of Legendary Marketer and thought by multiple experts in the field. It contains five video lessons for more than 100 minutes.
A LOOK INSIDE MY 15 SECOND FREE LEADS COURSE
Let's take a look inside the course that I took to see what it is all about
PART 1: ENDLESS 15-SECOND VIDEO TOPICS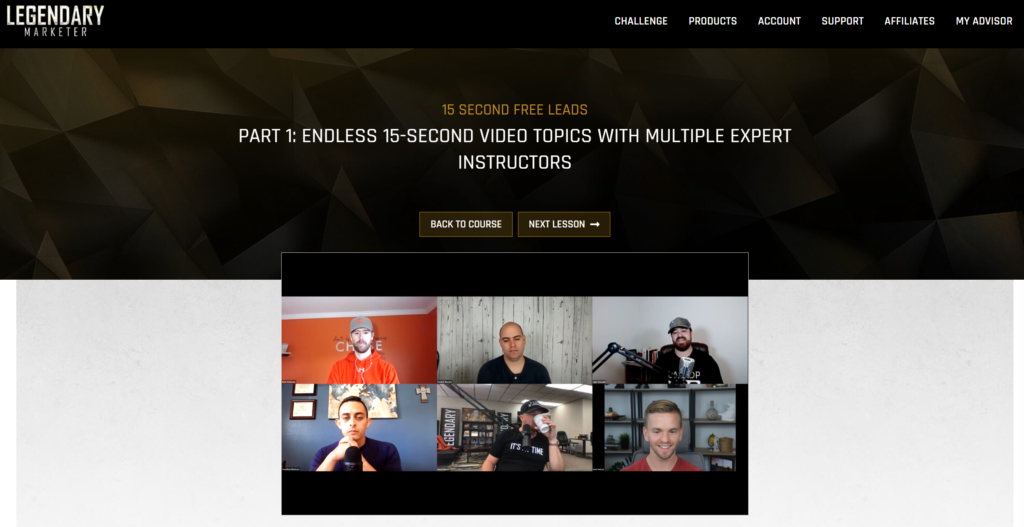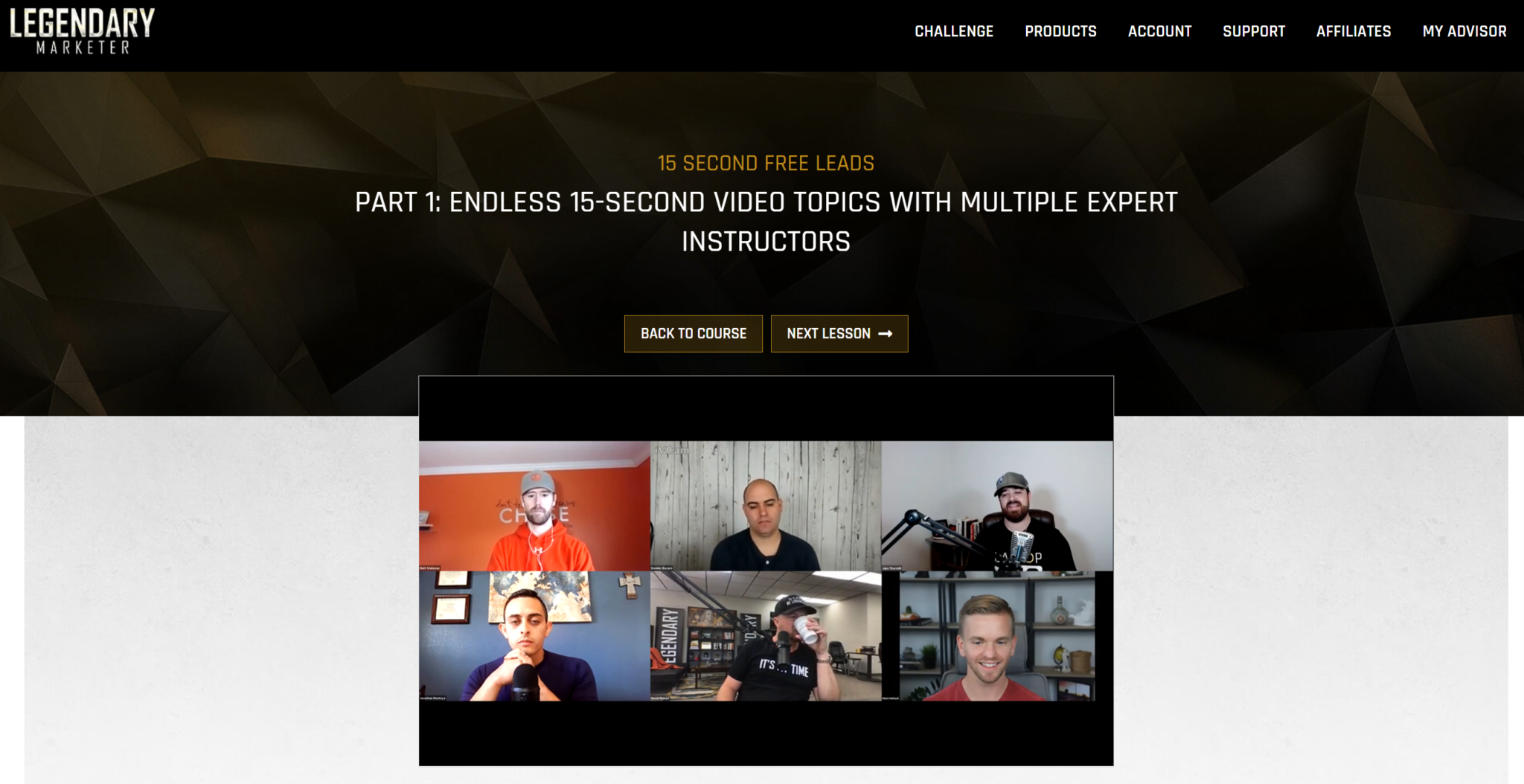 When creating a copy, regardless it is written or video. When creating content, the idea or topic can be challenging to come up in many cases.
This part of training is presented by Jake Thornhill, who tried many forms of business in the past. In this part, he explains how to come up with an endless idea of creating content of clips on TikTok.
PART 2: THE PERFECT TIKTOK PROFILE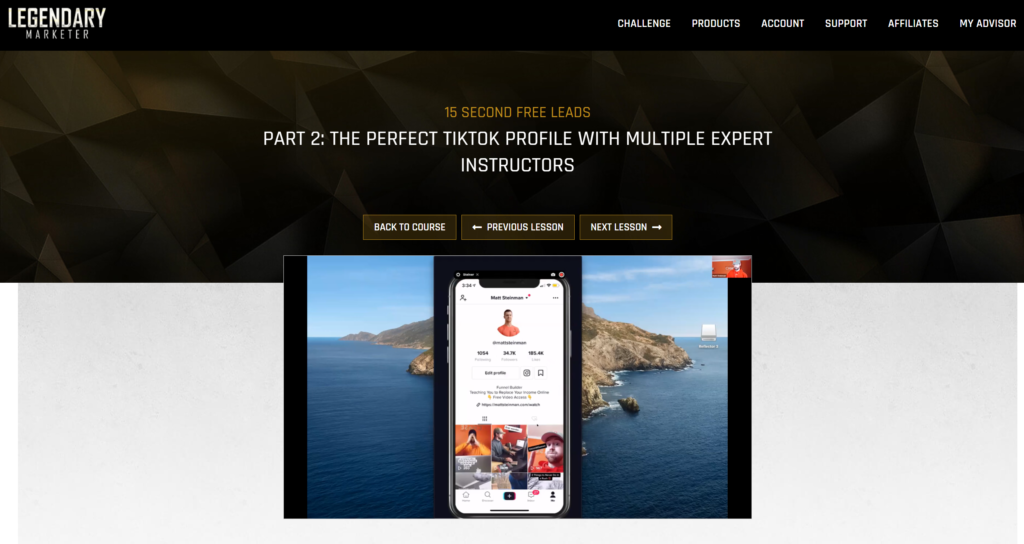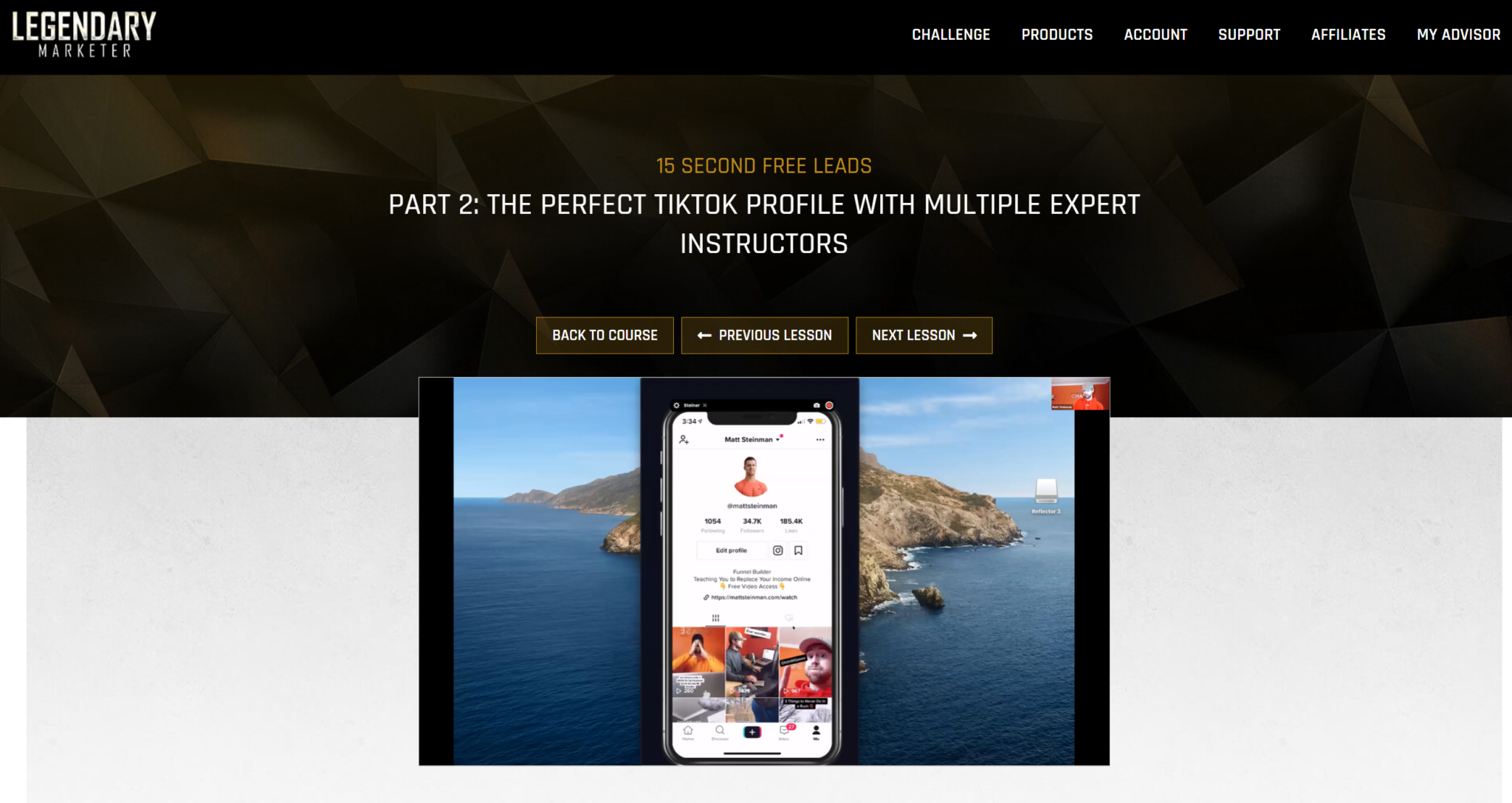 Matt Steinman explains the formula on how to set up your TikTok profile to generate unlimited leads. TikTok, like any other platform like Youtube, Pinterest, and Instagram, has a profile area that needs to be optimized for leads.
Profile is the most important part of any platform to generate leads. Matt, generated $10,000 using the points he teaches in this training with a single affiliate program.
PART 3: GET TIKTOK TO SHARE YOUR VIDEOS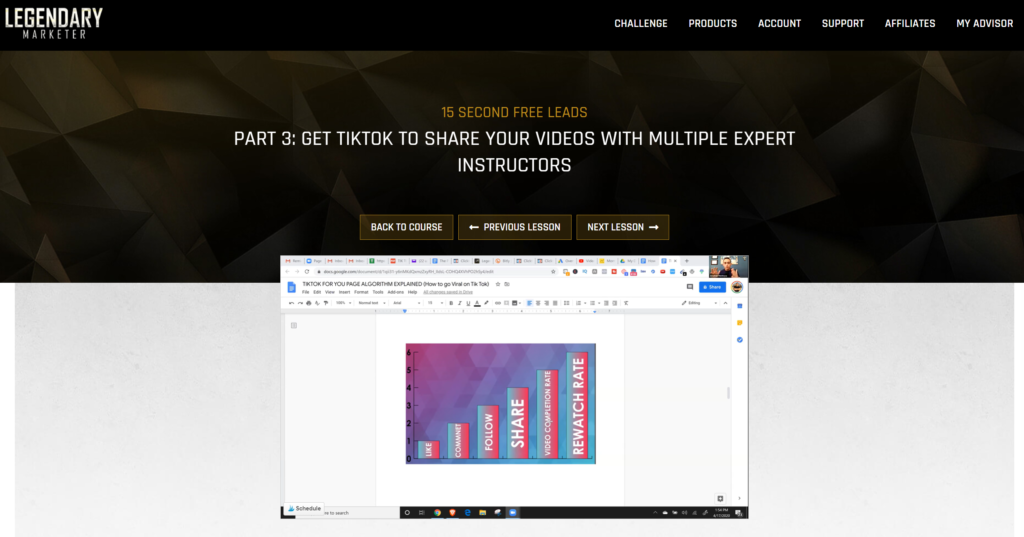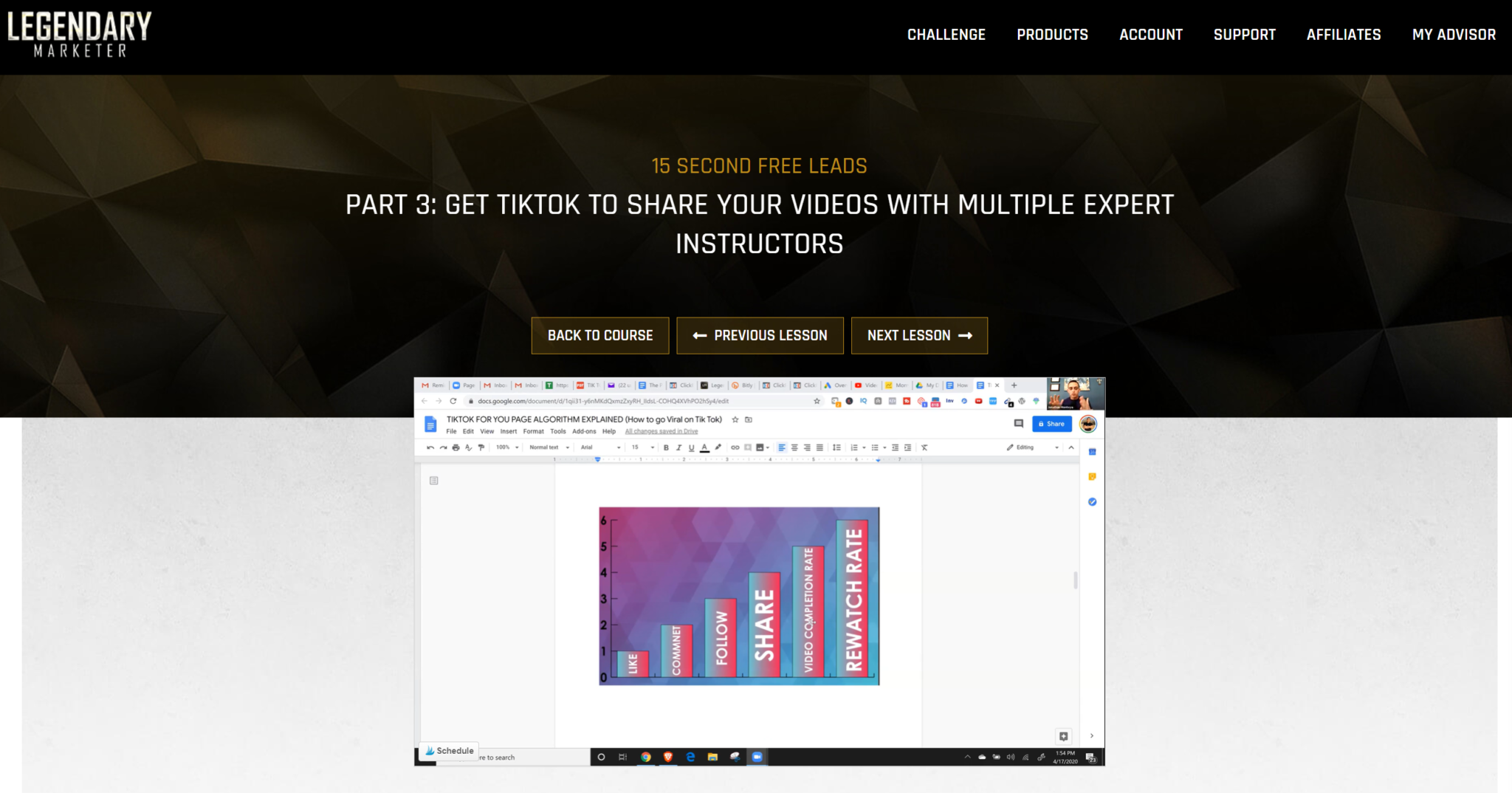 Google, Youtube, Instagram, and others have algorithms on boosting your content, and TikTok is not an exception. In this part, Jonathan Montoya explains how to understand the algorithm of this platform and use it in your favor.
This is powerful because it means you don't have to spend on advertising to spread your content and use the algorithm to make TikTok advertise it for you free.
PART 4: POST EXACTLY WHAT PEOPLE WANT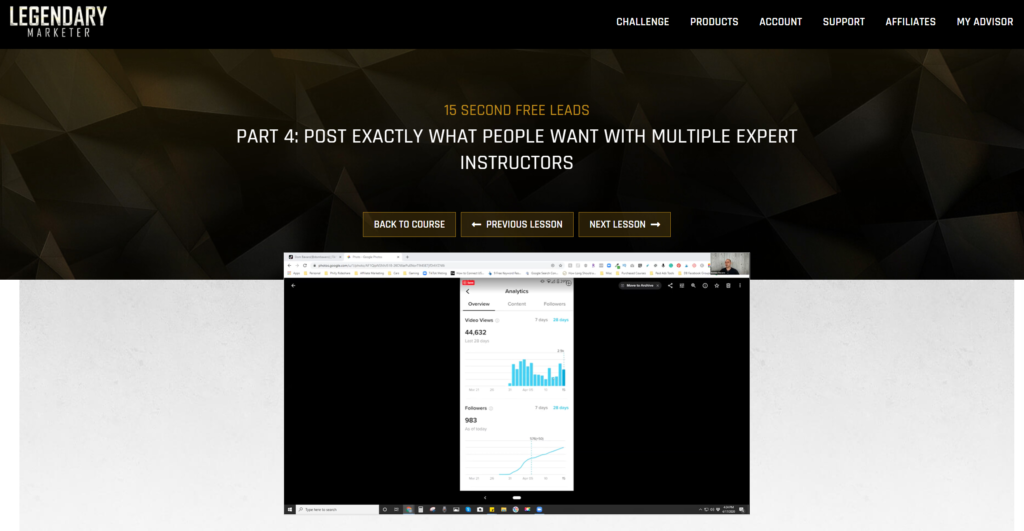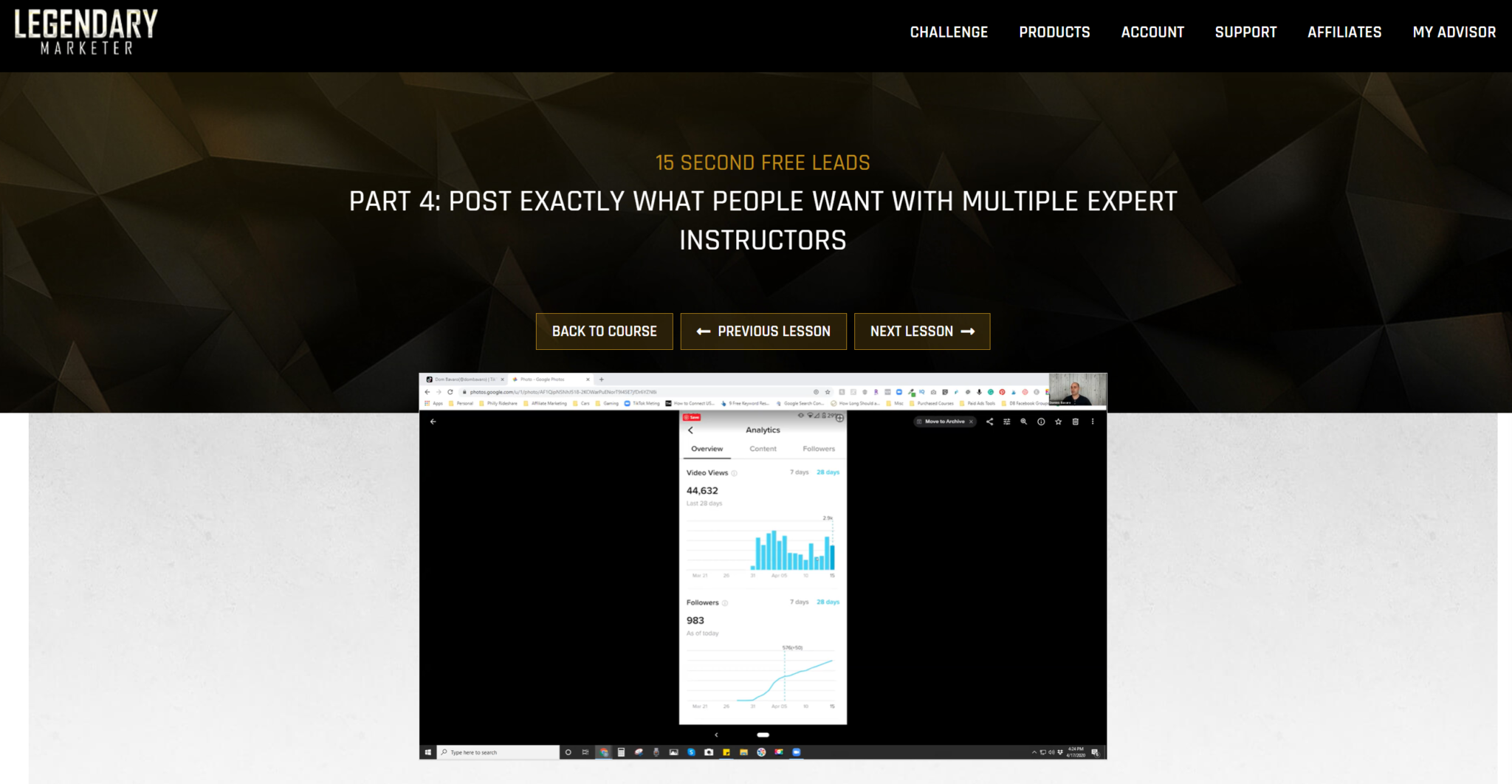 Dom Bavaro got more than a thousand followers and made five affiliate sales within the first two weeks of opening his account. Keep in mind these are high ticket sales. That is because he knew what exactly people want to watch and posted in-demand content. He is teaching his method on how to do that in this part of the training
The above four marketers were selected to teach this course because they made a successful business out of this platform and made money. They shared their experience and how they did it.
One more bonus lesson…….
BONUS: A QUICK & DIRTY GUIDE TO TIKTOK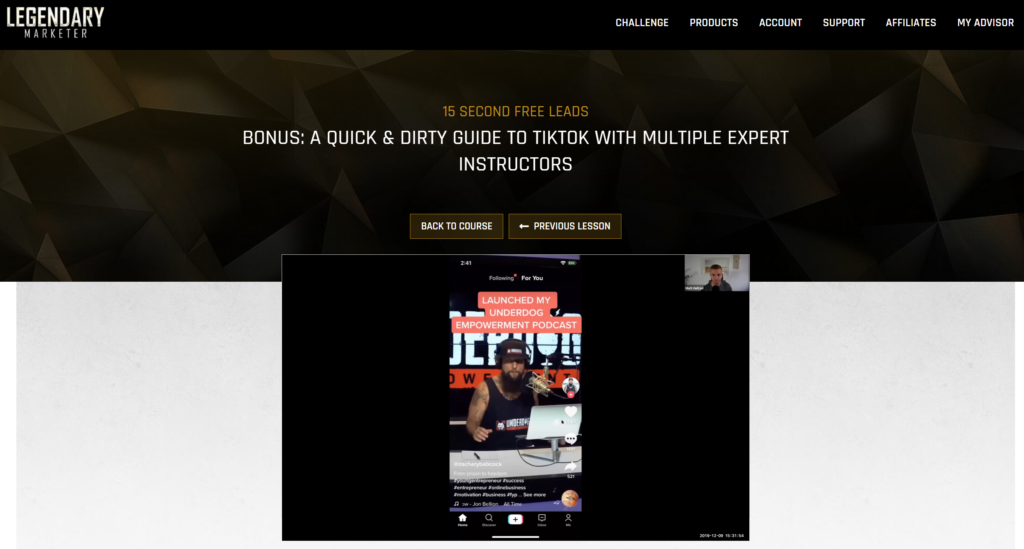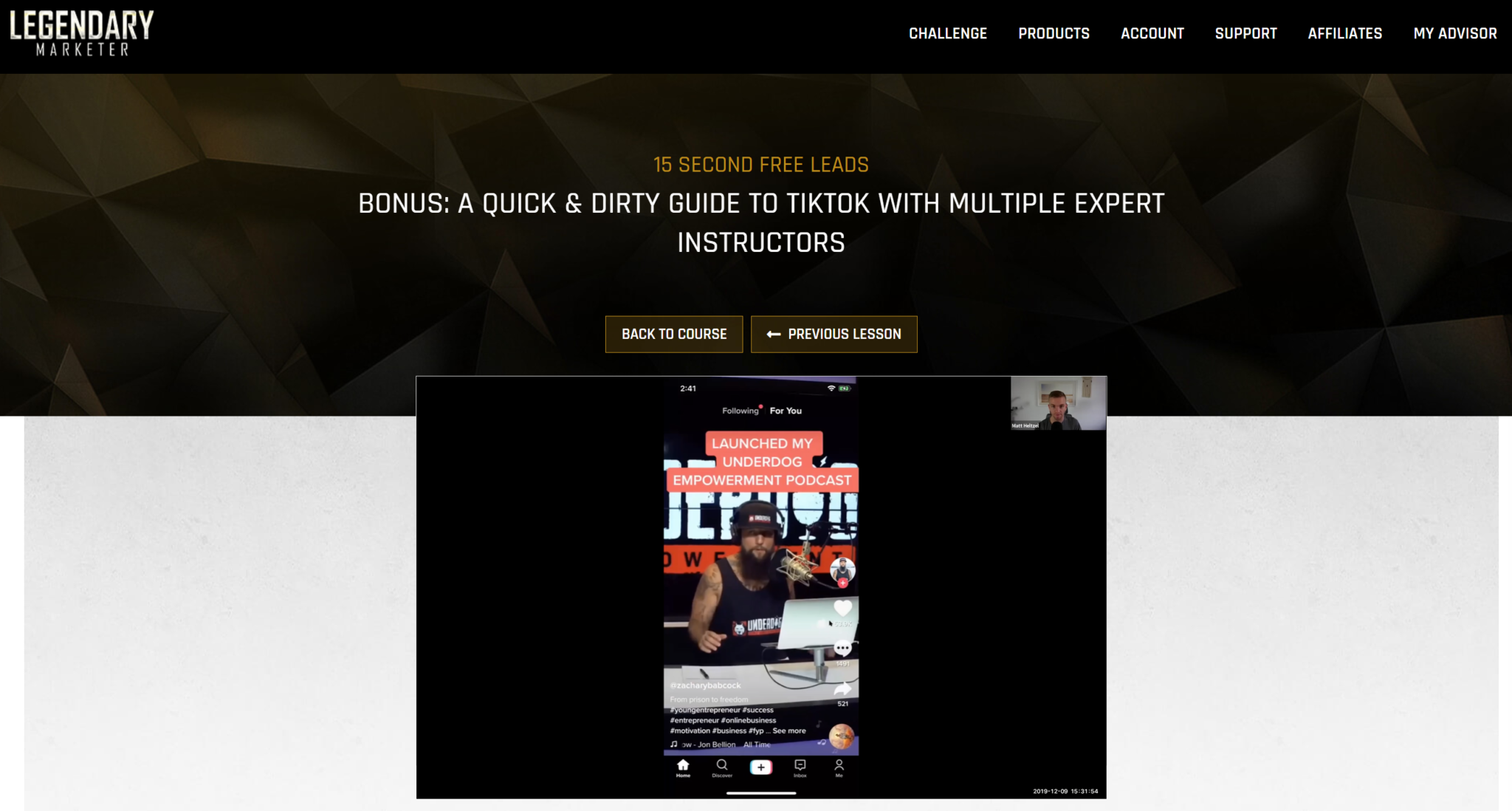 In this bonus part, Matt Heltzel from Legendary marketer shows you how to use the app, how to set it up, the functions, and the ins and outs of the app.
He shows you live how to post a video and shows you that no matter how inexperienced you are when it comes to technology, you can still use the app and be up and running in no time.
IS THE TRAINING RIGHT FOR ME?
The training is right for anyone who wants to generate leads, followers, and sales. It is presented by Legendary Marketer that is a $200 million company.
WHAT IS THE PRICE OF 15-SECOND FREE LEADS?
It costs $1
Yes, it is hard to believe but, that is the price. It even gets better, see the bonuses that come with this $1 training…….
Bonuses:
15-day online business builder challenge (SEE MY DETAILED REVIEW)
Facebook ad template
Email templates
Video scripts
Phone scrips
Personal business plan consultant
IS THERE ANY REFUND POLICY?
Yes, there is a 30-day full money-back guarantee, no questions asked. David Sharpe also promised that the refund would be quick.
To be honest, not many people really care about $1
WHAT DO PEOPLE SAY ABOUT THE 15-SECOND FREE LEADS TRAINING?
There are tons of testimonials about the training; you can read them all. A lot of people give an excellent review of the practice. To reflect a few of them, see below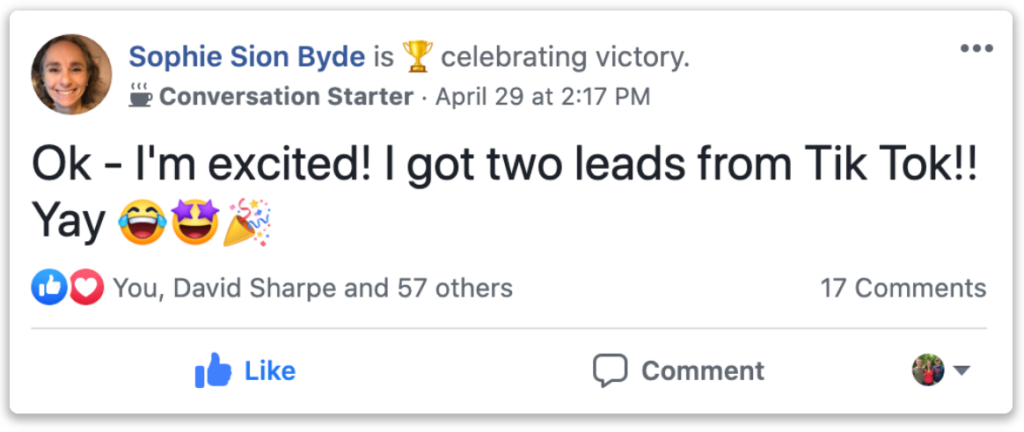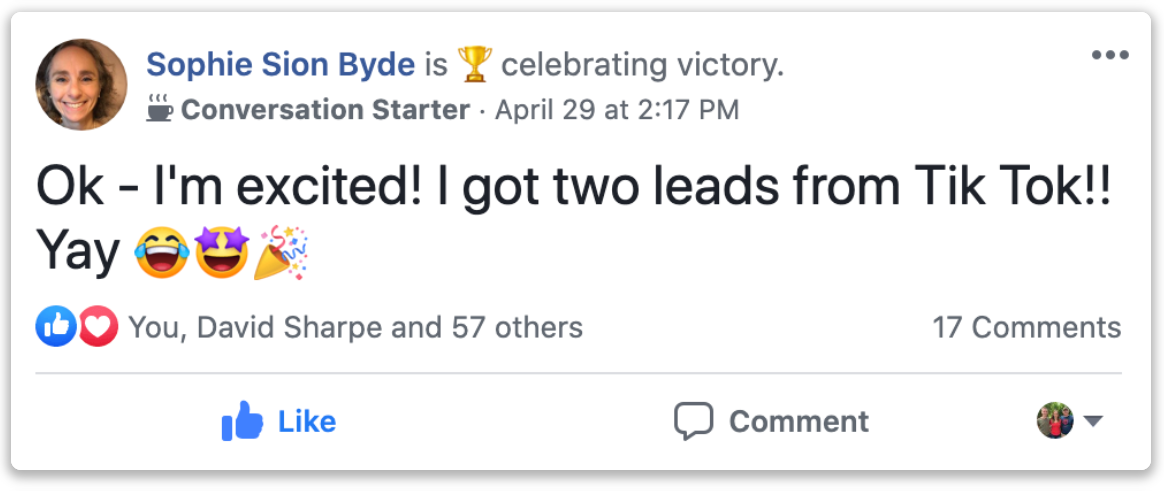 MY EXPERIENCE WITH TIKTOK
A few months ago I downloaded TikTok on my cellphone, I looked at it, I watched some videos, and I didn't like it. I thought it is meant for kids, and videos are silly.
I didn't go back to it.
My nine years old son was using my account to post silly videos and just have fun with it. I didn't mind that because I see the joy he is having in doing that.
A few weeks ago, I saw on the internet that some people are making money on TikTok. I did some research; it is true. I decided to give it a shot. So, I took the 15 Second Free Lead course, made another TikTok account and here are my results after 12 hours of making that account:
15 followers, 85 likes, and hundreds of views to my videos.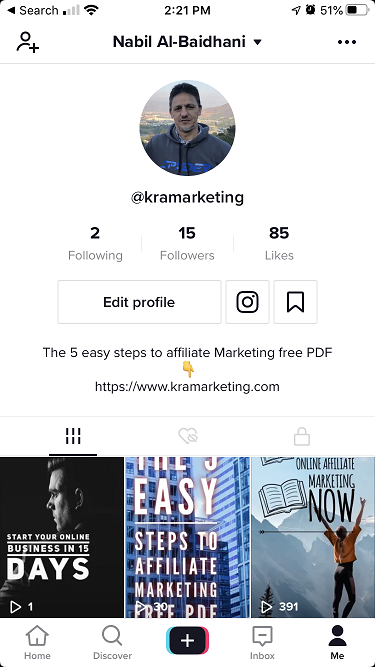 I didn't make a sale yet, but, it is promising to have this kind of stats in 12 hours with four videos that are just text (I will be updating the stats often)
FINAL THOUGHT
I hope you enjoyed and benefited reading my review of the 15 second free leads training. In my opinion, this is the easiest way to get leads and establishing your online business.
Just think about it, you don't need too much time to do this, you don't need technical experience, and it comes with all the bonuses from a well-known company and a famous leader in the industry.
The training is well fit for beginners and those who are advance in marketing. What makes it even better is, marketing on TikTok is new and trending, which means there is no much competition at the moment.
$1 for all this goodness is priceless
I give this product 4.9 stars out of 5
I hope this 15 Second Free Leads Review was educational on what it is and what can you get out of the course.
MY BONUSES….
When you join the 15-Second free leads, I will give you the following bonuses as a thank you for using my affiliate link.
Just email me (suport@kramarketing.com) the proof of purchase and I send you the bonuses.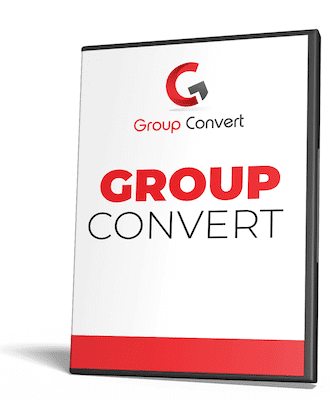 1. Croup Convert
It is a tool (Chrome extension) that collects email addresses of each member of Facebook group and dumps them in your autoresponder of choice automatically.
As you know that you don't own the audience of any FB group but this way you can get their email address and put them into your funnel
Value $197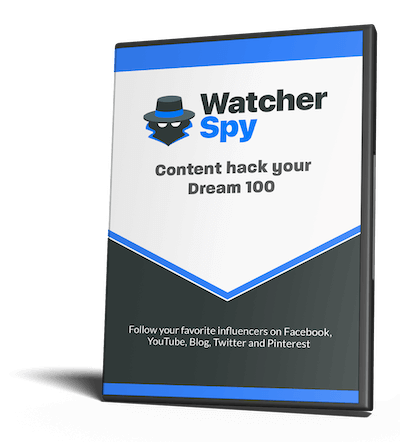 2. Watcher Spy
If you have an online business, surely you have people you follow to learn from them.
But, it can be a chore to check if someone from your list has something new.
Watcher Spy is a Chrome extension that tells you about their new blog post, Youtube video, tweet, Pinterest pin, or Facebook post all in one place. So, in short, it keeps you up to date and saves you a lot of time.
Value $197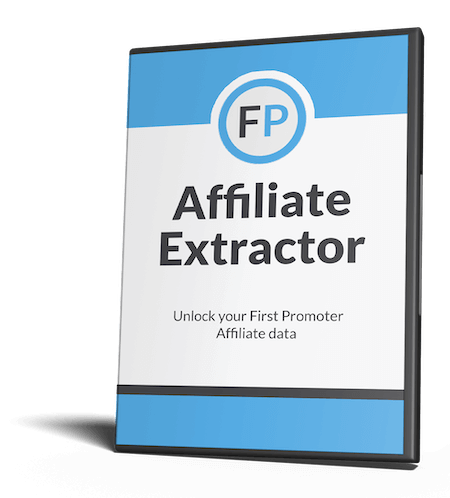 3. FP Affiliate Extractor (Coming soon)
You must know the power of email marketing and follow up with those who showed interest in your offer.
FP Affiliate extractor is a Chrome extension that you can use with all your First Promoter affiliate accounts (Super Affiliate Accelerator, Buildapreneur, SurferSEO, Friend or Foe, Pepper, and many others)
FP AE continuously monitors all those accounts and pushes your affiliate emails to Google sheet
Value $297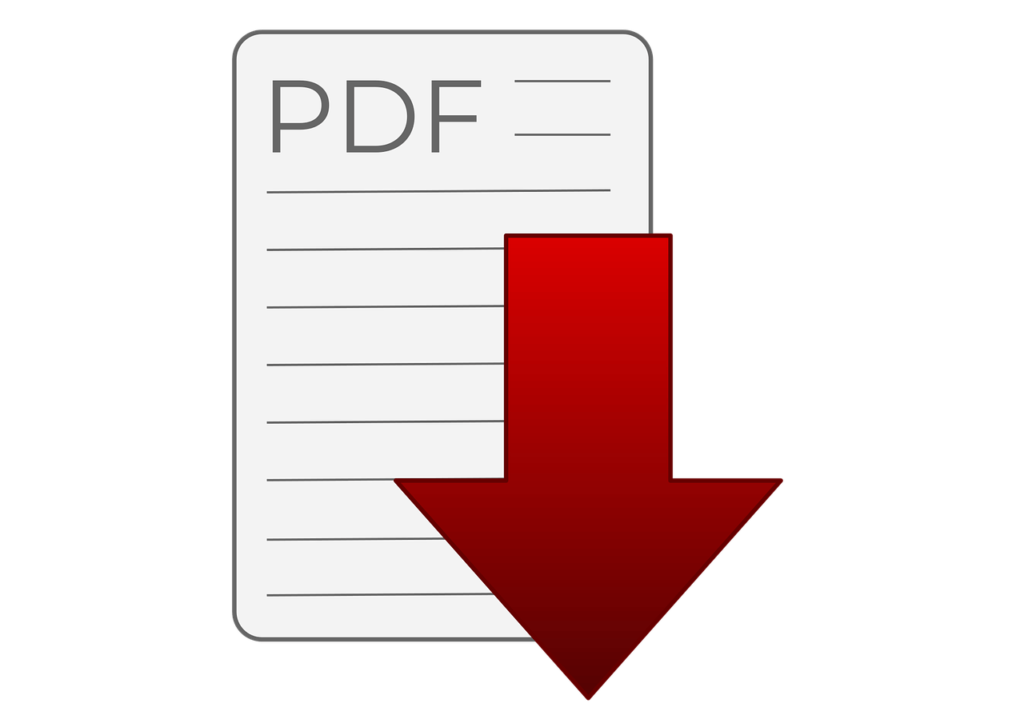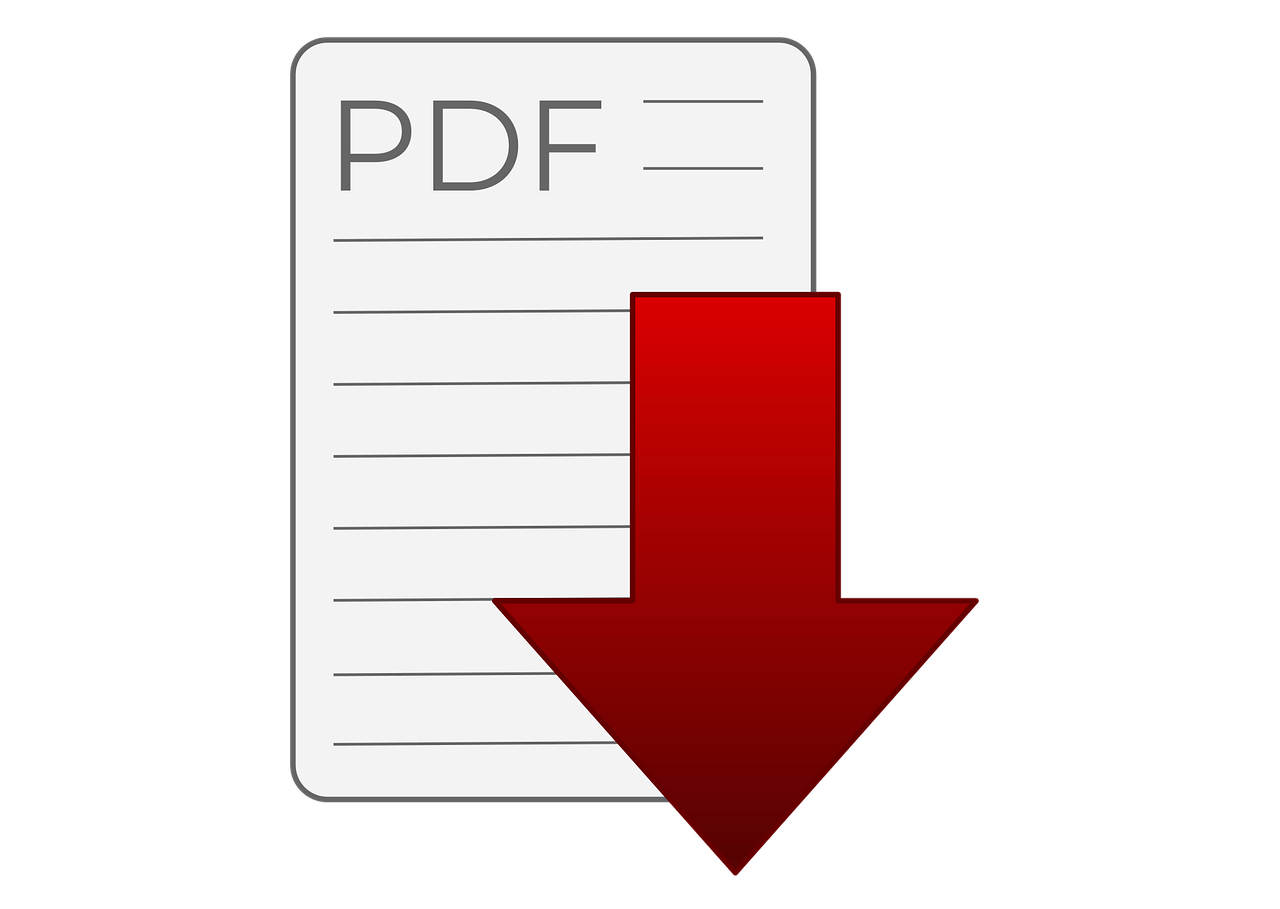 4. 5 Easy Steps To Affiliate Marketing
Free PDF download that simplify affiliate marketing and shows you how to do it in a simple way.
The document is printable and easy to understand
Value $97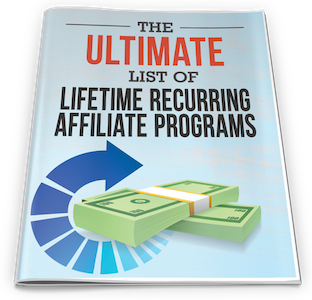 5. The ultimate list of lifetime recurring affiliate programs
This free download includes an unlimited number of affiliate programs that you can join and promote.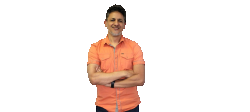 Latest posts by Nabil Al-Baidhani
(see all)