Have you heard of Network Marketing Secrets in 2022? It's a new book written by Russell Brunson. Now I know there are quite a few people out there hyping up the book and it's for good reason.
Network Marketing Secrets is a book authored by Russell Brunson, the ClickFunnels co-founder. The book aims to teach you all the secrets on how to make money with network marketing, have a growing downline and build a successful team. This book is a game-changer for network marketers since it is packed with tested and useful network marketing secrets. Network Marketing Secrets is undoubtedly the perfect book for you. This book will give you tremendous value for free.
HOW TO MOVE YOUR BUSINESS ONLINE?

Russell Brunson, the co-founder of clickfunnels comes this time to write about Network Marketing! While that is strange because Russell was and is always related to sales funnels, landing pages, and things related to those, yet, you will find the strong relationship and the amazing result you can have when combining Network Marketing and Sales funnels.
While Russell's main focus is CF, he is building an MLM team with Steve Larsen.
In this review of the Network Marketing Secrets book, you will find everything you need to know about the book, the relationship to funnels, and many more…….
WHAT IS NETWORK MARKETING SECRETS?
It is a book with 104 pages, by Russell Brunson.
The book is an attempt to combine Network Marketing with modern online tools like sales funnels.
Network Marketing is usually done by selling face to face or on the phone. The problem is, it is a dying form of business because it has been associated with the scam, and people, for the most part, don't want to hear from Network marketers or become impatient.
The book takes that form of business and puts it online combined with sales funnels making the chances of success higher.
INSIDE Network Marketing Secrets Review
The book includes 4 sections and 104 pages of pure goodness. Let's see briefly what are those sections talking about…
SECTION 1 – THE 3 LOST FUNNELS
In this section, Russell talks about the evolution of network marketing and the history of it becoming the form they are now.


He also talks about the 3 types of funnels that needs to be included in any network marketing (I will elaborate on this below)
And finally, talks about clients and how to get the perfect clients.
This section is aimed toward understanding what network marketing is, and what was the wrong practice of it
SECTION 2 – THE VIRAL LOOP
The book talks about the perfect selling funnel that is guaranteed to sell every time as long as all the elements of a funnel are present. All you have to do for any other project is to rinse and repeat because it works every time.
SECTION 3 – DIGGING IN: THE LOST FUNNELS


In this section, Russell talks in detail about Bridge Funnel, Home Party Funnel, and Hotel Meeting Funnel. The purpose, how to create, what to include, and how to apply them. After this section, the reader should be able to do A ~ Z about these funnels and start selling.
SECTION 4 – WHAT TO DO NEXT
Now, you have your funnel ready, you are ready to recruit people and get to work. How do you fill your funnel? How do you get traffic? because without traffic, your business is dead.
These are the questions that are answered in this section of the book. basically, the book shows you how to do a whole network marketing business from scratch and shows you the process step-by-step.
IS A NETWORK MARKETING SECRETS BOOK FOR ME?
It is a good thing for any online marketer to read this book because a lot of tactics mentioned in the book apply to anyone who has anything to do with online marketing.
BUT, if you a Network Marketer, then it becomes a must to read this book because it eliminates all the existing challenges you face in meeting people and convincing them to join your network.
Also, who can say no to a free book with a 100% guarantee within 30 days to return your shipping cost if you don't like the book?

HOW MUCH IS THE NETWORK MARKETING SECRETS BOOK?
The book is free, but, you have to pay for shipping and handling in the US $7.95 and outside the US $16.04
As of today, I can't find it on amazon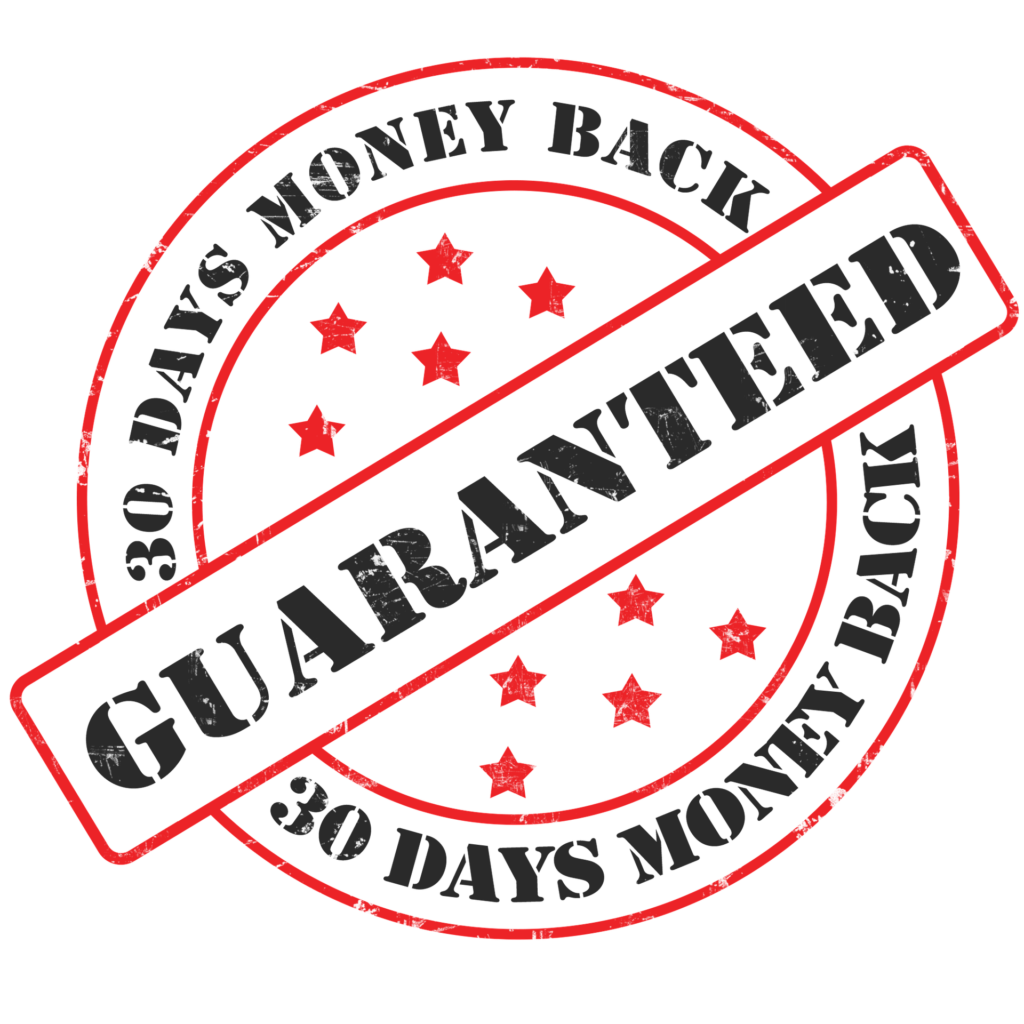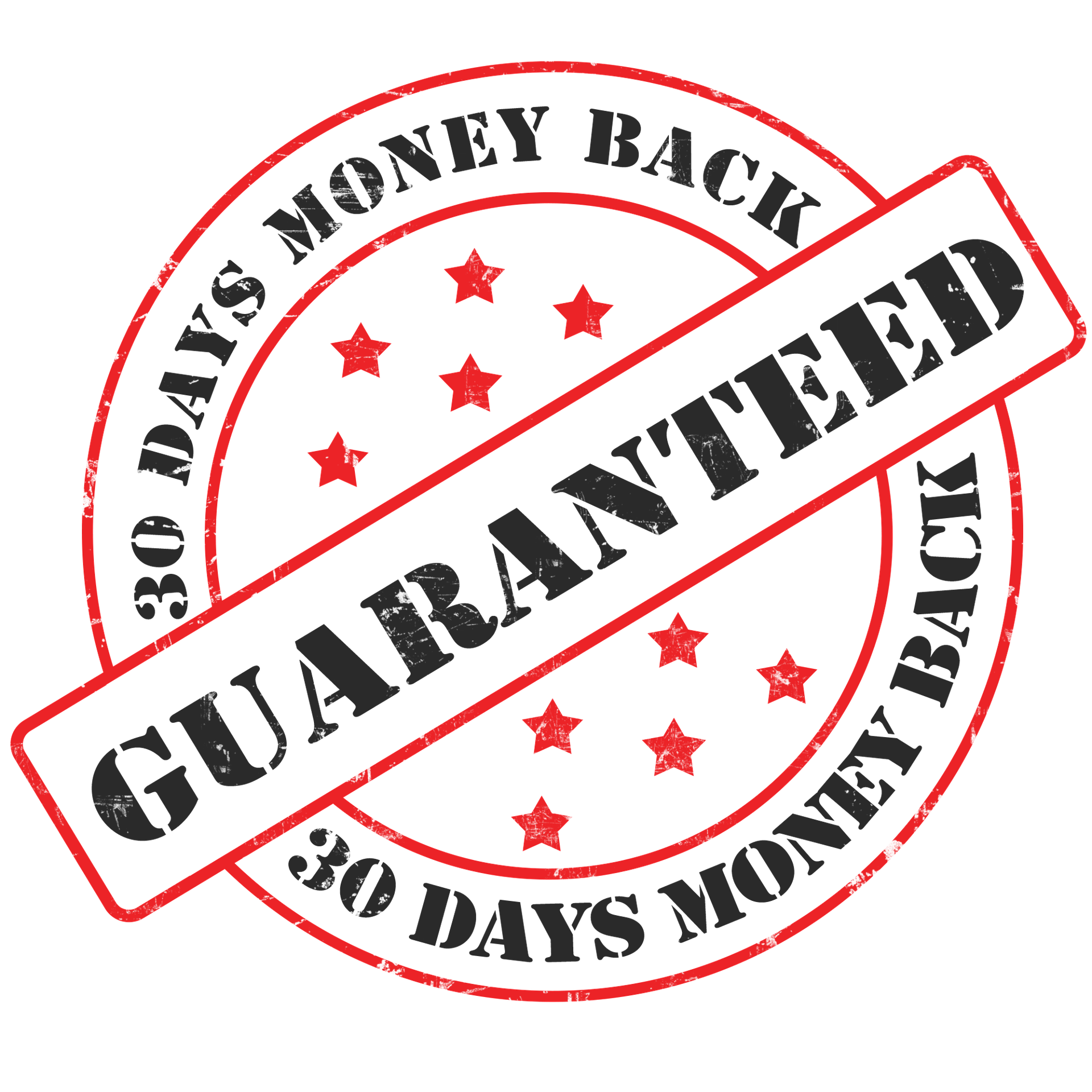 What is even more amazing to me, is their refund policy. Within 30 days, if you don't like the book, just contact support and they refund your shipping fee with no questions asked.
WHY IS THE BOOK FREE?
Russell doesn't make money on selling books or giving courses. He has his software company clickfunnels where he makes money. for example, he or clickfunnels team has many courses like Affiliate Bootcamp, One Funnel Away Challenge, and others. He also has books like DotCom Secrets, Copywriting Secrets, and Expert Secrets. All those courses and books are free, BUT, most people who take those course and read those books end up using clickfunnels for their business where Russell makes money
IS THERE AN ONLINE VERSION OF THE BOOK?
YES. Once you order the book, you will get an email from Russell with your credentials and instruction to access the member's area. In that member's area, you can access a PDF copy of Network Marketing Secrets.
WHAT PEOPLE SAY ABOUT NETWORK MARKETING SECRETS BOOK?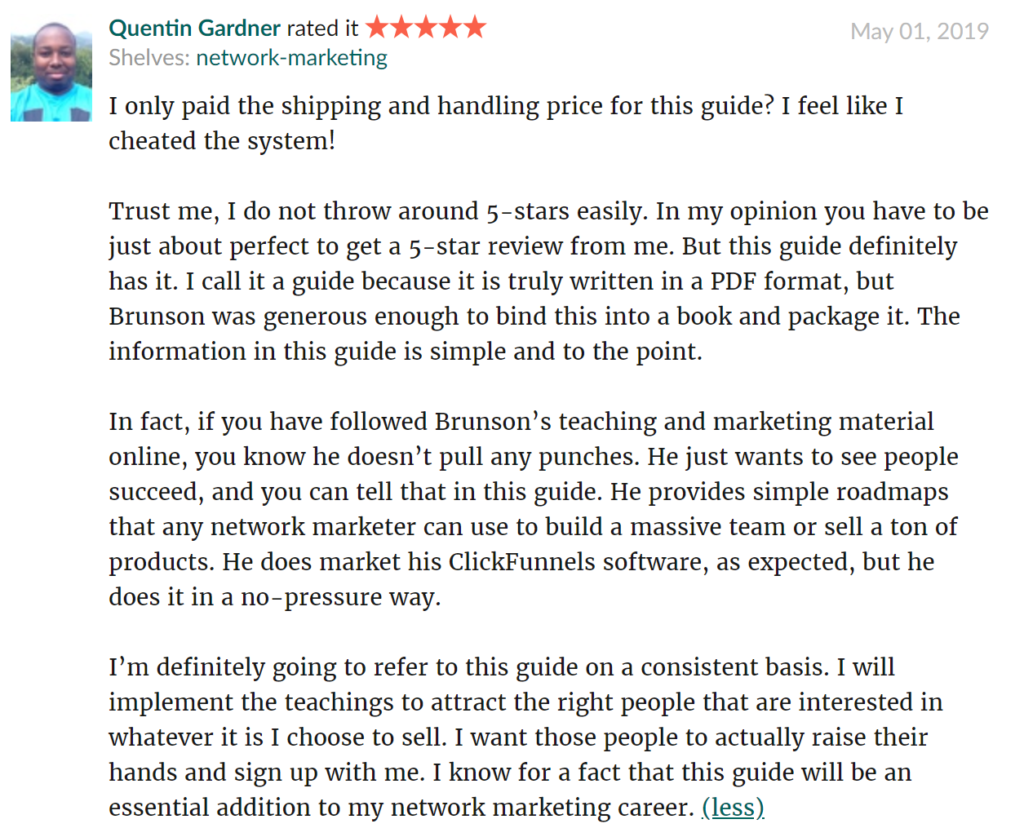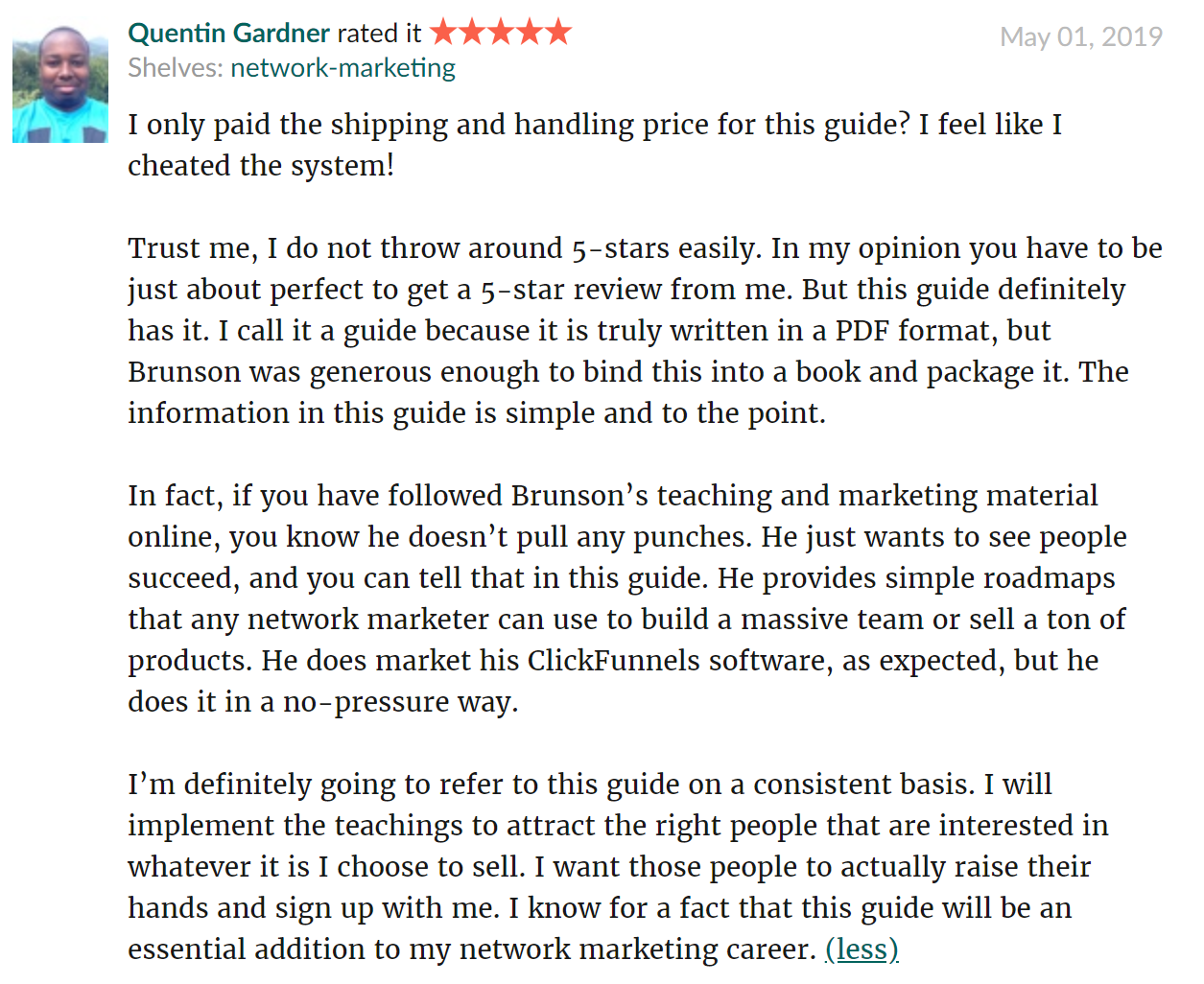 WHAT I LIKE MOST ABOUT THE BOOK
The whole book is packed with value and I like it. But, the part I liked is "The Three Lost Funnel". I don't actually do Network Marketing, but this section can be applied to any online business. Let me elaborate more on this.
THE BRIDGE FUNNEL
This is very important not only in network marketing but, in any online-based marketing. Let me give you an example: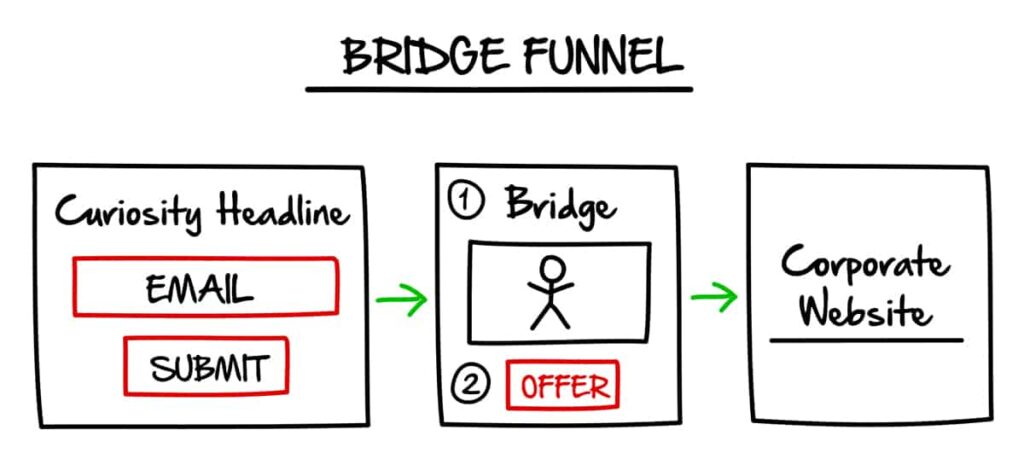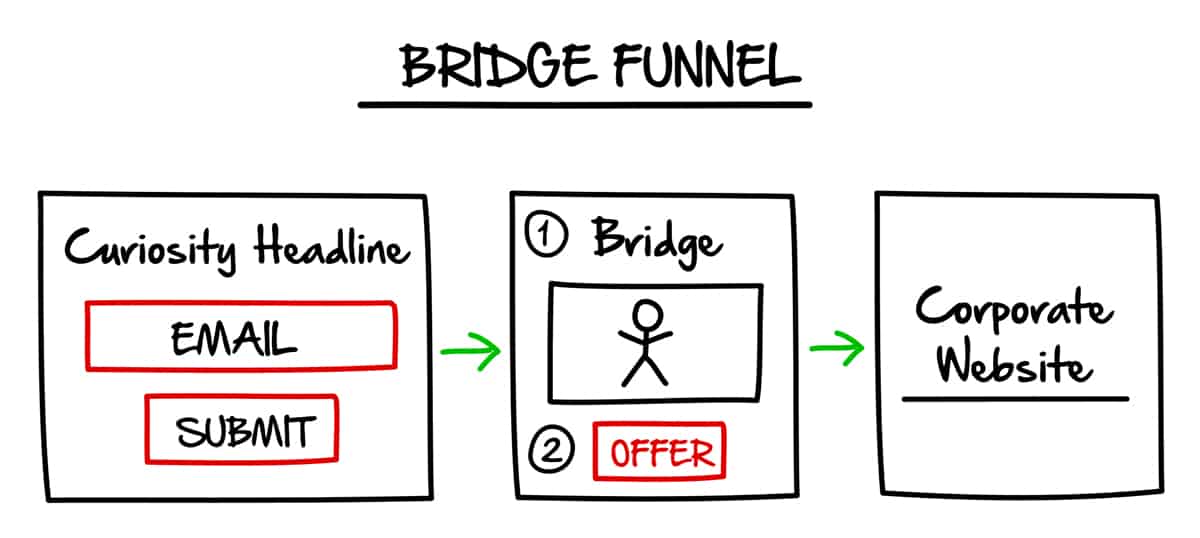 Let's say I am advertising anything online, just anything. People go to my website or landing page or funnel, they put their email address, and once they submit, they get forwarded to big corporation website with no introduction. This confuses people.
What should be done is, after they submit their email, there should be another page which is mine introducing myself and telling them they will be forwarded to the corporation's site. Basically, it is a bridge between the initial page and the corporation. This also means that you don't have to talk to people who are not interested because it is web-based and people go to your site, not you going to people.
THE HOME PARTY FUNNEL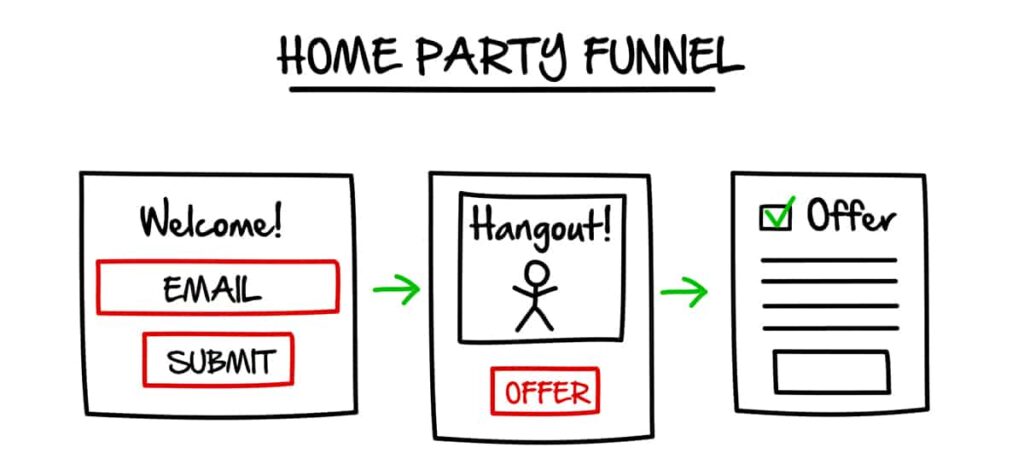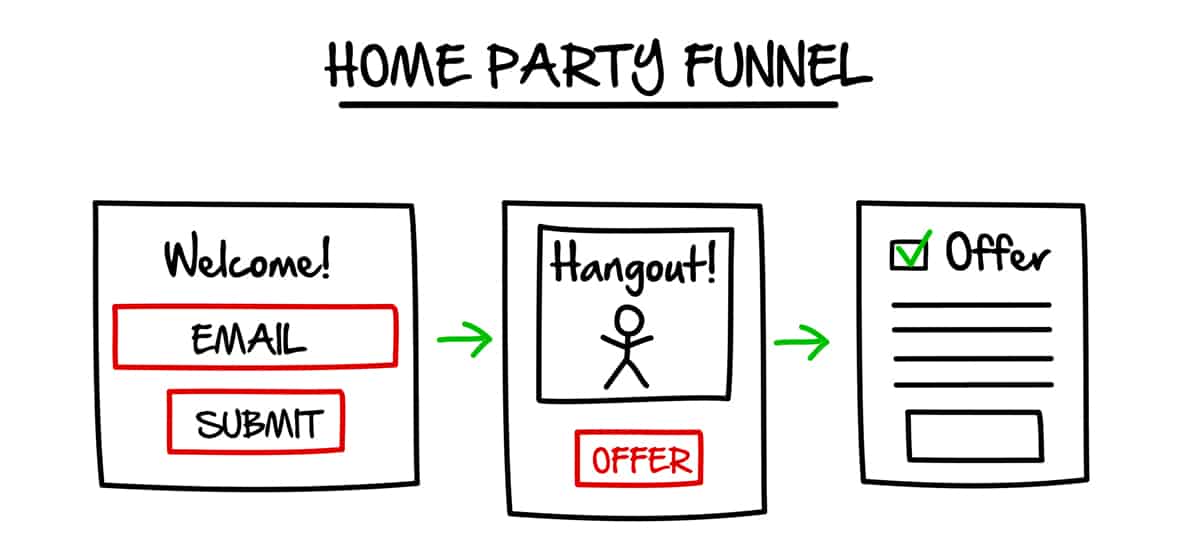 This is very similar to hosting a house party but it is an online form. In a non-pressurized environment, you will be able to showcase your products and services, with no requirement for your potential clients to be physically there.
This allows people to buy from you and leave the feeling on others that they are missing something. At the minimum, you will be able to increase your mailing list at that party.
THE HOTEL MEETING FUNNEL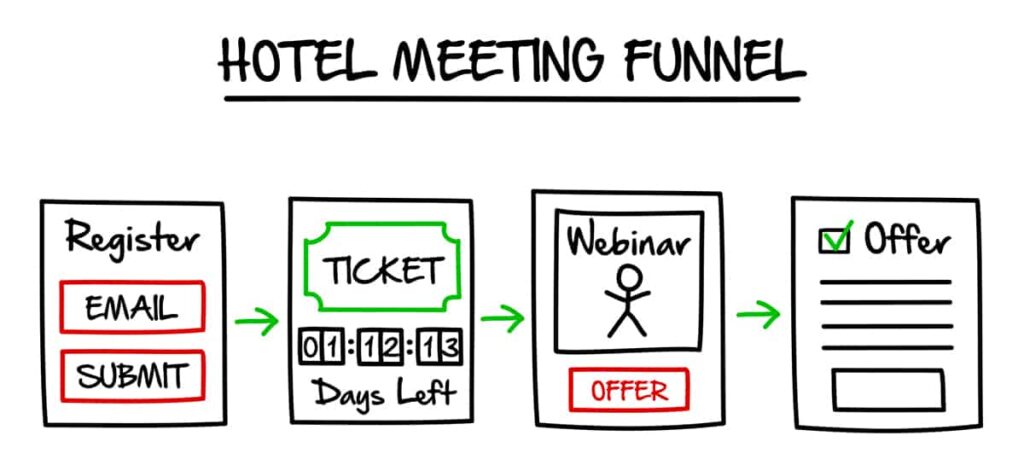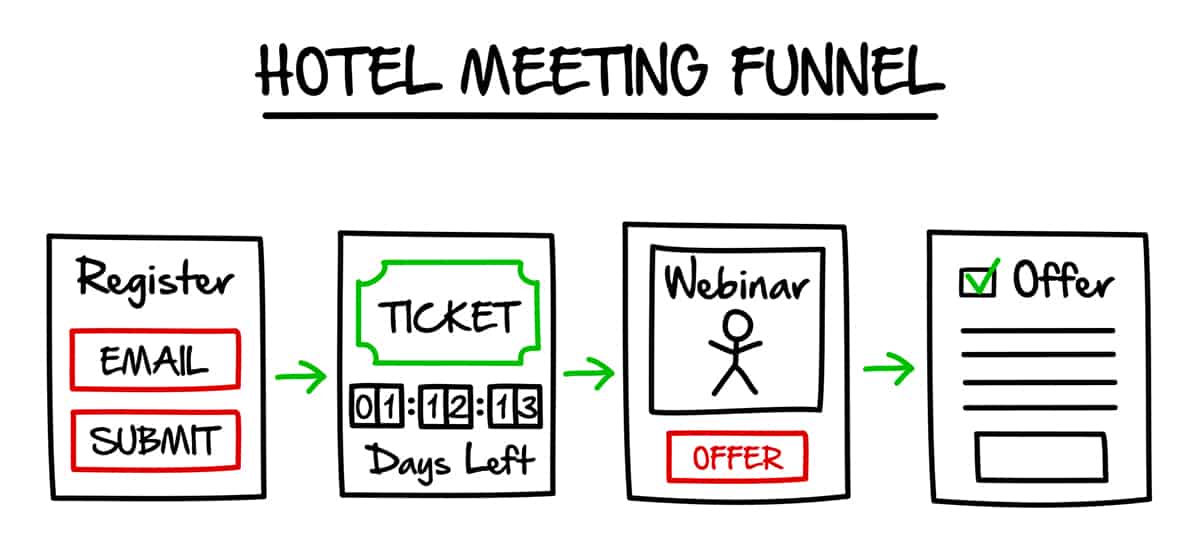 This form of funnels is the larger version of the house party. It is more organized, more formalized, and bigger. You might ask for advance registration, you might have a registration deadline, and you might have attendees' limitations. The result of this will be the same as the house party event, but, more and bigger.
HOW DO I BUILD THE 3 MISSING FUNNELS?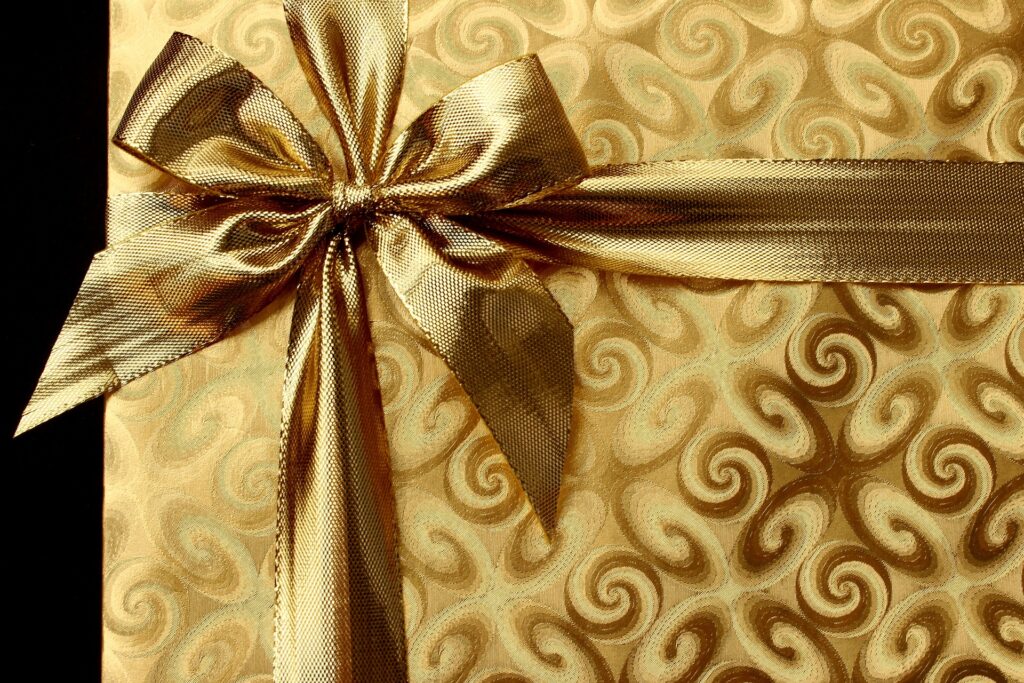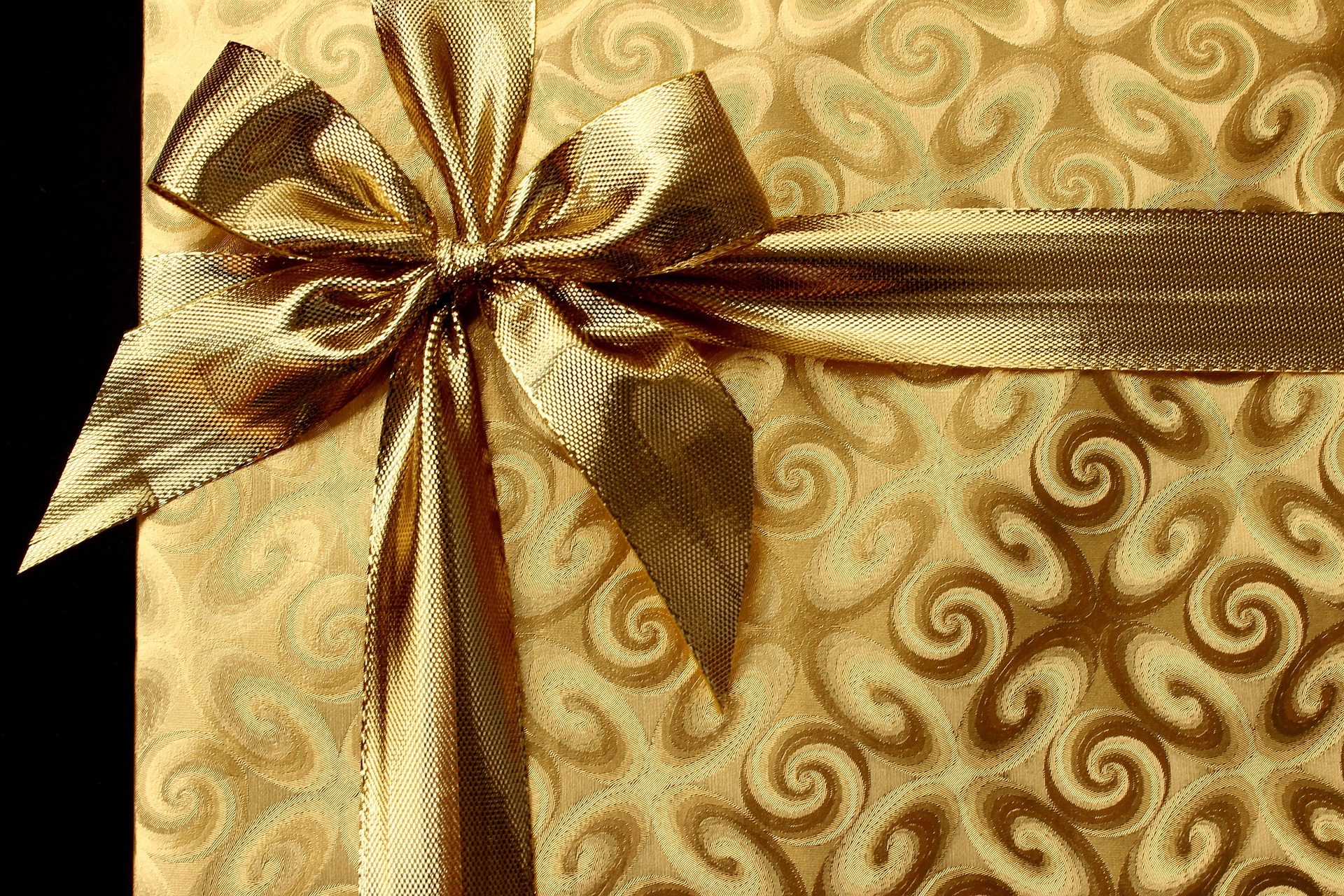 On page 72 of the book, you will have a link where you can download and apply a pre-maid funnel. These 3 funnels (Bridge, Home party, and Hotel meeting) are made for you to use absolutely free. You can use them as they are, you can modify them, and you can add to them,….etc. The idea is, they are yours yo use.
HOW TO ORDER THE BOOK?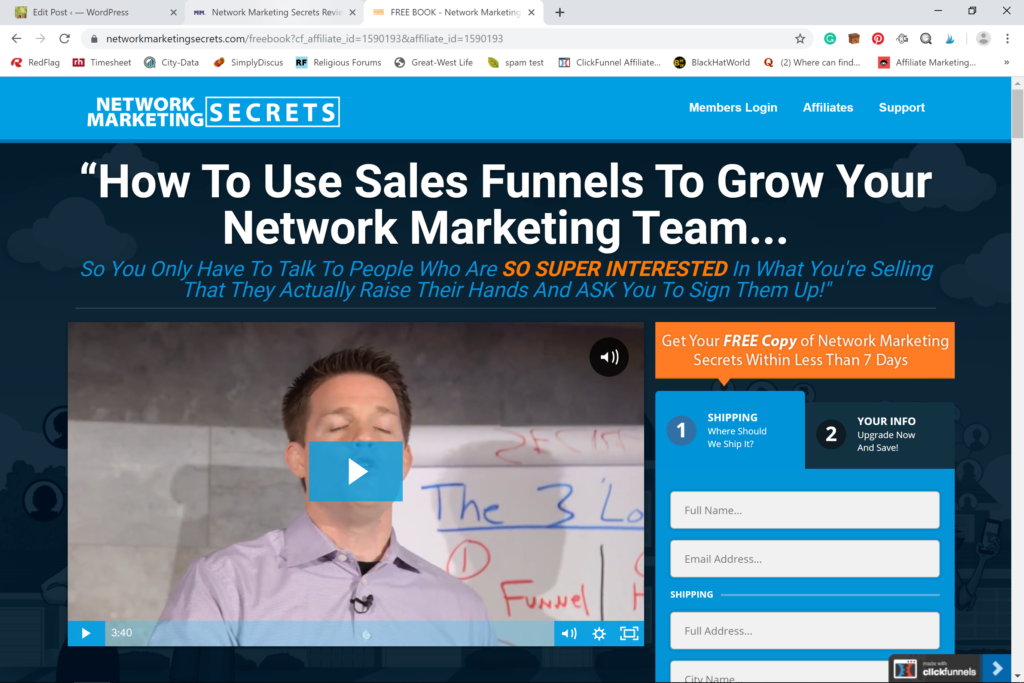 Just follow the instructions and in different steps, you will be offered other products to buy. You don't have to buy those if you don't really need them. You will be offered things like:
The Black Box – Which I Think Is A Good Product, It Includes Other Books Like DotCom Secrets, Expert Secrets, And Others At A Value Of $37. I Recommend This Package For The Value It Has.
The One Funnel Away Challenge – It Is A Challenge To Build Your Online Business In 30 Days. It Is Expected To Start Earning Money At The End Of The 30 Days. It Is A Very Good Course, But, It Depends On You If You Are Ready For It At The Moment. It Costs $100
Traffic Secrets – It Is A Course On How To Generate Traffic To Your Funnel. Having A Funnel With No Traffic Is Like Opening A Store With No Customers. The Course Costs $297 And It Is Well Worth It If You Are Ready For It.
PROS AND CONS OF NETWORK MARKETING SECRETS BOOK
| PROS | CONS |
| --- | --- |
| The book is free | Shipping time is about 2 weeks |
| Easy instructions to follow | |
| Digital version is provided | |
| Pre-made Funnels are provided | |
| Technical Support and team is very good | |
MY FINAL OPINION ABOUT NETWORK MARKETING SECRETS BOOK
I strongly recommend this book especially if you are a Network Marketer. It eliminates the time and energy you spend in talking to people who are interested or people who are not interested. It shows you the method to move the whole process online and talk only to people who are interested in talking to you.
Also, that process eliminates a lot of physical materials, location, because the whole thing becomes online.
I don't see any reason not to get this book. It is free and can be applied to anything in online marketing.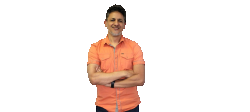 Latest posts by Nabil Al-Baidhani
(see all)