COPYWRITING SECRETS FREE BOOK REVIEW
Jim Edwards is one of the well-known personalities within clickfunnels community. He specializes in copywriting and well known for his humorous and enjoyable way of giving a talk.
Imagine if you can sell anything you want and people buy it willingly!
He was a huge help in creating funnel scripts, and now he came to surprise us with his free book copywriting secrets.
In this article, let's have a look at all about it and give an honest opinion about the book.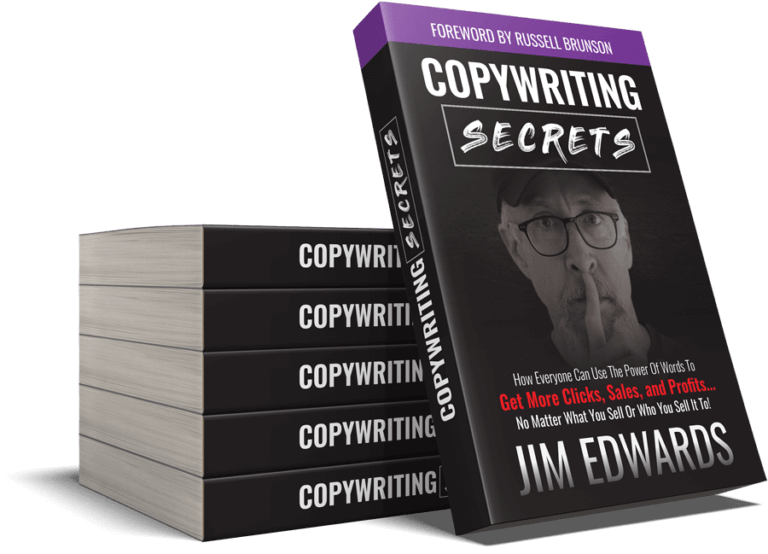 Jim specializes in writing and anything to do with copywriting. He helps people increase leads and sales by improving their copywriting skills.
WHAT IS COPYWRITING SECRETS BOOK?
The book is written by Jim simply for anyone who is looking to have or increase leads and sales. It teaches you how to put the right words to motivate people to do what you want them to do.
Your clients, customers, or anyone who visits your online page can't really see you. Your image is everything you put on that page, your words and images are the ones who make or break your business.
This book is designed to help you put the right words in the right place that is simply called, copywriting.
IS THE BOOK RIGHT FOR ME?
If you are looking for leads, sales, subscribers, or fans, then it is for you. I don't imagine that anyone who has a business is looking for those things!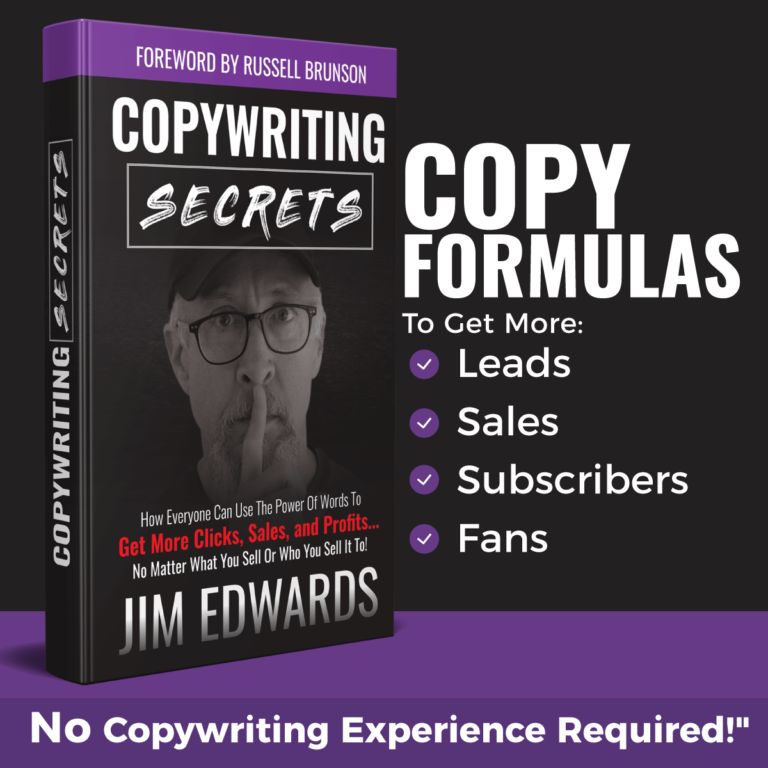 Just imagine what happens when your sales copy is good! People buy from you, they subscribe to your mailing list, you get countless clicks on your website, and you can sell anything you want.
WHAT IS INSIDE COPYWRITING SECRETS BOOK?
Jim wrote this book and called it secrets. He lists 31 secrets of copywriting with examples and his own experience. Let's take a look at the list of these secrets and highlight the most things I liked about the book
SECRET #1: What Is Copywriting?
SECRET #2: One Man's Journey With Sales Copy
SECRET #3: Without A Strong Why, People Don't Buy – I liked this part a lot. People don't buy because a certain product can do this and that, and for a long list of features, rather, people buy a product for it can do for them. This teaches us to remind people why they need what have had to offer
SECRET #4: Nobody Cares About You In Your Sales Copy – If you are an online marketer, affiliate marketer, a guru, or anything, people don't care about that, rather, they care to find a solution to their problems, they care about finding a product that solves their problem
SECRET #5: The Most Valuable Skill You'll Ever Learn
SECRET #6: The #1 Single Most Important Piece of Sales Copy Ever!
SECRET #7: It's NEVER "One Size Fits All"
SECRET #8: Meet F.R.E.D. (Your Ideal Customer)
SECRET #9: The Ultimate Bullet Formula
SECRET #10: What REALLY Sells People (It's Not What You Think)
SECRET #11: Why Good Enough Makes You (and keeps you) Poor!
SECRET #12: Don't Reinvent The Wheel— Great Copy Leaves Clues
SECRET #13: It's All About Them—Never About You – This is a great point that reminds me of those making money videos on Youtube, and how some Youtubers who call themselves gurus talk about themselves a lot. Who cares about that, the real question, and what makes me buy from you is, What can you do for me?

SECRET #14: What To Do If You Don't Have Any Testimonials Yet
SECRET #15: 3 Sales Formulas That Never Fail 123
SECRET #16: It's All Ice Cream, But What Flavor Should I Choose?
SECRET #17: How To Write An Amazing Sales Letter—FAST – I also like this part because it saves me time and produces quality material
SECRET #18: How To Write Killer Email Teasers—FAST
SECRET #19: The Hardest Draft You'll Ever Write
SECRET #20: Make 'Em More Thirsty
SECRET #21: Love Me; Hate Me. There's No Money In The Middle
SECRET #22: "Oh Damn —I Got To Have That!"
SECRET #23: Put Lipstick On The Pig
SECRET #24: Should I Join The Dark Side?
SECRET #25: "Stealth" Closes–The Secret To Selling Without Selling
SECRET #26: The Hired Gun
SECRET #27: The Magic Desk

SECRET #28: The One And Only Purpose of An Online Ad – I also like this part because it takes you back to reality and reminds entrepreneurs why are they in that business in the first place, and what is the purpose of everything they do.
SECRET #29: You Can't Catch Fish Without A Hook
SECRET #30: Create Your Own Swipe File
SECRET #31: Polish Your Sales Copy
HOW MUCH IS COPYWRITING SECRETS BOOK?
As of today, on Amazon Kindle edition is for $15.04 I can't see any paper copy which is strange.
However, Clickfunnels is offering it free if you pay for shipping and handling $7.95 inside the USA or $14.95 outside the USA.
You can see it makes sense to order it directly from clickfunnels because it is cheaper

HOW TO ORDER THE FREE BOOK?
I already have the book, but, I am going to order it again just to show you the process. I can give that copy to a friend.
Go to the Copywriting Secrets page and put in your information (Name, mailing address,….etc. and click the "Special Offer Click Here" Button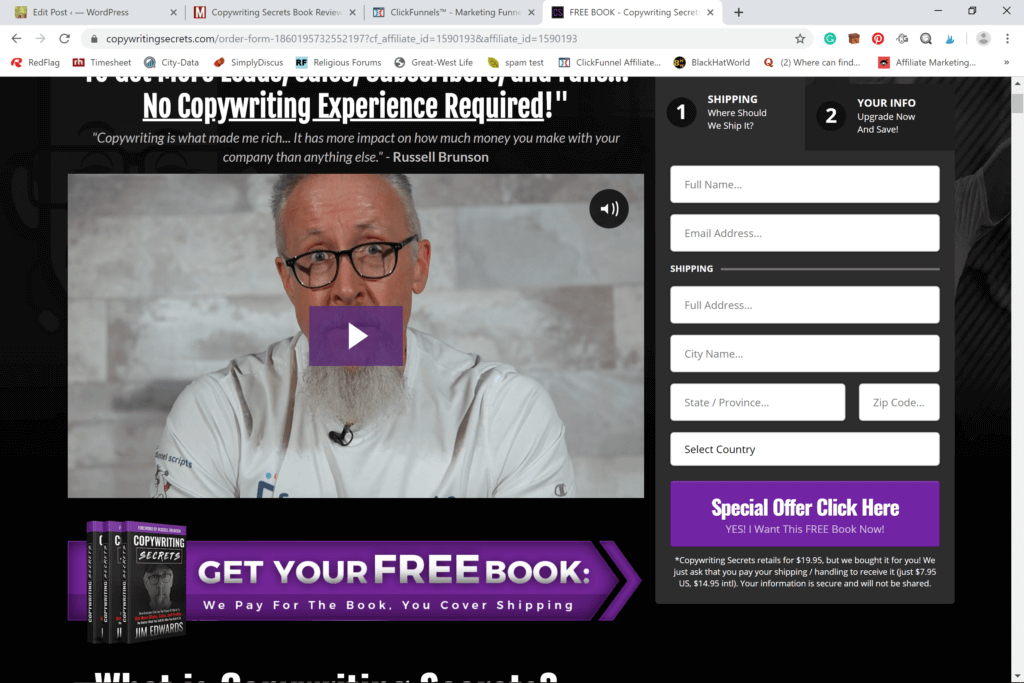 2. Enter your credit card information
3. Then, you will be offered an audiobook for an extra $27. check the button where the red arrow is if you want to add an audiobook, then, click the "Ship My Book Now" button.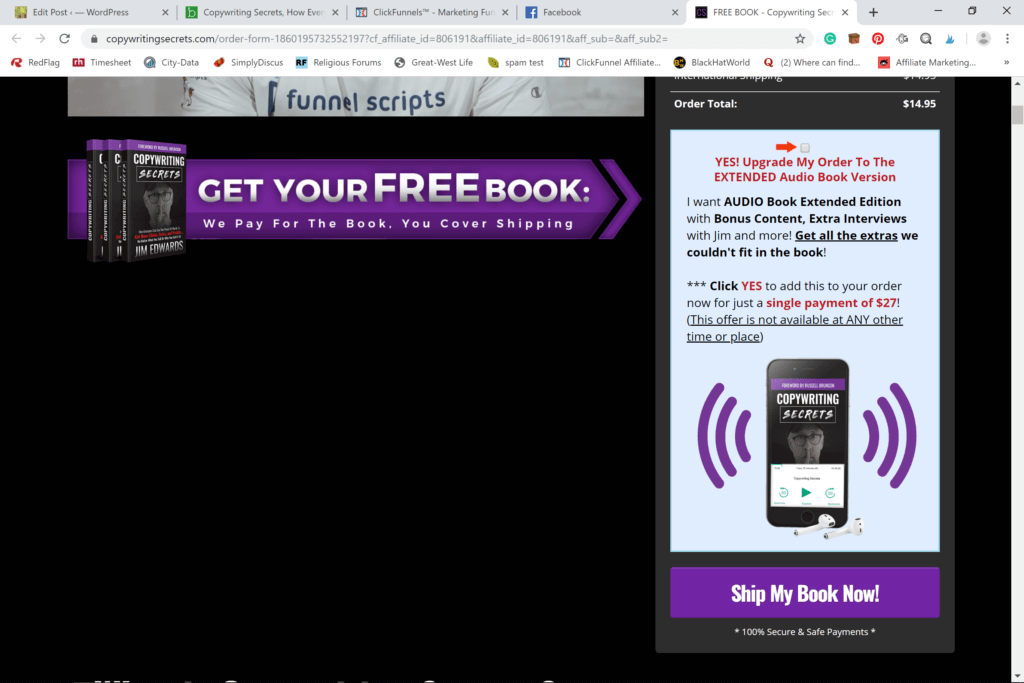 4. Then you will be offered another sales story product by Jim which is a great offer if you want it. It costs $97 with a 96% discount as of today which might be different in the future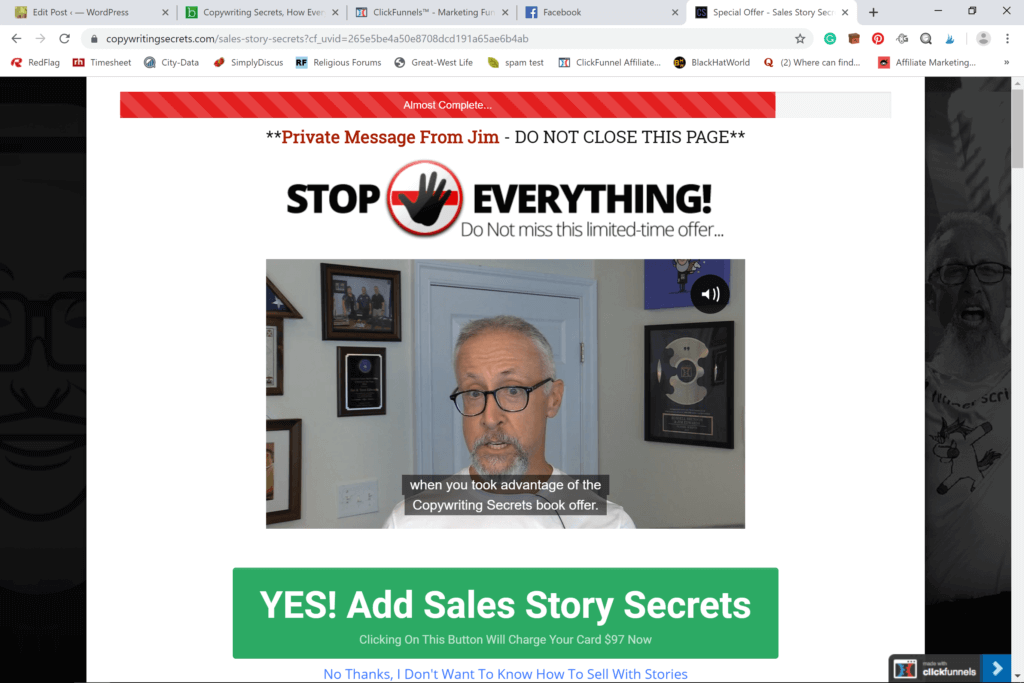 5. Then you will receive an email from Funnel Script with logging information to Copywriting members area which has useful links and videos (Make sure to check your junk mail if you didn't get it)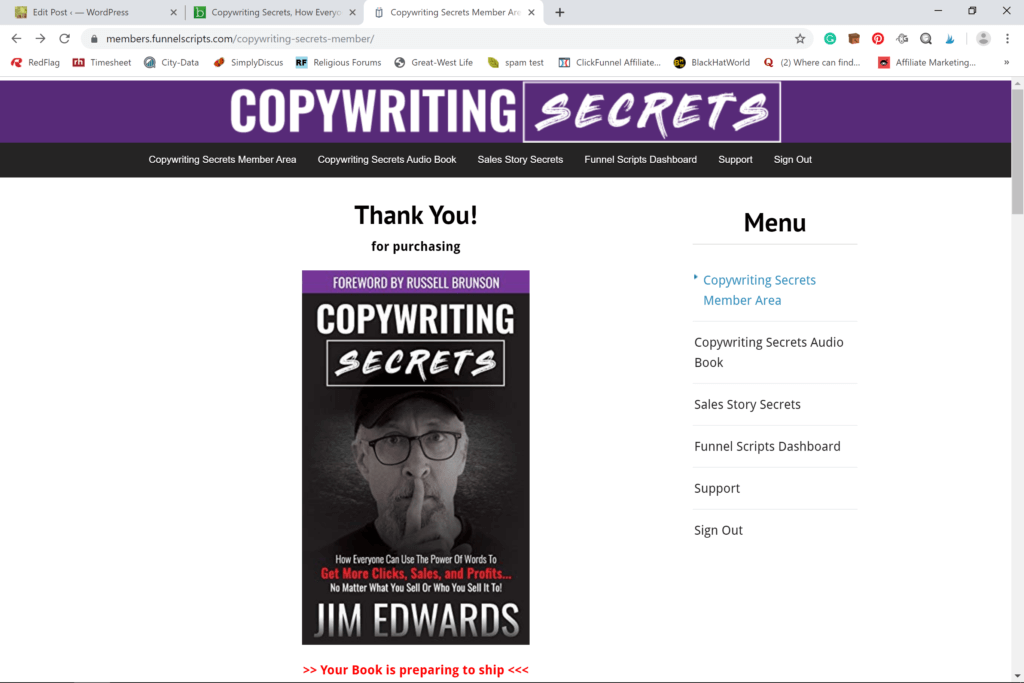 WHAT PEOPLE SAY ABOUT COPYWRITING SECRETS?
The book is one of the most successful books within Clickfunnels community, it helped a lot of entrepreneurs, and a lot of people have nice things to say about it. let's see some testimonials…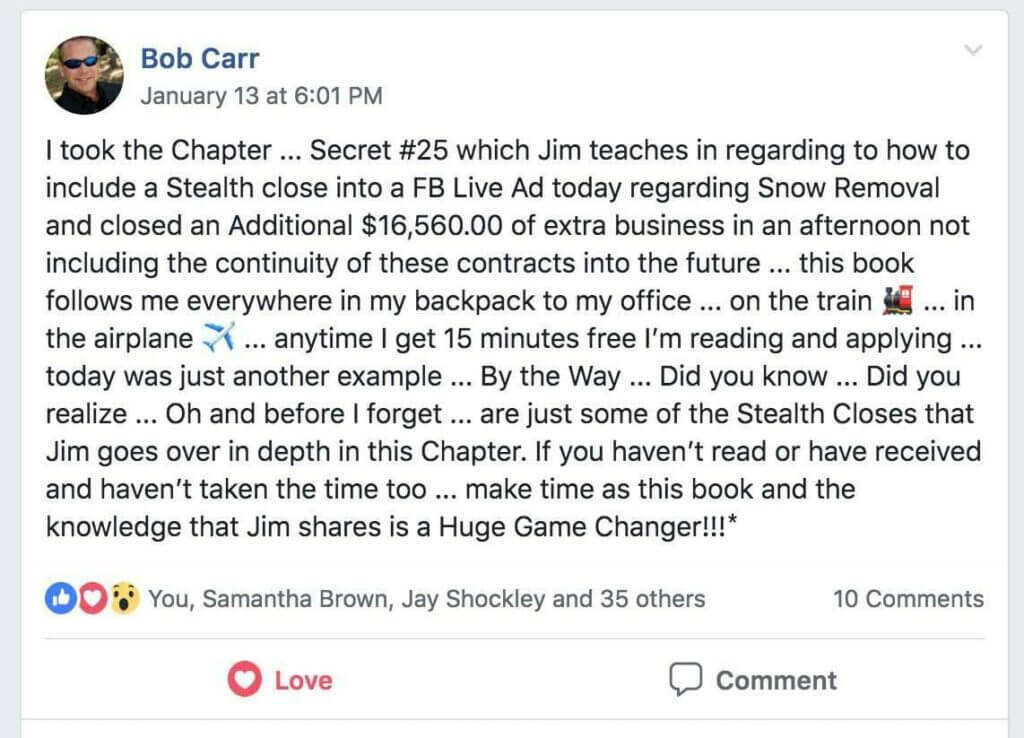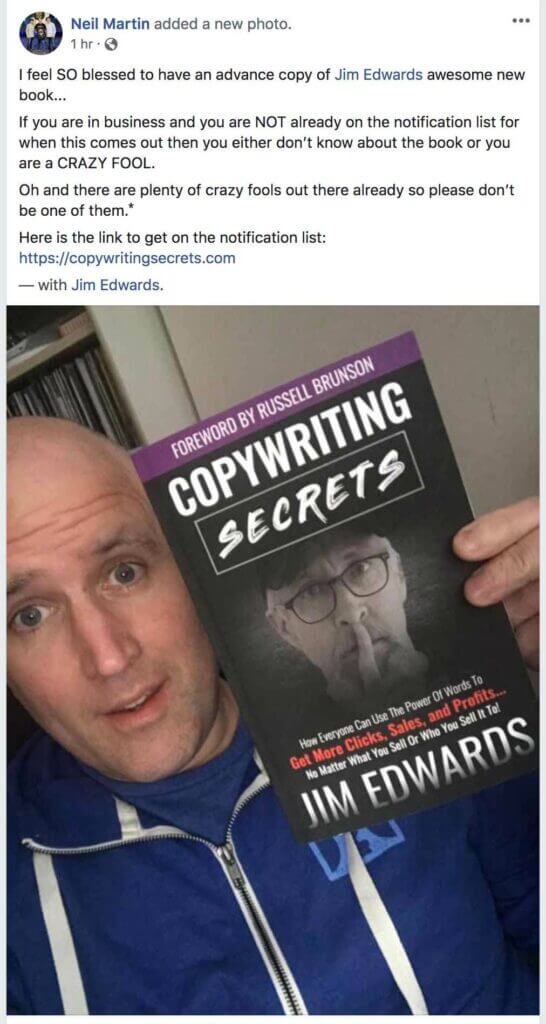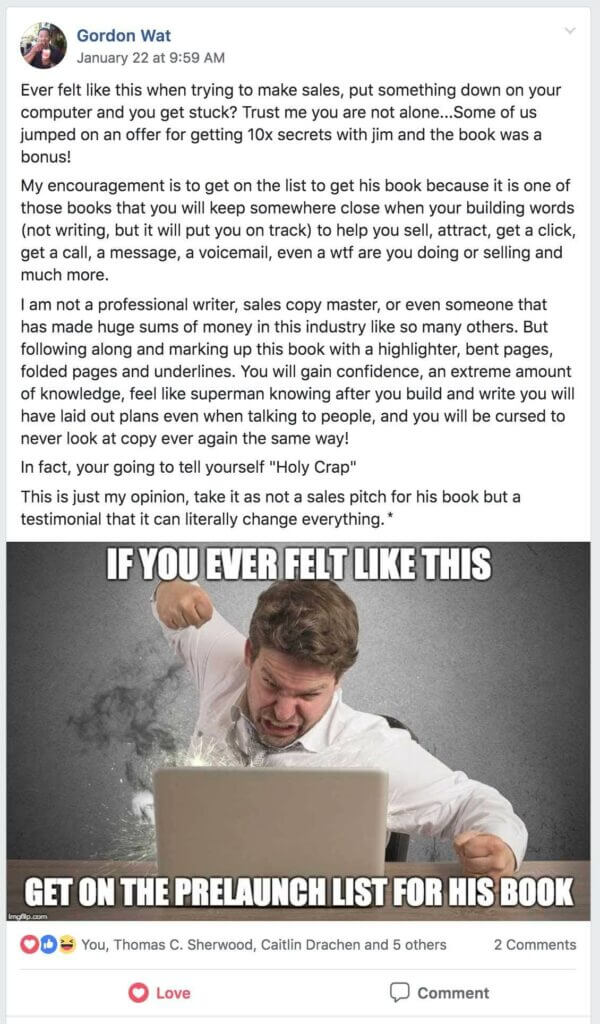 HOW CAN THE BOOK HELP ME MAKE MONEY?
As we said earlier if you have a website, sales funnel, e-commerce site, or any landing page, you are trying to sell something, get leads, or subscribers, your prospect customers can not see you in person, your written words represent you, who you are, and what you sell. If you don't have the right words on your page, the selling process is not going to be smooth. BUT, if you have the right words, and you know how to address people's emotions with your copy, that is when you can sell anything you want to anyone you want.
No one is born and knows how to sell or know how to write, they are both learned talents, this book can teach you a lot about copywriting, how to address emotions, how to write the right thing at the right time, and many more
I am a huge fan of clickfunnels, their products, and everything they represent. It is a business, they make money while helping regular people like you and I make money.
Copywriting Secrets is no exception to the list of successful products they have. The book helped me big time to improve my writing skills, it was a no brainer for me to grab that book since it is free. Sure, clickfunnels try to sell you other things on the way, but, if you don't need them, you can just say "no thanks" and grab your free book.
you can also take a look at an alternative of a copywriting book like courses here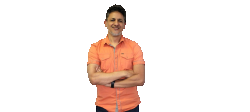 Latest posts by Nabil Al-Baidhani
(see all)