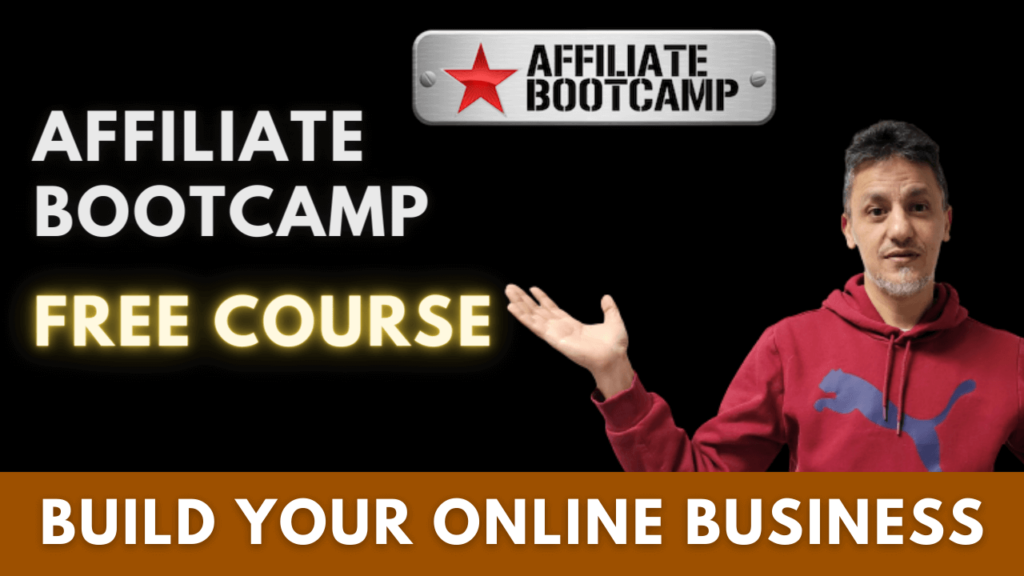 As we all know, Clickfunnels has a lot of products and courses that they can be proud of and helped a lot of people who want to make money online. But Affiliate Bootcamp is one of clickfunnels pride and something that can not be valued with money.
Imagine of the best in affiliate marketing teaching you how to make money online! for me, it doesn't get better than that.
Following the footsteps of those who made a lot of money in affiliate marketing, copying their system, having their affiliate blueprint step-by-step, talking to them,…..etc. What else could I ask for if I want to make money online! Clickfunnels Affiliate Bootcamp Review:
Affiliate Bootcamp is what can give you all of the above and more. And yes, it is unbelievable to say this, but, yes, it is free.
Clickfunnels Affiliate Bootcamp Review: What Is Affiliate Bootcamp?
Affiliate Bootcamp is an online course prepared by Russel Brunson and his 15 super-affiliates.
You might think about this as a regular course. But it is not. This is taught by people who were in your shoe sometime ago and finally made it and earned a lot of money to the point that they deserved the title "Super Affiliates"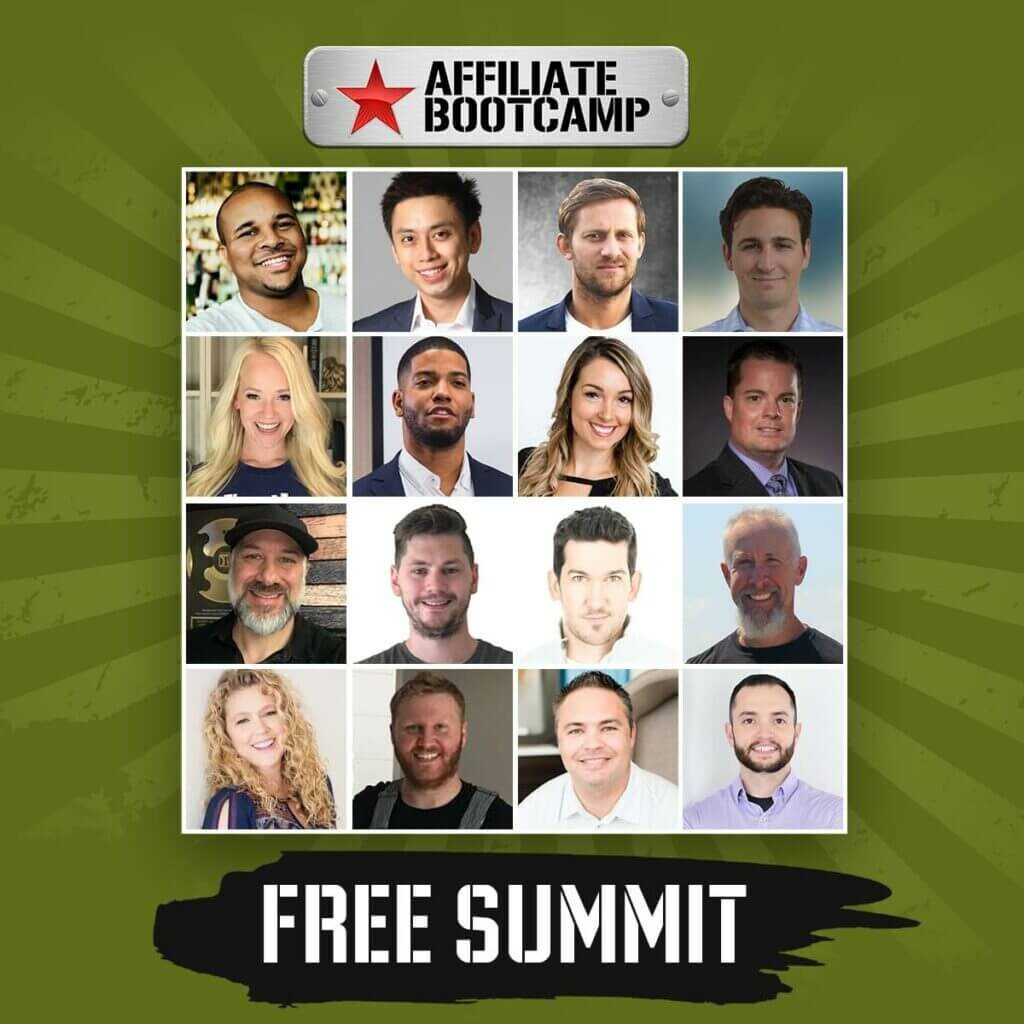 The Story Of Affiliate Bootcamp
Russell Brunson asked these 15 super-affiliates one question:
WHAT WOULD YOU DO IF YOU HAVE TO START OVER?
That means you have no product, no email list, no proven funnel in place,….etc.
So, Affiliate Bootcamp coaches give a day-to-day plan for the next 100 days in order to build a fully functional business. And that is the guarantee, If you follow the plan, and do all the required work, you will have a fully functional business in 100 days.
Is Affiliate Bootcamp Right For Me?
As we said earlier, Affiliate Bootcamp is a unique course that fits all levels…
If you are a beginner affiliate marketer wants to take your business to the next level
If you are a person who is thinking to start affiliate marketing
If you are an advanced affiliate marketer but want to test new strategies
If you are promoting the one funnel away challenge
Put yourself in any category and Clickfunnels boot camp is for you without a question.
Russell says the majority of Affiliate Marketers make less than $200 a month. And in a way, this program can help them increase that number and make life-changing income.
Why Is Affiliate Bootcamp Free?
This is a legit question I say…
Russell Brunson and his 15 super affiliates giving courses and spending their valuable time teaching me for free. Why is that!!!!
Is it a pitch to a bigger and more paid course?
Am I getting only a piece of the puzzle?
Russell doesn't make most of his money in teaching courses, He has his own software that he sells. You are familiar with Clickfunnels right.
In the clickfunnels affiliate Bootcamp course, coaches use clickfunnels to build sales funnels and train students on how to use them. Some students choose to purchase the software and Rusell makes money this way. But the course itself is 100% free.
Another way Russell makes money is, for those trained affiliates after they finish the course, the majority of them choose to promote clickfunnels.
In that way, Clickfunnels is a unique product, you can use it to promote it. You make money and Russell makes money.
Now the question is if you are getting the full picture and complete guide.
These affiliates give you a complete guide and go in-depth to give you 100 days plan explained with videos step-by-step on what to do to build your affiliate empire.
What Do People Say About Affiliate Bootcamp?
All the students who took the course, including me say good things about the course esp,ecially about the part where they are shown how to set up the business with practical steps and the part where they are shown that online business doesn't have to be complicated.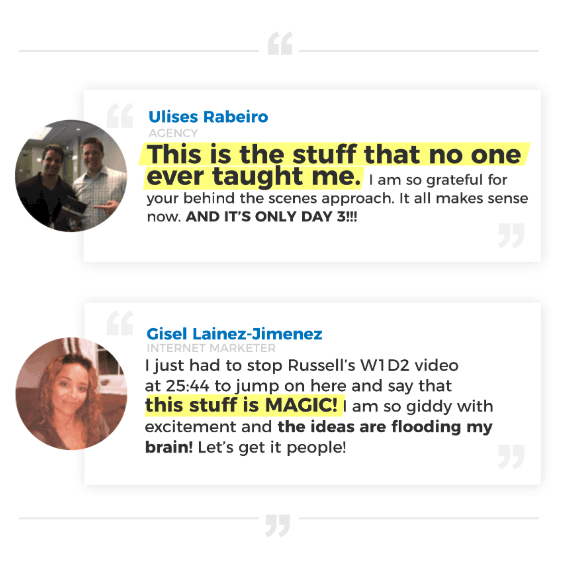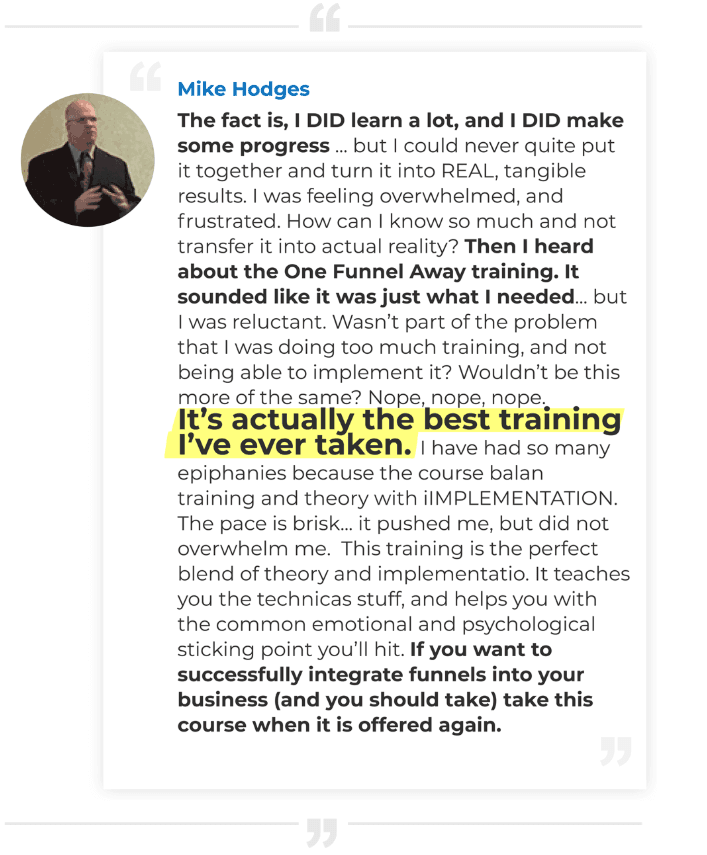 Who Are The 15 Super Affiliates?
Steve Larsen
Dave Gambrill
Rachel Pedersen
Peng Joon
Jim Edwards
Greg Jeffries
Jacob Caris
Dana Derricks
Joe Marfoglio
Spencer Mecham
Marley Baird
JR Rivas
Josh Rhodes
Tyler S. Clark
Billy Gene
The affiliates above, have their own unique spin on building businesses and when you sign up for the course, you will be trained by them.
How Do I Get Access To Affiliate Bootcamp?
To get access to affiliate Bootcamp, all you have to do is click here and put your email address.
Then you will get an email with links to videos to lessons 1-4 (day 1 – day 4) presented by
Russell Brunson, Stephen Larsen, Dave Gambril, and Rachel Pedersen
Jim Edwards, Greg Jeffries, Jacob Caris, Dana Derricks
Joe Marfoglio, Spencer Mecham, Marley Baird, JR Rivas
Josh Rhodes, Tyler S Clark, Billy Gene, Peng Joon
During these 4 days of video tutorials, there will be an upsell of the One Funnel Away challenge which will cost $100. It is an optional course but really useful and complements the Bootcamp.
If you choose to get the One funnel away challenge, then Affiliate Bootcamp unlocks more lessons and more useful behind the scene videos for each marketer of those 15 super affiliates.
You also get an e-book of the entire course if you prefer to read instead of watching videos.
Inside Affiliate Bootcamp
Let us see a summarized version of what we get when we sign up for affiliate Bootcamp.
Russell Brunson's Video
His video will be the first and gives you a complete plan A to Z on how to build a complete and functional business from scratch.
He also gives a complete overview of what and what not to expect from the course and getting rich doing affiliate marketing.
He also goes on to explain sales funnels and gives examples of funnels he personally used.
Spencer Mecham's Video

In the 50 minutes video by Spencer, the creator of Affiliate Secrets 2.0. He talked about his plan to make affiliate marketing work in 100 days.
He talked about organic traffic and how to use it, How the road to money is helping people, and the power of giving and organic traffic combined.
In his behind the scene video, he shows his own business, the funnels he used, and how to implement all the theories he talked about in his first video.
Steve Larsen's Video

Steve used to be a clickfunnels employee in the past. He left and built a 7 figure company within a short time period.
In his 70 minutes video, he talks about his business and the exact plan he followed.
Steve gives a list of mistakes done by new affiliates when starting out and the importance of keeping the money in the.
His second video goes behind the scene to see the real practice what all the theories he talked about.
Jim Edwards's Video

Have you heard of Funnel Script? Jim is the creator of that amazing piece of software.
Jim gives little pointers about belief and mindset and the way to look doing affiliate marketing.
He talks about the audience, finding them, serving them, and marketing to them.
His behind the scene video focuses on building a business in 6 weeks, and the real application of his theory.
Dave Gambrill's Videos

He is the king of customer satisfaction and keeping loyal customers. His video is about how to keep customers coming back to you and staying loyal.
He also talks about working smart and how to get more done in less time. Also strategies of starting your affiliate marketing.
Rachel Peder's Video

Rachel is known to be an expert in Social media. In her video, She teaches us how to acquire customers and use the power of social media like Facebook and Instagram.
Greg Jeffries's Video

Greg is an expert in SEO (Search Engine Optimization) He has been doing this for a long time.
In his Affiliate Bootcamp video, He teaches us the mistakes that a lot of people do when trying to rank on Google.
He also talks about keyword research, where to find keywords that make money.
Jacob Carl's Video

Many of us can relate to what Jacob has to say. You have a 9-5 job, you are busy, but still what to be a super affiliate.
Jacob gives a full blueprint on how to manage time so you can get full advantage of it.
Dana Derricks Video

Dana is a person who was featured in Forbs Magazine for his transformation. He was a farmer and now, a super affiliate.
A true experience, a true transformation. He teaches selling stuff online without spending money on ads. He is the king of organic traffic and shows you how to make people want to buy what you have.
Joe Marfoglio's Video

Joe is a specialist in Youtube and SEO on Youtube. He teaches how to create videos that people want to click and watch all the way through.
Joe has an agency that helped thousands of people gain the lifestyle they deserve.
Marley Baird's Video

Marley teaches everything about Youtube. Why it is the best lead generation, How can we take advantage of it for free while we can, How to dominate the market without spending a dime, How to come up with endless content ideas, and many more.
JR Rivas's Video

Rivas is the guy who made $10,000 in sales on his first day with clickfunnels. It is an amazing achievement for JR to be a super affiliate when you know his background and him growing up in a crime-dominant neighborhood.
His video is about building value on Facebook so you build clients, leads, and mailing lists. How to build a great value and sell clickfunnels without even the customer realizing that.
Josh Rhodes's Video

Josh is the guy who shows you in his video the method of taking an agency approach. That agency hits the goal of acquiring 100+ affiliates in under 100 days.
He has a unique method called a win-win method.
Tyler S. Clark's Video

If you are a person who likes live webinars, live conferences, and anything to do with live interaction with customers, then Tyler is the coach for you.
He teaches 11 actionable items to get more than 100 paying clickfunnels customers. He also shows what to do or not to do when interacting with a live audience.
Billy Gene's Video

He shows you the right way to demonstrate what you want to show your audience in order to take them directly to the checkout page.
When promoting clickfunnels, it is a very good idea to demonstrate how to use them. Billy shows you how to do that and the right formula for it.
Peng Joon's Video

Peng coached thousands of people and generated millions of dollars in online sales after He was in debt.
As they say, the money is on the list, Peng teaches you how to build that asset for free.
Affiliate Bootcamp FAQ
How much is affiliate BootCamp?
Affiliate Bootcamp is completely free of charge. Once you register, you will be offered an optional upsell of One Funnel Away challenge which is $100. See this article…
If you pay that $100, you will get lifetime access to One Funnel Away Challenge and Affiliate Bootcamp blur print.
Affiliate Bootcamp also can be found free inside FunnelFlix when signing up for the standard package of clickfunnels
Is affiliate bootcamp legit?
Yes, It is legit. All they do is, teaching you how to do affiliate marketing for free
Why is affiliate bootcamp free?
It is free, but, indirectly, clickfunnels makes money.
Many students, including myself, after finishing the course, we decide to do two things that make money for clickfunnels"
Use clickfunnels to create our sales funnels
Promote clickfunnels
Is affiliate bootcamp right for me?
It is right for you is you want the following:
Change your job
Need more money
You are a clickfunels affiliate
You are doing affiliate marketing, but making a little money or no money at all
Do supper affiliates share their actual funnels?
Yes, they do. But, that is not under the free course. That is when you upgrade and purchase the OFA
Affiliate Bootcamp Bonuses
There are no bonuses for the free version. But, if you take the upsell which is the One funnel away challenge for $100, you will get 3 bonuses:
LIFETIME ACCESS – To One Funnel away challenge and to the affiliate boot camp.
BEHIND THE SCENE INTERVIEWS – You will see an actual application of the theory they talked about, and you can see them build businesses in front of you.
AFFILIATE BOOTCAMP BOOK – If you are a person who prefers reading, here is a book for you for the whole Bootcamp course
Final Thought…
It is a no-brainer to take this course as 15 super affiliates give you a step-by-step road map towards the success of your business.
As long as you have the time, take the free version. If you don't have the time, upgrade to the paid version.
This program would be the most important course that many affiliates take in their lives because it is a game-changer.
The most amazing thing I like about clickfunnels affiliate Bootcamp is, that it is not like other training, with this one, you have 15 methods to implement, and surely, you will find at least one that fits your nature and abilities.
In short, the training is telling you, that here are 15 ways to build your online business. Pick one, combine 2 of them, or combine them all…. it is your choice.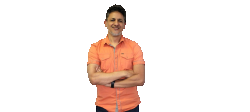 Latest posts by Nabil Al-Baidhani
(see all)