If you are doing any kind of marketing, you are writing blogs, sending sales emails, or even have a simple website, surely, you know the power of words that you say, put on your website, or send though emails to your subscribers.
What you say and what you write as a marketer or simply website owner matters big time. It is called Copy Writing.
Let's face reality. How many times you sat in front of your computer to write, but you draw blank?
How many times did you hire someone on Fiverr or any other freelancer to write articles for you?
The point is, not everyone is a great writer and can produce an amazing copy, but, everyone can be trained to be one.
In this article, I am going to give my honest Funnel Scripts Review of one of the clickfunnels product called Funnel Script. A platform that can help you with your writing.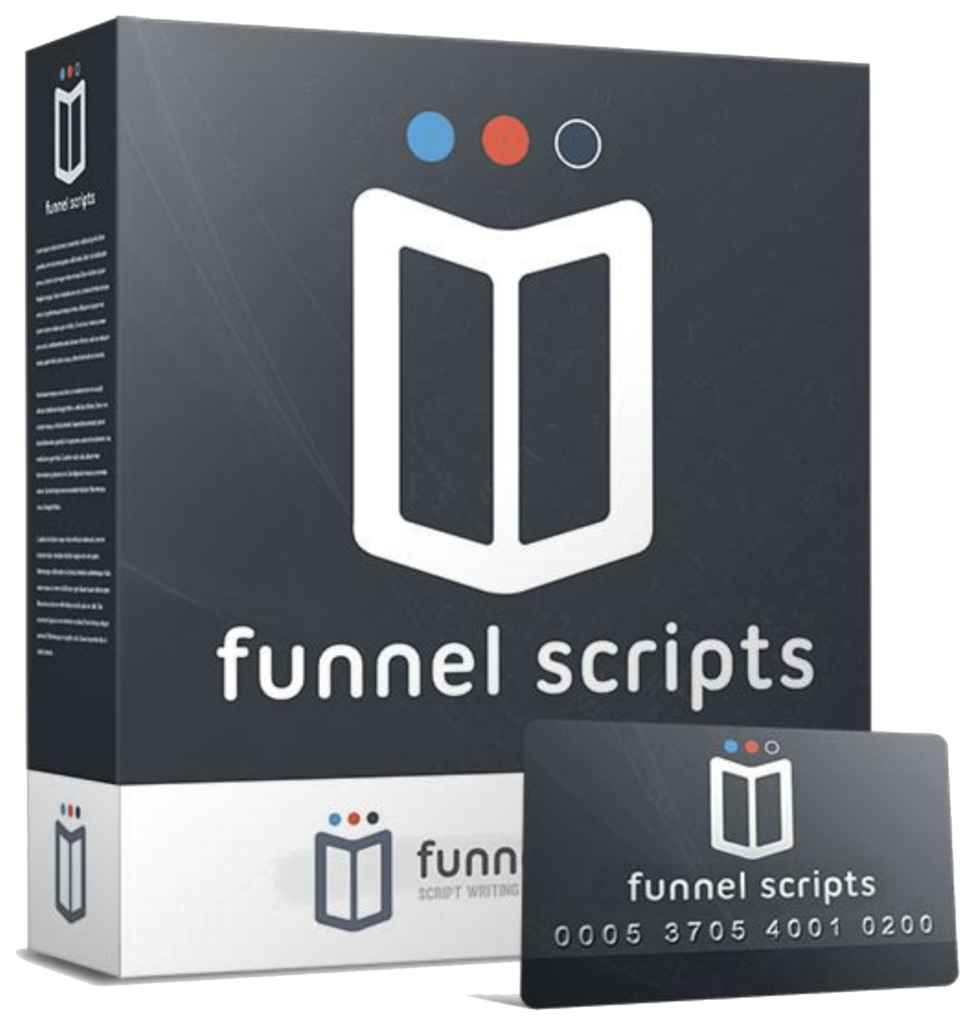 ABOUT FUNNEL SCRIPTS
It is a platform that can produce all your writing like emails, sales pages, webinars, and others.
I know what you are thinking. It is almost impossible to do something like that. But, let's how does it work…..
Funnel Scripts has pre-written and proven to work scripts of emails, sales pages,…..etc.
You as a user of the software, input some data about your product, benefits, what it does,…..etc. Then, funnel scripts, with a single click, produces multiple copies of writings that you can choose to use.
Here is the process of how it works
You have to fill a form about the product, topic,….etc.
Choose the format you want from a variety of formats that are available
The copy is produced by the software then do light edits if necessary.
I want you to imagine how powerful that is…..
IS FUNNEL SCRIPTS RIGHT FOR ME?
If you are a person who is in the marketing world. You sell things online, You capture leads, or you are an affiliate marketer, there will be 2 scenarios…..
You are a good copywriter and have the time to do so. Then funnel scripts is not for you and you don't need it.
If you are not a good copywriter, and you don't want to spend money to outsource the task, then you definitely need the product.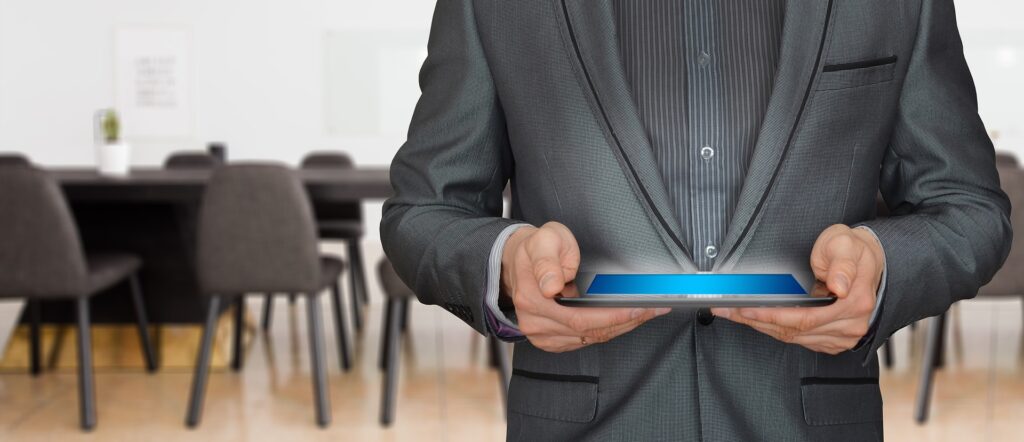 Funnel Scripts saves you money, time, and grants proven to work copies.
HOW IS THE QUALITY OF THE COPY?
It is hard to believe until you try, but, the copy produced by funnel scripts is actually good. It also follows the formula of copywriting while maintaining the human factor of readability and engagement.
WIZARDS AND TEMPLATES
Funnel Scripts has a lot of templates and wizards. some are offline and some are downloadable depending on your needs and what you want to do.
They both produce amazing copywriting results and sometimes I can't believe that a machine/software produced content like that.
FUNNEL SCRIPTS BONUSES
There are a few bonuses that come with the purchase of this platform:
Inception Secrets – It is a course given by Russell teaches you how to sell anything you want to anyone you want and make them think that it was their idea.
5 Fast shared funnels – Several pre-built and proven to work sales funnels, made with clickfunnels. With one click, they can be imported to your account if you have a CF account.
Funnel Blueprints – An interactive PDF that works with your funnel script.
Copywriting Secrets Masterclass – A class to teach you all you need to know about copywriting.
Live Monthly Training with Jim – You will be live with the man himself to ask whatever you want.
PROS AND CONS OF FUNNEL SCRIPTS
| Pros. | Cons. |
| --- | --- |
| It is easy to use. You don't have to a writer | It is a bit expenses for a small company or a starting self employed |
| It combines the technical writing aspect with human flavor | In few cases, the platform doesn't add anything to the input you provide. Hopefully, this will be corrected in apdates |
| Saves money and time | |
| Plenty of courses and training on how to use the software | |
| You can generate multiple script with a single input | |
| You can request for scripts you don't see available | |
HOW MUCH IS FUNNEL SCRIPT?
Not long ago, it used to be $497 a year. However, that price was replaced to be a $797 one time payment.
Before you decide to buy or not to buy, you have to think if you really need it for your business and if you like to have a good copy for your business.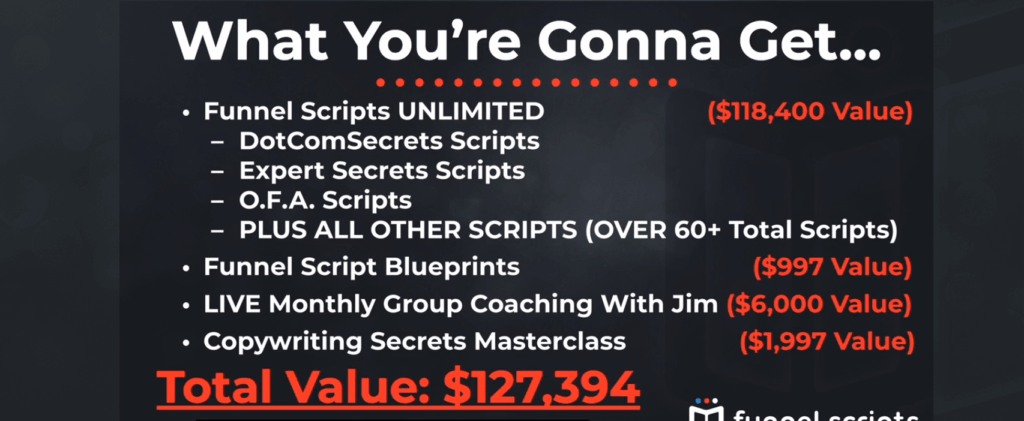 If you are a good writer and have the time for it, then you don't really need it.
HOW DOES FUNNEL SCRIPT WORKS?
As we mentioned earlier, it is a matter of filling a form with input, clicking the build button, and doing light edits.
See this video below for a walkthrough
AMAZING FEATURES OF FUNNEL SCRIPT
Let's see some of the features in Funnel Script and how that helps you as a marketer or simply and content producer…
– HOT AND COLD LEADS
It is so important to put the right offer in front of the right audience. That is why, when you compose a copy in funnel scripts, it gives you the option to choose between Cold, warm, and hot leads.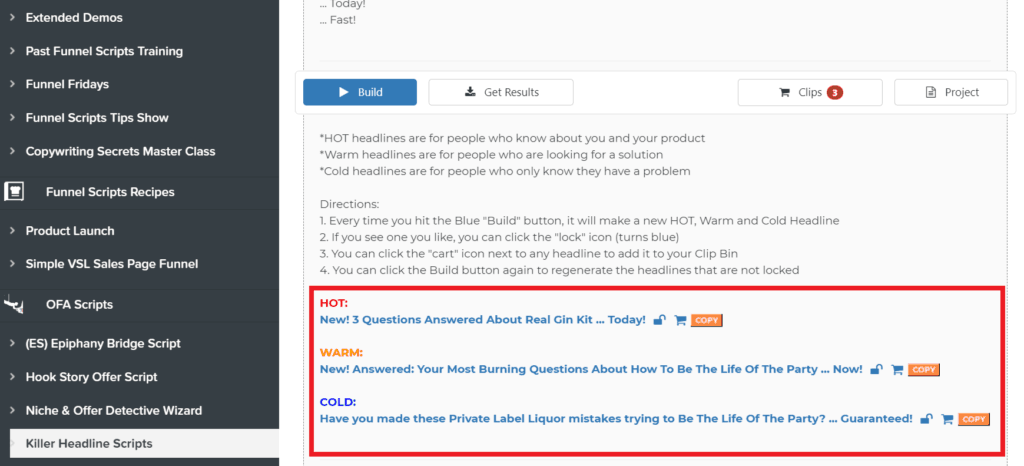 – SHARING PROJECTS
You can save all your finished products and copies to be used in the future if desired and you can also share those projects through a link that is generated by funnel script.
– DOWNLOADABLE WIZARDS
There are 6 downloadable wizards because they are large to be hosted on funnel scripts and these 6 wizards are the following…
The Perfect Webinar Wizard – In this section, because doing a webinar on your own is time-consuming, FS can help you in the following…

Writing your webinar
Writing your promotional emails
Writing follow up emails
Writing your ads

Star Story Solution Wizard – The process of filling the questionnaire for this section takes an average of 30 minutes. but the end result is an amazing story your potential clients won't resist
Easy Survey Wizard – This section is used to build surveys. Based on your answers on the questionnaire form, the funnel script suggests more questions to come up with the perfect survey.
Easy VSL Wizard – This section will give you two proven to work videos of a sales video. You can convert to slides.
Master Class Wizard – This was a concept introduced in Expert Secrets book by Russell. The master class has a lot of components that are not easy to do. But this software can build them for us.
Podcast and Facebook Live Wizard – Answer 16 simple questions, hit the interview button, Choose the interview type you want, and do minor edits if needed. This is all you need to produce a professional and quality podcast with funnel script.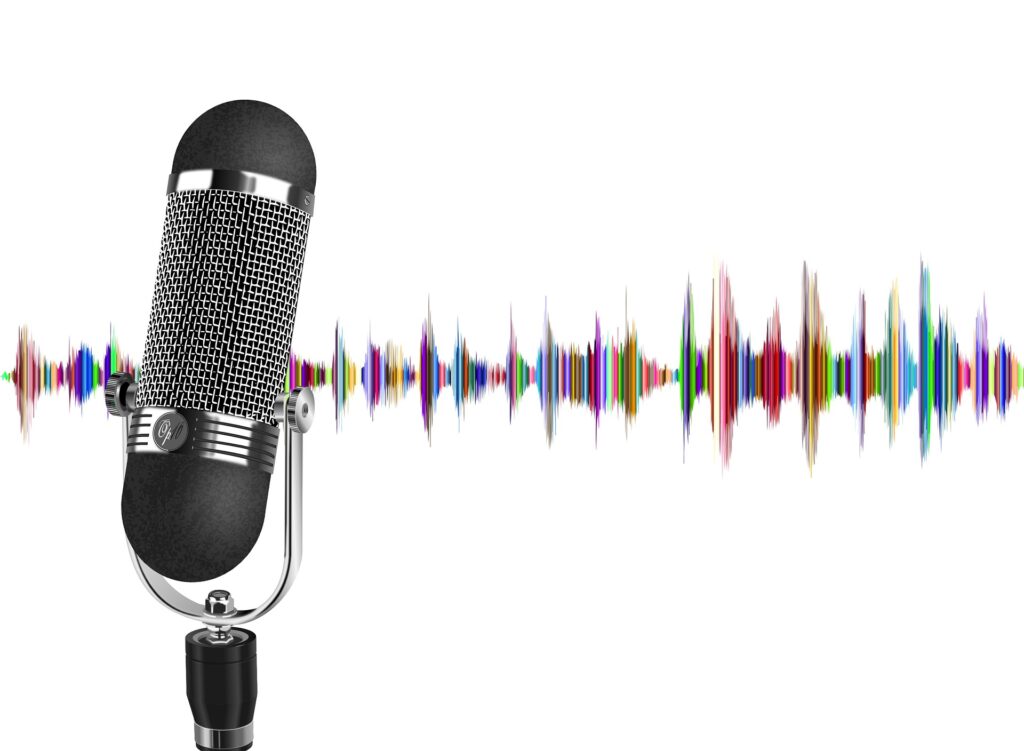 – TRAINING, TIPS, AND WINNINGS
Inside the Funnel scripts platform, you can find all the training needed and a replay of the past training.
Jim also gives weekly tips along with Russell choosing one lucky winner every Friday so that Russell makes his scripts, builds his funnel, and builds his entire business right there in front of him.
MY FUNNEL SCRIPTS REVIEW CONCLUSION
While Funnel Scripts is not a perfect solution to writing a copy, It is the best copywriting software in the market in both the price and quality.
On this Funnel Scripts Review, I highly recommend it If you are a person who is looking for leads and not a good writer, you should definitely buy this amazing software.
I give Funnel Scripts 4.6 out of 5
Even if you don't want to buy it, take it for a spin with a 30 days money-back guarantee.
If you can't offer to buy this product at the moment, Lead Funnels might be the next perfect solution for you. It costs $7 and includes 114 perfect funnels for you to use
USEFUL LINKS
Disclosure: I am an independent ClickFunnels Affiliate, not an employee. I receive referral payments from ClickFunnels. The opinions expressed here are my own and are not official statements of ClickFunnels or its parent company, Etison LLC.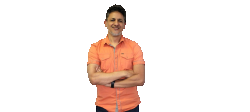 Latest posts by Nabil Al-Baidhani
(see all)