So what is ConvertKit?
ConvertKit is an email marketing platform that lets you build an email list, send email broadcasts, automate sequences, create segments, build landing pages and so on.
When businesses don't send emails to their subscribers, or they don't even collect email, they are leaving money on the table.
Email marketing has become a fundamental part of any business. It is practiced by huge companies like Amazon, Coach, Safeway, and many more because simply it works.
Many companies are even willing to give you a discount on your purchase if you are willing to give them your email address. They know is it an asset and they can make more money in the feature because they can reach you whenever they want however they want through a simple email.
To automate the process of sending emails to subscribers, you need an autoresponder or email marketing system.
Learn all about the pros and cons of using ConvertKit and ConvertKit Review: Is it worth it for you?
WHAT IS CONVERTKIT?
ConvertKit is a fairly new email service provider that came to the market. Since then, it kept improving until it became one of the popular providers in the market.
It is a huge accomplishment that a new service like this competes among the leaders in this field.
IS ConvertKit RIGHT FOR ME?
Every business owner needs and has to use email service providers to target customers through email and without paying a single penny in advertising, that is a given fact.
When choosing the provider, there are several options out there. If you are looking at ease of use, headache-free, designed for the non-techy platform, then I strongly recommend ConvertKit.
FORMS AND LANDING PAGES
Forms are used to get more subscribers to your list usually by offering them something in return like a free PDF for example.
ConvertKit allows you to create 4 types of forms, Inline, Modal, Slide-in, or Sticky bar.


Usually, the form layout is tested to work and you won't have to make much customization. You can embed those forms or you can make them as pop up.
As for landing pages, they are stand-alone pages where you can choose one of the 34 ready-to-use/customizable pages.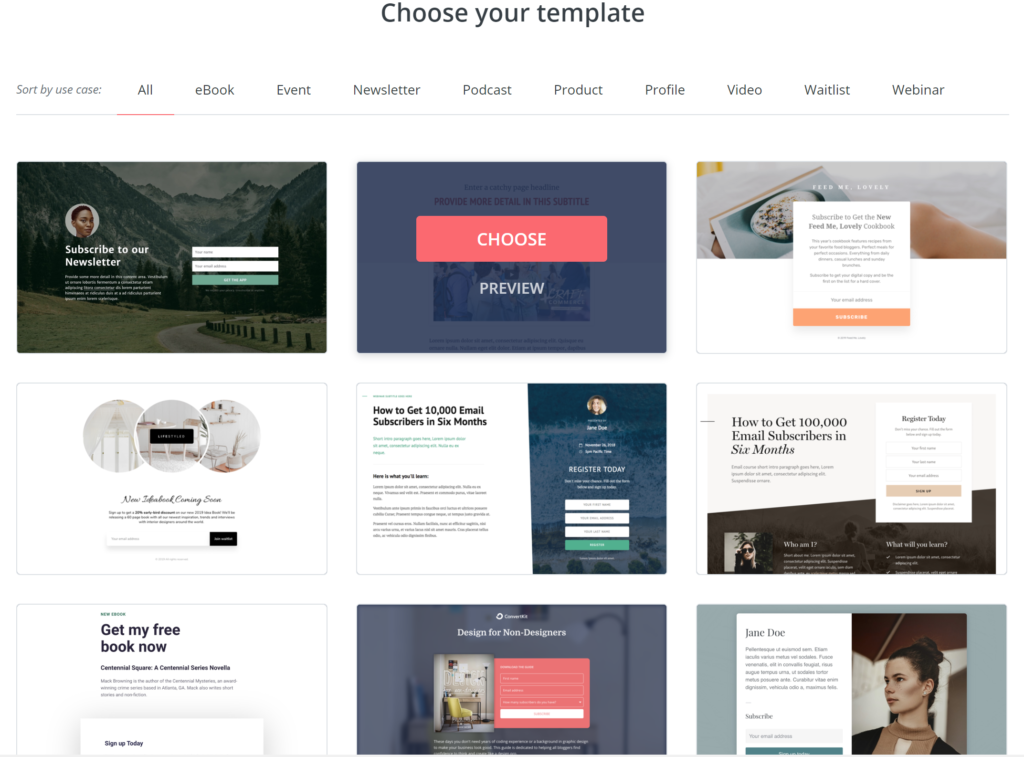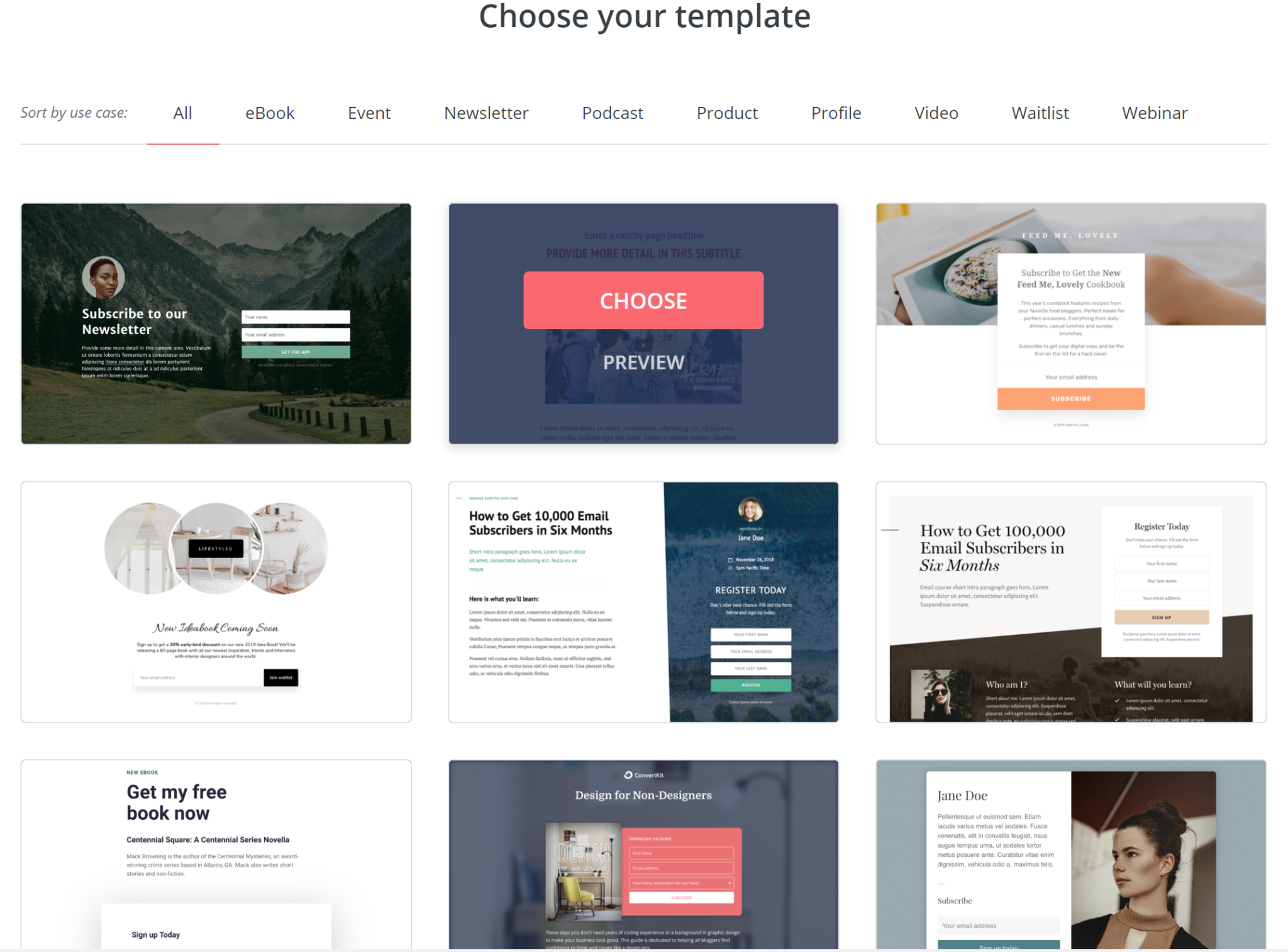 There are no many customization options, but, in return, the pages actually look very nice and modern.
LISTS VS TAGS IN CONVERTKIT
This was a little confusing for me when I first started using ConvertKit. With Drip, ActiveCampaign, and Aweber, the database was separated by lists, for example, I have a list of KRA Marketing, KRA Fitness, and other company.
However, with ConvertKit, you have one common database that is separated by tags. that means in my case if I have 3 companies that are called A, B, and C the list is tagged with A, B, or C
When you first start, you can import your subscribers if you have any in a matter of 2 minutes
BROADCAST
Broadcast is where you send a one-time email to all or part of your subscribers.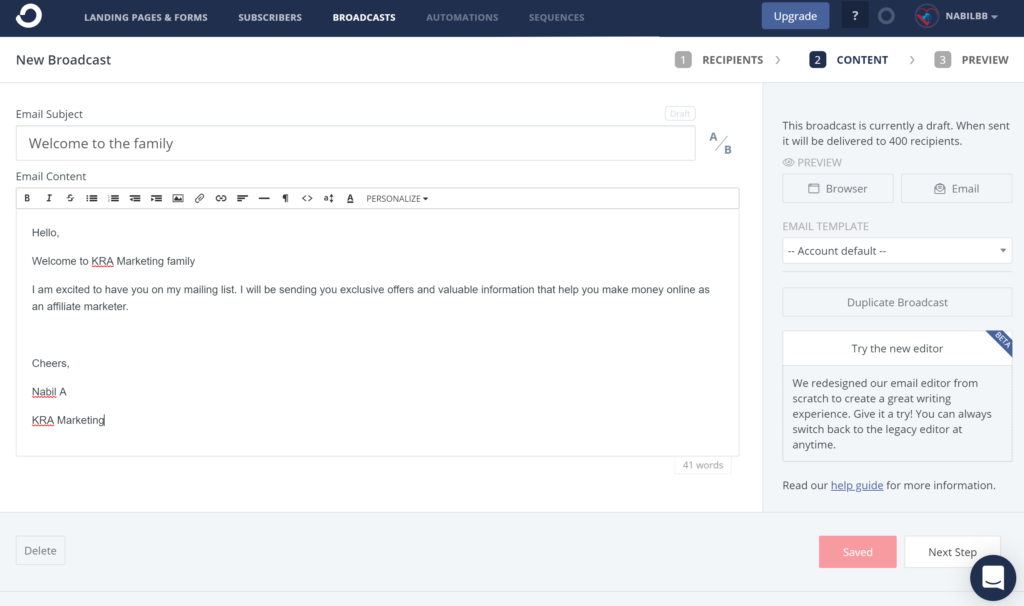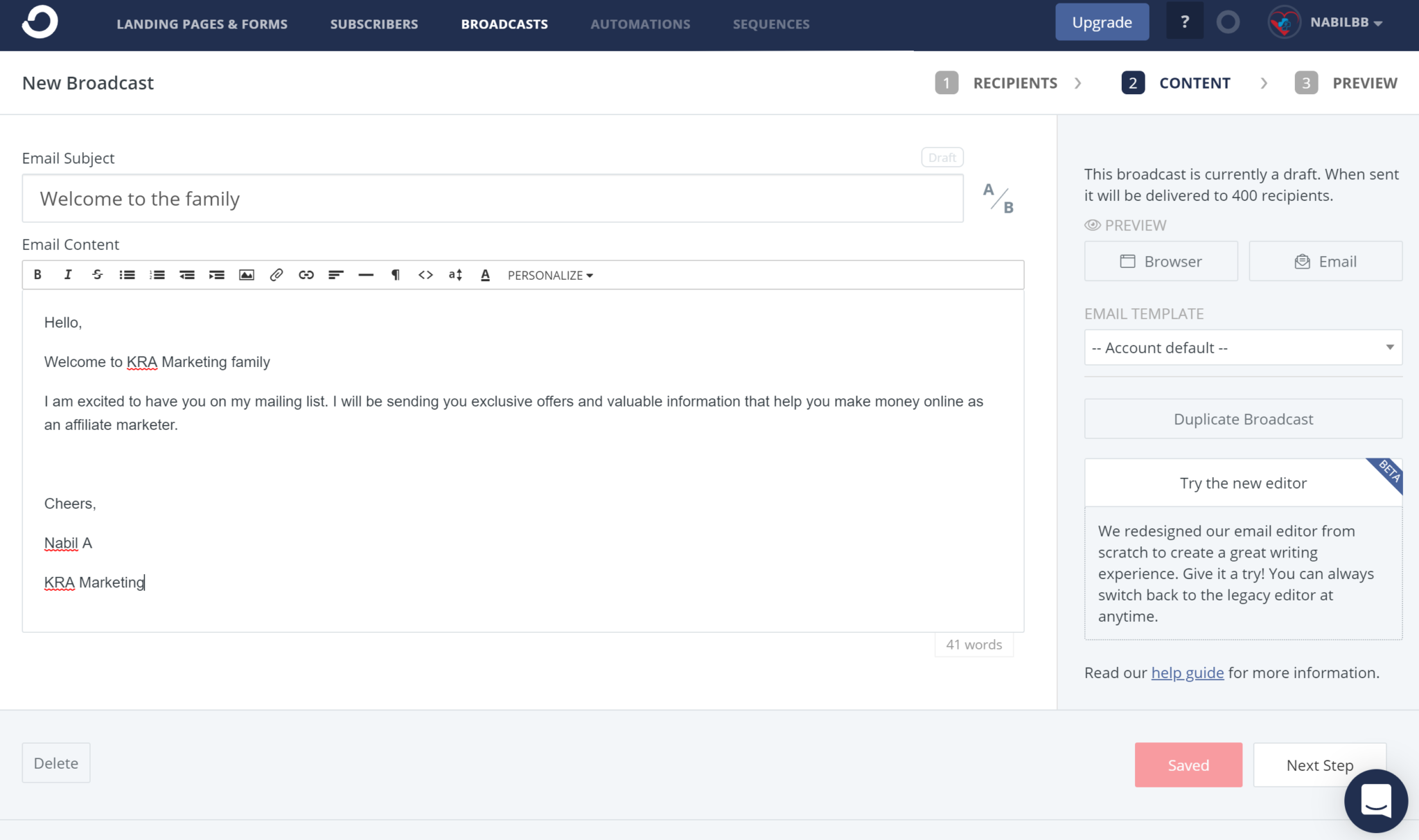 You have to use the segment or tag if you don't want to send it to all your subscribers. You also can test different titles by clicking the A/B button where you can create a different title then after some time, the system tells you which works best.
The editor is a standard HTML editor and I don't think it could be easier than this.
AUTOMATION EMAILS
This is where you create a sequence of emails once and in the feature it will be sent to all new subscribers automatically. This is the point of autoresponders and this is why I use an email service provider.
This is a huge time saving to have. All big players in the market do it, use it, and make huge bucks with it.
You can put complicated conditions to control your automated emails and make them act exactly how you want them to act.
CONVERTKIT EXCEL IN THE FOLLOWING AREAS
EDITING AUTOMATION EMAILS
I used Drip, ActiveCampaign, and Aweber. When I want to edit automation emails, the platform takes me away from the visual map of the automation and you can edit or write the email.
With ConvertKit, it is totally different, when editing automation emails, you visual map of the automation moves to the left where you can see it while editing your email. I think this is a really good thing to have in an email provider platform.
POWERFUL SEGMENTATION
I never saw something like this in an email provider platform except ConvertKit. In one email, you can choose a certain sentence/word/paragraph to be seen only for certain people according to your segmentation.
This is really powerful. for example, you can let only selected people see a link, coupon code,…….etc.


What I do in the past was, send a separate email to those selected people, but, now, I don't have to do that anymore.
BROADCAST EMAIL RESEND
A very useful and practical feature that I saw only with Drip and ConvertKit.
Broadcast emails are those emails sent to all or part of your subscribers, it is almost impossible for your email to be seen and opened 100%
So, you can choose the option to send the email again to those who didn't open it in a day or two which increases your open rate.
CONVERTKIT PITFALLS
There is nothing perfect in our world and don't be surprised if I tell you ConvertKit is one of them 🙂
let's see some of the things I didn't like with ConvertKit
NO A/B TESTING FOR AUTOMATION SEQUENCES
A/B testing is when you want to test an email with a different title of different ….. etc. and the system shows you after a while which works well.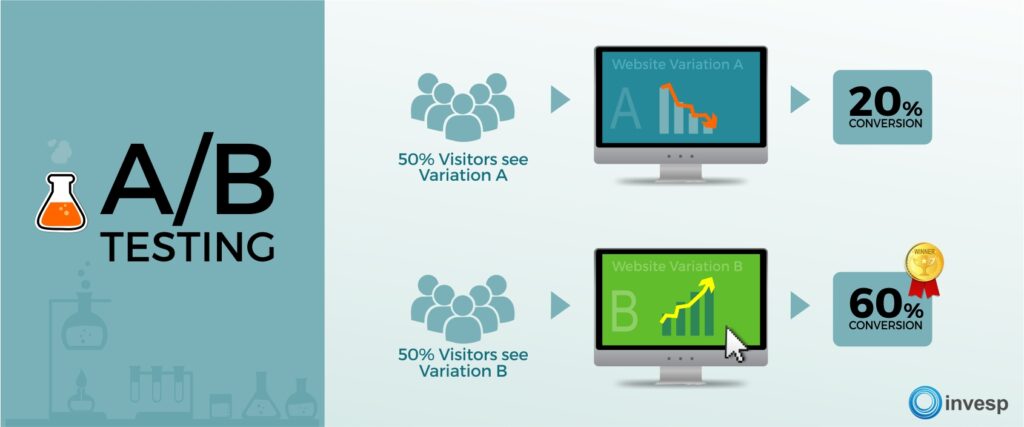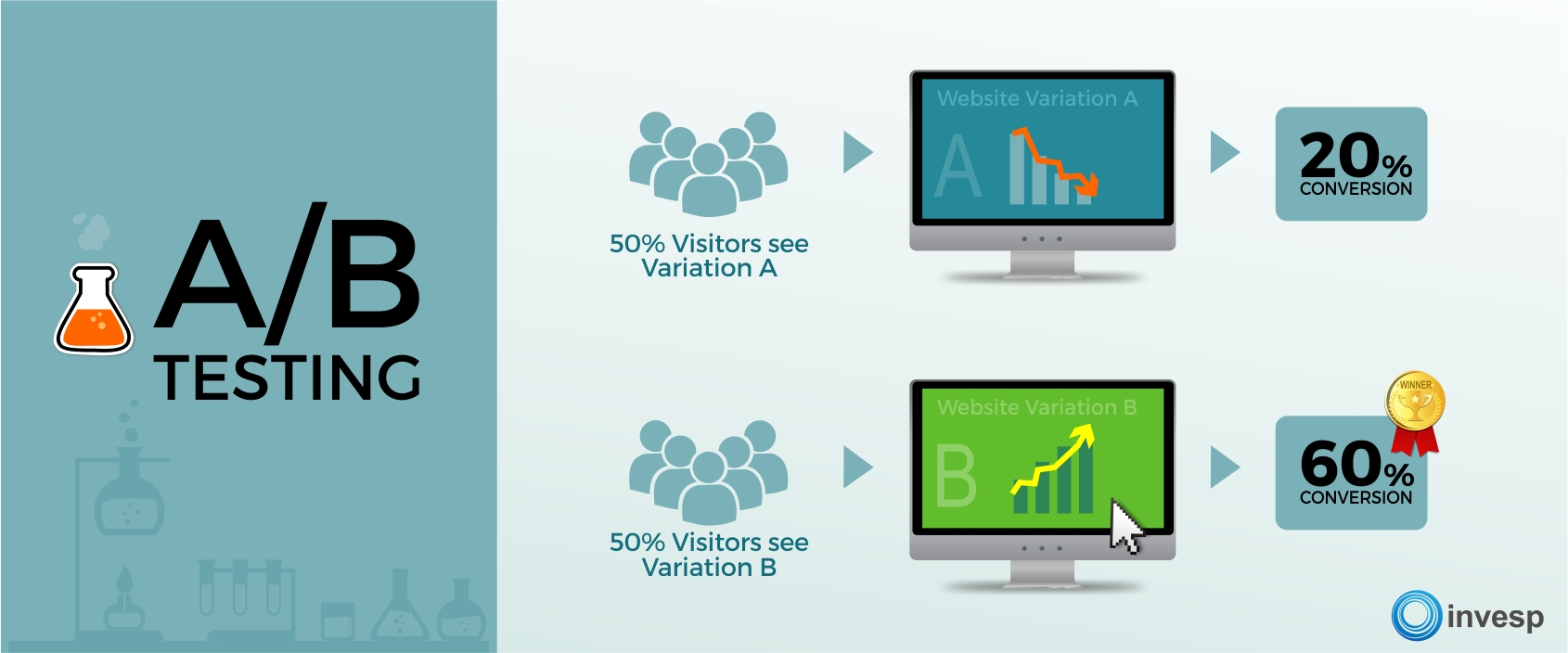 With ConvertKIT, you can A/B test the title in broadcast emails but you can't do it in automation emails.
COLD SUBSCRIBERS
With ConvertKit, subscribers who didn't open emails in the last 90 days will be tagged as "cold" and there is nothing you can do about it.
You have limited ability to deal with that.
VISUALLY APPEALING EMAILS
Emails in ConvertKit are done in a plain text format and not visually appealing. Speaking for myself, all my emails ate purely text and I don't use templates.
For those who want to send templates and visually appealing emails, it won't be available with ConvertKit
But, if you know how to do HTML or CSS, you will be fine and you can modify your emails the way you want them to show.
LIMITED SET OF TRIGGERS TO AN AUTOMATION FLOW
A trigger is an action of an event that lets a subscriber join a certain automation sequence email.
ConvertKit has a very limited number of triggers compared to other services like Drip or ActiveCampaign.
This might be good enough for some users and others might need more. It really depends on what you want.
CONVERTKIT PRICING
ConvertKit gives you 14 days trial period free after those 14 days are over, you have to pay according to how many subscribers you have
IF PAID MONTHLY
Up to 1000 subscribers $29/month
1000 – 3000 subscribers $49/month
3000 – 5000 subscribers $79/month
More than 5000 subscribers get a quote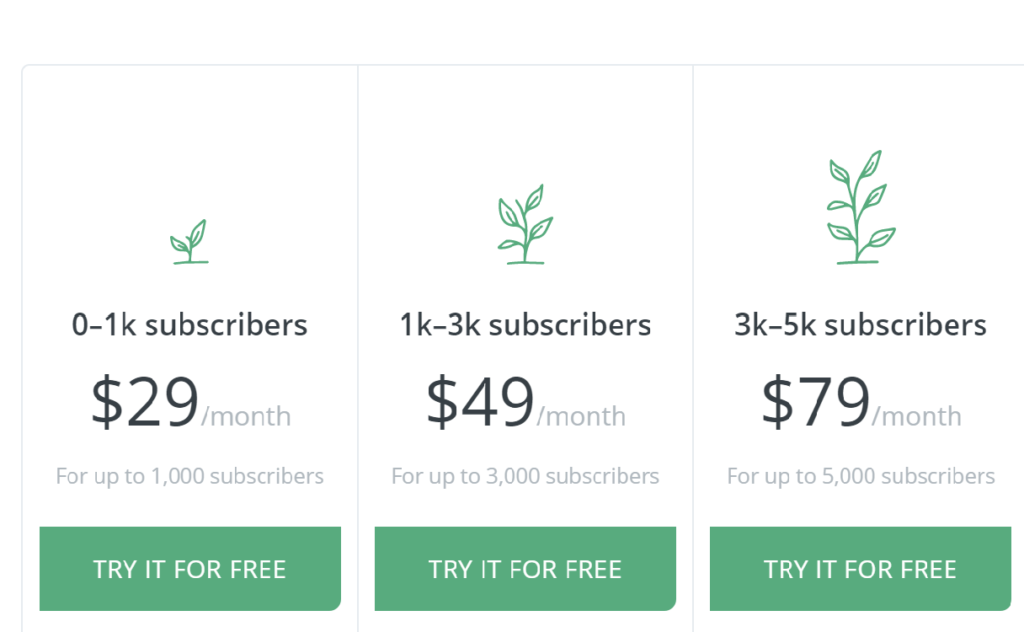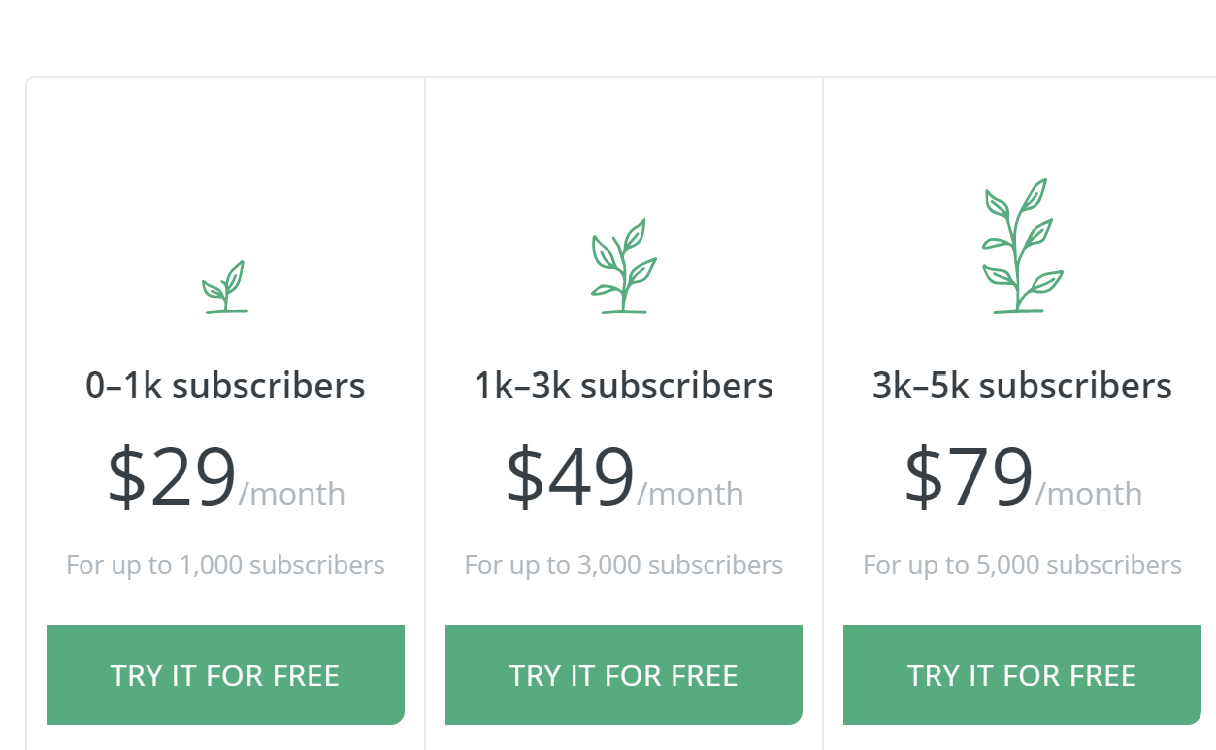 IF PAID ON AN ANNUAL BASIS
Up to 1000 subscribers $25/month
1000 – 3000 subscribers $41/month
3000 – 5000 subscribers $66/month
More than 5000 subscribers get a quote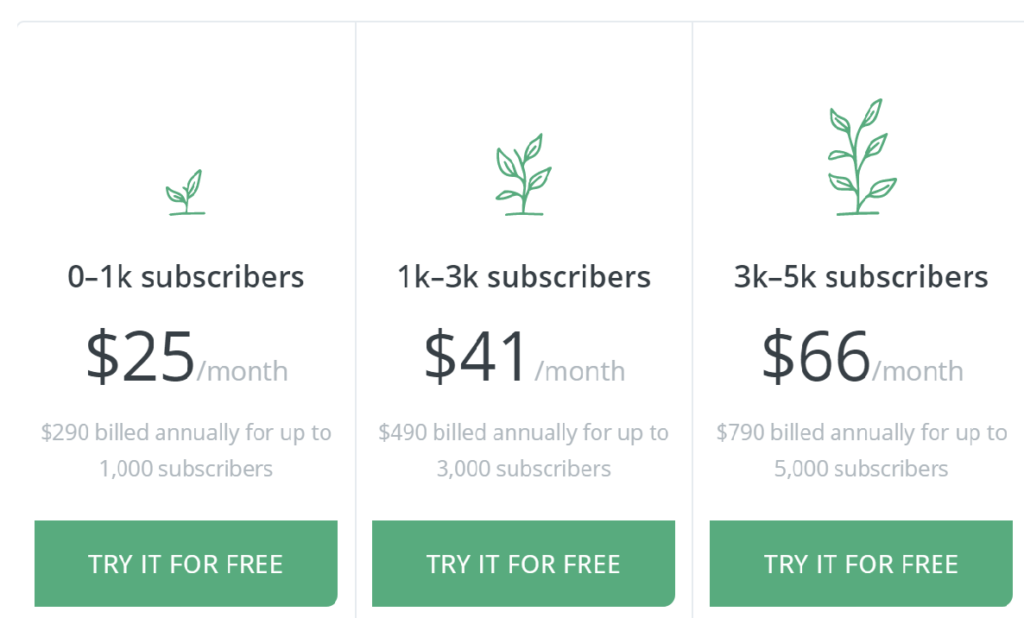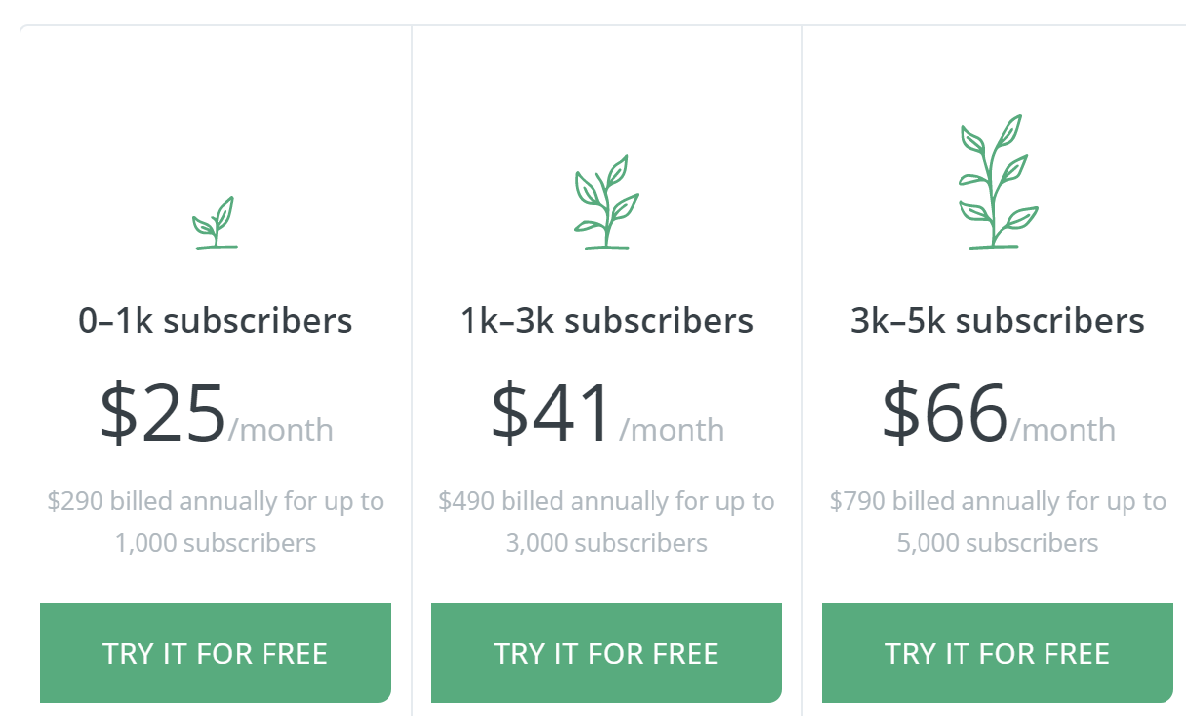 CONVERTKIT VS COMPETITION PRICING
Certainly, ConvertKit is one of the most affordable email services in the market
CONVERTKIT PROS AND CONS
| PROS | CONS |
| --- | --- |
| Lets you make simple landing paged without requiring a website | Reports are not in depth |
| Powerful segmentation and tagging system | Form design is limited |
| Broadcast Auto resend option | |
| Regularly updated and improved | |
| Helpful and solid support | |
HOW CAN I MAKE MONEY WITH CONVERTKIT?
Like it is almost standard in the market, they have an affiliate program that pays 30% recurring commission.
The platform is one of the popular services and people can make good money with it.
CONVERTKIT FAQ
Let's see here some of the common questions that people ask on the internet about ConvertKit and try to answer them.
DOES CONVERTKIT HAVE A FREE PLAN?
At the moment, there is no free plan but, they have 14 days free trial. After that, it depends on the plan you are taking but it is paid.
WHEN SWITCHING TO CONVERTKIT, DO MY SUBSCRIBERS HAVE TO OPT-IN AGAIN?
No, as long as they opted in sometime in the past, they don't have to do it again. ConvertKit has some measures in place to make sure these subscribers are legit.
WHERE DO I GET SUPPORT?
ConverKit has a solid and one of the best support team that you can reach through live chat or emails. Also, there is a Facebook group and community that is ready to help you and answer all your questions.
for example, see below, I asked a question and the community answered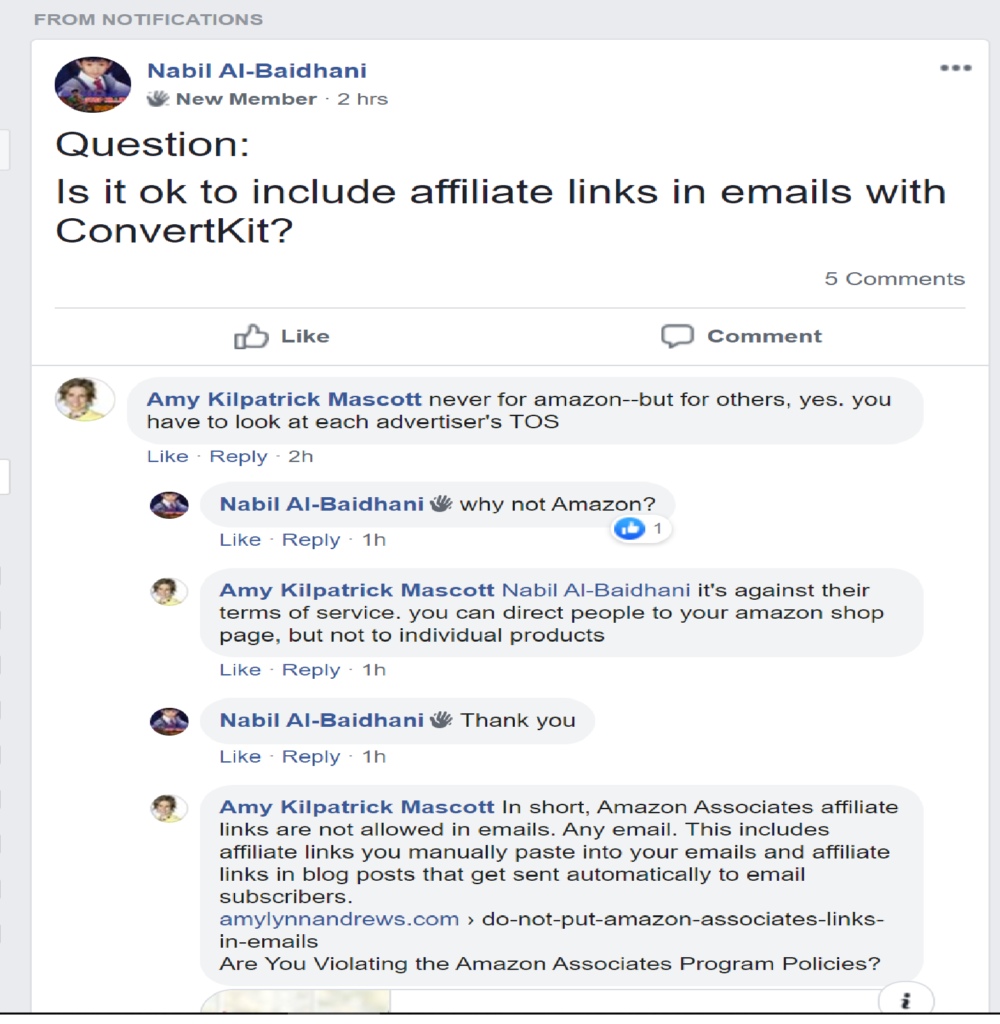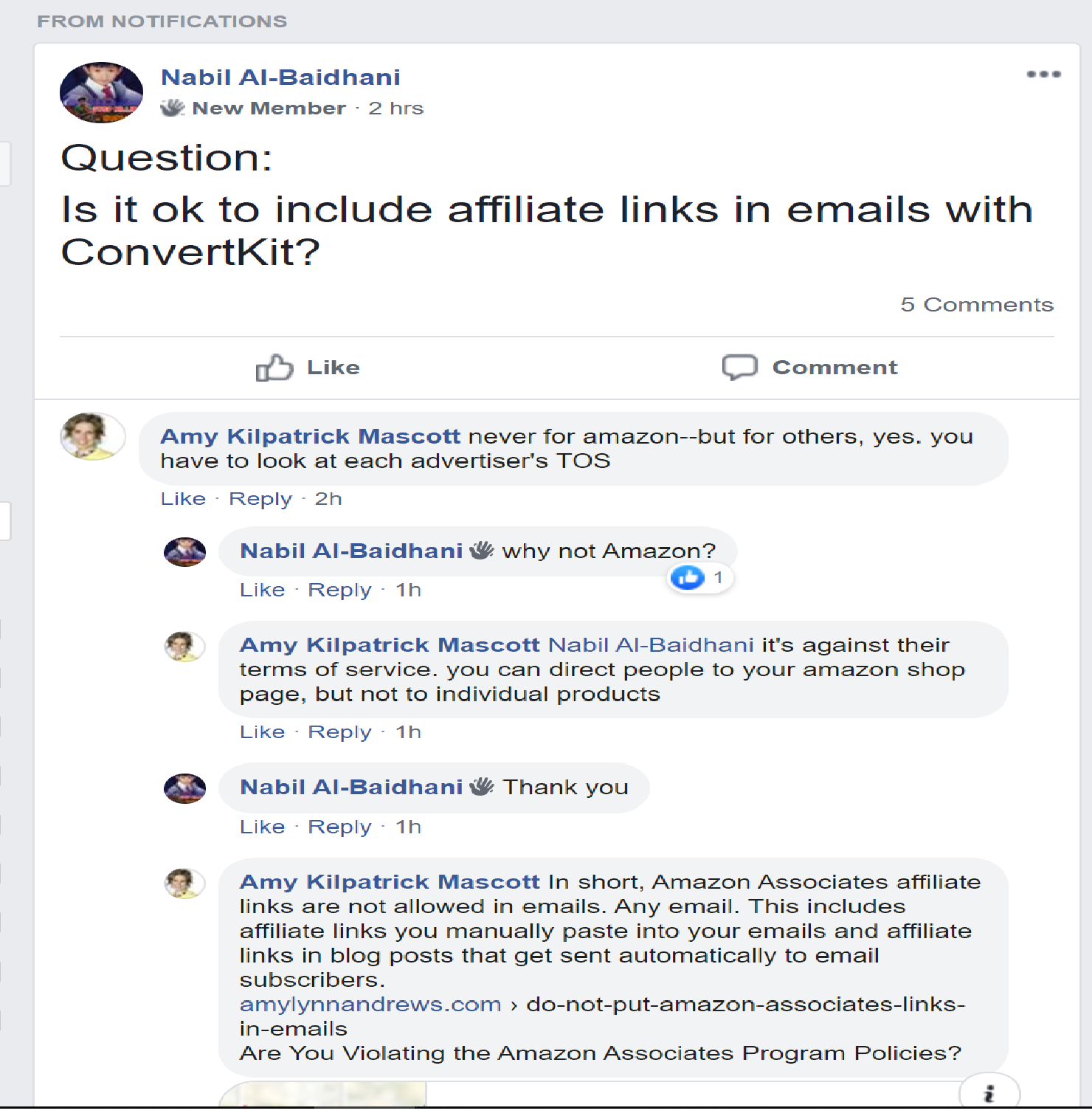 DOES CONVERTKIT OFFERS INTEGRATION WITH 3RD PARTY PLATFORMS?
Yes, it does.
It integrates with tons of 3rd party applications like Shopify, Clickfunnels, stripe, and many more.
CONVERTKIT AGAINST COMPETITION
Let's see how ConvertKit stands against the competition in the market. To be honest, I don't think any platform is better than the other, but, they all provide a service which is a little different than the other, so, it really depends on you and what exactly you want to do with the service.
let's see firs the price difference
CONVERTKIT VS DRIP
Aside from the price difference which is Drip is much higher, Drip has more features and functions that are directed to eCommerce. ConvertKit is still at the starting point of getting into eCommerce, but, it doesn't compete with Drip at all
CONVERTKIT VS DRIP VERDICT – If you are doing eCommerce go with Drip otherwise you can go with ConvertKit
CONVERTKIT VS ACTIVECAMPAIGN
At the lower level, ActiveCampaign is cheaper in price, but it gets almost the same when you have more subscribers.
ActiveCampaign has more complex and complicated triggers, tags, and automation, but, ConverKit is easy to use and beginner-friendly.
One thing I don't like about ActiveCampaign is, they don't allow affiliate links in emails. But, what I do is, I link to my website then from there, to my affiliate programs.
CONVERTKIT VS ACTIVECAMPAIGN VERDICT – If you are looking for a simple to use and beginner-friendly platform, use ConvertKit. If you are looking to do complicated automation emails then go with ActiveCampaign.
CONVERTKIT VS AWBER
The price of Aweber is a little cheaper than ConvertKit. I can't find anything else to recommend Aweber over ConvertKit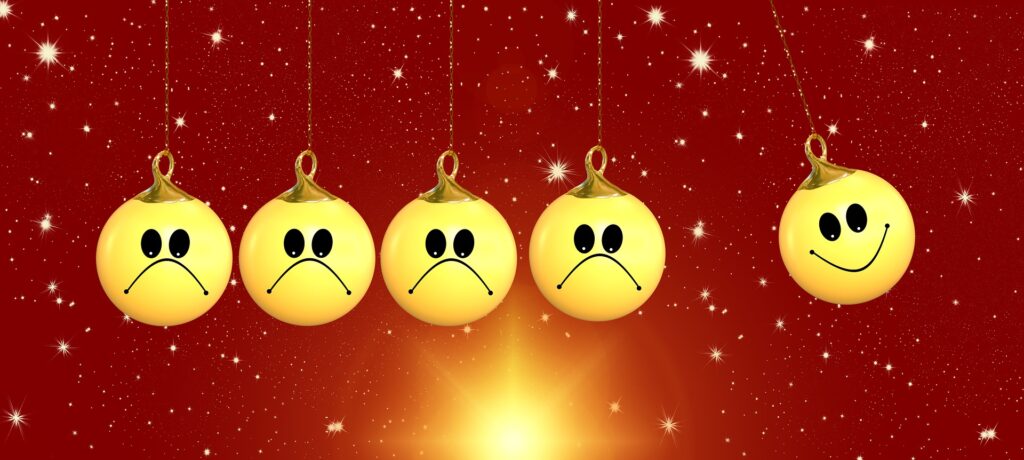 CONVERTKIT VS AWEBER VERDICT – If you want a cheaper price, go with Aweber, otherwise, I recommend ConvertKit over Aweber.
CONVERTKIT VS MAILCHIMP
However, MailChimp is offering the first 2000 subscribers free, I never liked it for the following reasons:
They don't allow affiliate links
Complicated-to-use and ugly automation
tagging features that are not available with Mailchimp
CONVERTKIT VS MAILCHIMP VERDICT – No question about that, I go with ConvertKit.
FINAL THOUGHT ABOUT CONVERTKIT
As I said above, the platform is fairly new to the market, but, in short years, it became one of the leading email services.
It is directed to bloggers, content creators, and affiliate marketers. It is easy to use and powerful with some limitations.
They even offer a trial period that you can take advantage of and see for yourself.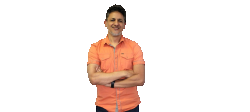 Latest posts by Nabil Al-Baidhani
(see all)