For an online marketer, Link tracking is an important factor in taking any business to the next level. But, why is that?
It is logical to concentrate your effort on avenues where you can make more money, have more leads, or simply gives the best result. In order to do that, you have to track where those leads, sales, or results are coming from.
To give an example, you advertise on Google, youtube, and Facebook. You found out that Facebook gives you better results. Then it is logical to concentrate on advertising on Facebook.
However, Link tracking is used for things way beyond just tracking links, but, We are going to talk about that later.
In this article, We are going to Clickmagick Review software and see all the good, cool, and amazing stuff that comes with it.
Link tracking and sales tracking is the most important talk of any business owner.
What Is ClickMagick (And Why Should You Care)?
Simply, it is a web-based application that allows you to do many things that we are going to see later.
One of the main functions is, it allows you to create tracking links and shows you
Where and how many leads coming
Leads that result in sales
In short, It tracked everything you need to know about links.
WHAT CAN Clickmagick DO? Powerful Tracking Software
Let's see here, what ClickMagick can do and how can we use it!
1. CLOAKING LINKS
If you are an affiliate marketer or online marketer, you know what I am talking about. Usually, affiliate links are ling and messy. Let me give you an example:
this is an original affiliate link "https://my.wealthyaffiliate.com/order/blackfriday?a_aid=d3dd36a4"
When we shorten the link, it becomes like this "http://bit.ly/2DGa7Ex"
Do you see the difference? The first one looks spammy and people won't trust it enough to click on it. You know that every click you lose is the potential money you lose.
To do this, you have a free option like Bitly
2. SPLIT TEST
With Clikmagick, you are able to use one link but send traffic to two different pages.
For example, you want to test a different headline, picture, landing page, or whatever you want. From one link, ClickMagick sends the traffic to two different pages that have a different headline, picture,….etc.
After some time, Clickmagick shows you which page is better, which page converts more, which page results in more leads. All you need to do then is, send all your traffic to that page and make more money.
3. TRACKING
Let us say you have a blog or a landing page, you send traffic to this page from different sources like Facebook, Tweeter, Quora, Instagram, …..etc.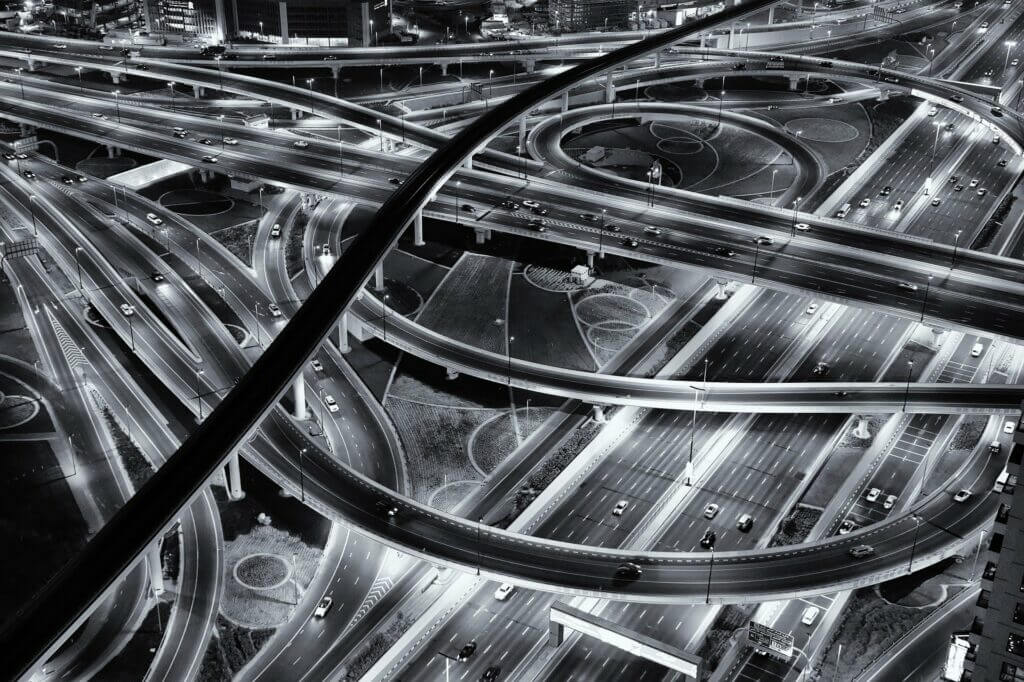 Let's say that every month you get 20,000 visits. If you want to know where that traffic is coming from, ClickMagic can do that for you.
All you have to do is, set unique IDs to those traffic sources, like FB, INST, TWEE,….etc.
Then, ClickMagic tells you exactly how much traffic you got from each source of yours.
Knowing this information is very important. for example, you found out that you are not getting much traffic from Instagram, then you don't have to waste much time on it or you have to change your strategy.
4. TRACKING THE AFFILIATE PAGES
Tracking the pages you own is no problem, but, how about you are an affiliate marketer and you send traffic to a 3rd party pages that you are affiliated with!
You need to track these links and see if your marketing effort worth the time that you spend on them.
ClickMagic has a solution for this. you assign that 3rd party page to your tracking list, once a person performs the desired action, a blank page opens, then will be forwarded to the next page in a blink of an eye and that action/lead is tracked.
A few years back, I don't think there is a platform that can do something like this.
5. CUSTOM TRACKING AND RETARGETING PIXEL
In the past, you can track only the people who visit your sites and that is about it.
Now, with ClickMagic, you can track any visit to any third party using the method mentioned above, and retarget them in your ads and marketing effort.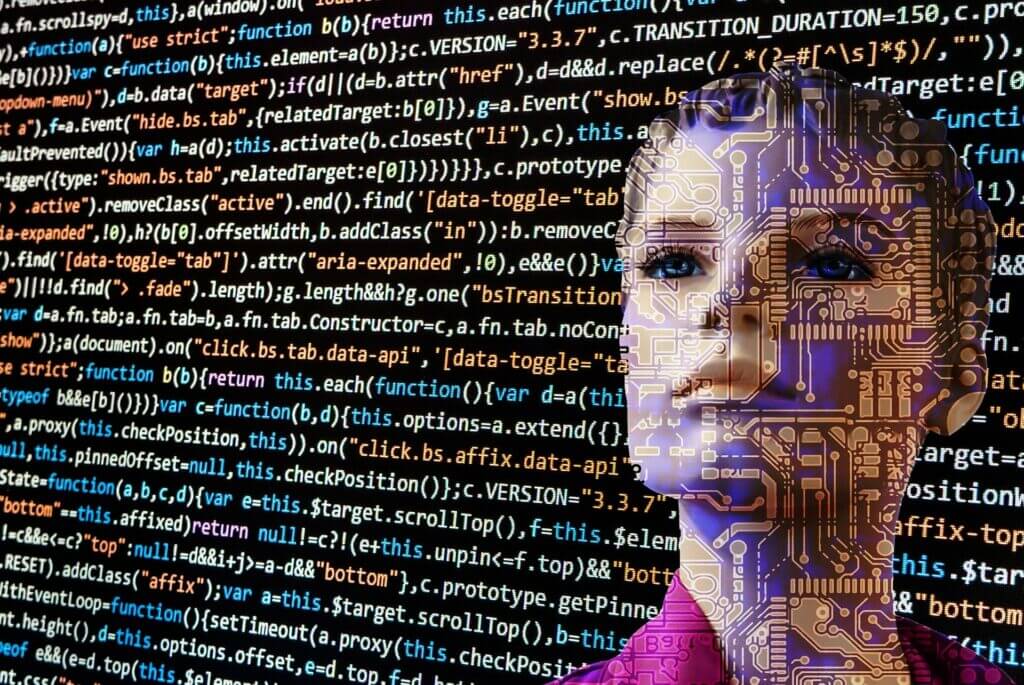 Let me picture the possibilities for you here…..
Let's say you promote Clickfunnels, ActiveCampaign, Kartra, or any other affiliate product.
you send traffic through your affiliate link to those pages that you don't own. you can set up a pixel to track anyone who visits those pages through your link and retarget them in your future ads.
That means, more leads and more sales.
6. ADD A CALL TO ACTION AND COUNTDOWN TO ANY WEBSITE
This is a really cool feature. If you are an affiliate marketer, you can add a call to action and a timer to a 3rd party's website that is visible only to those who visit that website through your affiliate link.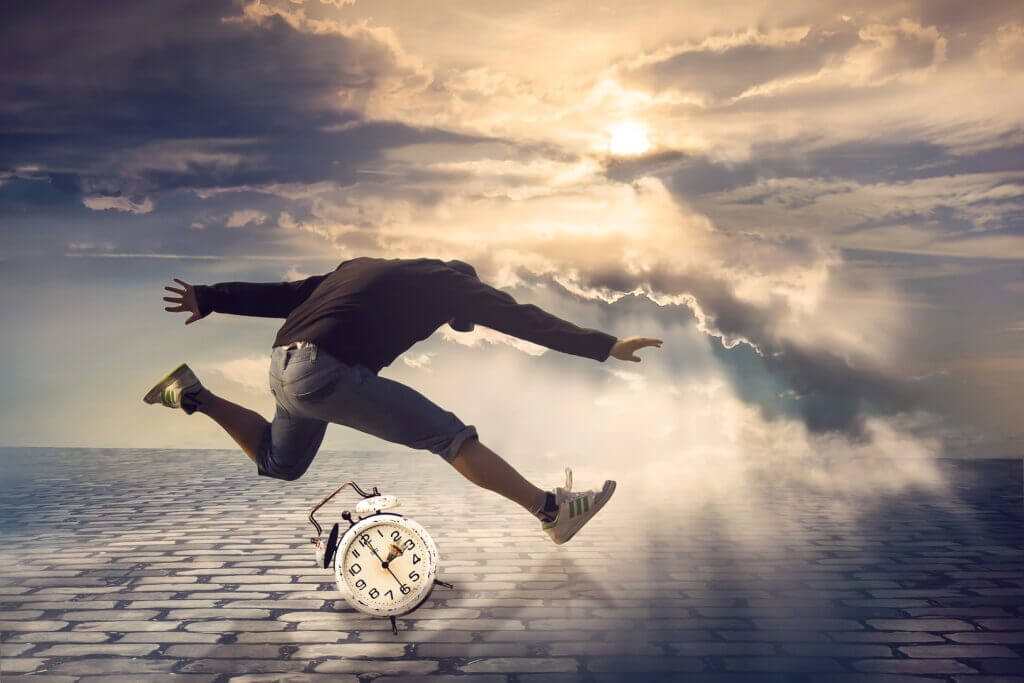 It is a proven fact that scarcity and a clear call to action are huge factors in increasing sales and leads.
On the flip side of the coin, some website owners don't like this feature because they don't want anyone to add anything to their website.
How about you! what do you think?
7. DATA IMPORT AND EXPORT
This is standard practice with most software platforms. If you have a huge amount of affiliate links and several affiliate programs that you are part of, this can be a huge time saver for you and make your life a bit easier.
8. DOWNTIME ALERT
When you connect your affiliate links to ClickMagicK, It tells you when a certain website is down once it happens. This becomes a critical issue for those who run paid ads.
Let's say you are running a paid ad on Facebook worth $500/day. on that ad, you are directing people to ClickFunnels Products page as an affiliate.
If that page is down, Facebook doesn't care, it will still be running your ad and sending people to a site that is not working. As a result, Facebook keeps charging you money.
But, when you have ClickMagicK, It notifies you that the link is down and you can stop the ad that is running. This way, you save a lot of money because an online world is full of downtime.
9. MEASURING PROFITABILITY
In ClickMagick, you can assign numbers to the value of conversion and the value of expenses for all your affiliate links, So, you have the stat and margin of your profit once conversions happen.
This way, you know if you are making money or not and make decisions based on those results.
10. QUALITY AND SOURCE OF TRAFFIC
With ClickMagicK, you can see the quality and source of traffic. This is useful if you are running solo ads. You need to find out if the traffic sent through Solo ads real or fake.
ClickMagicK can tell you that with a nicely done picture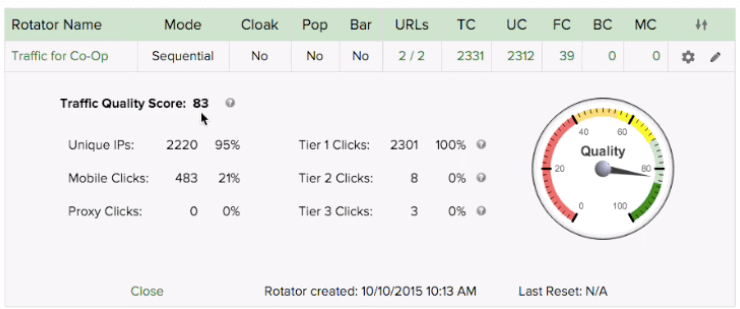 It also shows you the source of traffic and the exact location and IP addresses.
11. ALERTS & NOTIFICATIONS
Notifications are the most useful things with ClickMagic. They can be delivered to your email, your phone, or both.
You can set up notifications based on many things like certain actions, conversions, rate, downtime,….etc.
Then, you can take action based on those notifications. for example, if you have a notification that a certain site is not working, then you stop all links or ads pointing to that site, if you get an alert of underperforming conversion, you can stop driving traffic to it or make the necessary adjustments,…….etc.
IS Clickmagick RIGHT FOR ME? Clickmagick Review
If you are an affiliate marketer, and you are just starting, you don't really need to get ClickMagick because naturally, when starting, you won't have many links to track, you won't have much traffic.
But, when your business is taking off, then it is a very good idea to have ClickMagick because it makes your life easier.
CLICKMAGICK PRICING: Is Clickmagick Worth?
ClickMagick offers 30 days free trial to try and see if the product is right for you. After those 14 days, there are 3 plans:
STARTER PLAN – It costs $27/month
STANDARD PLAN – It costs $67/month
PRO PLAN – It costs $97/month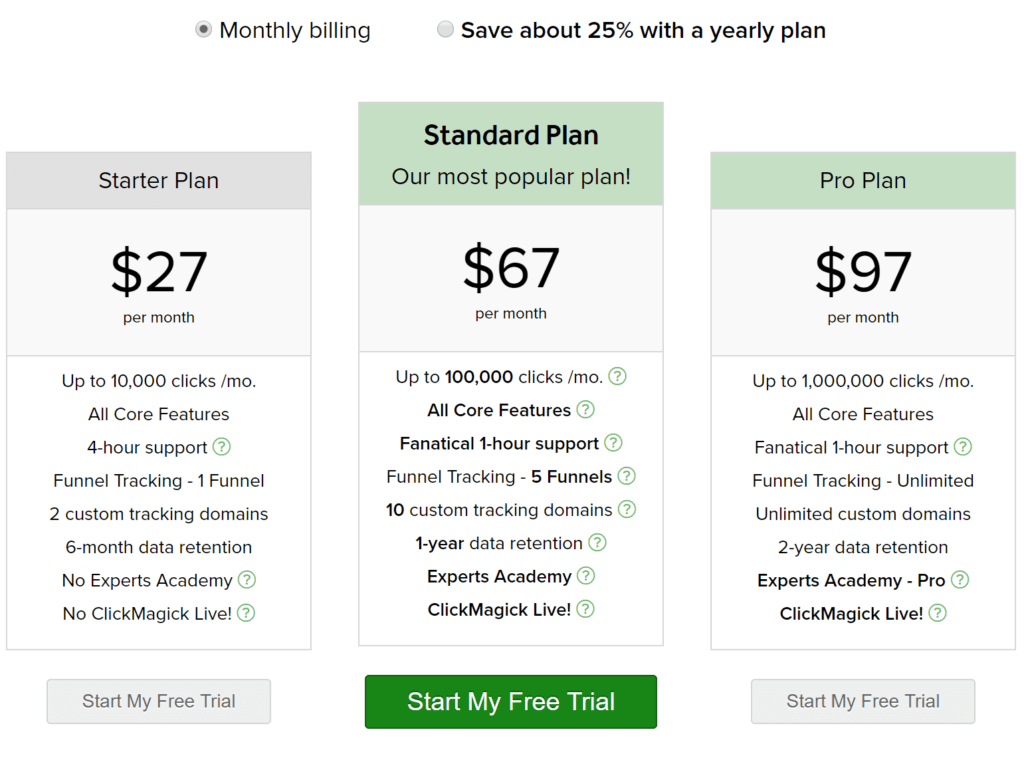 There is also a 25% discount if paid annually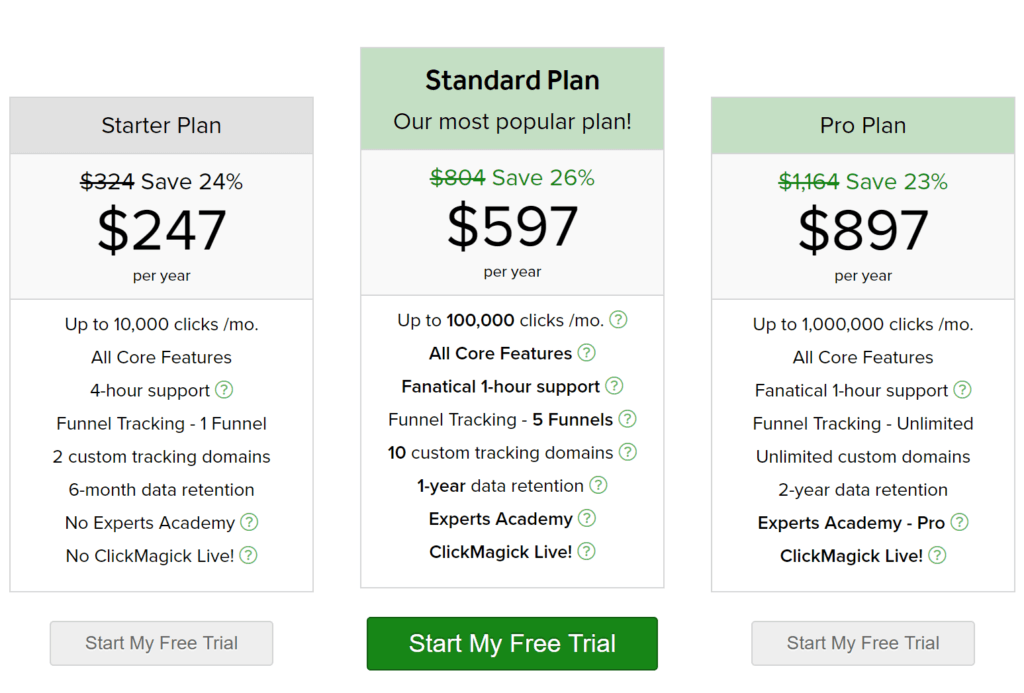 PROS AND CONS OF Clickmagick Review
| PROS | CONS |
| --- | --- |
| Setting up tracking links is quick and easy | Content tool feels an old system |
| It performs split testing | Potential conflict while setting up custom domains |
| Quality and scoring system of traffic | |
| Support is fast and helpful | |
| Price is affordable | |
CLICKMAGICK VS VOLUUM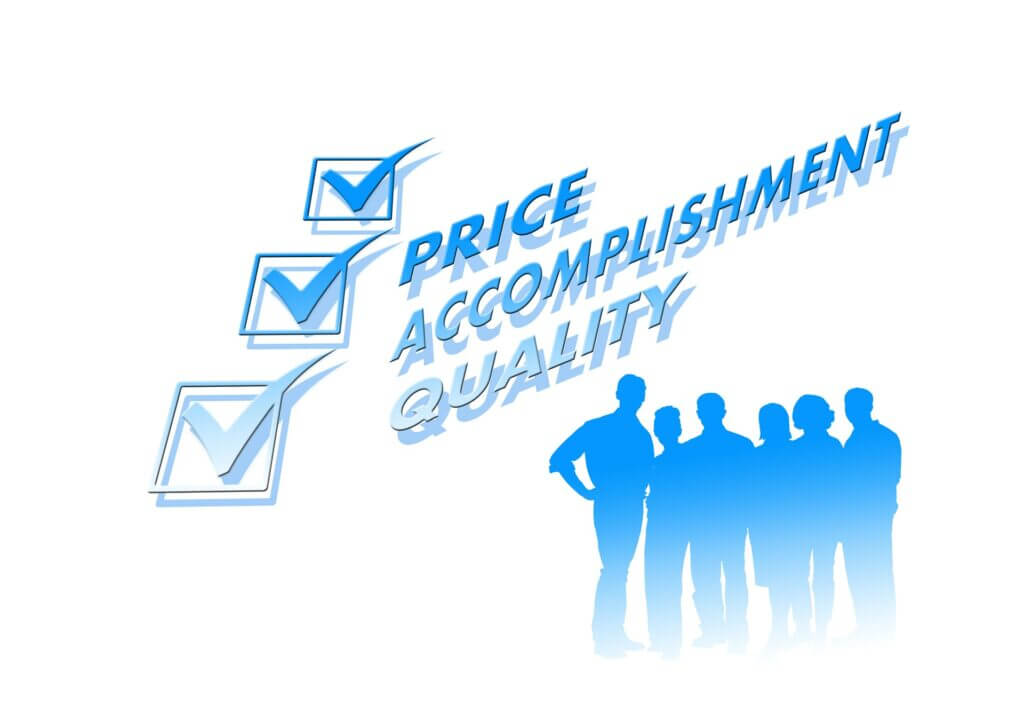 Voluum also is a great platform that provides similar services. There are people who prefer it over ClickMagick, but for me, I prefer ClickMagick for the following reasons:
Voluum is not self-hosted while ClickMagick is
Voluum has no alert system which is a very important feature that saves money
The price of Voluum is much higher than the price of ClickMagick. It starts at $69/month while ClickMagick starts at $27/month.
CLICKMAGICK VS TRACKING SCRIPTS
Tracking scripts are HTML codes hardcoded in your website. but, there are three reasons that make ClickMagick better than those scripts:
ClickMagick is web-based with nothing to install, nothing to hard-code, and nothing to lose if there is a server problem, database loss, or other reasons.
Tracking scripts tend to be long and chunky which might cause lowing down the website which in return results in losing a conversion.
Usually, makers of scripts of this sort, don't release updates and fixes because they sell scripts for a one-time fee. Unlike ClickMagick. They always have updates and fixes.
CLICKMAGICK VS GOOGLE ANALYTICS
Google Analytics is a very good reporting system that is part of Google and does what Google does. I use it, I like it, but, when compared to ClickMagick, I find ClickMagick to be much better for the following reasons: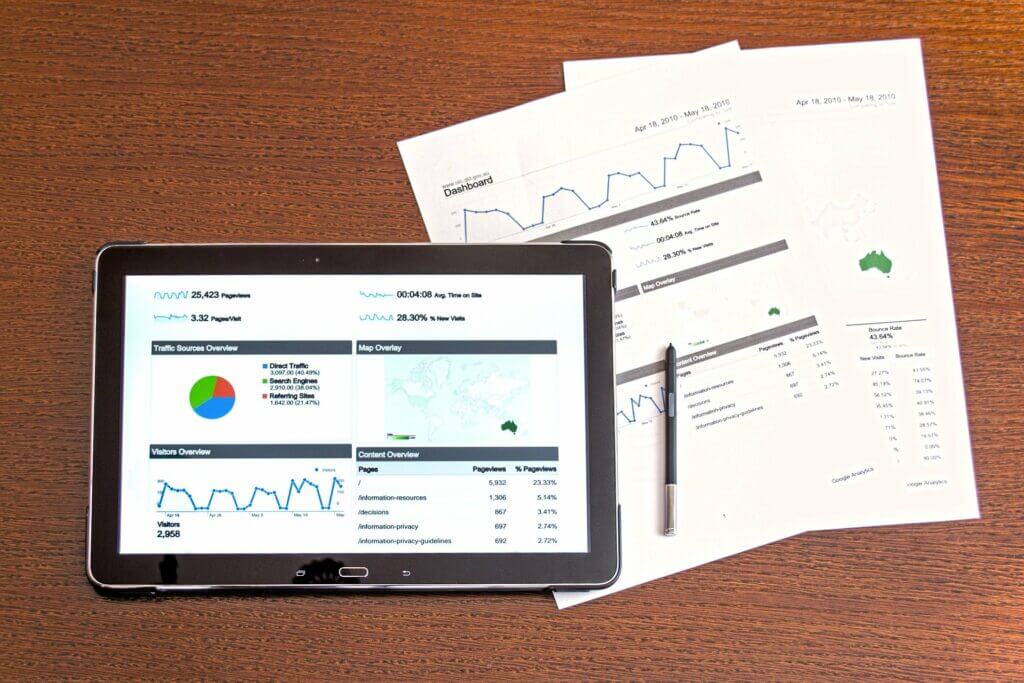 Analytics is not user-friendly as ClickMagick. anyone who used Analytics can confess to that.
Reports in Analytics are delayed I think 24 hours unlike ClickMagick that shows you data in a real-time manner
There is no great customer support with Analytics link ClickMagick
Google Analytics doesn't show you sites that are down, you can't put your own numbers to see if your effort is worth it,…..etc.
ClickMagic has around 30 features that are conversion boasting or money-saving. analytics doesn't have that.
THE MOST I LIKE ABOUT CLICK MAGICK
Here is the most amazing thing I like about it, free education. ClickMagick offers free courses through Expert Academy.
The courses are delivered about Online Marketing. Now, you can have 14 days of free trial to those high-quality courses and take advantage of this free trial period.
CLICKMAGICK FREE PDF GUIDE
You can download a free Clickmagick PDF guide that shows you everything you need to know about tracking, things that you need to track, and tracking affiliate sales.
The PDF copy is free for anyone to download by Patrick Kelly. Download it here
CLICKMAGICK AFFILIATE PROGRAM
Yes. ClickMagick has a generous affiliate program that pays 35% recurring affiliate commissions. If you are an affiliate marketer/online marketer, this is a very good chance for you to start using the platform and promote is at the same time.
Sign up to become an affiliate and start promoting the platform now.
CLICKMAGICK TESTIMONIALS
This tool and platform is something you won't know that you need until the time you use it. That was the feedback from a lot of people. If you search online, you will find countless people who say good things about the platform and its functionality.
Let's see some of these testimonials…..
After generating millions of dollars online, I've seen what works and what doesn't. And for a very long time, I struggled with the techie stuff that comes with most click trackers. We've now helped thousands of customers get more traffic to their websites, and I can confidently say ClickMagick is by far the most accurate, fun, and simple way to track your clicks – with all the advanced features you'll ever need. No matter where you get your traffic, this is a MUST HAVE tool
Shaqir Hussyin
I'm not exaggerating one bit when I say that ClickMagick is one of the most-loved resources we've ever used at our business, and it has really helped us to take things to the next level.
Mike Cooch
ClickMagick saved me hundreds of dollars during my free trial alone. I was funneling hundreds of dollars to a Teespring campaign but when I received a ClickMagick SMS alert right to my phone I was able to cut the traffic until Teespring got their site back up. I would've lost hundreds, but ClickMagick saved me
Ralph Jordan
WHAT IS THE ROTATOR IN CLICK MAGIC?
This feature is unique and very useful for people who sell traffic. Let's say you sell traffic to Brian and John. They both give you links to direct your traffic to.
You can have different settings on how to deal with the clicks by your traffic:
Sequential Mode – This setting allows when a user clicks a link for the first time, it gets directed to Brian's link, when the user clicks again, it gets directed to John's link, then Brian's, and John's…..etc.
Spillover Mode – Direct users to another website after Brian and John reached the maximum number of clicks
Fulfillment Mode – In this case, let's say Brian orders 100 clicks. John orders 100 clicks. When you send your traffic, the user gets directed to Brian's links over and over until Brian reaches his 100 clicks then the user will be directed to john's link.
Random Mode – This is distributing clicks randomly until the exhaustion of max clicks
CLICKMAGICK REFUND POLICY
Clickmagick policy is actually a generous one.
First, you get 30 days free trial period. Then if you purchased the product, within 30 days, you can ask for a refund with no questions asked.
so, that means you can try the product for a total of 60 days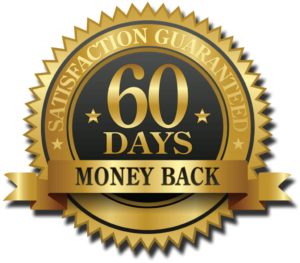 FINAL THOUGHT
As I said, Clickmagick is software that you won't know that you need until you actually use it.
If you are an online marketer, with several links or affiliate sites to track, you definitely need this software. Track links, save money, and be more effective and profitable just by using this platform.
You might not really need it, but you certainly want to take advantage and try the software for 30 days free with no commitment.
I am giving this product 4.7 stars out of 5 for the valuable feature that can save money, increase conversion, and give you clear data on where to focus your marketing effort.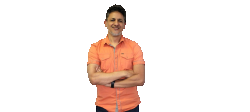 Latest posts by Nabil Al-Baidhani
(see all)