If You have ZERO money but you want to start an affiliate marketing business then this blog is for you! How To Do Affiliate Marketing FREE?
Affiliate Marketing is a great way to earn money online without going anywhere and without investing money. So that's why I make videos to provide you with the proper knowledge to kick-start your online journey today!
What is Affiliate Marketing?
Affiliate Marketing is selling someone else's product for a commission. It can be done in many ways and on many platforms, but, in this article, we are going to focus on a completely free method.
Product owners sometimes are not good at promoting their products or, don't want to deal with the marketing aspects, that's is why they use affiliate marketers to do the job and give them commissions every time a product is sold.
Why affiliate marketing is the easiest method of online business?
Affiliate marketing is the easiest method of online business especially for beginners for the following reasons;
You don't have to have your own product
You don't hold an inventory
You don't have to deal with payments and refunds
You don't have to deal with shipping and returns
It is fast to start and requires minimum to no money upfront
All you have to do as an affiliate marketer is, show people a product that they are already looking for and attract them to click on it.
What is needed to do Affiliate Marketing?
To do affiliate marketing, you need three things;
A Product – It is something that needs to be promoted and someone must buy
An Offer – It is a text, image, or video that you have to put together to promote the product.
Promotion Platform – It is the place where you post your offer and has traffic
In this article, We are going to see how to have all these three things free.
If you prefer a video version, I have the whole process on the video HERE
3 Affiliate Marketing Process
Now, let's see how to have the three elements of affiliate marketing free.
1. A PRODUCT
This is the easiest part because 95% of affiliate products to promote are free. There are only few products that require you to have a paid account in order for you to be able to promote.
Affiliate products can be found many places on the internet, but, today, we are going to work on products on Clickbank.
CLICKBANK – Is a website where product creators list their products and allow affiliate marketers to promote them for a commission. The thing about clickbank is;
They offer high commissions
They accept anyone unless they are from countries that are banned by clickbank.
They have a huge amount of products and a big list of categories.
If you don't have an account on Clickbank, register for free. Clickbank.com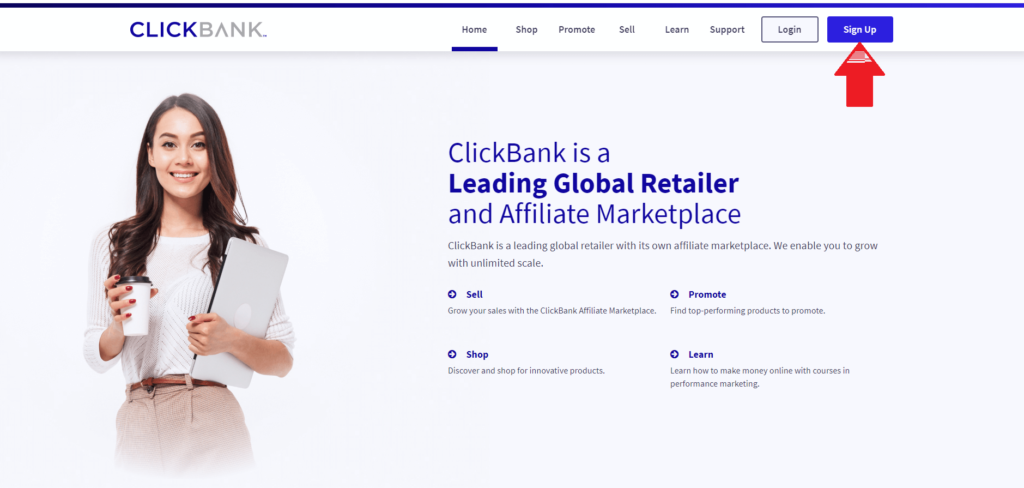 After you sign up and login, click the "marketplace", on the left side, you will see red menu of categories, and inside those categories, you find sub-categories.
From there, you can choose any product you want to promote.
Tip in choosing a product:
Always choose a product that has high gravity score, that means, many promoters are seeing success with that product.
Choose a product that has affiliate page which means you will get affiliate resources.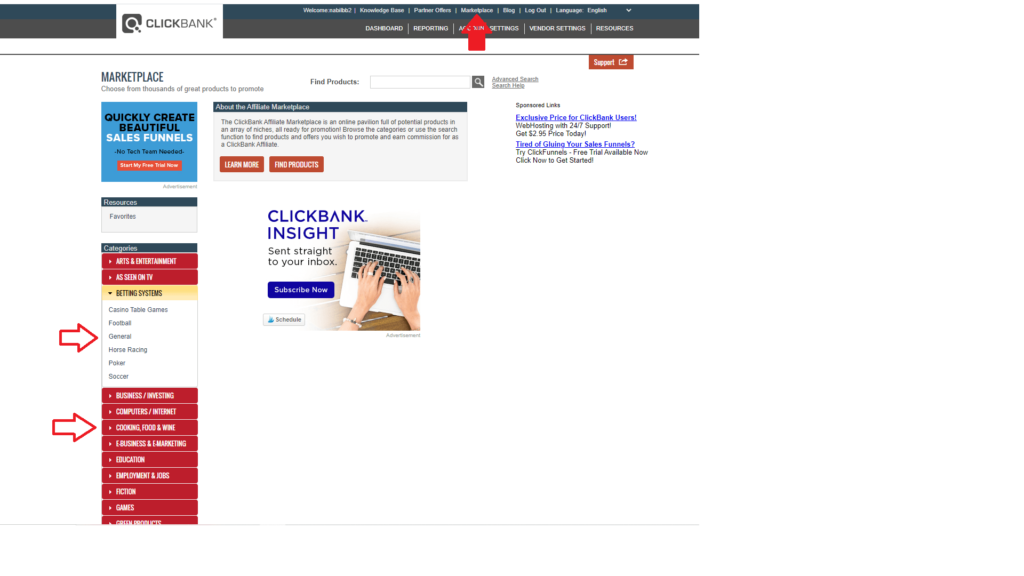 As an example in this article, we are going to work with a product called "Okinawa Flat Belly Tonic" which pays $134.83 per sale, has an affiliate page, and a good gravity score.
To promote this product click the "Promote" button as shown below then a new window will open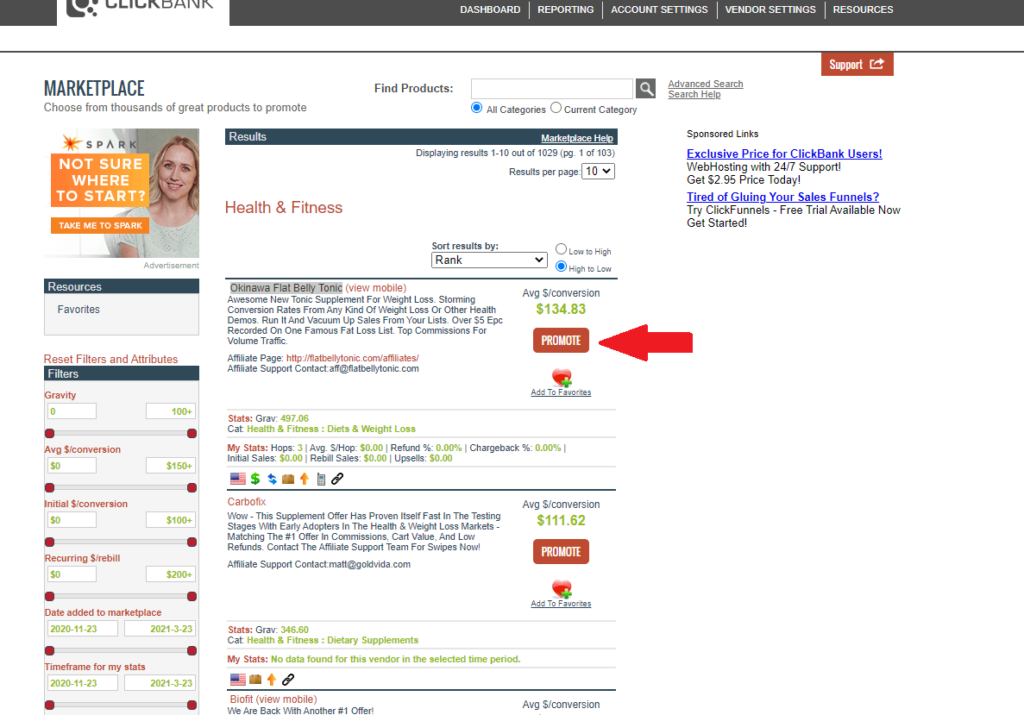 Then click the "Generate Hoplink" button and your affiliate link will generate as it is shown below.
As an affiliate marketer, all you have to do is get people to click that link.
When people click that link, it takes them to the sales page of the product and any product that is sold through your affiliate link makes you an affiliate commission.
Now, we have the product, We need to put an offer together to promote.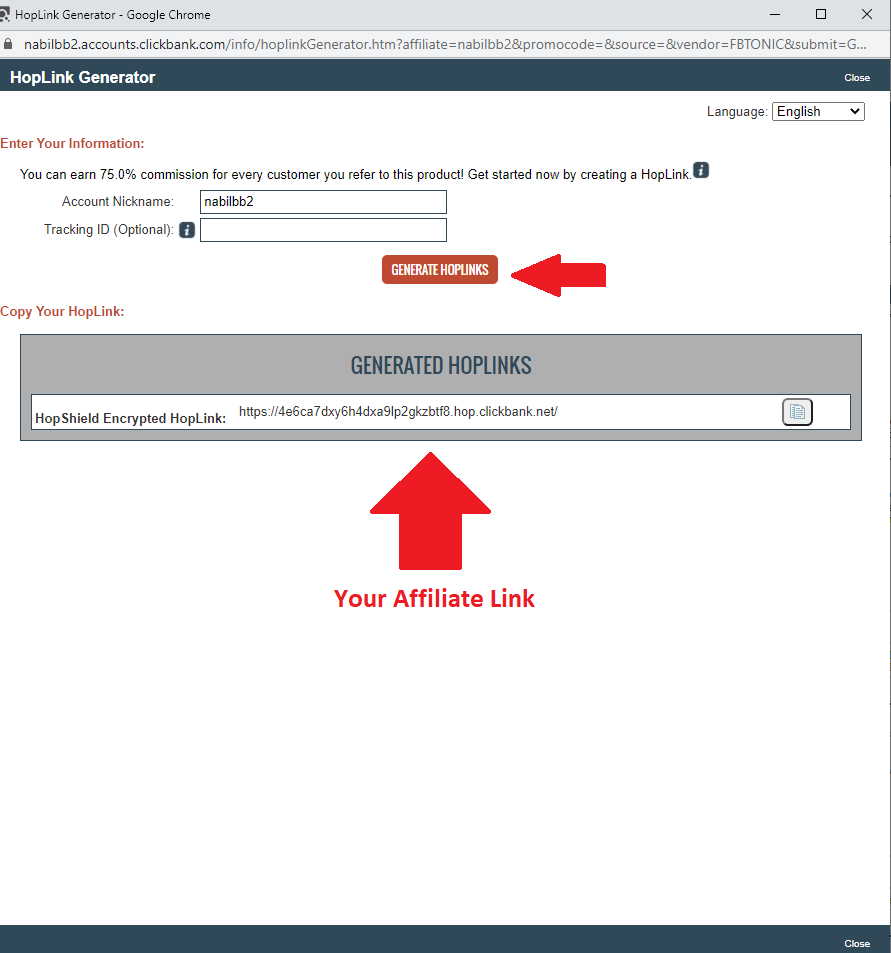 2. THE OFFER
After finding the product, we need to put an offer together which can be text, image, or video. We need to put something attractive to show people and get them to click on it. For this article, we are going to use Canva free account.
Canva is a platform to make artwork fast and easy.
On Canva, click "create a design" and choose "Pinterest Pin" as shown below.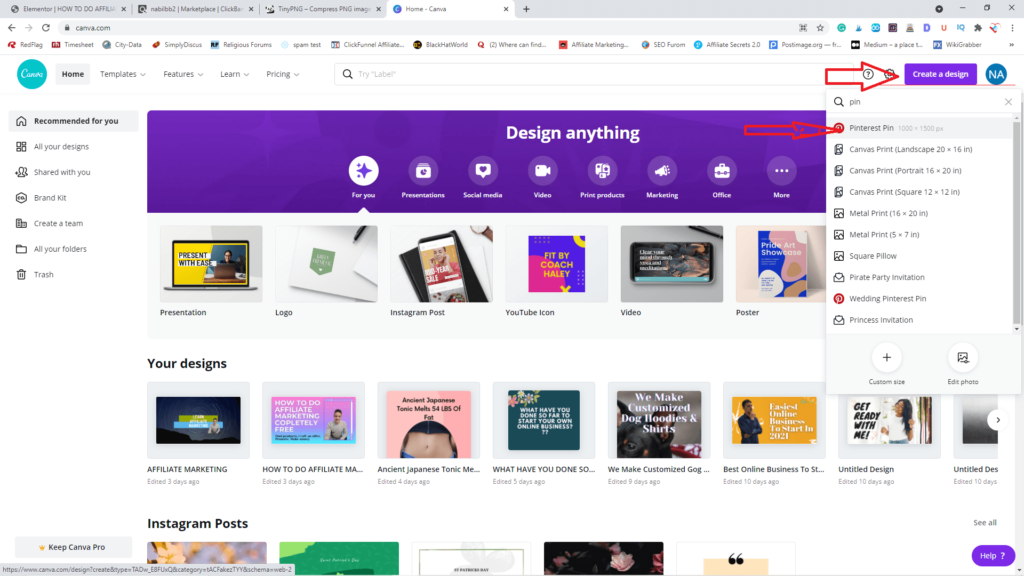 On the left side, you will find pre-designed templates that are professional and nice. There are some paid and some free, click on the one you like and it is ready for you to change the image and text.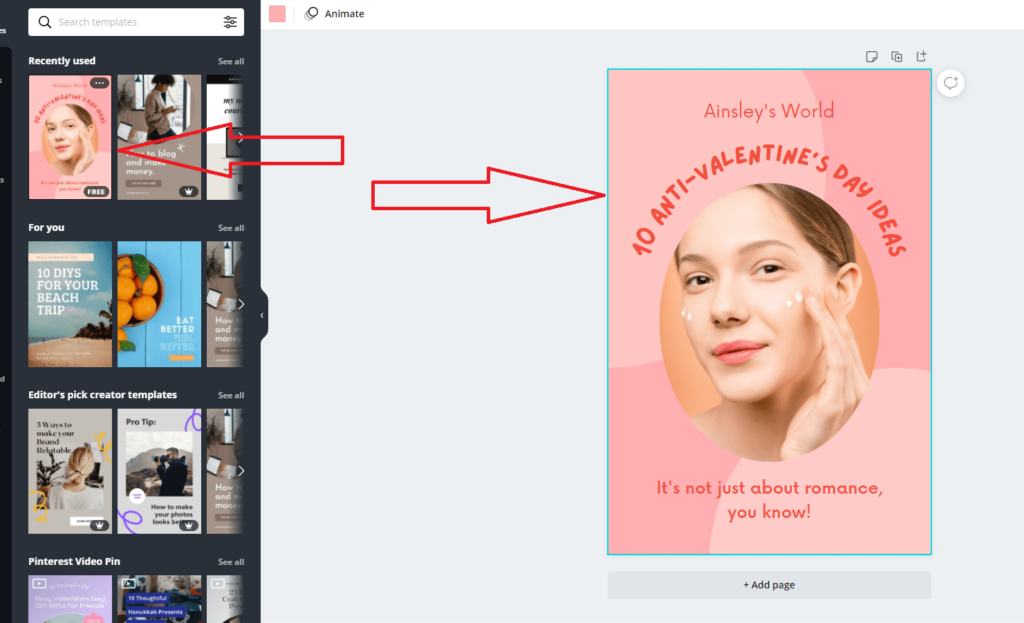 Now Change the image and text to show your product that you are promoting. You can find everything you need on the sales page of the product.
To change the text, just click on it and type what you want.
To change the image, just drag the new image onto the existing one.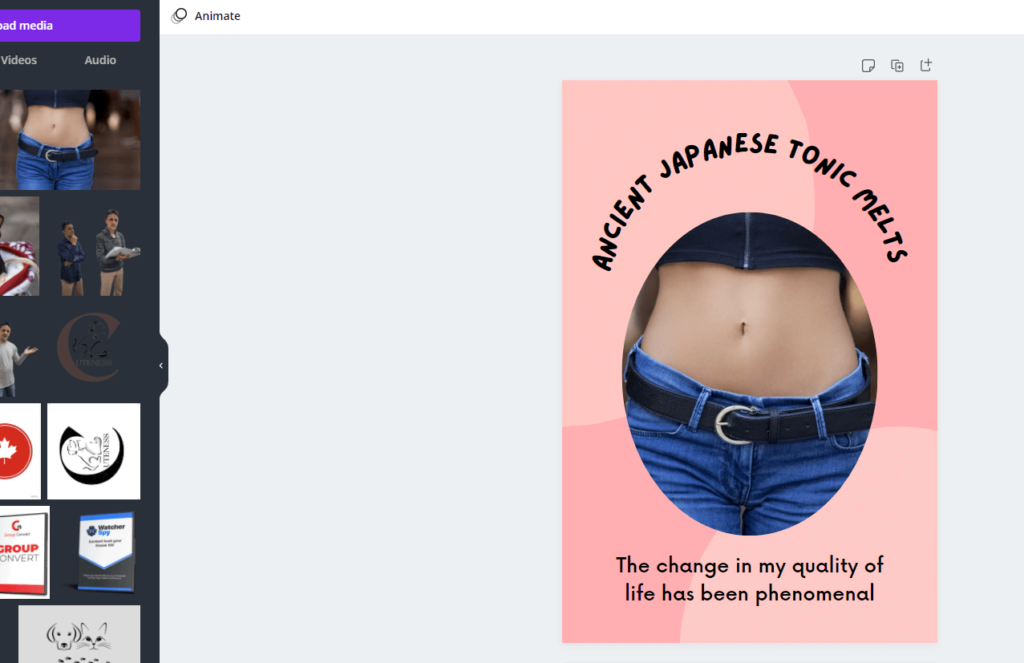 Obviously, you can do better than this if you play around with it for a bit.
Now, that we have our image ready, on the top right, click the arrow and click download, and save your image.
With this, we have our product and our offer, We need to promote it somewhere on the internet.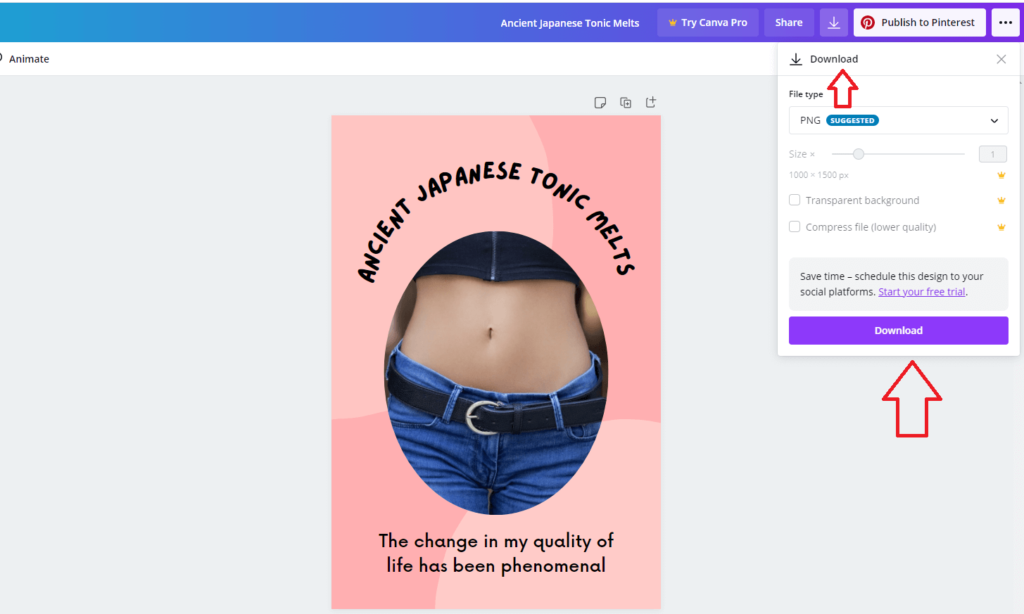 3. PROMOTION PLATFORM
To promote our product, we are going to use Pinterest for free.
Pinterest is a search engine for pictures with high traffic and high domain authority levels.
We can promote with affiliate links which I am going to show you below, but, first, see below how much traffic is Pinterest getting on monthly basis.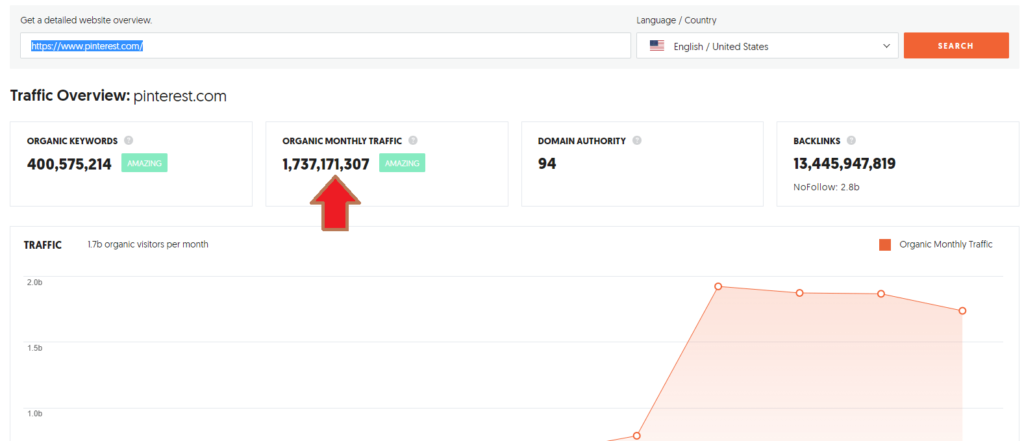 WHAT ARE ALLOWED AND NOT ALLOWED ON PINTEREST?
You are allowed to post for free and they are called pins
You are allowed to include affiliate links
You are not allowed to shorten links
Now, let's go and post/pin the image you designed above.
After you create a free account and log in, click "create" then "Create a pin" as it is shown below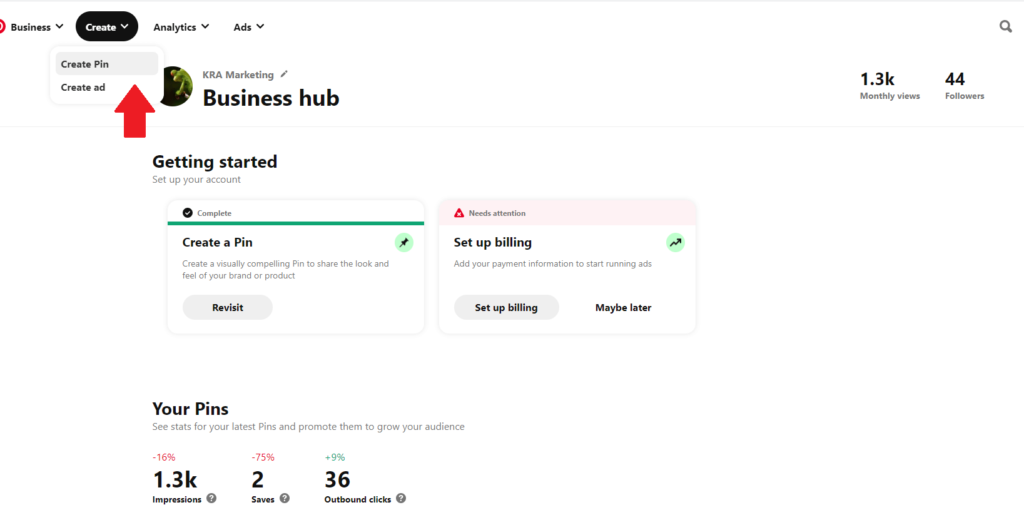 Drag and drop the image you designed on Canva or click and select you image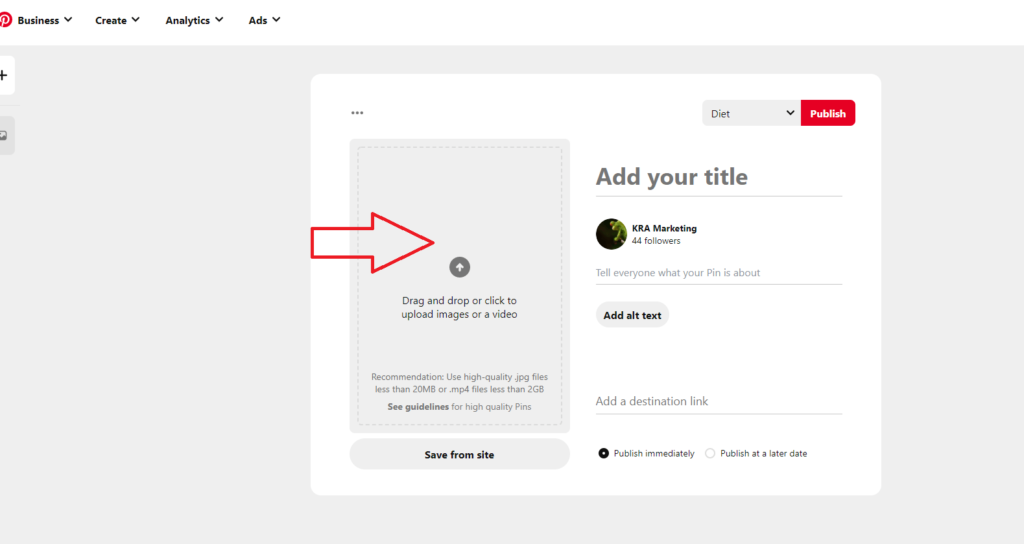 Put your title, description, hashtags, and most importantly, put your affiliate link you got on Clickbank.
In the end, it should look like this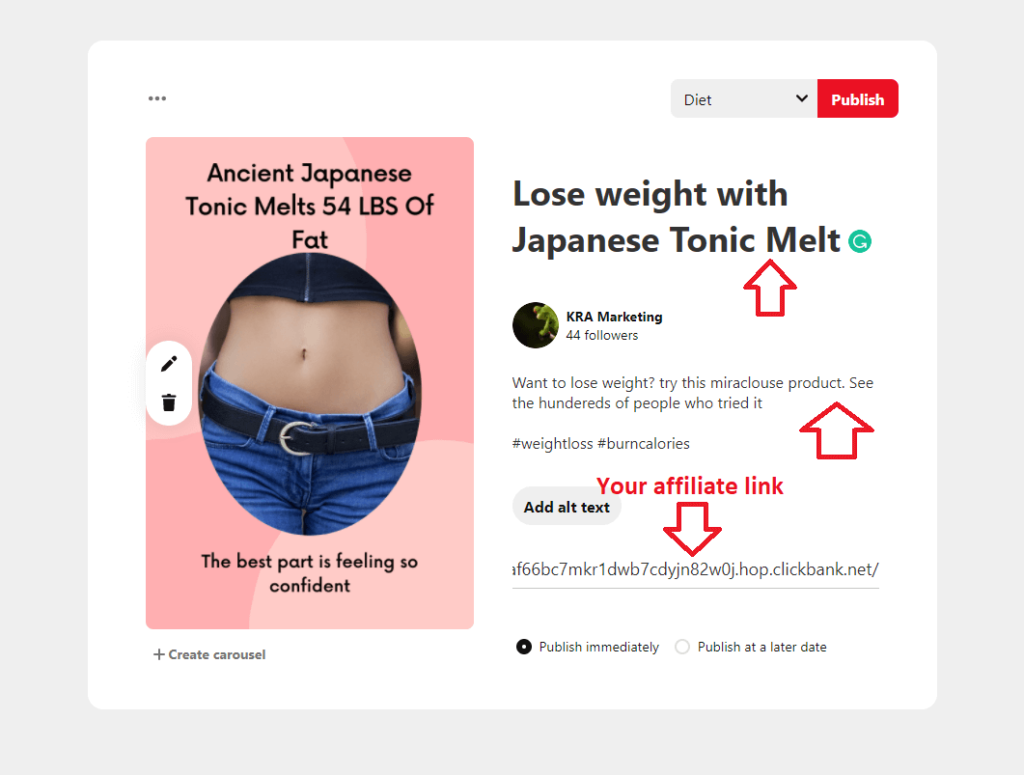 Publish the pin and that is about it.
As I said, Pinterest is a search engine, when people search for something like how to lose weight, calory burn, or something similar, and your pin comes up, if they click on that pin/image, it takes them to the product sales page through your affiliate link.
If they buy something, you make money.
Here you have it. This is how to do affiliate marketing free. We went through the whole affiliate marketing process without spending any money at all.
But, if you want to be successful with this method, there are certain things you have to follow. See below
WHAT DOES IT TAKE TO BE SUCCESSFUL ON PINTEREST?
Pinterest is a free search engine and a free promotional platform, in order to be successful with it you have to do the following:
Pin good and attractive images
Put a call to action like "Click Here" or something similar
You have to pin multiple times a day. 10 pins a day is a good number
Posting/pinning every day around 10 or more pins is a tedious task and can get too much and boring chore to do on a daily basis, but, if you don't want to do that, you can use the Tailwind app that makes the task easier.
I have a complete review of the Tailwind app here
WHAT IS THE TAILWIND APP?
Tailwind app is a marketing tool that integrates easily with Instagram and Pinterest and automates posts and pins. with the following features;
SMART LOOP – You can put your post in a smart loop and the app keeps posting the pin over and over on a daily basis.
TRIBES – Tribes are like groups in the same niche. They keep sharing each other's posts over and over
HOW MUCH DOES TAILWIND APP COST?
Free – 100 pins
$14.99/m for 400 pins a month
$119.88/month for unlimited pins
Conclusion
Making money online with affiliate marketing doesn't have to be complicated and impossible, there are certain processes and steps you have to take, if done right, there is no reason you can't make it.
The method that is mentioned in this article is a proven way and there are a lot of people making good money with it.
If you are interested to make money online, you should give it a try. It is free and doesn't cost you anything at all.
If you are interested to learn other methods, see the free video here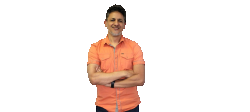 Latest posts by Nabil Al-Baidhani
(see all)