Are you looking for a tool to help with your keyword research? If so, Semrush is a great option. With Semrush, you can find the right keywords for your website or blog, track your rankings, and get insights into your competitors' keyword strategies.
Ten years ago, it was easy for anyone to write an article, stuff it with keywords that he wants to rank on Google, put some images, a video or two, and publish the article, then it is ranked on Google in no time.
Today, the game is not that simple anymore, Google is having many updates, competition is so high, and what worked in the past, doesn't work today anymore.
You could have a blog for the past 10 years and write constantly but, no one knows about it because it is buried on page 100 on Google unless you apply all the rules that Google likes
Google has a set of rules and criteria that must be provided on a website to be ranked and be on the first page of Google. These rules are called SEO (Search Engine Optimization).
Since these rules are evolving on a regular basis, there are tools to help us with those rules.
Today, We are going to talk about SEMrush. It is one of the best keyword and SEO tools on the planet and we can see how we can use it to rank our websites/blogs/eCommerce pages.
WHAT IS SEO AND HOW DOES IT WORK?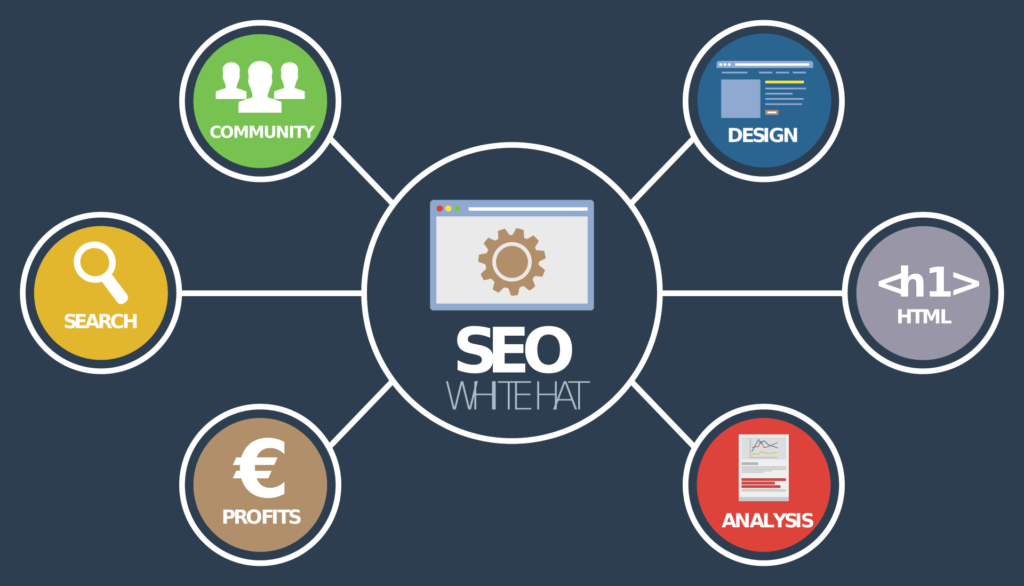 Simply put, SEO is a popularity contest. The more Google likes your setting, and the more other websites vote for you, the higher Google ranks your website. Other websites voting for you means they link to your website.
SEO is two types:
ON-PAGE SEO
It is the things that you do on the website itself like
Having the keyword in the title
Having HTTPS
Long content (depending on the topic and competition)
Images
Videos
Tags
Design/font/colors (this is indirect because the more time people stay on your website, the better the signal Google gets)
Others
2. OFF-SITE SEO
These are external factors and affect your website like
Backlinks (other websites linking to your)
What is keyword research and why it is necessary?
Everything starts here before you decide to write an article you need to decide what would be your title, what keyword are you targeting, how easy or difficult it is to rank,….etc? BUT, why?
Because Google ranks you on certain fraises or words, and you have to make sure of the following criteria when choosing the keyword you are targeting:
Volume – You have to make sure there are enough people searching for that word, otherwise, no one is going to find you.
Easy to rank – This article is written for small businesses and bloggers, you are not going to compete with huge companies because you won't win. So, you have to play smart and choose something easy to rank for on Google.
For example, let's see this article,
Title – Keyword Tools for SEO
Search volume – 1000
Difficulty level – Easy
We won't know this kind of information unless we use Keyword tools like SEMrush, Ahrefs, KWfinder, or others
Semrush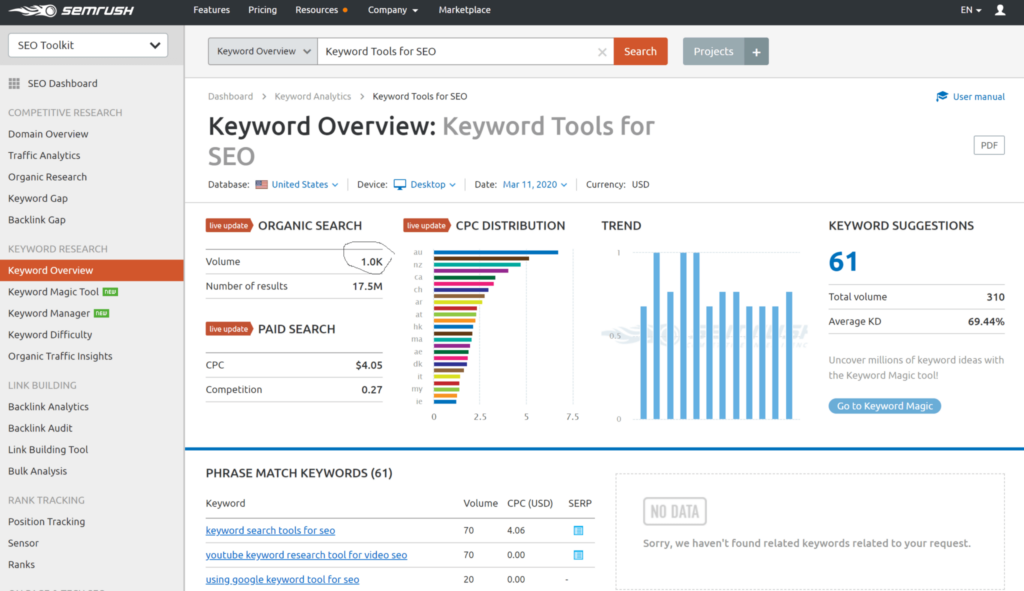 Become a SEMrush Affiliate
Ubersuggest

Above, you can see that I have used SEMrush and ubersuggest to research for the keyword I chose, and it gave me information like how many people search for that term every month, difficulty level, other keyword suggestions, top websites that are ranked for that keyword, and many more.
SEMrush is more than a keyword research tool, it is a complete SEO platform that has the power to do many things and could be what your business needs
WHAT IS SEMRUSH?
It is an award-winning, all-in-one SEO tool that is designed for marketers in order to rank on Google and eventually get more leads.
It can handle many tasks and has many features like:
Keyword research
The trend of keyword
Onsite SEO audit
Offsite SEO audit
Traffic report
Errors and fixing them
Backlink report
Competition keyword report
Domain comparison
Many more
SEMRush has many tools that I don't know many people who use them all, it is only for those who take ranking in Google matter seriously
Again, it depends on what you need the tool for, if you need only keyword research you might need a simpler tool.
SITE AUDIT WITH SEMRUSH
you can audit your site or any site with SEMRush and get an overall SEO status, it gives you information like Overall SEO health, Errors, warnings, and notices.
All you have to do is to go to those errors and warnings and fix them
Just go to site audit and type the domain you want to audit. See the picture below, I audited my site and found out that I have 7 errors.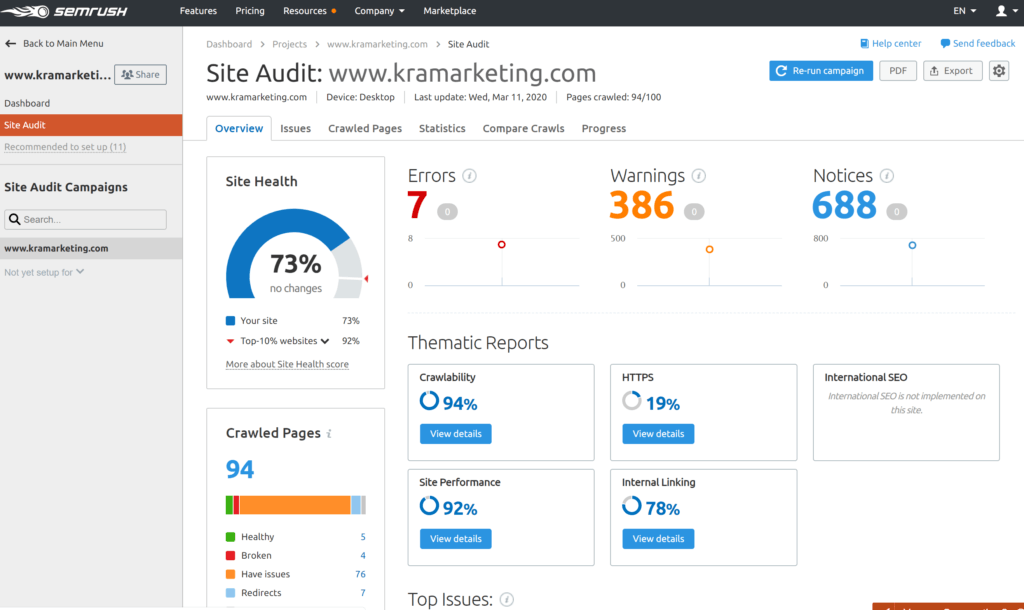 All I need to do is click on that red 7 and see the issues and fix them. Again I can click on those errors one by one and see the exact issue.

The above process literally saved us thousands of dollars to hire a consultant and do it for us.
FIND OUT WHAT KEYWORDS YOU ARE RANKING FOR
SEMRush can tell you if you are ranking for any keywords, what they are, your position on google, and how much traffic is coming to your site with these keywords.
I am going to cover the keywords I am ranking for and show you what the report looks like below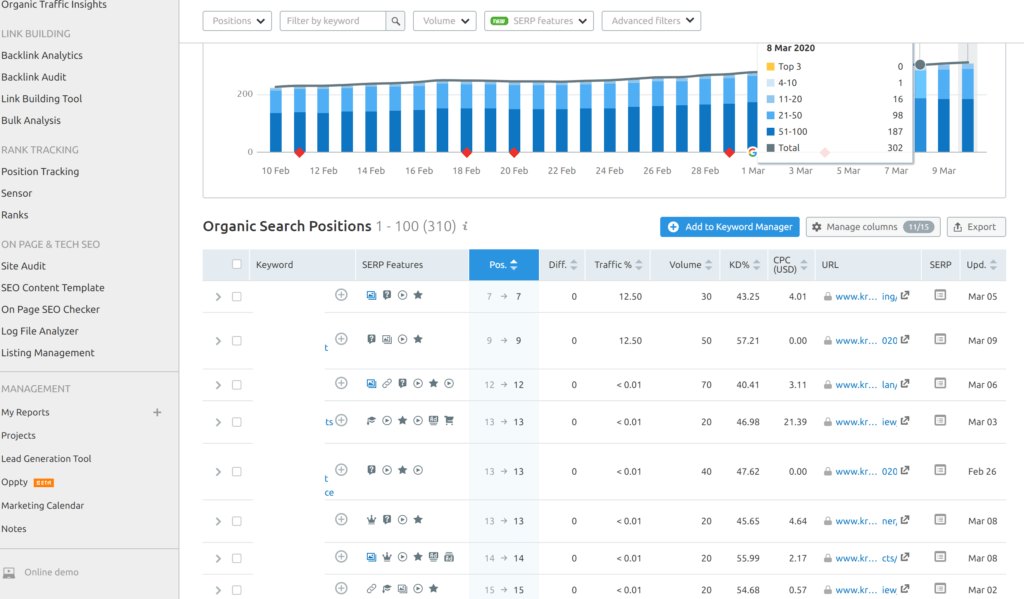 As you can see above, you can see all the keywords you are ranking for, your position on Google, how much traffic each keyword brings to your site, and so much more.
This report goes on and on if you scroll down also with a graph that is appealing to eyes to see.
You also can use different filters to find out exactly what you want to see.
KEYWORD MAGIC – How to Do Keyword Research for SEO
I love this tool in SEMRush. I think it stands out from all other SEO tools. I simply click keyword Magic Tool and put in my target keyword, in this case, "KEYWORD TOOLS FOR SEO" and the platform gives me all related keywords along with their stats like volume, difficulty, …..etc.
They are all sorted and categorized neatly and in a simple way to understand.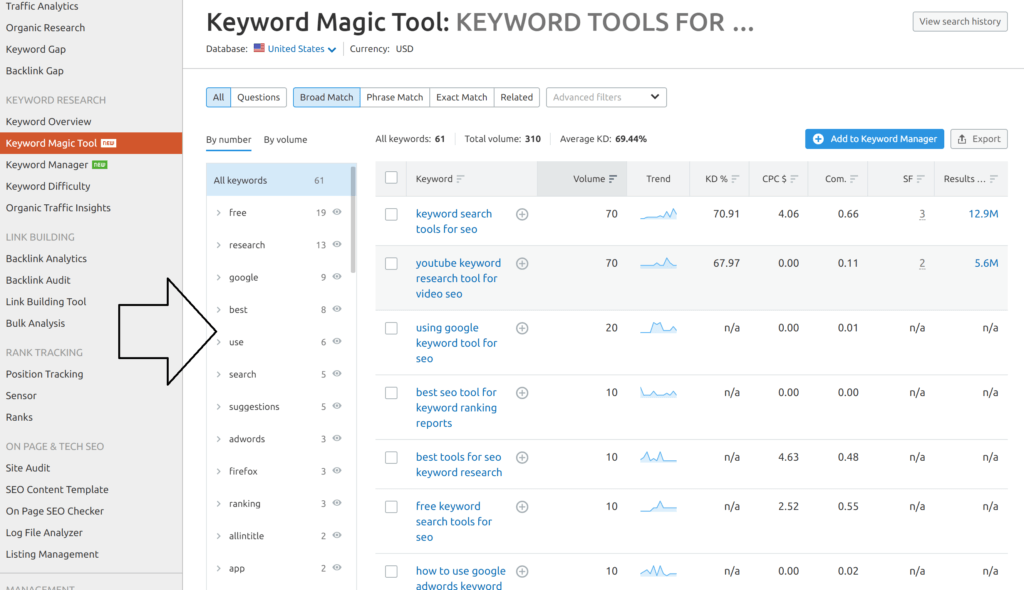 Again, if you get countless results, you can still use advanced filters to get exactly what you want. For example, you can filter by a number of words, volume,…..etc. or a combination of two or more.
COMPETITOR ANALYSIS WITH SEMRUSH
It doesn't matter whether you are a small or big company, a blog, or an eCommerce site, you must have competition in the market.
The last thing you want to do is, being ignorant about what your competition is doing.
SEMRush can help you with that and give you a full analysis of your competition.
To do this, go to domain analysis and organic search and input your domain (for this case, we use Apple.com)
From there, we can see that Microsoft's competitors are Office, Howtogeek, Stackoverflow, and others.
Note: Microsoft & office are the same company, but, we are talking in terms of websites and they have separate websites.
We also find that Microsoft is doing a really good job with more than 9M keywords ranked and the closest to them is Stackoverflow with only 3.6M ranks. see the picture below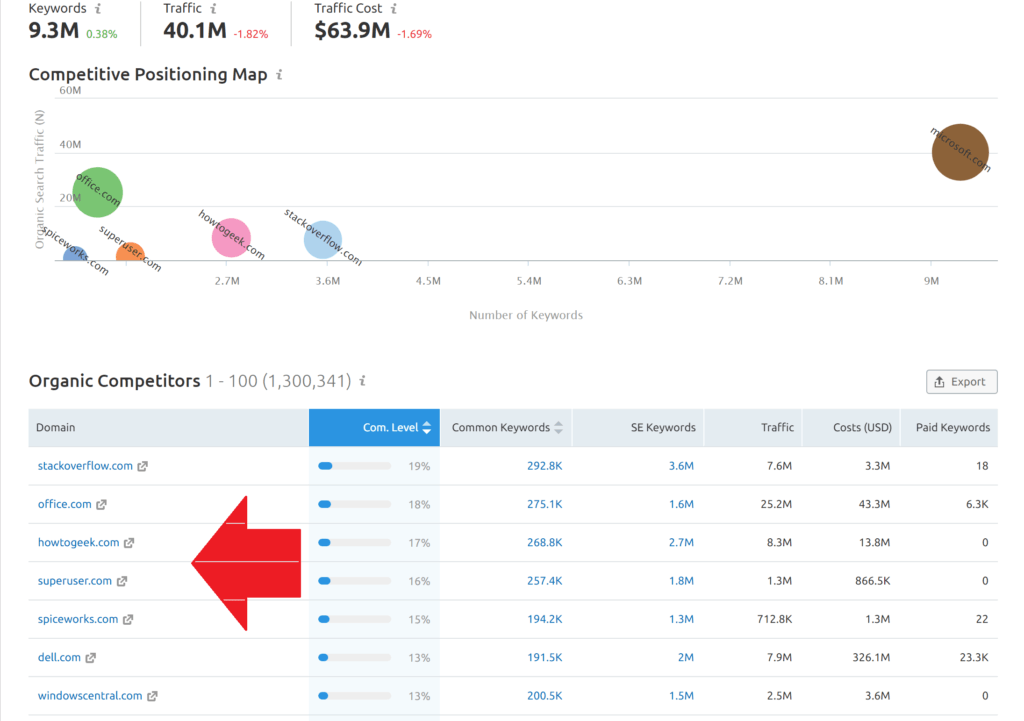 Not only that but, we can still analyze any competitor furthermore. We can still click on the name of any competitor, let's do Stackoverflow for this case, and we can see more data.
We can see the history of their rank on a nice chart, we can see all the keywords they are ranked for, the volume of each keyword, difficulty, traffic, and everything we need to know about that website.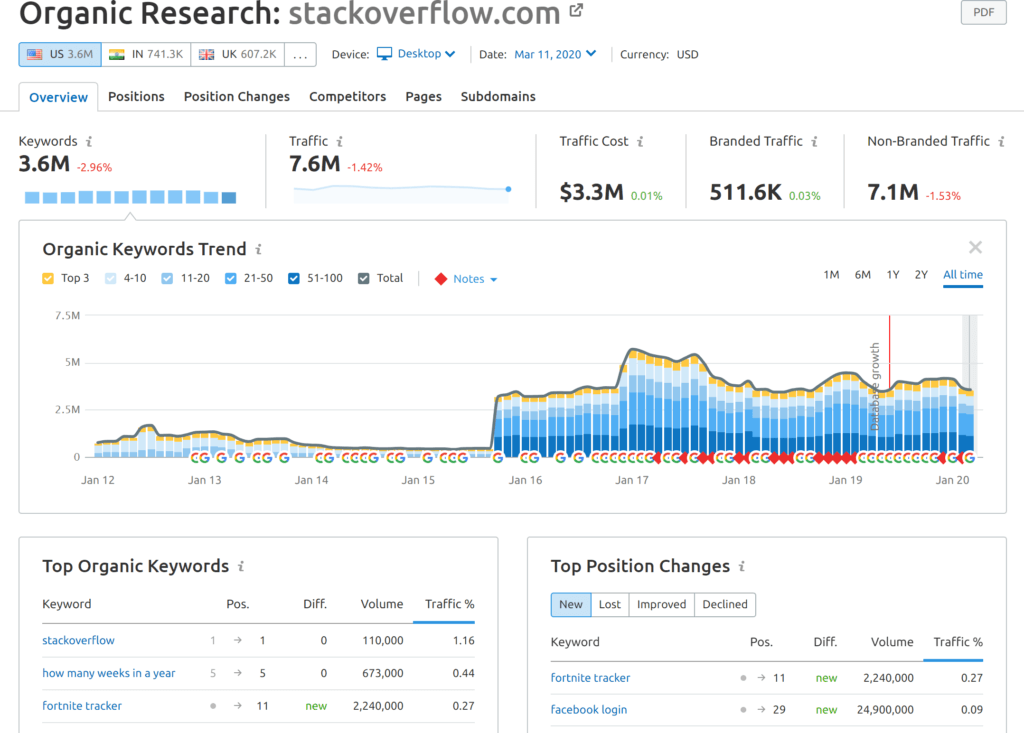 This information is so important and critical to know because you want to stay ahead of the competition at all times. SEMRush shows us what the competition is doing so we can do better.
I am sure you started to see how valuable is Semrush by now, but, let's continue…….
We can even take this further, and compare two domains…. continue reading below
Become a SEMrush Affiliate
DOMAIN VS DOMAIN TOOL
Under domain analysis, click Domain vs Domain tool. This will compare two domains and see what you can do to beat the competition. in this case, we use Microsoft vs stackoverflow.com
This will give you a side-by-side comparison of both websites and all the common keywords they are ranking and who is higher.
If the competition is doing better on a certain keyword, you can drill down and find out what are they doing to rank higher and apply the same tactics.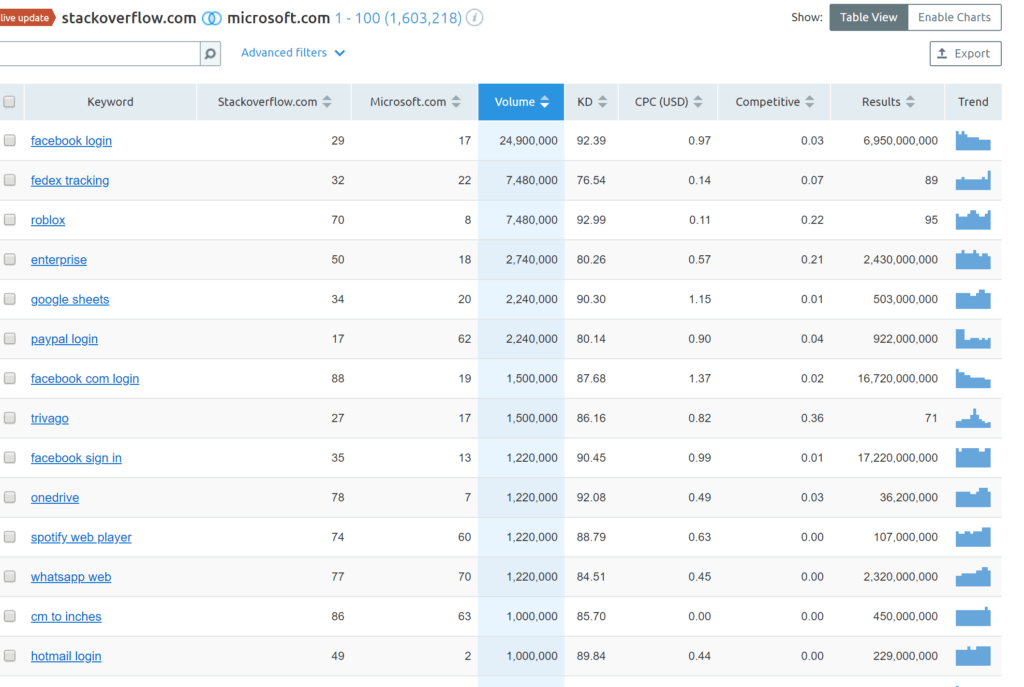 BACKLINKS ON SEMRUSH
As I said above, SEO is a popularity contest, the more websites vote for you, the more websites link to your website, the more Google loves you.
We call those links backlinks (other websites pointing at your website). It is the most important factor that Google ranks your website for, but the problem is, it is not easy to get them.
Another issue is, a backlink from a well-respected website like CNN, BBC, Wikipedia worth much while a link from an unknown website doesn't worth anything at all.
The way Google knows about this is by letting bots crawl your website and see how many websites are pointing at yours.
The first step in improving your backlinks is knowing how many does the competitor has. To do that, go to Backlink Analysis on SEMRush and put the domain of your competitor (in this case we try homesciencetools.com)
SEMRush is going to give you a full report about the number of backlinks, authority, type, …..etc.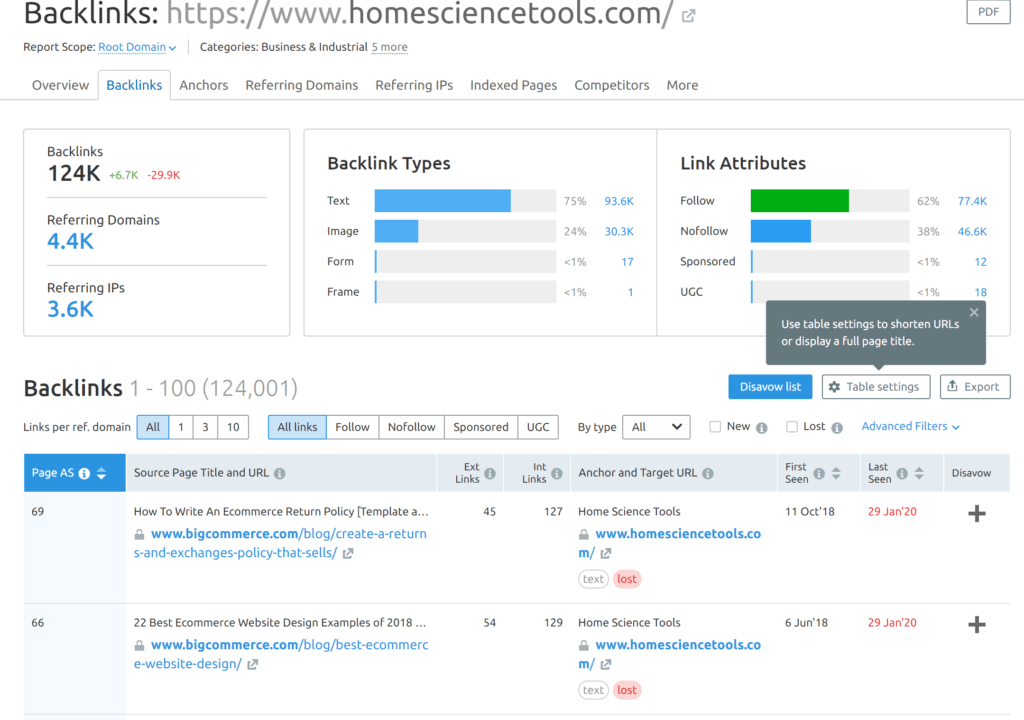 At this point, you should know if you have enough backlinks or if you need more, but, you can even do more.
For example, see if your competitor has a bunch of links from a single website, maybe you can approach the website and make a quest post to earn backlinks.
When you see your competitor has a backlink from a blog or forum, there is no reason for you not to try because that means that blog or forum is open in giving backlinks.
So, in short, SEMRush gives you a good action plan based on data provided regarding your competitor's website.
SEMRUSH AND SOCIAL MEDIA
SEMRush didn't ignore social media since it plays part in SEO and its presence on social media gives Google signals of presence.
SCHEDULING POSTS
If you go to the Social media tool kit on SEMRush and social media posts, you can schedule posts on Facebook, Pinterest, Twitter, Linkedin, ……etc. This is considered to be a time saver and a really handy tool to have.
SOCIAL MEDIA TRACKER
This tool is supposed to track the social presence of you and your competitors and show you where you need to focus your efforts.
SEMRUSH RESOURCES
This is an amazing part of the platform that provides free resources that great value, free and educational material.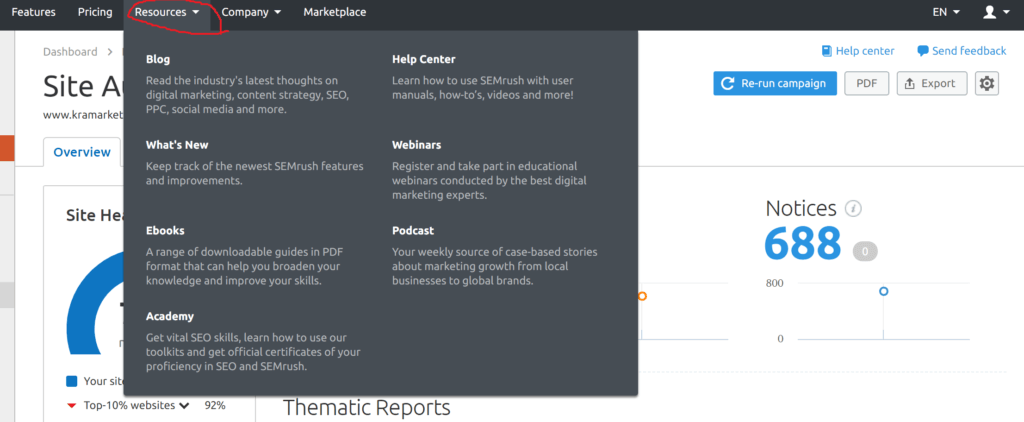 BLOG POSTS
High-quality blogs are written by experts in the market about SEO, Marketing, and everything to do in helping the reader succeed in an online world.
WHAT'S NEW
In this section, you will find updates about everything happening with Google, anything added, removed, or modified on the platform.
EBOOKS
On this section, you will find free downloadable PDF books that revolve around marketing and SEO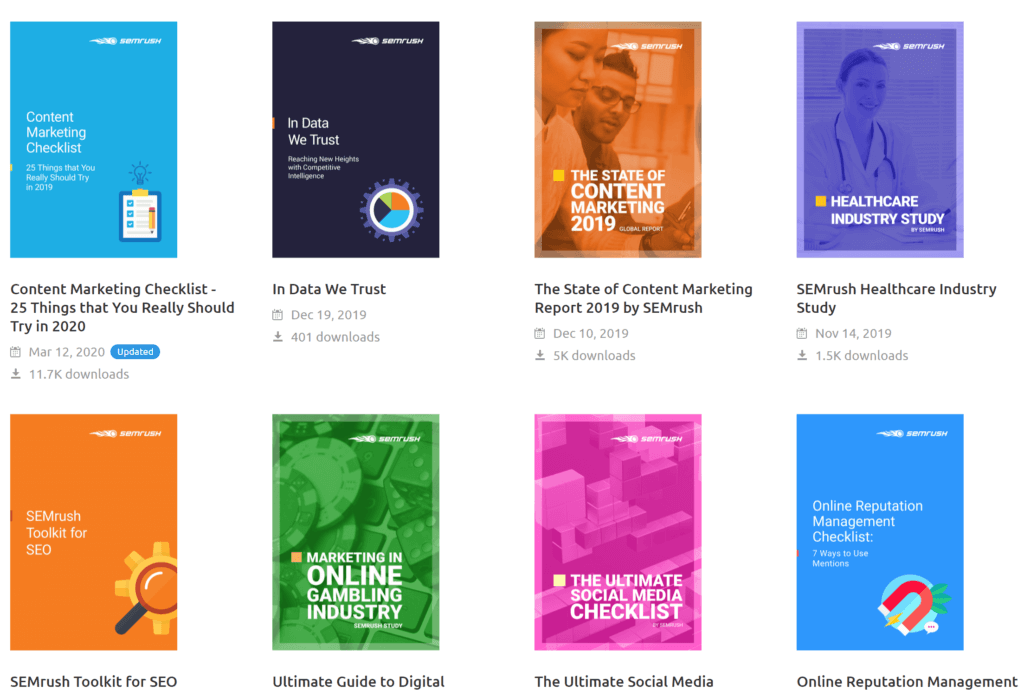 SEMRUSH ACADEMY
I think this is the best part of SEMRush. Free courses to teach you about using the platform, Marketing, SEO,….etc.
They are free and a lot of people liked this section of the platform.
HELP CENTER
This part is to look for a specific topic or get help on something you want to do. There are articles and Q&A about "how to do" topics
SEMRUSH WEBINARS
You will see past and future webinars that you can watch. Again, they are educational and feature the leading people in the market.
PODCAST
A weekly case-based podcast that you can listen to free of charge.
SEMRUSH PRICING
This tool doesn't come cheap, at least for those who are just starting and small businesses. You can choose to be billed monthly or annually if you choose to be billed annually, then your monthly price drops by 16%.
If you are not sure if SEMRush is for you or not, you can still get 7 days free trial and decide after that.
SEMRUSH PRICING WHEN BILLED MONTHLY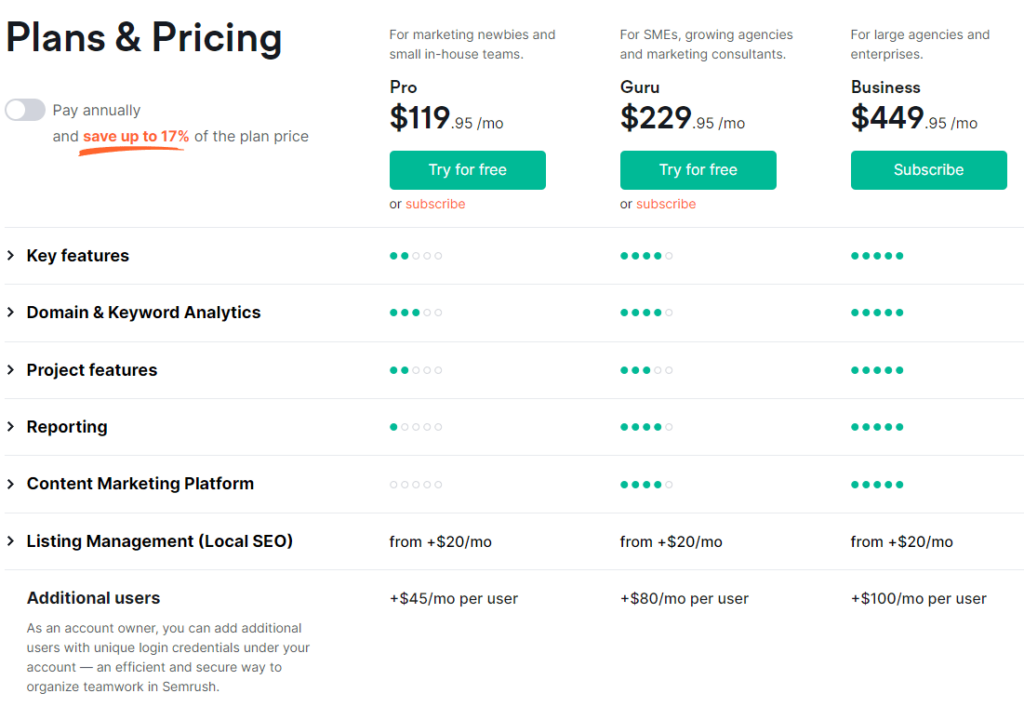 SEMRUSH PRICING WHEN BILLED ANNUALLY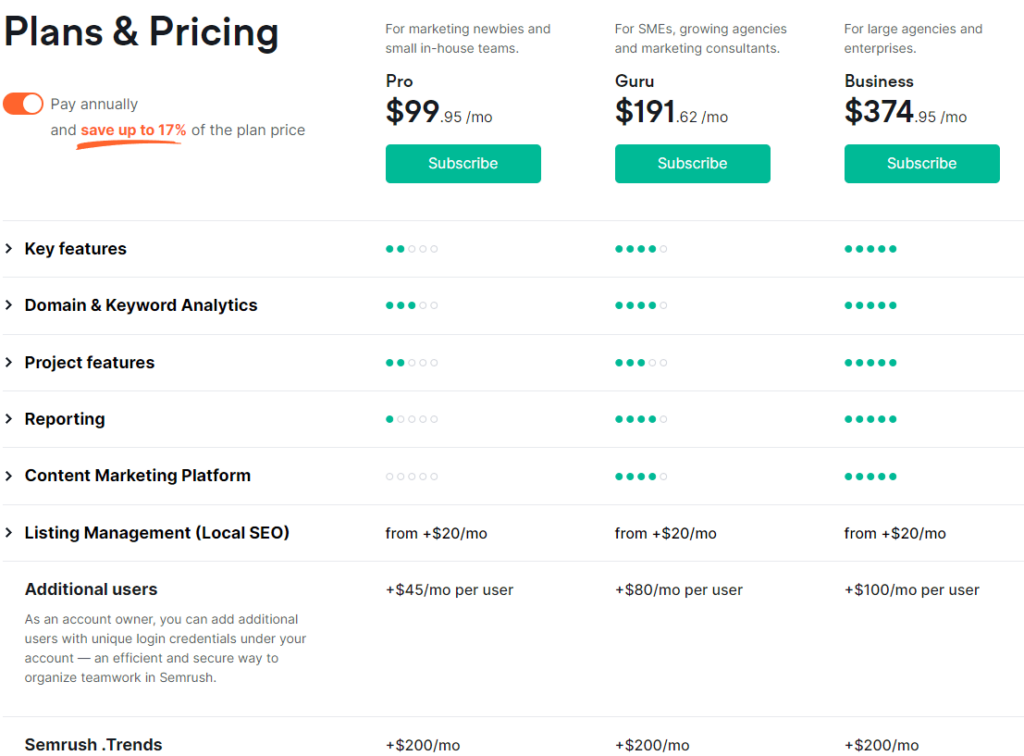 IS SEMRUSH RIGHT FOR ME?
As you saw above, when considering the price and how it works, the decision whether it is for you or not should depend on you. What do you need it for, are you going to use it all the time or it is a one-off thing, are you a blogger who is concerned about SEO,….etc.
SEMRush is a well-worthed platform for those who are serious about ranking their pages. But, if you want to use it just one time, or every week, you are better of with cheaper platforms or even take the 7 days free trial of SEMRush
SEMRUSH VS AHREFS
Ahrefs is a great SEO tool and comparing it with SEMRush will be a very difficult thing to do. For years and years, both platforms compete in the market with no clear winner. So, I think the decision would be yours to make at this point.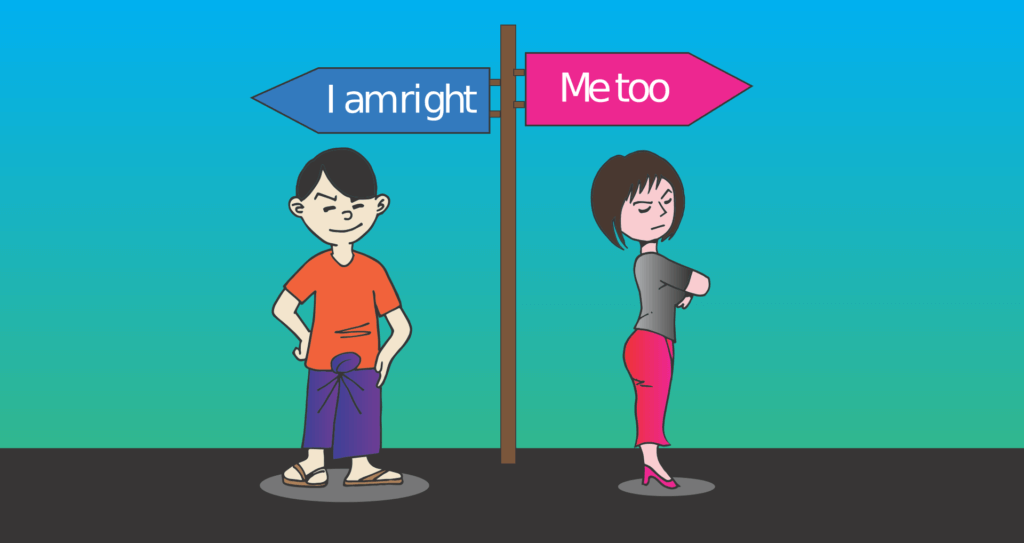 For me personally, I lean towards SEMRush for the following reasons:
More people use SEMRush than Ahrefs (see the reason in #2)
SEMRush offers an affiliate program while Ahrefs doesn't
When it comes to PPC, SEMRush is a clear winner
But again, as I said, you can't go wrong with any of these two great platforms.
SEMRUSH AFFILIATE PROGRAM
As an affiliate marketer, I love this program. You can promote SEMRush and make a 40% commission on each sale.
Ahrefs doesn't have something like this, which would be a great program to add because people like me (Affiliate Marketers) can practice what they preach.
SEMRUSH PROS AND CONS
| PROS | CONS |
| --- | --- |
| All-in-one SEO tool | Price is too high for small businesses |
| Reports can be drilled down to great details | No keyword list management |
| Great Keyword suggestion tool | |
| Great customer service | |
| Compare your keywords with your competitors on one screen easy to understand manner | |
FINAL THOUGHT
When searching for keyword tools for SEO, it is important to get something that offers an All-In-One solution because you don't want to spend money on something that is not complete, then again spend money with something else to complete what you already have.
SEMRush is a complete All-In-One solution when it comes to SEO tools. There is no platform that gives something that SEMRush doesn't.
When it comes to price, it is a bit expensive especially for small businesses but it is well worth it.
If you are in the field of Blogging, Marketing, or SEO, surely you need an SEO tool and I can't find anything better to recommend than SEMRush.
But, I strongly suggest taking the 7 days free trial before buying the product.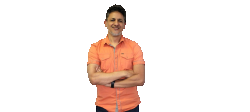 Latest posts by Nabil Al-Baidhani
(see all)