Starting an online business regardless of the type (E-commerce, blogging, ….etc.) is not easy, considering the tools you need you to be up and running.
For example, to start affiliate marketing through blogging, you need a website, email marketing service, tools to build your website,…..etc.
That is one of the reason many people won't start an online Business. It is over walming.
but, in 2022, things can't be this way with all this technology advancement and the many technology tools around us. BuilderAll was able to achieve this by building a platform that is one-stop-shop for everything you need to start a functional and quality online business
Today, I am going to give my honest review of BuilderAll and see if it meats the need.. Builderall the one stop Platform: All in One Business Solution
In this BuilderAll review, I am going to address the following points……
WHAT IS BUILDERALL?
It is a complete business builder considered to be a one-stop shop for everything you need to start and scale your online business.
Let's see what you need to start an online business…
You need Sales funnels – BuilderAll can build one for you using an easy drag-and-drop environment
You need a website and landing pages – You still can build those using BuilderAll drag-an-drop option
You need an autoresponder – BuilderAll has it
In short, BuilderAll has everything you need to start and scale an online business. It is like having a designer, marketer, Public relationship officer, and all parts of a business person with you in the room.
BUILDERALL FEATURES AND TOOLS
There are as many as 36 features and tools. I am going to mention the most features I like here.
WEBSITE BUILDER
With the Cheetah Website Builder, building websites, landing pages, and funnels could not be easier. All you have to do is drag-and-drop. Literally, it could not be easier.
It is your choice to start from scratch or start with pre-made templates.
Change fonts, colors, templates with a simple click.
watch the video below to see hoe easy it is to build a complete, functional, and professional website in minutes.
E-COMMERCE
Have you tried to hire someone to build an e-commerce site for you? it costs a fortune. With BuilderAll, you can build an E-commerce website in a matter of minutes and start selling products.
If you are familiar with Shopify and how easy it is to set up an E-commerce store, BuilderAll is even easier.
The environment is very similar to Drag-and-Drop and it is beginner friendly. If you can hold your mouse, you can do it.
EMAIL MARKETING WITH MAILINGBOSS
By now, you should know that email marketing is a vital part of any business in this Century. Usually, this service is a paid service like ActiveCampaign, ConvertKit, Automizy, or others.
BuilderAll provides this service and called MailingBoss. It can replace any emailing service you have and works perfectly and it does what it should do.
Setting up the Autoresponder could not be any easier… See the video below
DESIGN STUDIO
This section is where you do all your designs in a simple and easy manner. It handles tasks like
Mockup Studio
Photo Editor Studio
Floating Video
It includes wide variety of of design functions. See the video below to see how easy it is to design anything you want.
APP BUILDER
Once I wanted to learn how to build apps and it was not that easy. It involves long hours of studying and practicing.
BuilderAll lets you build apps in matter of minutes using Drag-and-Drop tools.
You can build simple Apps and upload it to Google, Amazon App, or Apple. If you wanted to build more complicated Apps, then hiring a professional or learning how to build apps in depth would be a good idea.
Don't take my word for it, just see it yourself below in the video
PROFESSIONAL CHATBOT
Have you been to a website, and on the bottom right, there is a chat box Facebook like popped up and asked you if you needed help? That is precisely what it means here.
This Chatpot can increase the engagement of your traffic.
The messages are pre-defined, and you can set them up the way you want. It is very similar to Russell Brunson's messages from Clickfunnels.
You can build this with input fields and start capturing emails and growing your email list. This feature started to increase within the big companies because it works.
OTHER BUILDERALL FEATURES
There are many features included with BuilderAll, which doesn't make sense to list them all because I would need volumes to write about them all. See all the list of features below.
This is a solid and unbeatable list of features that never seen like it before.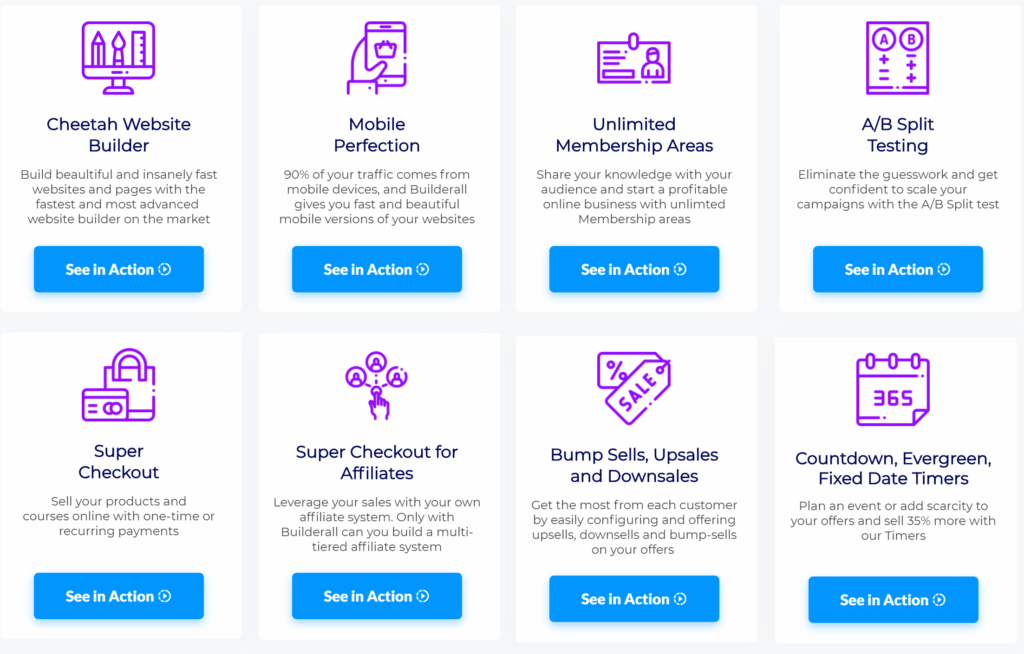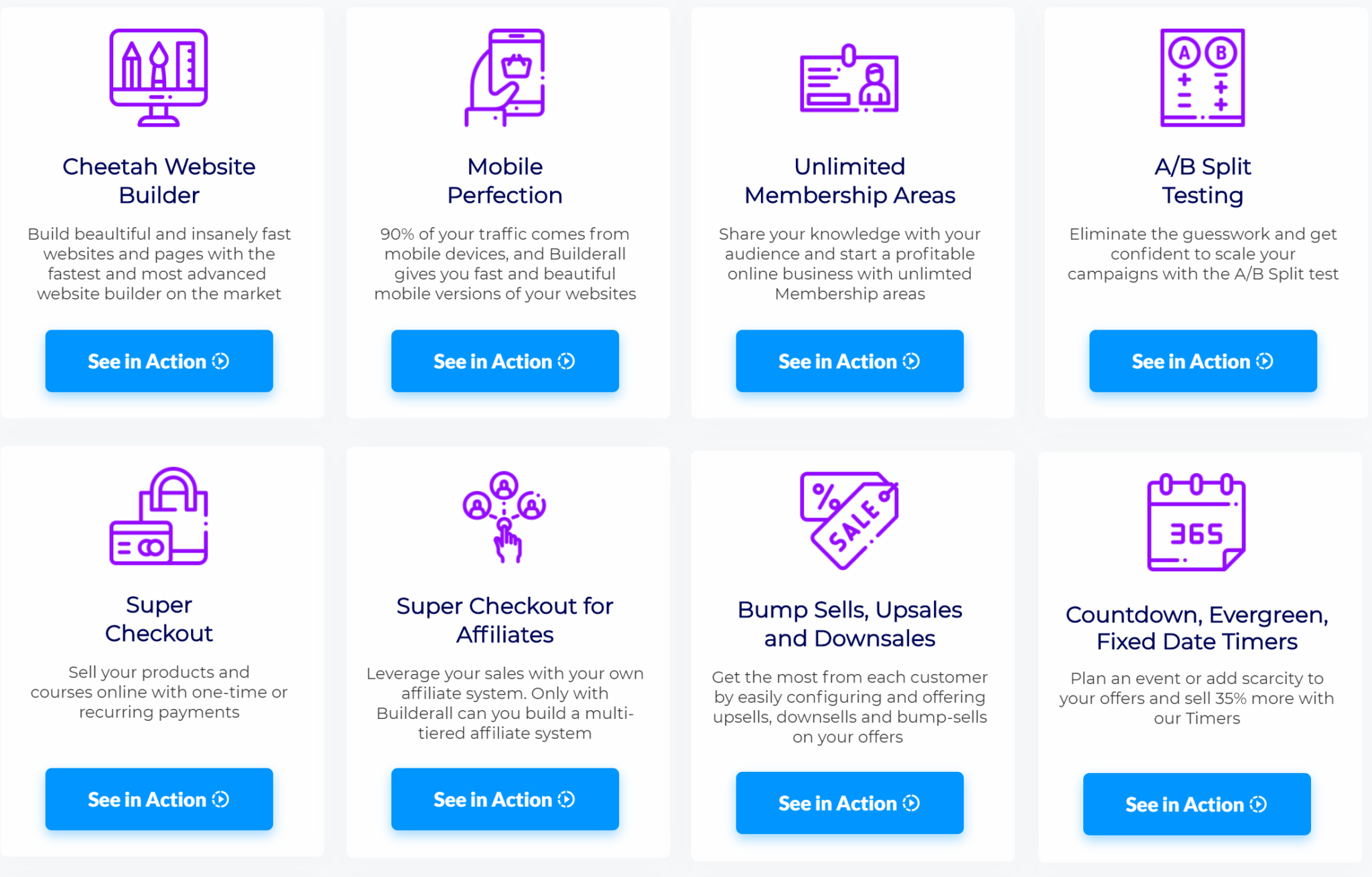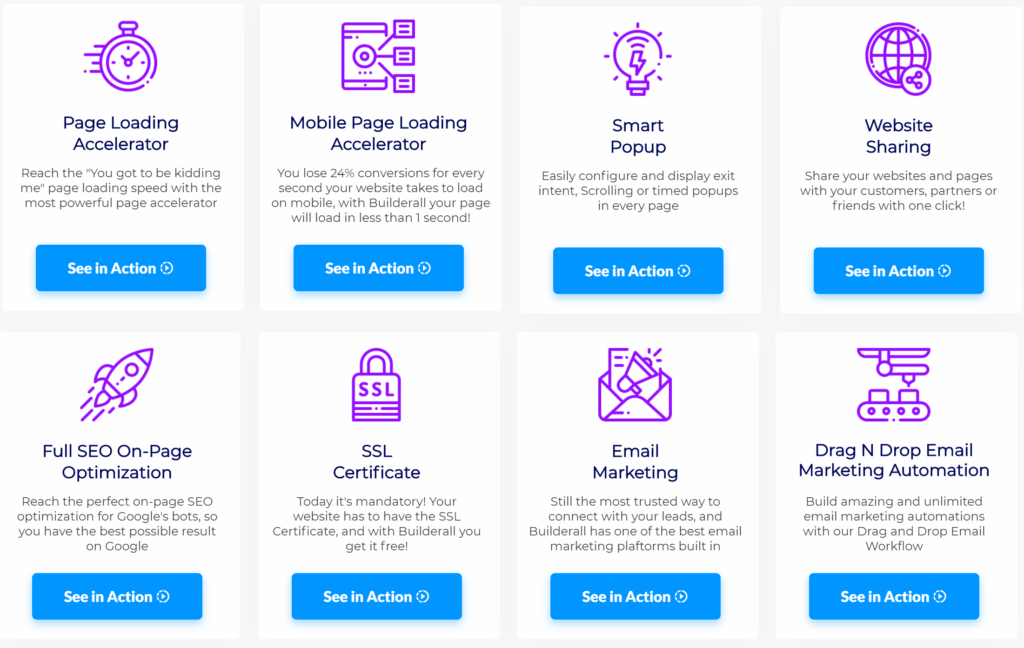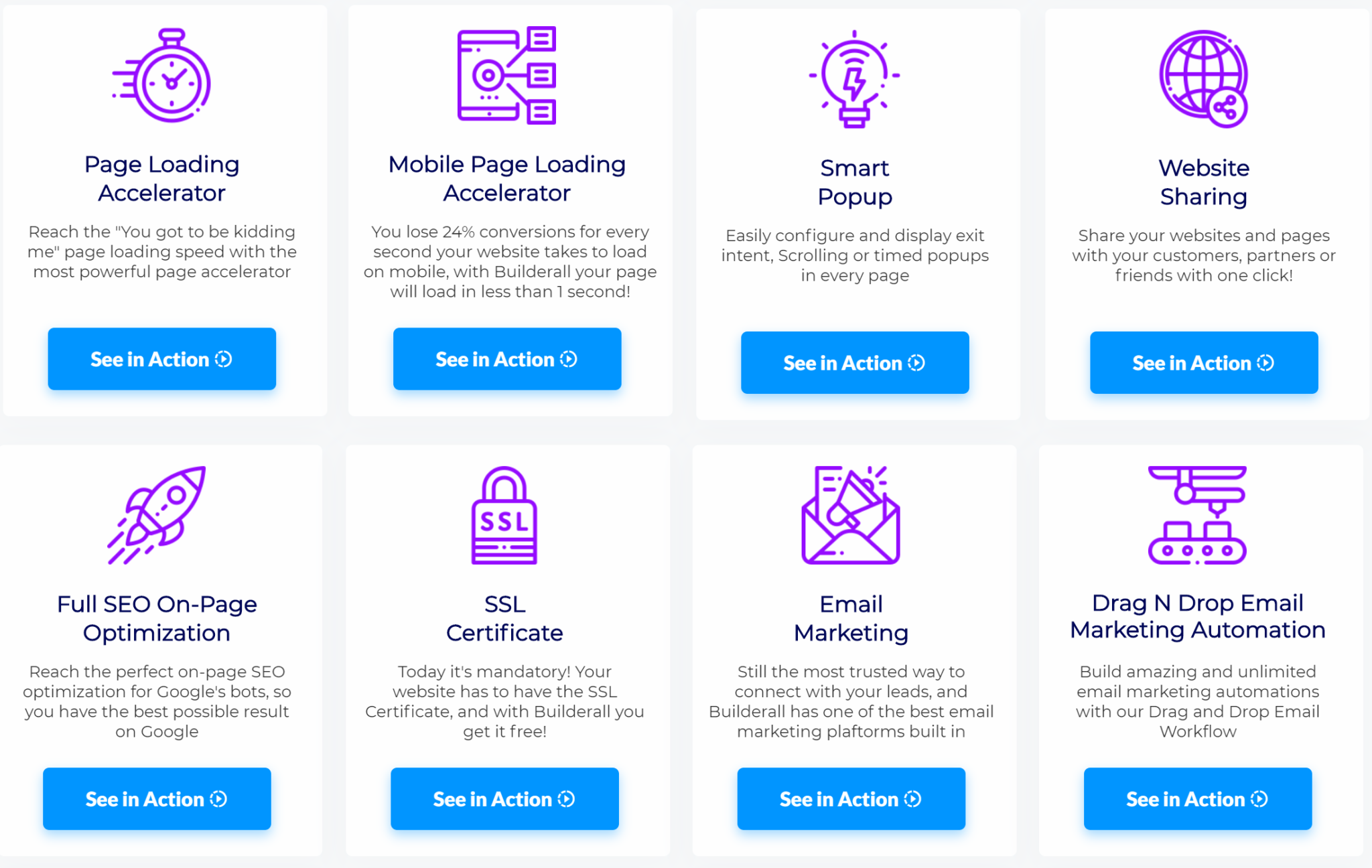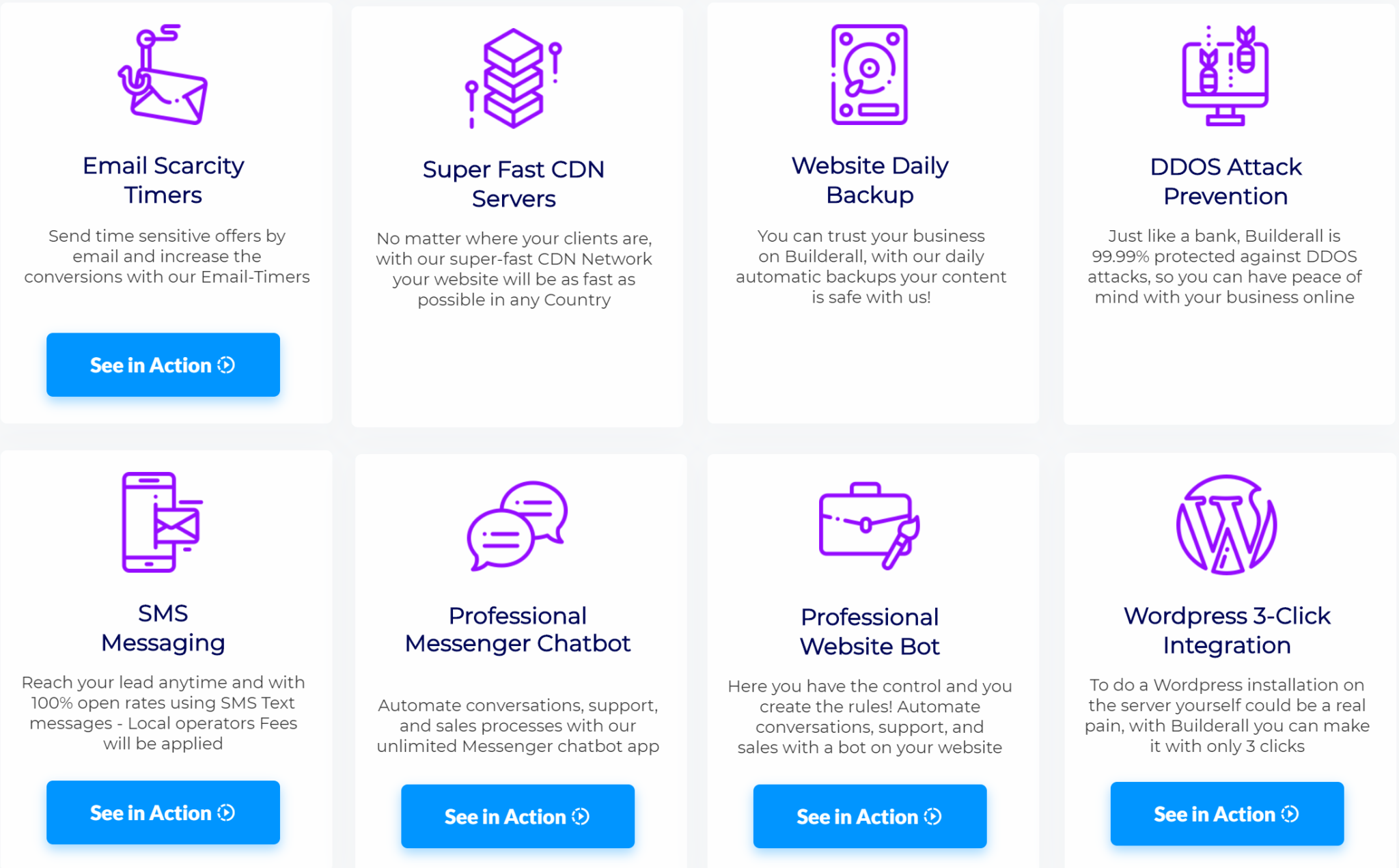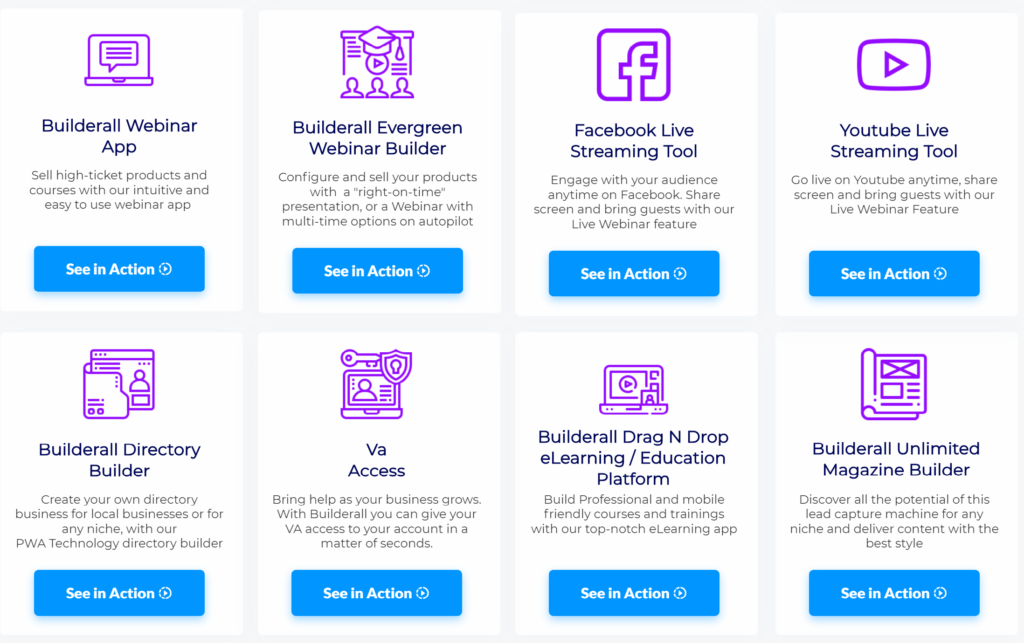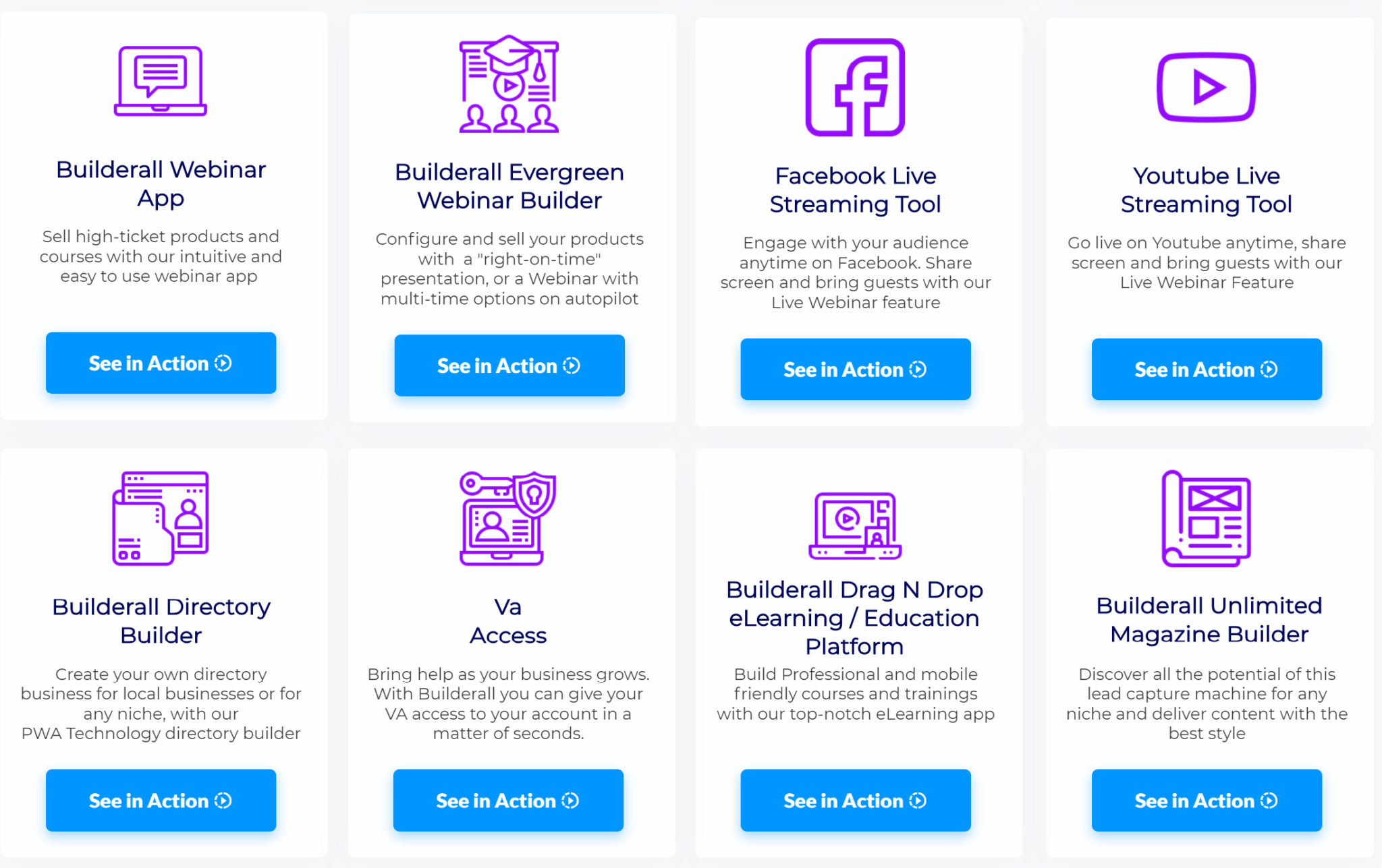 IS BUILDERALL RIGHT FOR ME?
It depends on where you are with your business. Is your business established and using other platforms? if that is the case, are you happy with the platform you are using? are you happy with the price you are paying? If the answer is yes, then you don't need BuilerAll.
If your answer is no, then you should think about switching to platforms like this or others like Kartra for exampl.
If you are just starting your online business, then I highly recommend BuilderAll because it is an All-in-One platform, easy to use, and very reasonable price.
BUILDERALL PRICE
This might be unbelivable but they have a free plan and paid plans. They are all different in the functions available.
The paid plan ranges between $19.90 to $69.90 and email subscribers between 100 to unlimited.
you can also try it for 14 days free with all features provided

MY FAVORITE PARTS OF BUILDERALL
To be honest, I love everything about BuilderAll but, there are parts that I consider the best comparing to other platforms… Let's see what I like most below.
MY FAVORITE PART 1 – LUCRATIVE AFFILIATE PROGRAM
As an affiliate marketer, I am always attracted to those programs offering affiliation. BuilderAll allows you to be an affiliate and make money
Free of charge
You don't have to buy the product
The structure of the program is a generous one
100% Commission of the first payment every time you you sell the product
30% Commission recurring every time the people you sold to pay BuilderAll
30% Commission 2nd trier recurring
MY FAVORITE PART 2 – CANVAS FUNNEL BUILDER
When talking about sales funnels, it scares some people including me before I start my online business. But, when I understood it is the secret weapon of making money, I had to learn how to build it.
BuilderAll makes this process as easy as it could be. It is a Drag-and-Drop process that anyone can do. You can start with pre-made templates or make one from scratch.
It is a matter of minutes and you have a fully functional and powerful sales funnel. see below
MY FAVORITE PART 3 – UPDATES


There are many platforms and software, the founders release them and that is about it. BuilderAll is not like that.
They are updating the platform and making improvements on a regular basis. That is when you know the company is a strong and reliable company.
WHAT I DISLIKE ABOUT BUILDERALL
As we all know, it is impossible for something to be perfect without any cons; BuilderAll is no exception to the rule. Here are a few things I don't like about BuilderAll:
LACK OF SPECIALIZATION
It is true that BuilderAll is a one-stop-shop. They have everything, but they are not specialized in anything. While BuilderAll has everything, if you have it, you won't need anything else, but all products are standard to the market with no uniqueness in it.
I believe the only thing unique about BuilderAll is having everything.
DRAG-AND-DROP EXPERIENCE HAS GLITCHES
Sometimes while while building a website or landing pages, you feel there is a glitch with the drag-and-drop technology.
A LOOK INSIDE MY BUILDERALL
After registration, when you are logged into your account, you are faced with a simple and clear front page with a clear menu and instructions.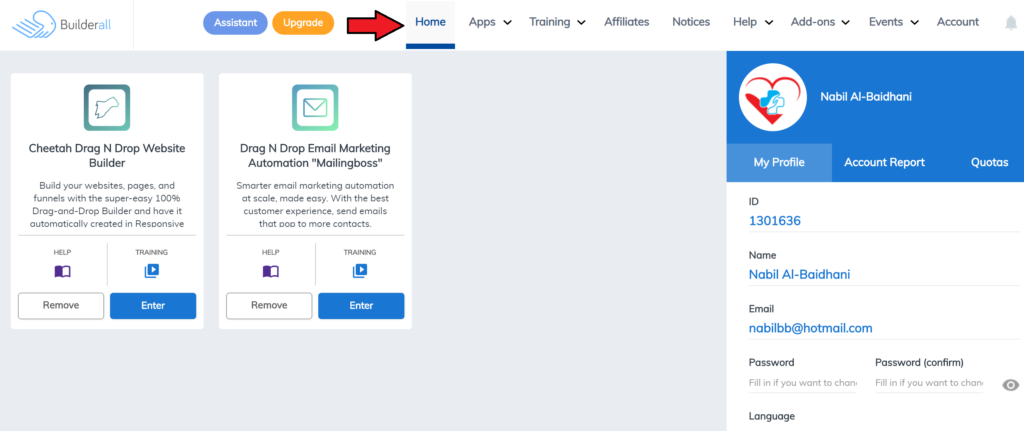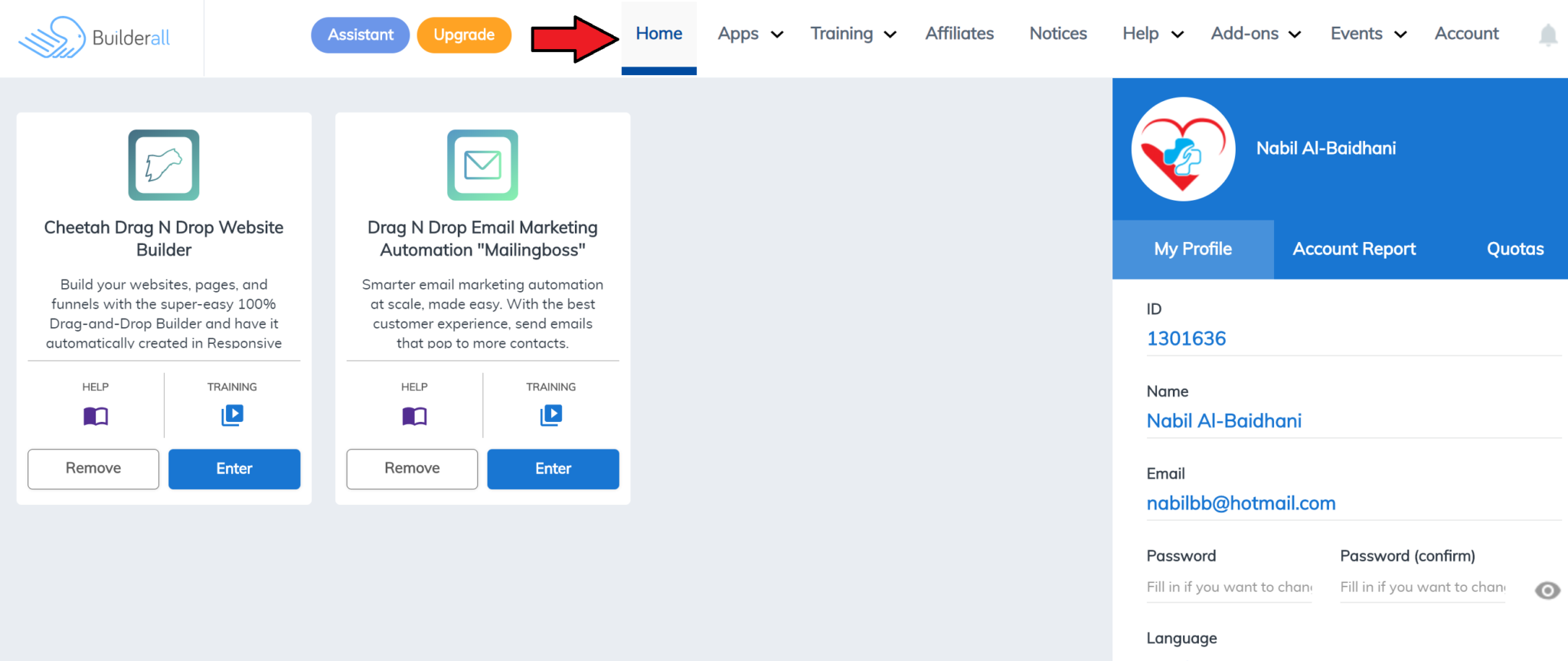 The menu items consists of Apps, Training, Affiliate, Notice, and others.
We will look at Apps section because that is where the magic happens.
BUILDING A WEBSITE WITH CHEETA WEBSITE BUILDER
Building a website is what scares most people in starting an online business. Let me show you how easy it is with BuilderAll. In a matter of a few minutes, you can have an amazing, professional, and functional website.
All you have to do is, on the main menu, click Apps then click Cheetah Drag N Drop website builder


Then you are taken to a new window where you see all your websites. You can edit or create a new website. Click "Create New Website"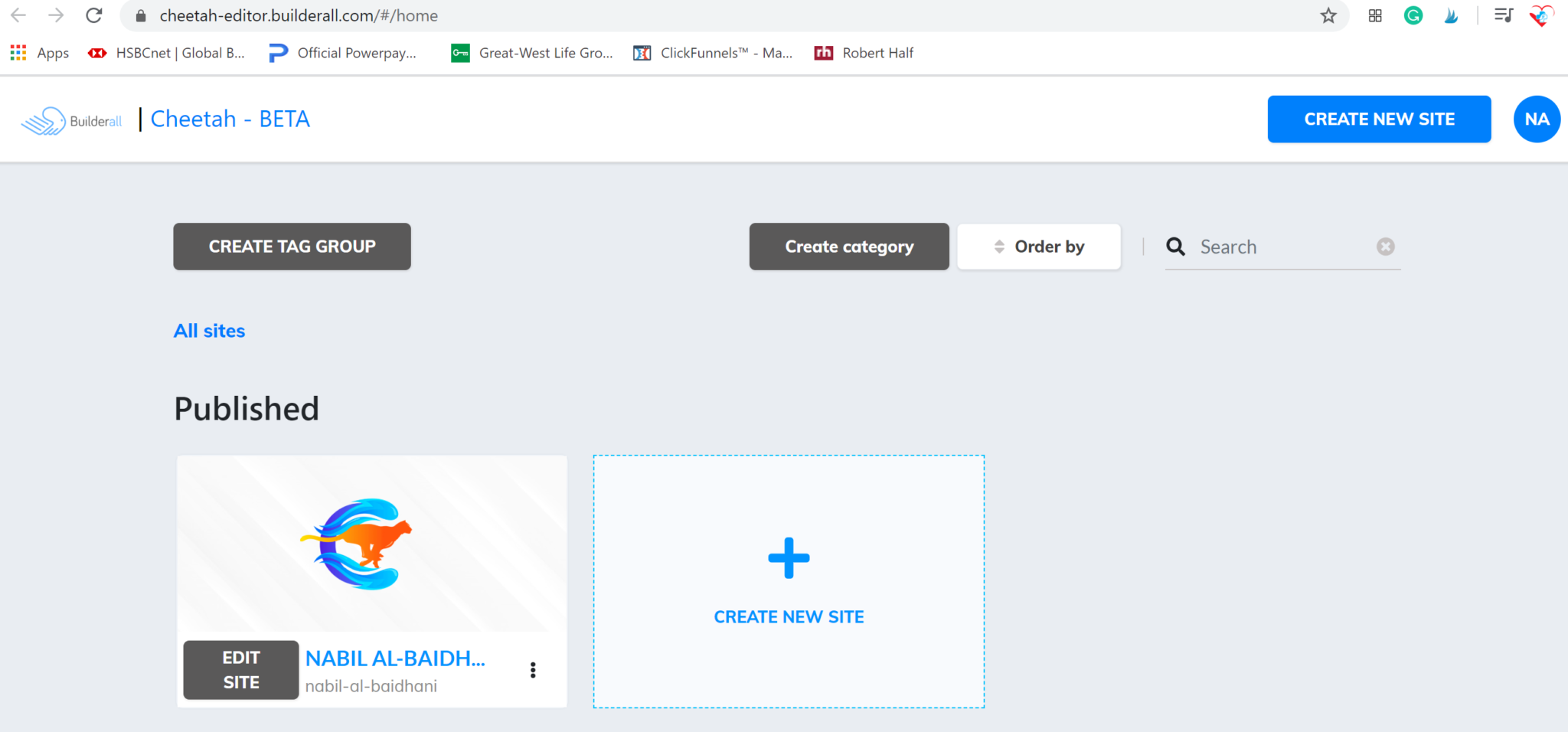 After that, you are taken to a new window to input basic information about your website. See below what I put and click "Select a template" for this exercise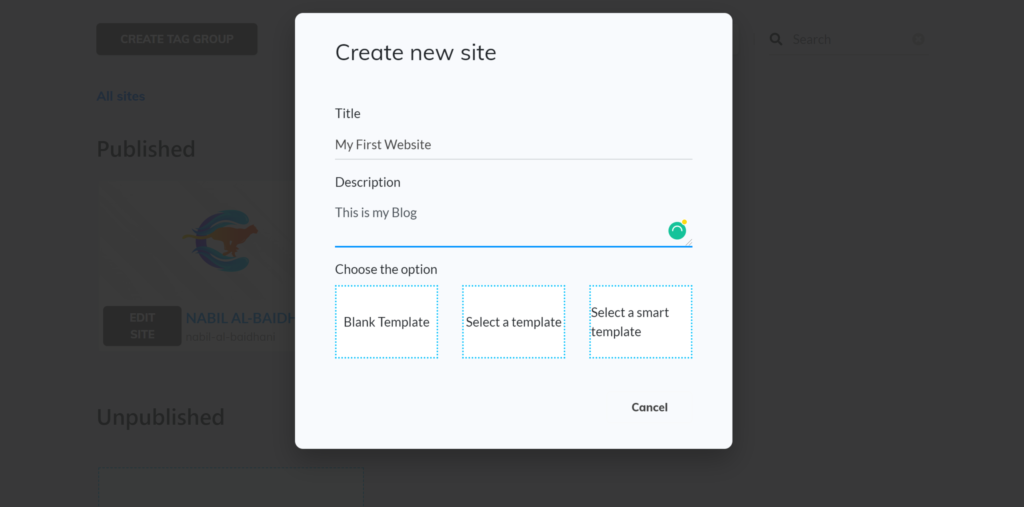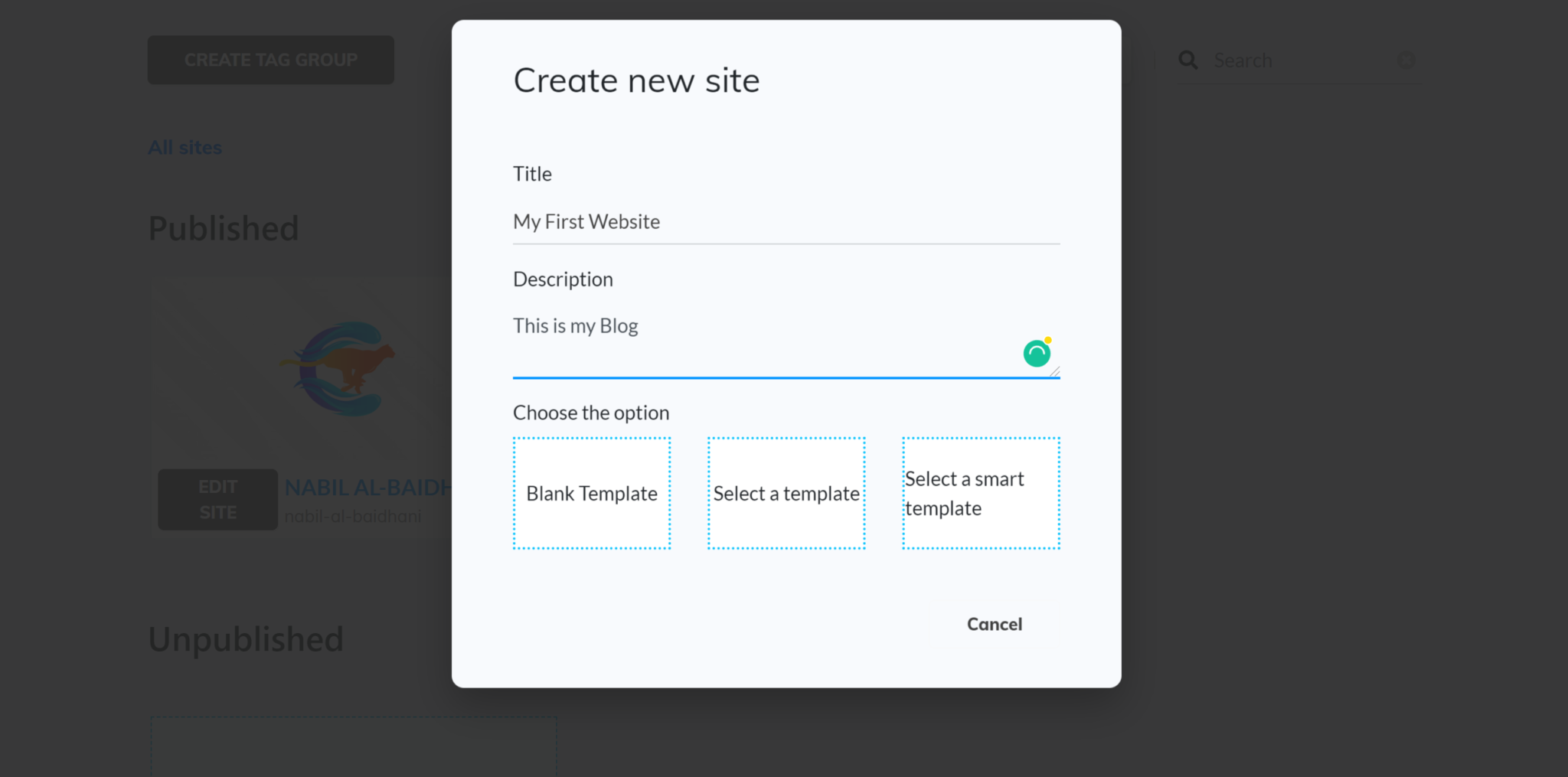 After you click Select a template, you are given hundreds of templates to choose from. I am going to select "Academia" for this purpose and save.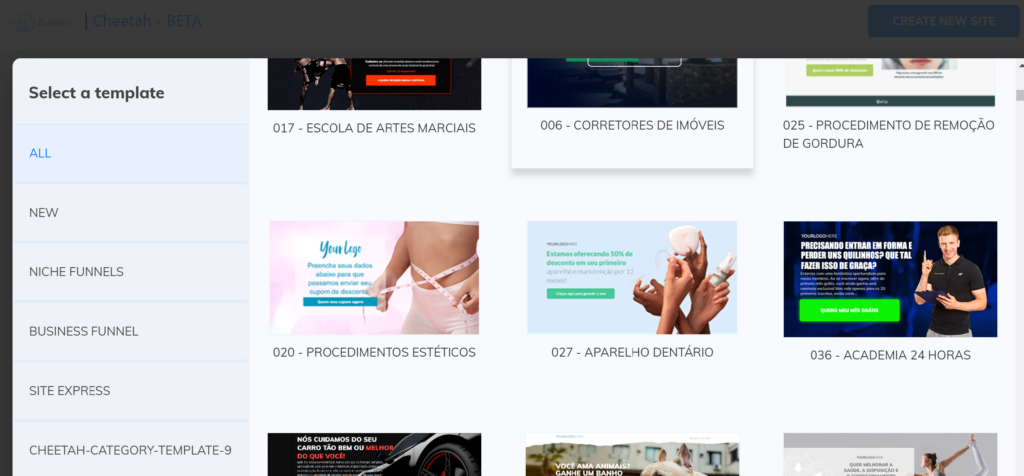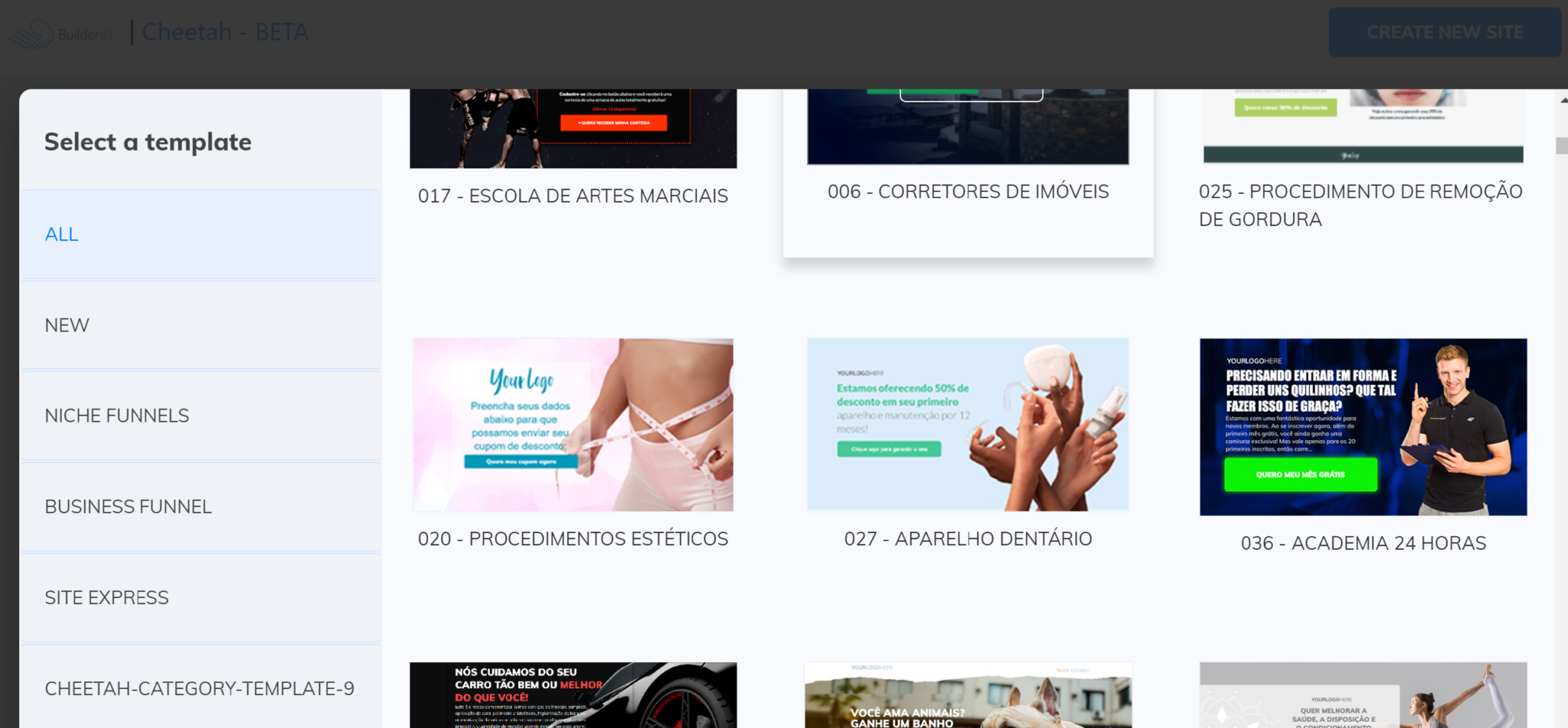 After you save your work, you are taken back to the list of all your websites page(Published and unpublished). At this point, all you need to do is click "Edit Page" on the website you want to edit to change whatever text, image, color, font,….etc. you want.
With these few clicks that took about 3 minutes, you will have the beautiful website shown below. On this page, you can change the text by double-clicking on it, change the image by clicking on it, change anything you want.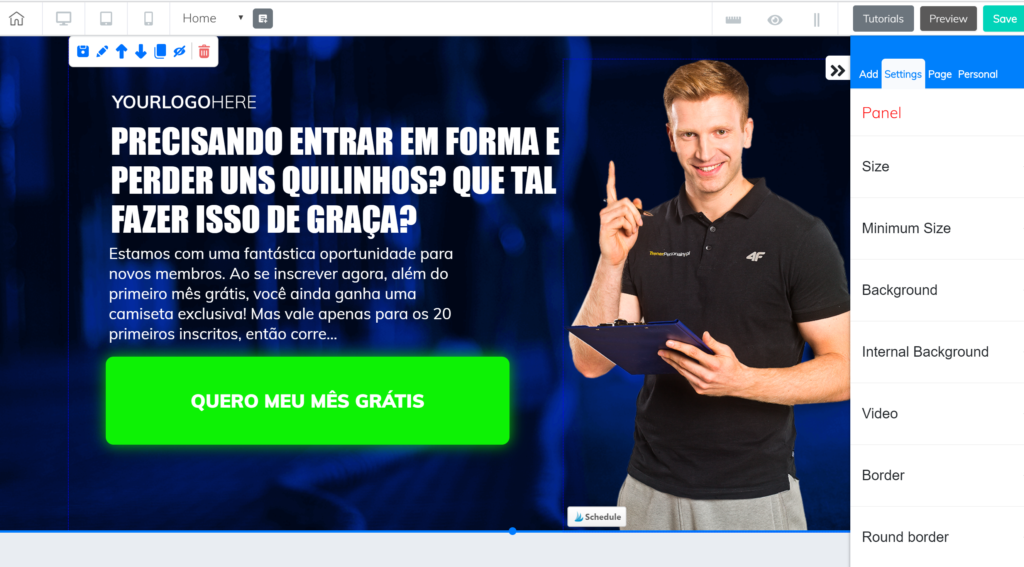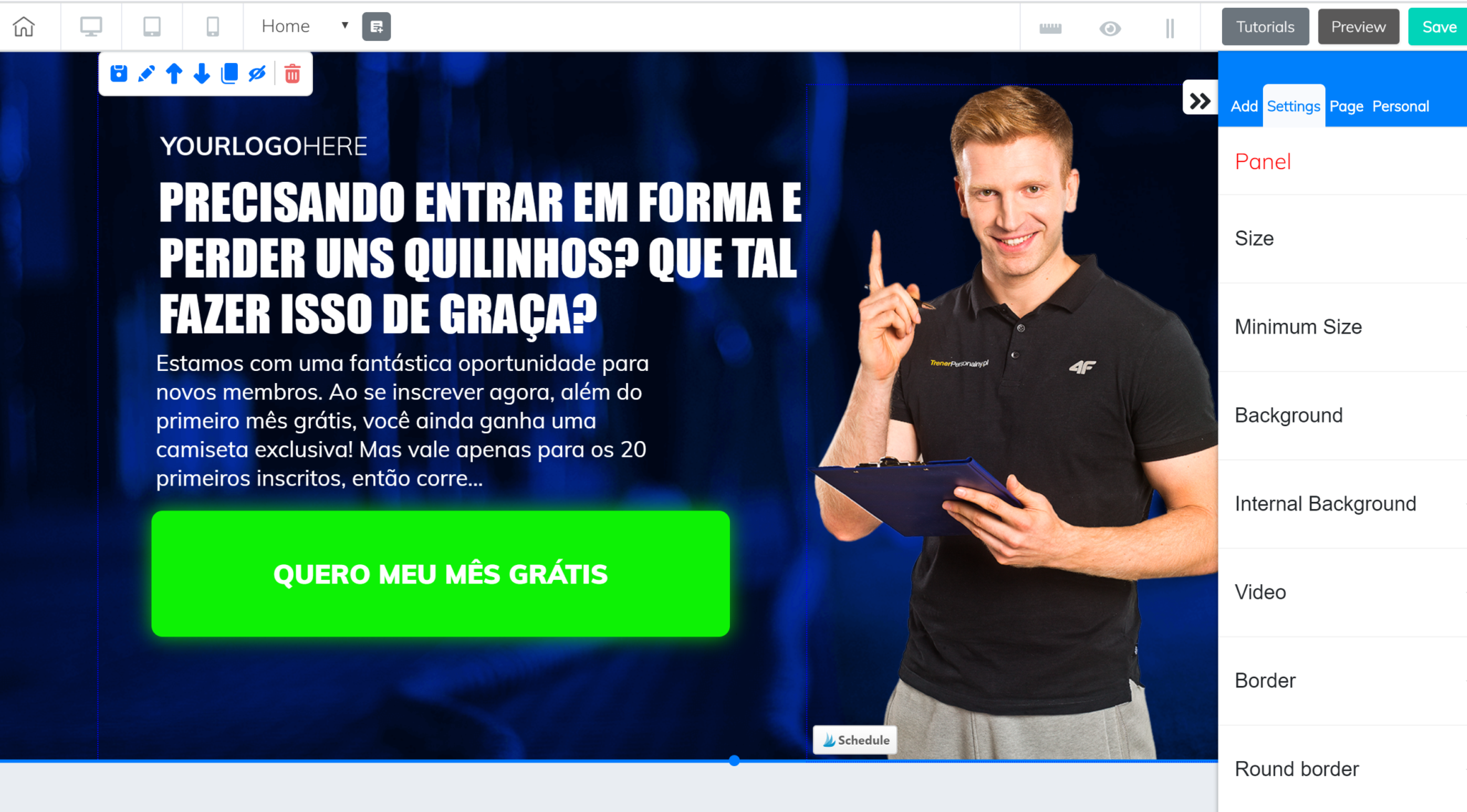 The above shows how easy it is to create professional websites with BuilderAll. Now, let's see another feature….
PIXEL PERFECT SITE BUILDER
This is one of the amazing tools that BuilderAll has. It is a landing page or a whole website builder. I am sure you know by know how important is your landing page. It is the first impression of your traffic, if it is professional and attractive, your traffic stays on the page and go one step closer, If your landing page is not professional, not well built, and not attractive, your traffic leaves you page in seconds.
BuilderAll makes this process an easy task for non techy. All you have to do is select one of the templates that are made for you to use then change the text, color, image, and anything you want to change.
In my opinion, since there are many templates to choose from, the only thing needs to change is the text only.
The pre-maid templates are really nice and professionally made.
If you want, you can even start with a blank page. Just decide on which template you like and click the green edit and you can change whatever you want then publish.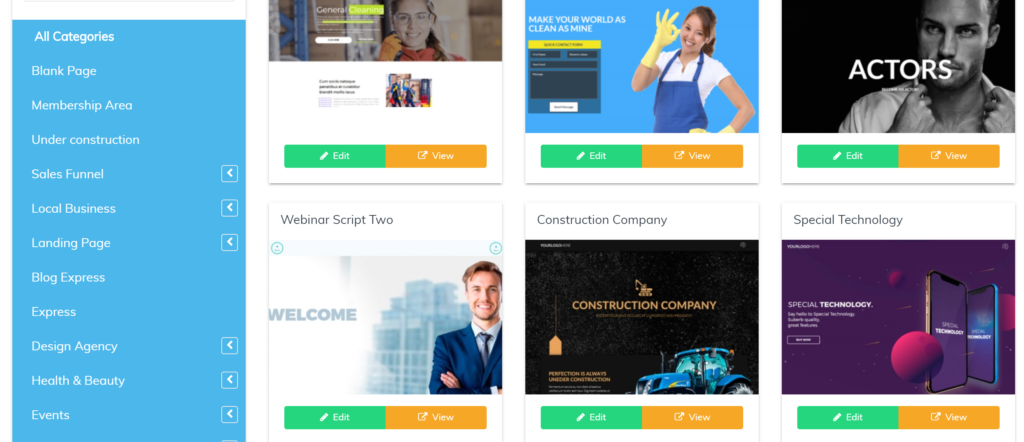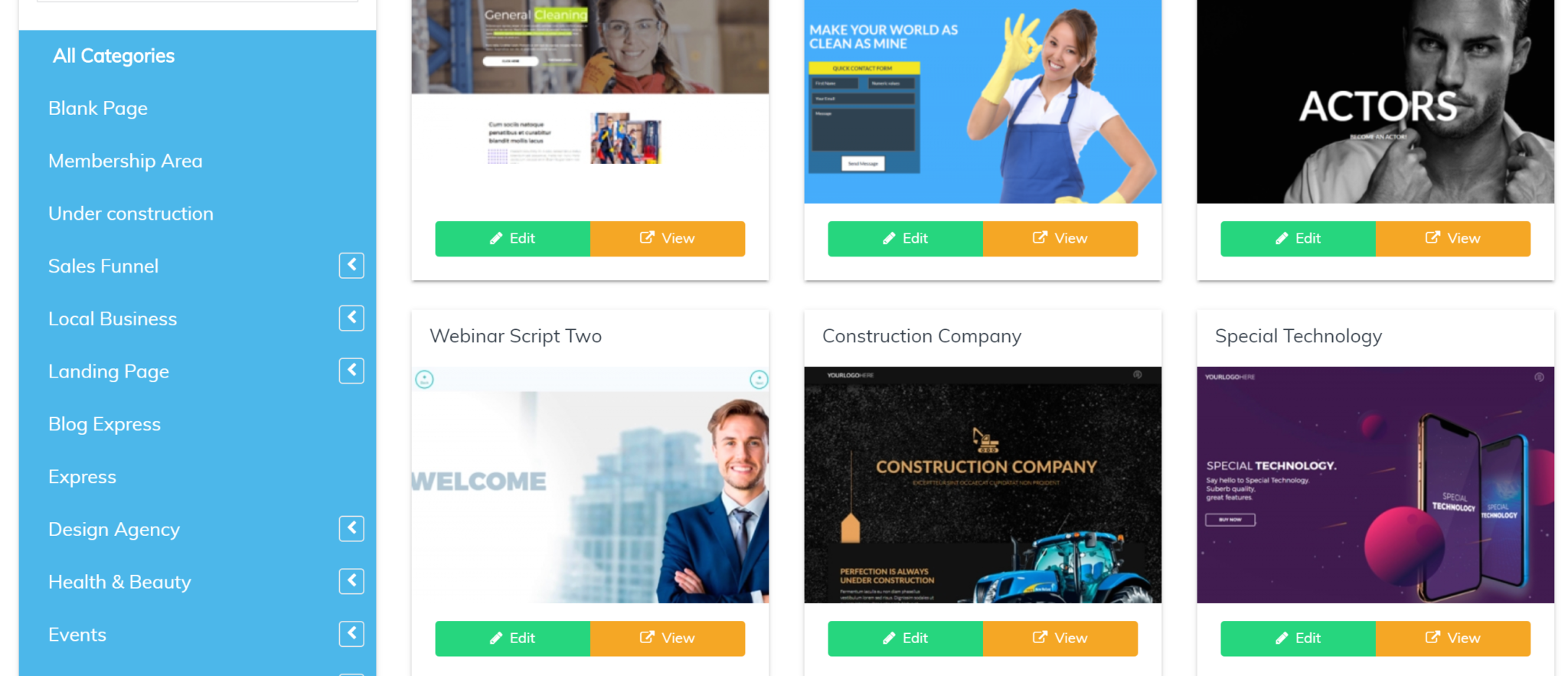 On the left side bar, you can select what kind of project you are building by category, or you can just view all categories.
After you pick your template, it becomes a matter of clicking what you want to change and changing it. For example, if you are going to change a text, click on the text and start typing over it.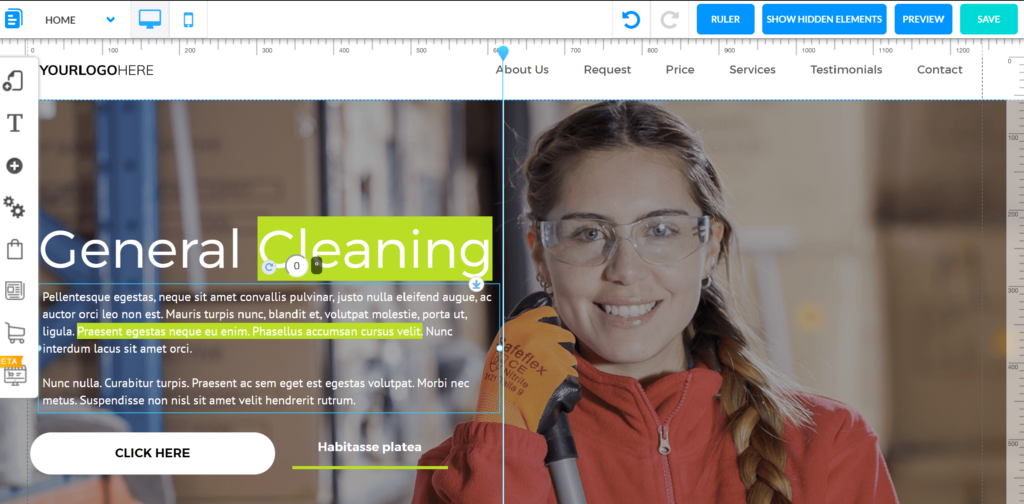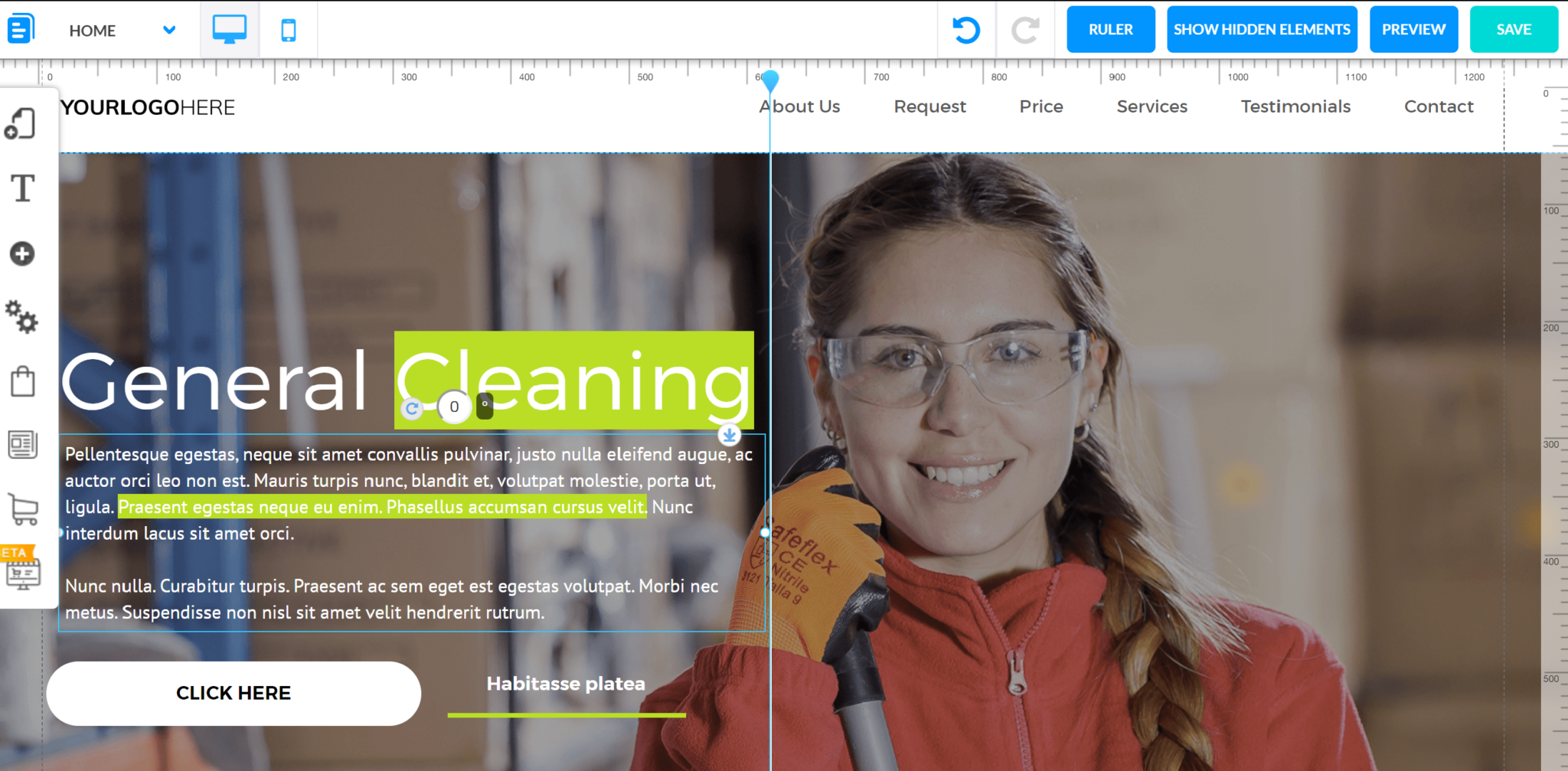 BUILDERALL PROS AND CONS
| PROS | CONS |
| --- | --- |
| Complete Email Marketing system | No live chat support |
| Drag and Drop Site, landing page, and funnel builders | You have to install apps before using them |
| One Stop Shop for all your needs of online business | No specialization and uniqueness |
| Price is reasonable and unbeatable for many years | |
| Almost all features and apps are easy to learn and use | |
| Unlimited Web hosting service which is rare to see | |
WHY BUILDERALL IS POPULAR?
BuilderAll is a popular platform not because it has something unique that others don't have in the market, but, here are the selling points of BuilderAll:
ONE-STOP SHOP – Everything you need to start an online business is in one place since it has everything like Website builder, email marketing, sales funnels, e-commerce, webinars,….etc.
UNBEATABLE PRICE – It is a dream to have all these tools and features that BuilderAll offers with this kind of price that starts at $19.90/month. They even have a free plan.
EASE OF USE – The drag and drop platform, visually appealing, and very easy to learn and use all tools
UNLIMITED WEB HOSTING – Usually, this is a paid service and it is unbelievable that BuilderAll provides unlimited hosting and it is included in the monthly price.
30-DAY MONEY BACK GUARANTEE – On the top of the price being so cheap for the features they provide, they give us 30-day money-back guarantee which shows confidence
BUILDERALL LOGIN
For some reason, there are are lot of people searching for BuildeAll login on Google. To login, go to builderall.com and click login then, input your credentials and that is about is.
BUILDERALL VS COMPETITION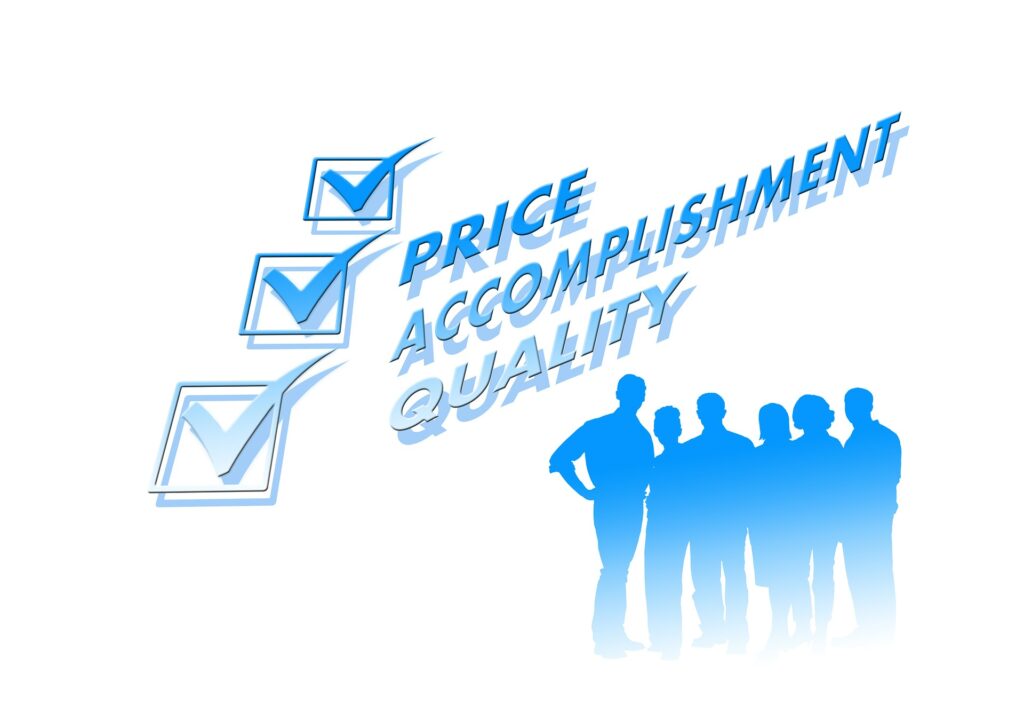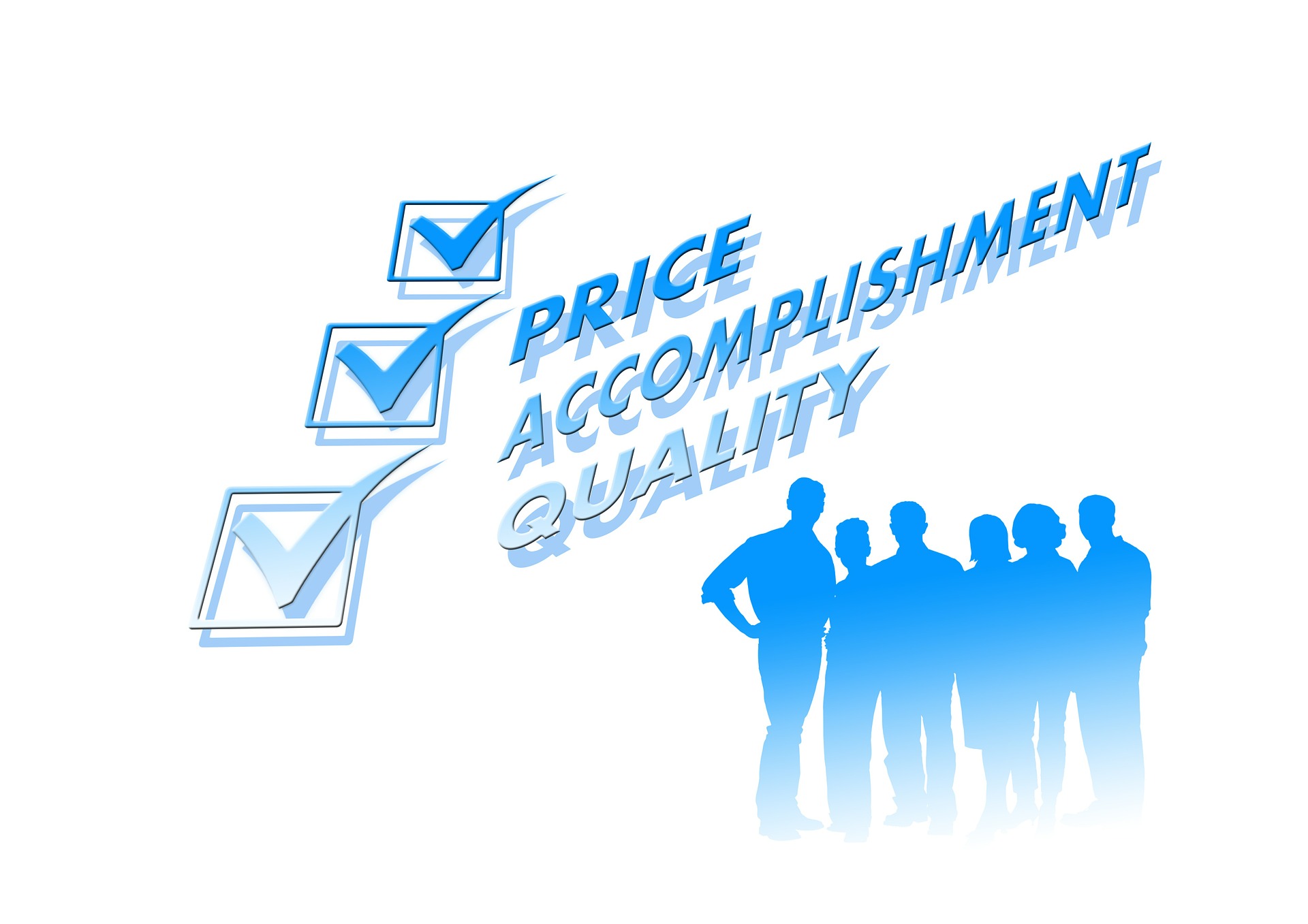 Let's see now how BuilderAll stands against its competition like Clickfunnels and Kartra
BUILDERALL VS CLICKFUNNELS
CLICKFUNNELS
More expensive than BuilderAll
More users, huge community
Easier than BuilderAll to use
It is a culture more than it is a sole product, it has courses, books, free training, …..etc.
BUILDERALL
Cheaper than Clickfunnels big time
Still, it is glitchy in some parts
Fewer users than Clickfunnels
WINNER
If you are looking for an all-in-one product or looking for a product that costs the least, then BuilderAll is the clear winner.
If you are looking for a well-built product, a culture around it, and countless training and free material, then the winner is Clickfunnels.
BUILDERALL VS KARTRA
Here, it depends on what is the priority factor to you. When it comes to the price, Kartra is more expensive since it starts at $99/month when BuilderAll starts at $19.90/month, and it is even has a free plan.
When it comes to performance, I would say Kartra is much better than Builder all.
It is better made than BuilderAll
It doesn't have glitches that BuilderAll has
Autoresponder is much better
Forms and templates are much better.
FINAL THOUGHT
If you have an established business and you are using other platforms like Kartra or clickfunnels, then I don't see any reason for you to switch to BuilderAll because that is considered to be a big move.
But, if you are just starting, or you didn't go far enough into your online business, then I highly advise starting with BuilderAll because you have everything you need and the price is just unbeatable.
BuilderAll gives a free trial period, even if you are not planning to use it, you might as well play with it for free just to have an idea of what it is all about.
Don't forget the generous affiliate program of BuilderAll. You can build a successful Business just with the affiliate program.
I give BuilderAll 4.5 stars out of 5, and in general, it is a fantastic platform, an unbeatable price, and an excellent affiliate program.
See alternative platform that does the same thing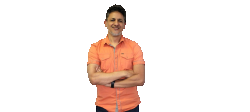 Latest posts by Nabil Al-Baidhani
(see all)