Surfer SEO Review - Does It Help You Rank number1? (Read This Tips)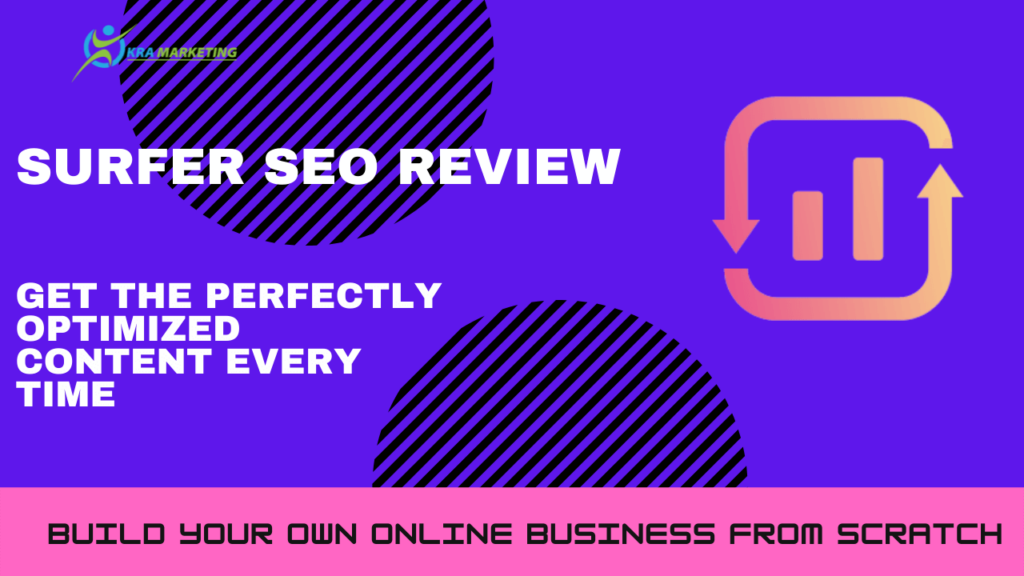 Surfer SEO is a tool designed to help SEO optimize written content, like blog posts and articles.
Surfer SEO allows you to see the requirements from an SEO standpoint, make audits, get keyword suggestions, and create a content plan of attack. Surfer SEO is hands down one of the best SEO tools on the planet for getting real, concise data on how to take your search to the next level.
Optimize your web page is one of the most urgent things in the marketing industry for getting organic traffic. No matter how skilled you are in doing on-page optimization, it will require time and hard work.
These days, people are more dependent on SEO tools for the optimization of their page content. While so many optimization tools are available online, Surfer SEO has become very popular within a few years of launching.
In this post, I will write and review Surfer's SEO features, guidelines, and everything you need to know about it.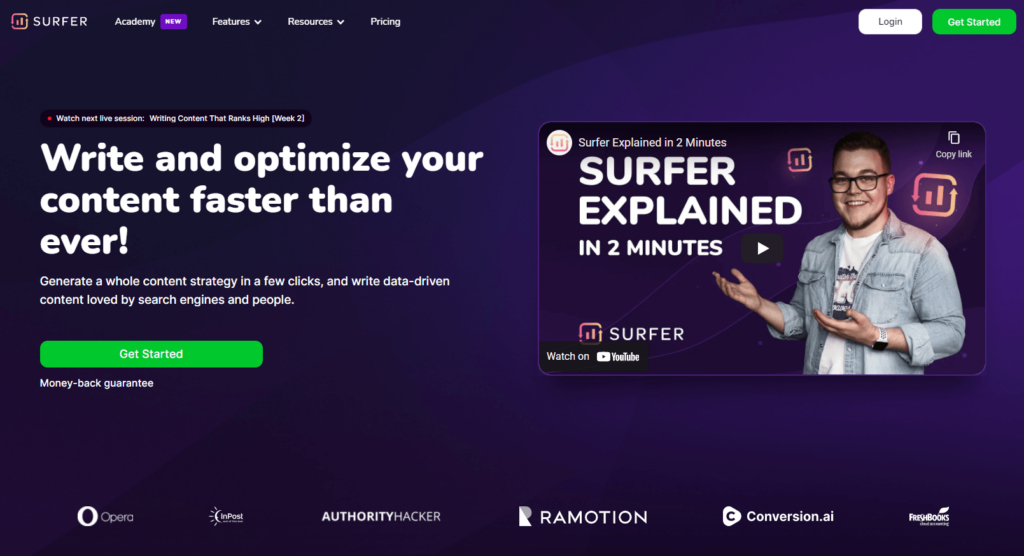 Surfer SEO is an AI-based tool whose aim is doing on-page data-driven optimization. It analyzes and compares your web page SEO with the pages that stay on the top of SERP related to "500+ on-page" signals. Based on that report, you'll be able to decide what you need to do to create content that will help you outrank your competitors. For example, the main comparison features include:
Size of your page (Average)
Recommended keywords including LSI/NLP
Keyword density
Image alt tags
Create backlinks
Page speed
Content length guidelines and many more.
Using these data extension and analysis, it will show what you are lacking or doing wrong. Analyzing them, you will be able to create and optimize your website content. If you can create your website post based on the data-driven suggestion of Keyword surfer precisely, there is no doubt you will get the highest possible ranking to the top of Google search results pages with organic traffic.
You can also analyze older content that never ended up a ranking or is on page 3 of Google and you want to give it that boost, then this is for you. You can check out various people who have shared their practical experience and review of using this tool, make optimization and become benefitted beyond their expectations.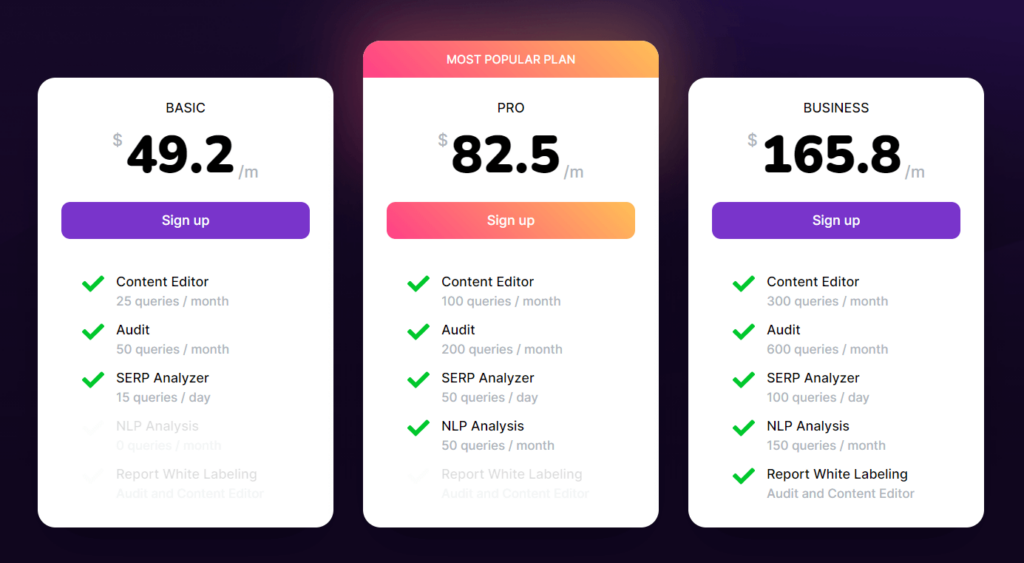 Is Surfer SEO free? , then I may disappoint you for a while by saying "No"
It is not free. But then again, you know, better things always come with higher pricing. However, considering various ranges of needs, there are many pricing packages of Surfer SEO. 
It starts with the Hobby package that will cost $29 per month ad this is the most affordable one with some limited facilities and access to the resources. There are other packages like Basic, Pro, and Business, having monthly charges of $59, $99, and $199. The access to the features of these three is more or less similar. The variation lies in the number of analyses and queries per day and month.
For frequent business users, it comes with a booster pricing plan- Business+. Here you can make queries up to 300 per day and 1000 per month. It will cost $649 every month. Moreover, under the Enterprise Custom Plan, you can make the availability and access to the facilities as per your wish and, the pricing will be based on that.
You can save up to 20% if you pay annually for any package. If these price ranges are a bit high for you and you are not sure about the effectiveness, then the good news is you will have a seven-day money-back guarantee of only $1. Within seven days, you can cancel the plan and have your money back without any hassle upon requirement.
Here is the full pricing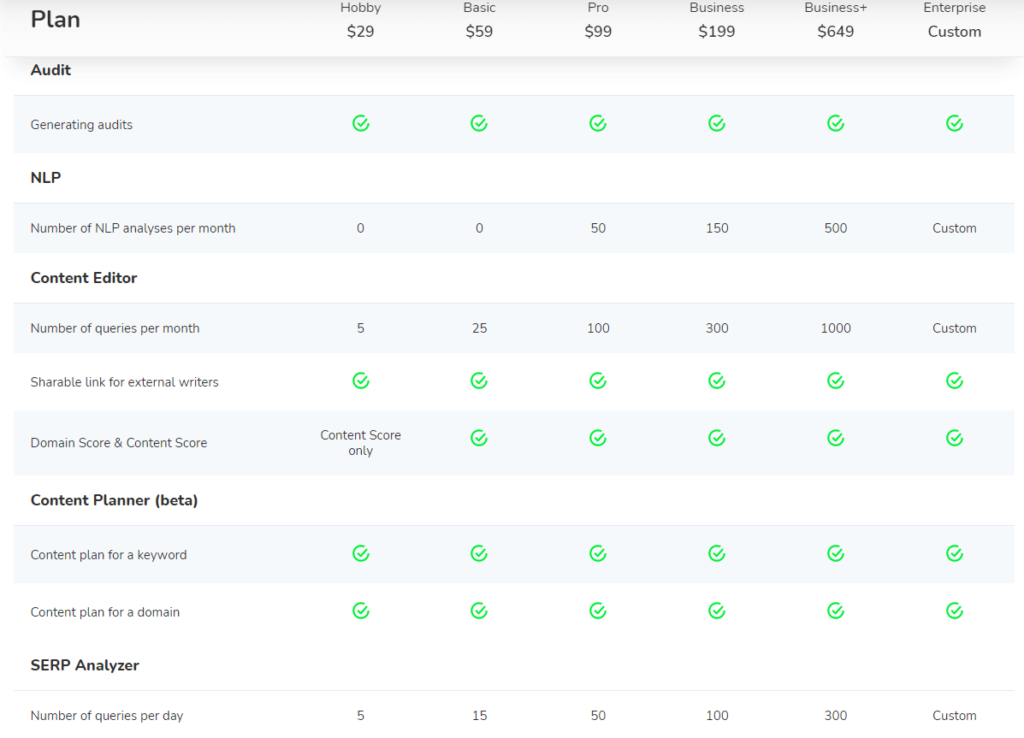 HOW DOES SURFER SEO WORK?
Matthew Woodward, Director of matthewwoodward.co.uk says, "Surfer's analysis told me to delete 22,000 words of content which was…weird. So, I deleted 85% of my content including 901 blog comments. 2 days after doing precisely what Surfer told me to do, I moved straight into the number 1 position in SERPs."
Instead of wasting hours to produce a relevant content strategy, simply let Surfer algorithms provide a plan adjusted to your domain, niche, and audience. Then, you're all set to manage your niche with dozens of legit content ideas. Surfer Tool creates guidelines based on top-ranking pages and provides insights on the ideal word count for your content, keywords to use on your website, article structure, and more. Utilize the ideas to increase both the content quality and your opportunities for high rankings.
Here I break down the things for you. Search engines like Google have changed their algorithm over the past years. For example, they moved on from some traditional ranking factors to some new parameters like search volume and are now awarding certain website content based on that by taking them to the top of search results. 
Surfer SEO, with its features like keyword surfer, makes keyword research by analyzing these top-ranking contents on a search result on your keyword and gives you a comprehensive idea of what you can do to rank your blog post. 
It comes with many features like SERPs Analyzer, Content Editor, Keyword Research, Content Planner, etc. With these, it will tell you what precise keyword and data-driven content you should use, how you can build your content in a better way with information and data, the perfect number of backlinks to put, and so on. 
For example, Surfer SEO's keyword research tool enables you to know search volume for keywords related to country-specific suggestions. Also, it will show question-based keywords and common queries people ask about the topic. This tool supports 20+ languages and is very effective compared to other keyword researchers available. 
Being a cloud-based tool, Surfer SEO will show you how your existing keywords are hampering your pages on the way to ranking top. You will get to know whether your content is standard to your competitors' pages or not. This comprehensive data optimization audit will show things to include and exclude to make better content and rank your pages quickly and drive traffic. 
HOW DO I OPTIMIZE EXISTING CONTENT WITH SURFER SEO?
Optimizing existing content can be done with the SERP Analyzer feature without any hassle. It is one of the main elements of Surfer SEO. It also saves your valuable time from doing the analyzing work of existing content manually.
SERP Analyzer feature does the keyword research from the ranked content on top when you insert a keyword and finds correlation among them. You can customize how much content you analyze. The usual practice is to work with the first ten top-ranking data of the first page on average to check the page SEO.
SERP Analyzer will then audit 100+ ranking factors like word count, the density of the keyword, speed score, heading number, number of characters for the title and meta tags, URLs, natural language processing, and many others.
You may be unfamiliar with all these parameters since they are huge. However, on top, you will see audit suggestions of how many words your title and body of the post should contain respectively to fight with any ranked website. this feature will also show how many paragraphs you should make and the image you should put so it becomes perfectly optimized.
You will also get URL, content, and domain score from the analysis. These will give you a precise idea about why they are at the top and how you can outrank them by your website. SERP Analyzer will provide general LSI keywords with common questions people make on the topic. Following these suggestions, you can amend your existing pages, and the chances of your pages being on top will increase more.
If you want to know how perfectly optimized your existing content is for a particular keyword, the Article and Page Audit feature will show you that. By entering your keyword, you will get some analysis reports. It will tell you what LSI keywords and backlinks your content is missing with loading time, length advice for the title, word count, and meta tag description.
You will get an extensive idea about the flaws of your existing content from these suggestions.
HOW DO I CREATE NEW CONTENT WITH SURFER SEO?
You can write new search engine optimized content using the Surfer SEO Content Editor. This content editor feature has more or less similar functionality to SERPs Analyzer but, its specific target is to create new content that will rank quickly.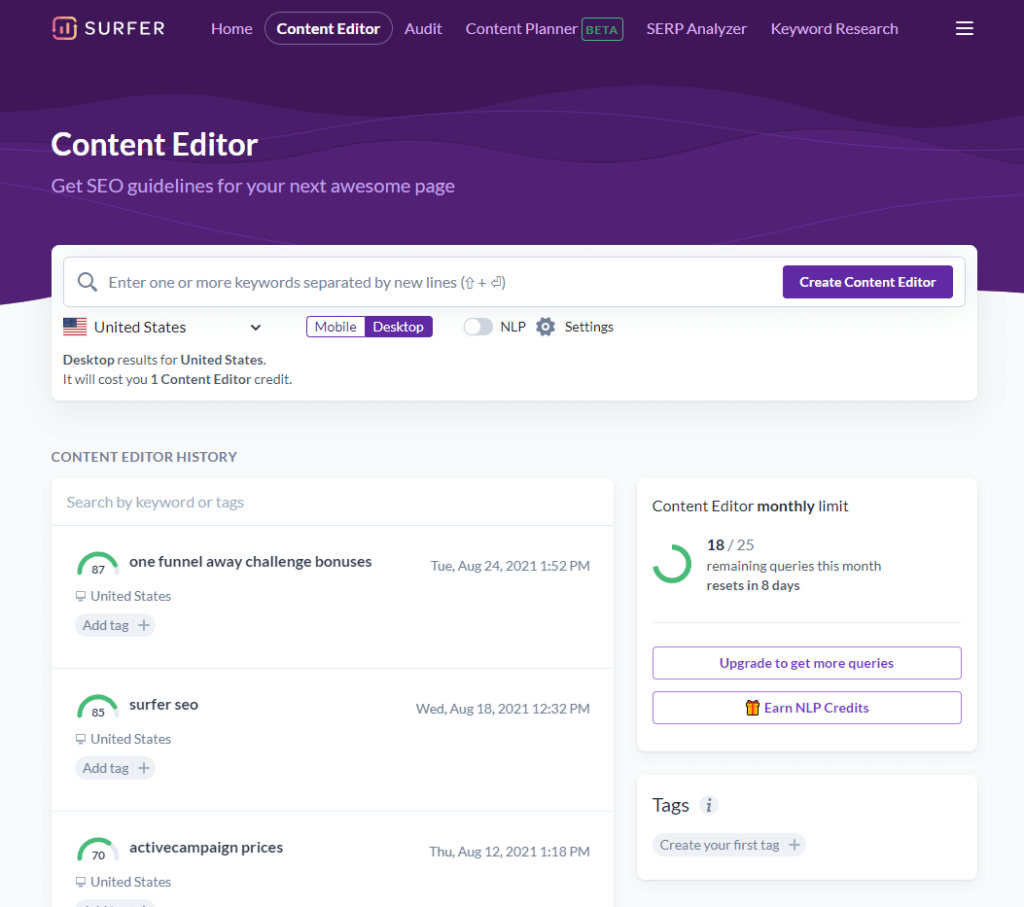 Surfer's Content Editor makes an audit of the first page articles and finds the average ideal word count, heading, and paragraphs with some important LSI keywords and their frequency in those articles. It will also show some frequently asked questions to answer inside the content. You have the opportunity to choose any content as your wish. By default, the editor always picks the first five of the top 10 results.
All you have to do for content creation is insert your article on the content editor and, it will guide you through by showing all the missing puzzles. It will make a target content score for your keyword and, you have to reach near it to make your content flawless.
You can also share these suggestions with your content writers and, without logging in to it can be able to write the article on Google Docs following them. Creating new content with this editor is simple as it guides you from the very beginning till the end.
Surfer's content editor, however, is not free from bugs and sometimes may confuse you with the article length and image number. Still, it is very effective to optimize your content and take it forward to the SERPs.
WHAT I LIKE ABOUT SURFER SEO
Steve Toth, Creator of SEO Notebook says, "I love using Surfer because it allows me to scale on-page optimization in the most effective way possible. Creating SEO-driven briefs is a snap with Content Editor and, writers love it because of how straightforward the recommendations are. If you want to perform modern SEO; you need to try Surfer." 
Surfer SEO, after its launching, has become very popular among a wide range of users like freelancers, SEO experts, and content writers. There are many excellent features to mention. Here I include the things I like.
You can understand the effectiveness of any tool from its user interface. No matter how many features a tool provides, there is no value if it is not easy and accessible. Many helping tools offer lots of data but, they are not organized.
Unlike those tools, Surfer SEO is the opposite though it also has many judgments parameter. You only type the keyword and press enter; it will show every result with a visual representation. Besides, it marks the most crucial factors with the green-colored bar. It will help you understand where to give the most emphasis.
Besides, it will precisely demonstrate your lacking and, you need not do anything based on guessing only.
There are some misconceptions about latent semantic indexing or LSI keywords. Most of the available LSI keyword generator tools out there are defective to extract the right keywords. All they generate is some related searches from the Google Search Box. 
Precise LSI keywords are contextual words for any particular keyword derives from Google. I like Surfer SEO because the LSI keywords it generates are pinpoint and perfect contextual words. They always extract popular and prominent words and phrases.
When you will use Surfer SEO, you will be able to generate words like these from ranked content and put them on yours to make it optimized.
ANALYZE CONTENT STRUCTURE
Correlational SEO is another crucial factor and, it is not only limited to keyword frequency only.
It's also important to look at the structure of the content with title, meta tag description too.
Many other analysis tools do not cover everything and, you have to put the same thing on various measuring tools to get the precise result. On the other hand, Surfer SEO analyzes all of them within a moment. You will get the correlation parameters on the left side telling you where you can improve. There will be many but, you will see the crucial ones colored green and give most of the effort to them.
It will also show the structure of the content of your competitor. You will get a vast idea about how to outrank them. Moreover, you will understand what length is perfect to rank your page on a particular keyword.
Content auditing regularly is essential and, it takes a struggle to measure. But with Surfer SEO, this is super easy. After putting the page URL by clicking compare, you can see the results. The audit will suggest keyword density and content structure along with other correlational factors.
It will clearly show what errors are there and if there is any warning or not. It will break down to every parameter like usage of keywords, page speed, image, alt tags, meta tag description, and all others. You will also get to see the condition of your page compared to the competitors that are in the top position.
Make change according to the suggestion of the audit and run the same test after a while to see the result it would bring.  
EXCELLENT CUSTOMER SUPPORT
One of the prime reasons I like Surfer SEO is for their outstanding customer care service. Unlike many other tools, you can easily reach them and deliver your query fast. It contains a chat option below where you can contact and start a conversation.
From the reviews and recommendations of many people, you can be sure that you will get your reply quickly. If you still have confusion regarding anything, Surfer SEO always welcomes follow-up questions. What I noticed from experience is that they always try to give the highest importance to the clients.
There are many more reasons I like the Surfer SEO tool. Theoretically, I can tell you so many features like this page after page. You can give it a shot in practice to experience these benefits firsthand. 
WHAT I DON'T LIKE ABOUT SURFER SEO
No tool is free from flaws, and Surfer SEO is also not the exception to that. The list was longer at the beginning. However, they have modified with time from the user feedback. Thanks to the Surfer team for the modification and, that is why there are only a few metrics that I do not like and, the Surfer SEO tool should improve. Here, I am mentioning some of them below.
There are so many parameters Surfer SEO demonstrates at a time. It may be convenient for professionals and SEO experts. However, it is hard to understand them all for people who have less knowledge of SEO.
The analysis that what keywords you are missing is pinpoint though, it will only show the first five results within a page. To go to the following results, you have to scroll down that might be inconvenient to you.
Sometimes the readings come out like the number of words, images, and keyword density might be vague and higher than the original. In that case, I recommend proofreading the whole thing again for certainty.
The Hobby and Basic plan of Surfer SEO do not include Natural Language Processing (NLP) analysis access. Pro plan only offers 50 NLP per month.
WHAT IS A GOOD SURFER SEO SCORE?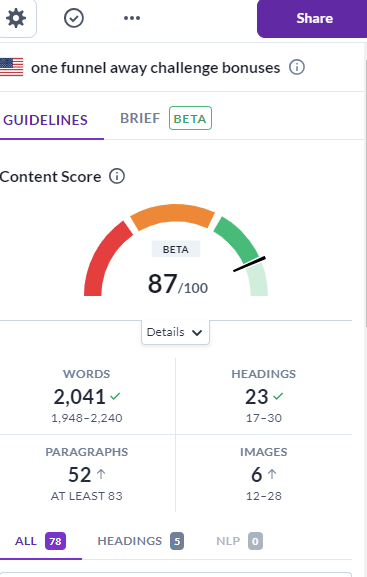 There is hardly any tool available for measuring content quality and on-page optimization factors. Content Score feature of Surfer SEO targets to alleviate this shortcoming. It has an evaluation parameter that analyzes whether your content is standard enough to rank on the top 10 content or not.
The algorithm of content score aims to analyze more than 100 factors and parameters to ensure an accurate reading. It compares-
Length of the content
Title and headers
Length of the headers
Images used
Information
Relevant words
Natural Language Processing
Keywords (Including LSI)
Hidden content
And so many others. It saves a lot of your time from doing all these manually and taking hassles.
There are three grades of content based on their score.
Score 0-33 indicates that the content lacks quality and is out of topic.
A score between 34-66 indicates the content is pretty good in terms of quality and relevancy. It may also reveal high quality but low pertinence or opposite.
A score between 67-100 indicates the content is above average and optimum in both quality and relevancy.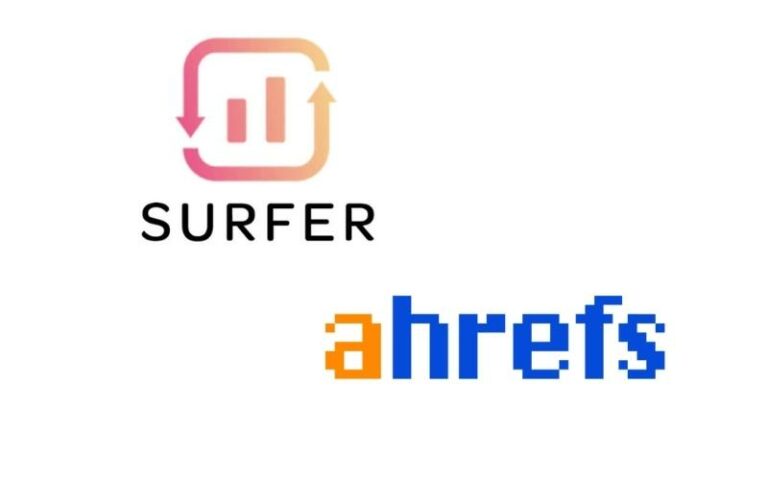 This comparison query of Surfer SEO VS Ahrefs frequently floats over the internet since people are more eager to review which tool is better. The truth is, you cannot compare between them since their attributes and aims are different. I admit that both work on SEO but, apart from this, they have no other similarities.
Ahrefs provides premium SEO tools that include keyword research, competitive analysis, website traffic, backlink checking, and more. Also, it has some of the free keyword tools.  Its five tools are what you need for a good SEO plan like Site Explorer, Content Explorer, Keywords Explorer, Rank Checker, and Site Audit. It is a handy tool for marketers to track progress and outplay their competitors.
On the other hand, the newcomer Surfer SEO metrics aim to do two main functions- Review on-page ranking factors that impact ranking and find driven content suggestions that can place your content higher on the search engine by auditing it.
Both of these two are very good while performing their tasks. Surfer SEO has a bit more affordable pricing comparing with the price range of Ahrefs. But you see, their activities are not
alike. So, any comparison between them would not do any help.
If you are new and inexperienced in SEO marketing, then excessive ranking factors comparison of Surfer SEO will surely be an exaggeration for you. Then again, hardly any research tool in the market can beat Surfer SEO for its in-depth on-page SEO research and analysis. It saves a lot of your time and effort to make things easier for you.
I am not saying it is perfect in all the parameters. But the number of features it provides with all the price plans, it worth the money you pay. This tool contains a lot of features with some less urgent parameters also. But unlike other complex performing tools, the user interface of Surfer is easy.
Considering all the features and attributes, I will say- yes, Surfer SEO is worth its value.
I tried to give a comprehensive review about Surfer SEO and its functions that how it works. It is new compared to some other prominent SEO tools in the market. However, with the facilities and service this tool provides, you can get started and give it a try to see what magic it brings to your web page.
If you are doing affiliate marketing through blogging, this would be the perfect tool for you.
At the moment, I think this is the best SEO tool on a content level. You can try it with 7 days money-back guarantee.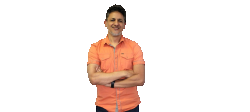 Latest posts by Nabil Al-Baidhani
(see all)