In this article, I am going to show you the right way How to Start Affiliate Marketing in 2022 From Zero to $1M and make money online.
I will focus on practical steps and give you clear guidance to make it on your own without spending money on anything when possible.
But, first, let's see what affiliate marketing is, It is promoting someone else's products for a commission.
When starting affiliate marketing, you have to consider three important things when promoting a product:
The product you are promoting must be useful and helps people. Otherwise, no one will be interested to buy the product and all your effort will be in vain.
Help people and money will follow. Your #1 priority as an affiliate marketer should be helping people. that can be in many ways like not promoting bad products, showing pitfalls of the products you are promoting and being honest in your reviews, and putting yourself in the shoes of buyers.
Knowing that people don't care about you. All they care about is the information that you show them and if the product you are promoting solves their problems.
Now, let's get to it and see the practical steps in starting affiliate marketing……..
How to Start Affiliate Marketing: The Complete Guide
There are three steps in starting affiliate marketing online and starting making money online:
Knowledge
Joining affiliate program
Promoting Products
I am going to tell you about all these three steps in detail below so, fasten your seat belt and let's get started.
AFFILIATE MARKETING KNOWLEDGE
This is all about learning the fundamentals of affiliate marketing and from there deciding if it is right for you. This includes knowing the tools you need, all the setups you need to put in place, and all the investments you have to make if there are any.
The fact is, all this information is free and can be found on Youtube and all over the internet, the only problem is the internet is full of information and you, as a newbie won't know what is true and what is not.
For that reason, I always recommend taking a course that is not expensive but, has great value. or sometimes there are free courses that give you what you want.
AFFILIATE MARKETING COURSES I RECOMMEND
I have taken these courses and find them to be filled with gems and they are good starting points in affiliate marketing.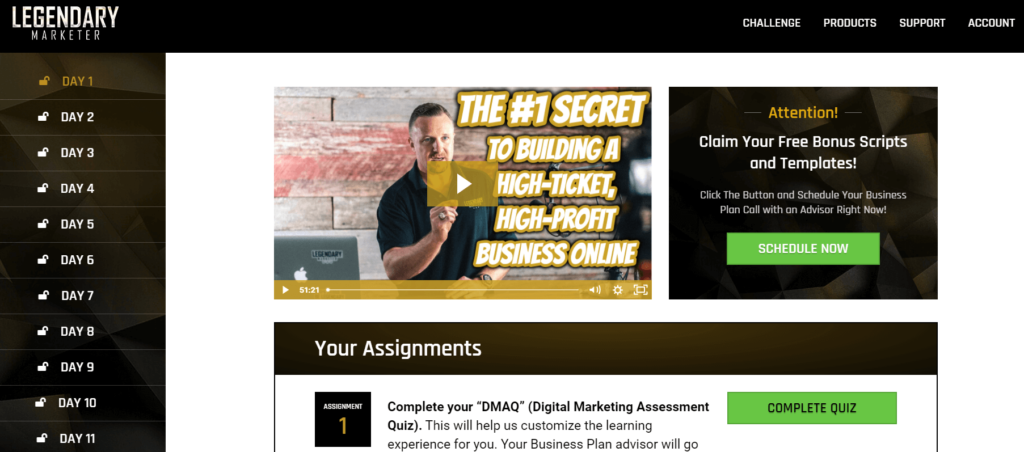 The 15-day business builder challenge is a good course to take especially if you don't know what affiliate marketing is and you don't know the fundamentals. Also, if you want to be an affiliate for Legendary marketer, completing the course is a requirement.
One Funnel Away Challenge $100 – This is the second affiliate marketing course I recommend. It is made by Russell Brunson from Clickfunnels and again, it is an affiliate marketing course that goes for 30 days. It is expected to have your affiliate marketing business up and running in 30 days if you performed all the tasks given to you on a daily basis.
I have a detailed review of the course here
Affiliate Bootcamp $Free – This is a free course by Clickfunnels and it teaches in the assumption that you don't have a mailing list, a product, or a big following. The course is presented by many affiliate marketers who made six or seven figures with affiliate marketing and the best part is, it is free.
I have a detailed review of the course here
5 Second Free Leads $1 – This course for those who are interested in making a business out of TikTok and drive traffic from the platform. It is a video course that teaches so much for the value which is a dollar.
I have a detailed review of the course here
JOINING AFFILIATE PROGRAMS
The fact is, there is no shortage of affiliate programs to join. But, when I choose an affiliate program I look for one a combination of the following criteria;
High ticket product – Because that makes a difference in the amount of commission I make. The higher, the better.
Recurring Commissions – That is a matter of set it and forget it. t is usually a subscription program that makes me money on a monthly basis
Good support – That means the affiliate program belongs to a company that helps you with any problem you might have
The company has several products and upsales – That means you can promote more than 1 products and maximize your commissions
AFFILIATE PROGRAMS I RECOMMEND
Here is a list of affiliate programs I recommend that fulfill the criteria I mentioned above and they are beginner-friendly;
Legendary Marketer Affiliate Program – And here is why I like this program:

It has more than one program ranging in price from $1 to $30,000 which means at 60% commission for you as an affiliate, you can make a lot of money from a single customer
It has a monthly subscription program which makes you a monthly commission with no extra effort from you
You will be promoting cheap products costing $1 or $7 which is not hard to sell then the Legendary team takes it from there and keep promoting other products for you
It has high quality and detailed training for affiliates
To join the Legendary Marketer affiliate program, you have to complete the 15-day online business challenge and you can join here
Clickfunnel Affiliate Program – Clickfunnels is a company that makes a lot of people rich and here is why I like their affiliate program;

They have more than one product to promote some are free
They have monthly subscription products that can make you money with no extra effort from you
They have a good support
They have a variety of products like books, courses, and software
Join Clickfunnels affiliate program here
Activecampaign – Email marketer autoresponder which any business owner must-have. Here is why I like the Activecampaign affiliate program;

It has a name in the market and you won't be having a problem promoting it because most marketers heard about it
It gives you everything you need to promote
It has a good commission percentage
The only thing is, you can't promote ActiveCampaign unless you buy a plan which is a good thing, so you promote a product you are using
Join the Activecampaign affiliate program here
There are a lot of affiliate programs you can join in your niche but, the above is just to give you good examples. you can also download a list of affiliate programs free here
PROMOTING AFFILIATE PRODUCTS
As I mentioned above, finding products, learning affiliate marketing, and joining affiliate programs is the easy part and you can control it because it depends on you and how active you are in pursuing it.
Now, we come to the part of promoting products and generating traffic when a lot of beginners struggle in getting right.
To start, let me give you general guidelines if you are a beginner and tell you about mistakes I make when I started;
Promoting a product means showing people what you have to offer and generating traffic because, without traffic, your business is dead
Focus on one or two methods of generating traffic to start then when you master them, you can add other methods
Don't be deceived by shiny objects because the internet is full of those.
Avoid shortcuts because it hurts your business in the long run, and stick to what works
METHODS OF PROMOTING AFFILIATE PRODUCTS
I am going to give you a list of methods of promotion and you can start with what you are comfortable with until you master it then add another method
PROMOTING ON SEARCH ENGINE
A search engine is any platform where people search for things to buy, to learn, or for any other purpose
Search engines are a lot but, I will talk about three of them here (Google, Youtube, and Pinterest)
1. Google
Google is the number one search engine on the internet and to use traffic from Google, you have to do the following
Have a website/blog post which is a simple thing to do
Rank your articles on Google so when people search for something, your website is on the first page of Google and people click on it
This is not a quick or easy thing to do because that requires two things
Writing a lot because Google likes useful and unique contents
Learning and implementing SEO which means Search Engine Optimization simply, giving Google what it wants
This might require you to use one of the SEO tools
Let's say for example you are promoting running shoes for men. Let's plug that term in Google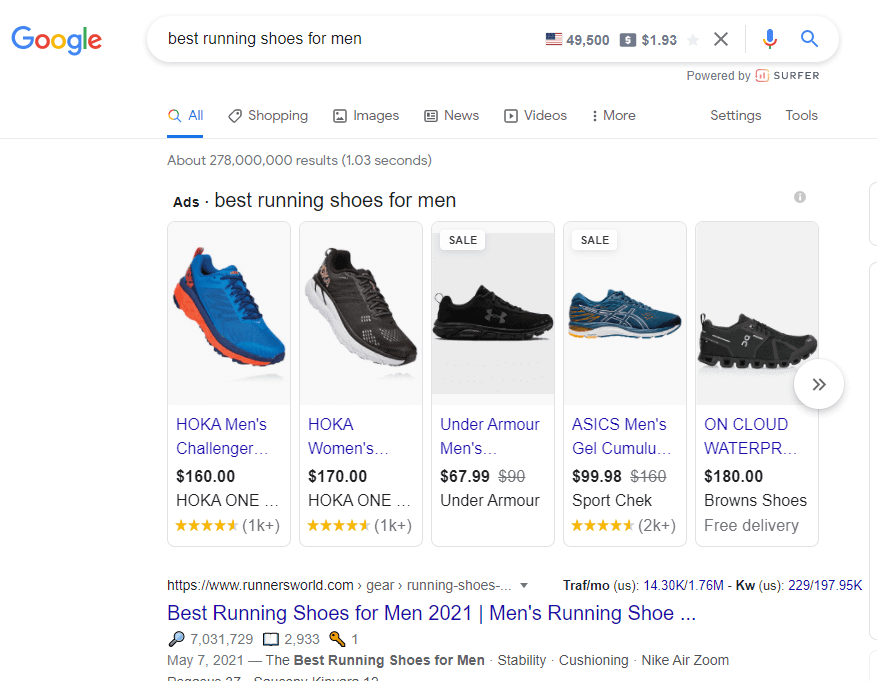 There are 278 Million results who are competing with you and you have to beat them all to be on the first page one Google
The point is, if you are going this route, you have to be patient and give it time while you are adding new content and building the authority of your site
2. Youtube Videos
If you are not shy on camera, this might be the best method. Simply make a review of videos of products and put your affiliate links in the description below the video.
Remember, there are three people involved with this process, the buyer, the seller, and you as an affiliate marketer. If everything went right, all three must be happy.
The seller sells products
The buyer buys the products he needs and gets useful information from you to help him in buying decision
You as an affiliate marketer make commissions
Let's go on Youtube and search for the best running shoes for men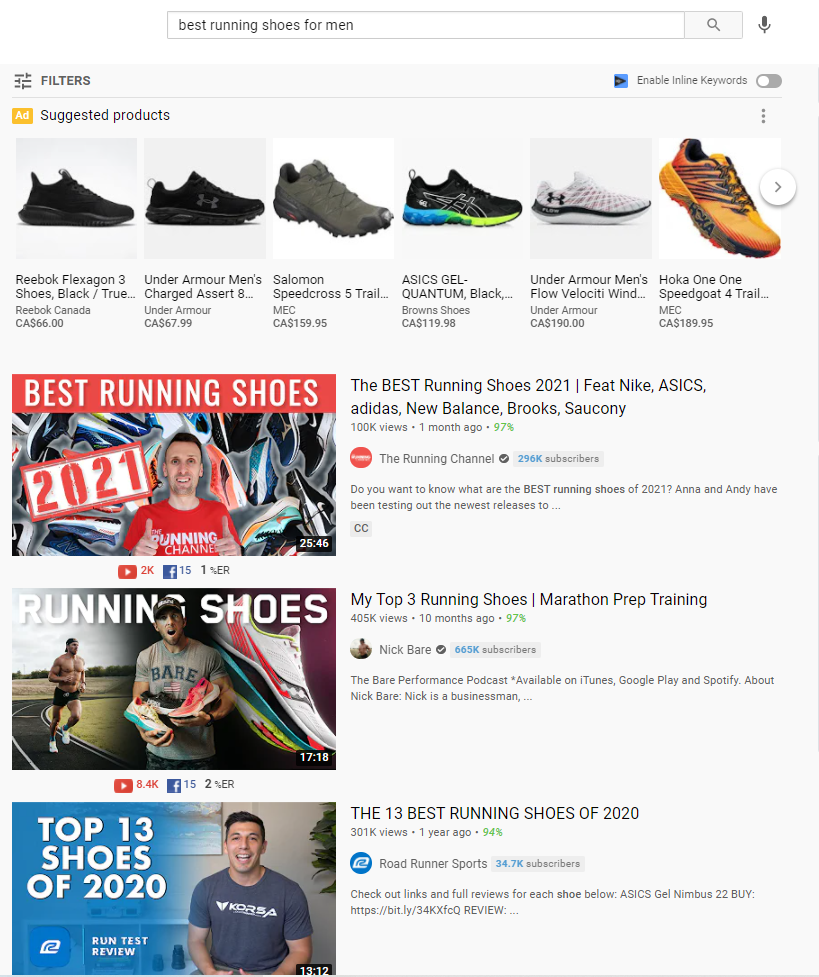 All the videos you see above are for affiliate marketers who are doing exactly what I mentioned above.
Let's open one of them and see. You will find these people are giving review of these running shoes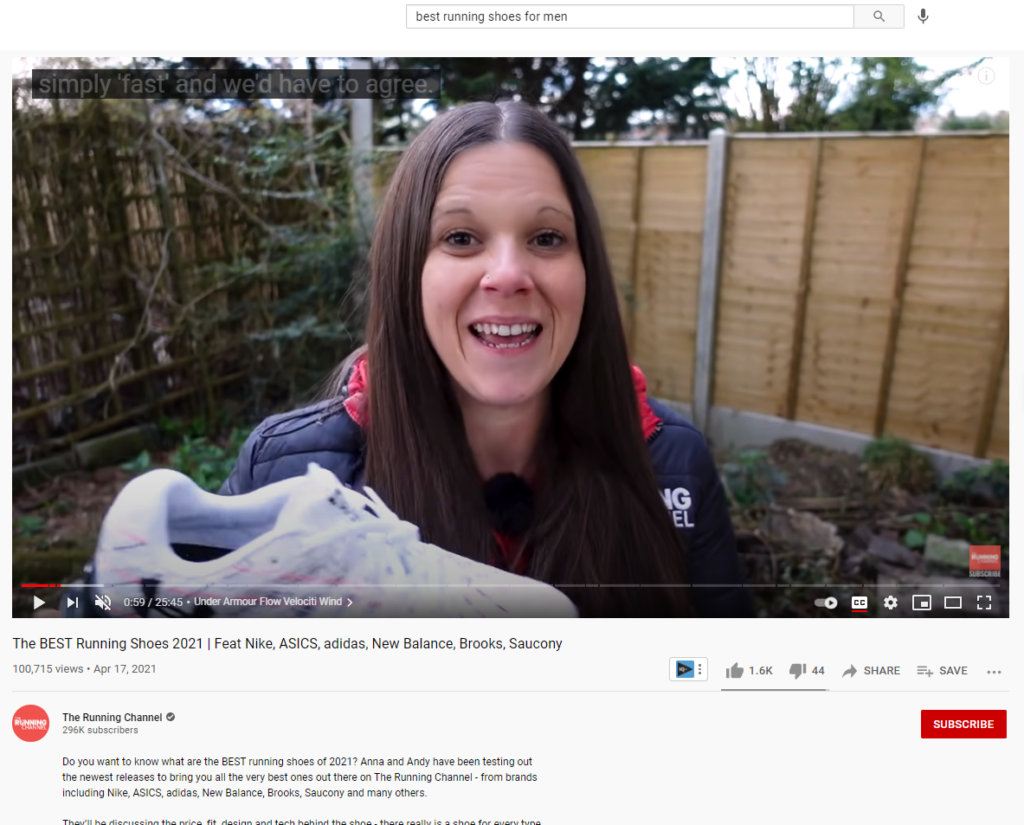 But, if you look at the description below the video, you will find affiliate links so people can click and buy, and the affiliate marketers make commissions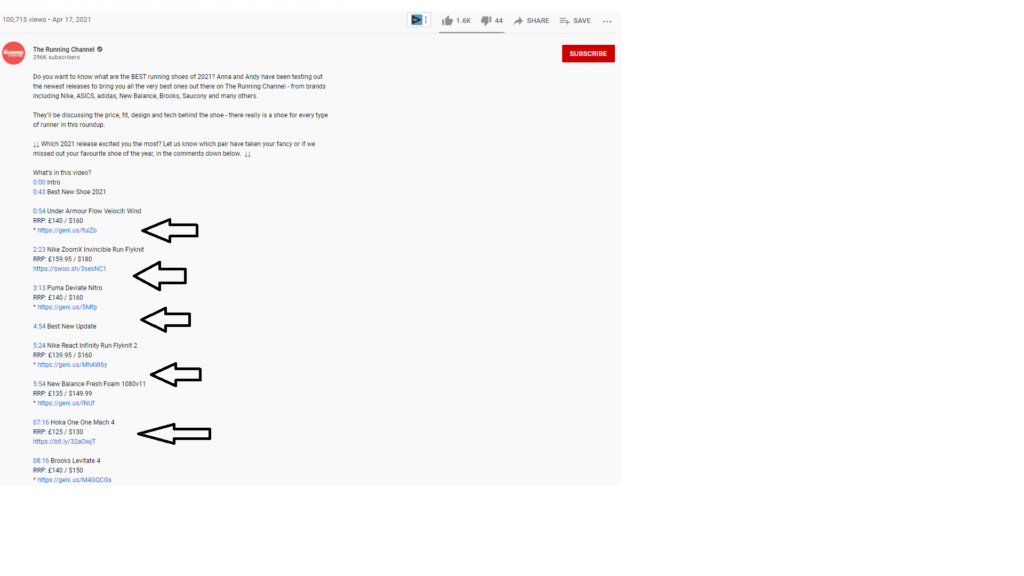 3. Pinterest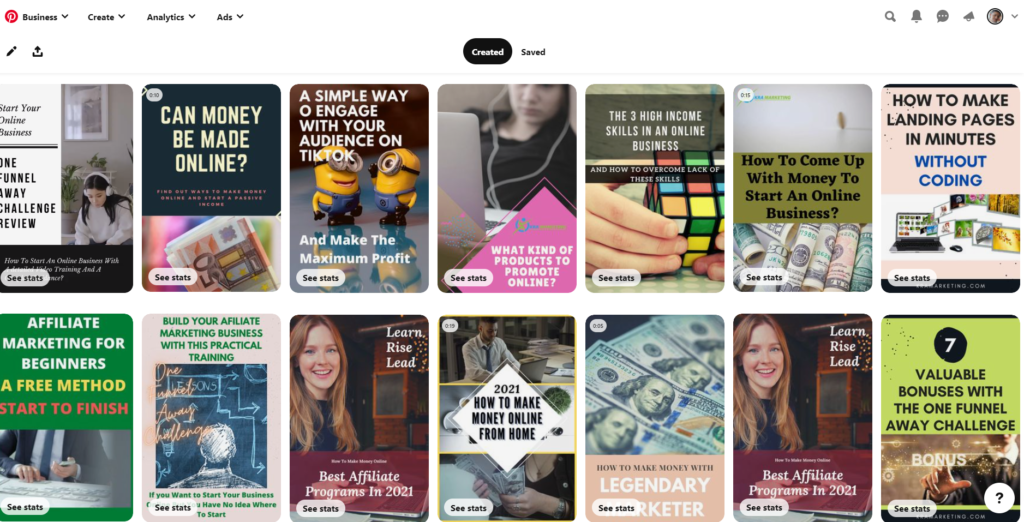 Yes, Pinterest is a search engine where people go and look for things and make a purchasing decision.
Pinterest is a picture-based platform where people look for pictures that are called pins. When people click on those pins, they get forwarded where you want them to go like your blog or even an affiliate sales page
There are two things I like about Pinterest;
They allow affiliate links
They don't want to keep users to the Pinterest platform, rather, they want users to find what they are looking for even if it is an affiliate page.
It is easy to make professional-looking pins using Canva and I talked about the whole process HERE
Here is my Pinterest account to have an idea of what I am talking about
IMPORTANT FACTORS TO BE SUCCESSFUL ON PINTEREST
You have to pin a lot and on a daily basis which can be a little boring and labor-intensive. But, you can use apps like the Tailwind app to do that for you
You have to post/pin all kind of pins like a regular pin, stories, videos
You have a higher chance of success if you direct users to your blog posts instead of to affiliate sales pages.
Since I started using the Tailwind app, the impression of my pins increased dramatically. See the graph below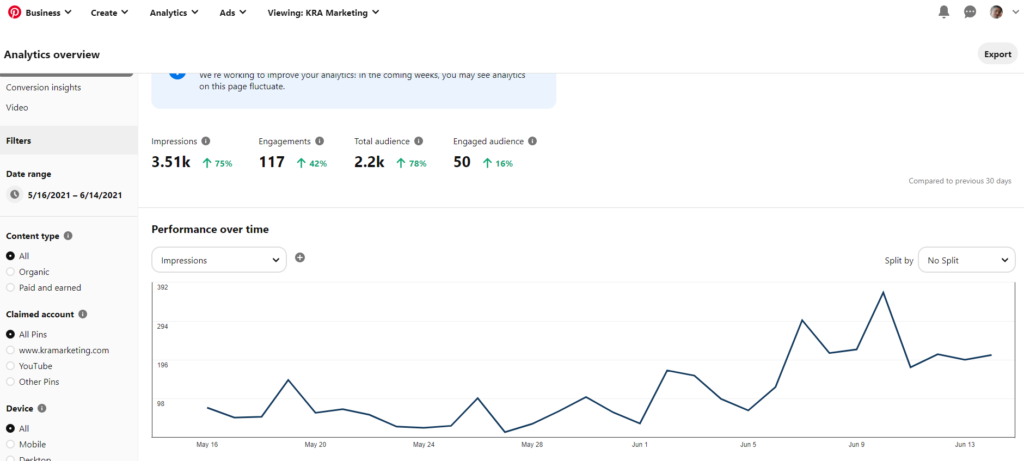 4. PROMOTING ON SOCIAL MEDIA
When it comes to social media, it is all about keeping people engaged and giving them attractive content.
But, the return or effect can be seen quicker than the effect of search engines.
There are many social media platforms but here, I am going to talk about Facebook Groups because that what I have experience with.
5. Facebook Groups
It is free to create your own group or join other groups in your niche.
What you do is, help people by answering their questions and showing them products that can solve their problems.
It is also very important to make your personal Facebook page work for you by inviting people to your group with cover pictures and helpful posts. See my personal Facebook page below how I make my group known and invite people to it.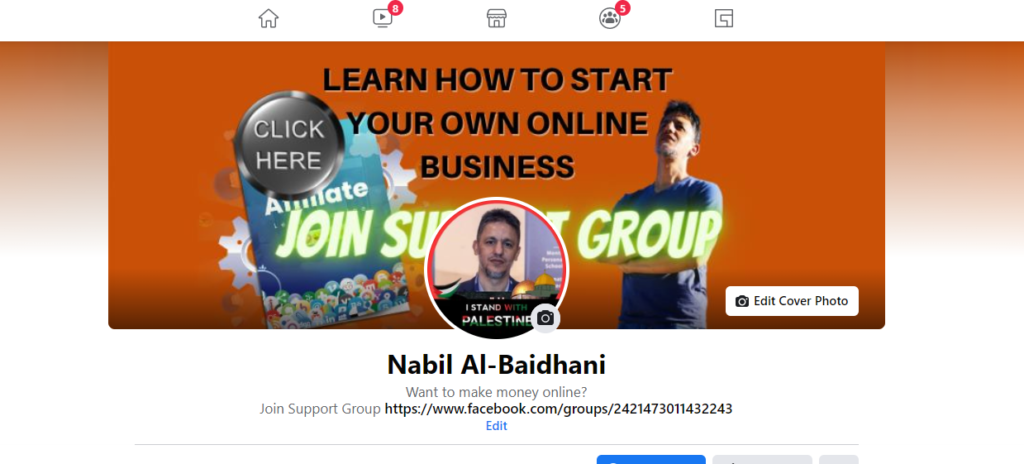 At the beginning of starting your Facebook group, you have to be active and post a lot of helpful content, but when the number of members increases, you don't have to be as active because members help each other. You can join my group here.
You have to gain the trust of the group members over time by giving them helpful content, then, if they trust you, they buy anything you have to sell in the future.
6. Instagram
Promoting on Instagram can be lucrative and passive but, you have to do it continuously in order to get the maximum value from it.
The only thing I don't like about Instagram is you have only one link to include in your profile and you can forward people who are interested to see what you have to offer to only one link.
To overcome the labor-intensive task, you can use the tailwind app to schedule posts also to start, you can hire influencers to get your account going.
7. Promoting On Other Platforms
In this section, I want to talk about two huge traffic drivers if done right. Forums and Q and A websites.
Just think about it, people go to these sites to find a solution for their problems or improve their situation. If you can show them the solution through a product you are promoting then it is a win for you.
Remember, your job as an affiliate marketer is to help people find solutions for their problems.
8. Forumes
Forums are sites where people ask questions, exchange ideas, and help each other. Some forums are for certain niches and some are open to all niches.
Here is what you do;
Join forums in your niche
Find posts for people who are looking for help
Give an honest answer and try to help them
When you are established as a contributor on that forum, sometimes include links to products you are promoting
This process takes a little time but, is so with anything that is free but working.
9. Q And Answer Sites
Again, these question-and-answer sites where people ask questions and others answer. My recommendation for these kinds of sites is Quara.
On that site, people ask all kinds of questions from how to cook an egg to how to make a rocket. See my account. So far, I answered more than 1.2K questions and I have more than 215K views to my answers.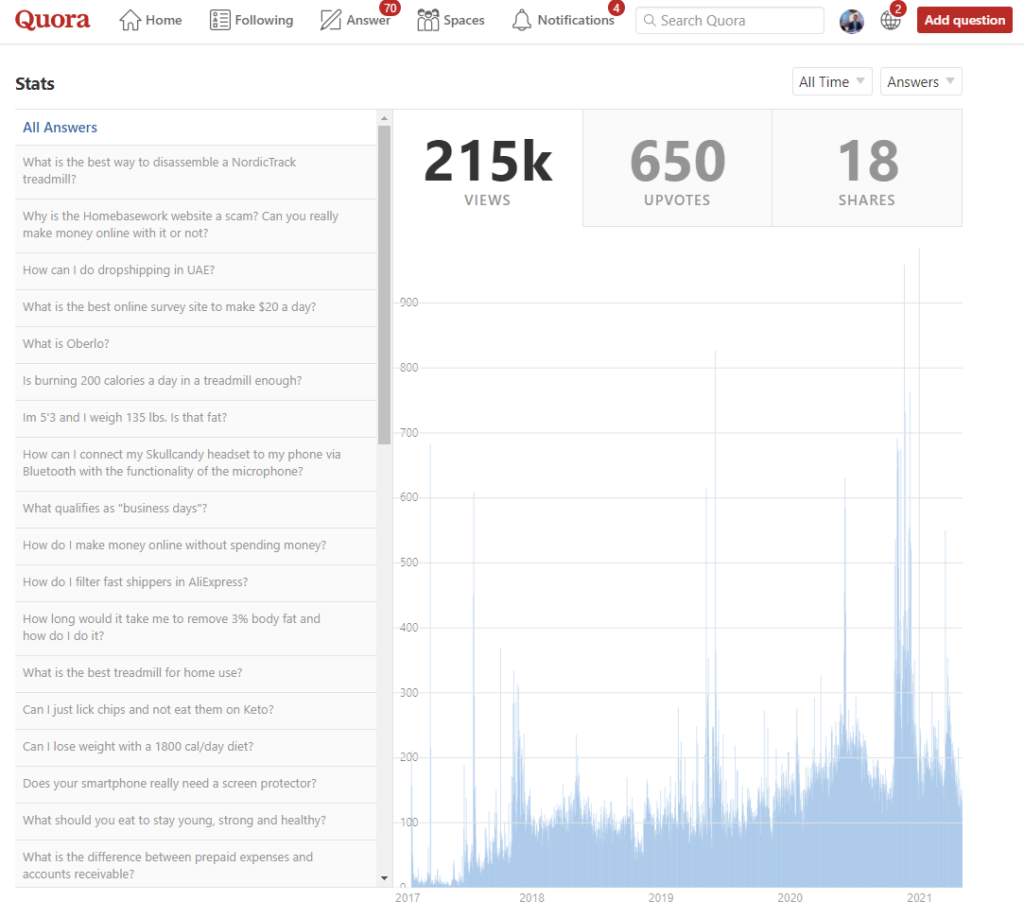 In many of these answers, I include a link to my website, affiliate offer, or my Youtube video. let me show you an example;
Someone was asking if Legendary marketer is a scam, I gave a valuable answer and included a link to my website. Remember, your answers will be online forever and you can get a lot of traffic from it.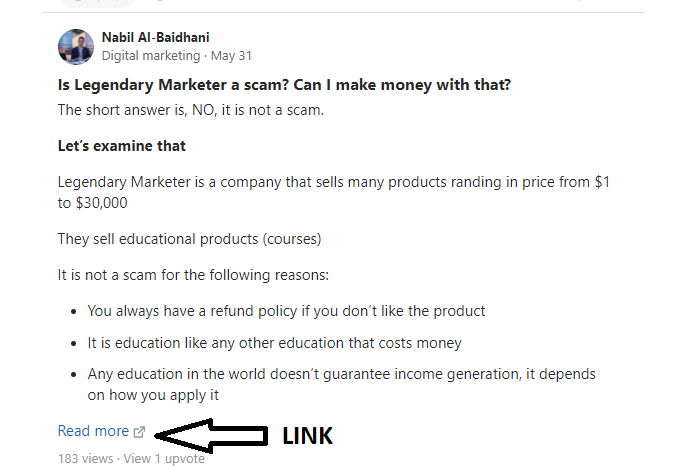 10. Email Marketing
Email marketing is one of the most effective ways to promote products and make money. Big companies like Amazon, Walmart, and others use email marketing all the time to promote products.
When using email marketing, here are important factors to consider.
Make sure your emails don't land in the junk folder – This can be achieved by choosing a good autoresponder in the market and you have a lot of og choices to do that.
Use proved email subject lines – This ensures that people open your emails because if no one is opening your emails, no matter how good the product you are promoting is, you won't make money.
AFFILIATE PROGRAMS I DON'T RECOMMEND
Most affiliate programs don't have any conditions but some do like the following:
They require you to sell a certain amount in a certain period. Like the Amazon affiliate program, you have to make at least three sales in three months. That sounds fine and a lot of people are making a lot of money with it, but you as a beginner, won't have a lot of traffic to start, and making three sales won't be easy. You better wait for a little until you have increased traffic to your site before you join Amazon as an affiliate.
Affiliate Programs with very little commission. You don't want to be spending a lot of time and effort just to make pennies. Choose affiliate programs that give you high commissions percentage
FINAL THOUGHT
Starting affiliate marketing doesn't have to be complicated or hard. It takes a little work at the beginning then it becomes less work as long as you follow the proven method to work and don't invent the wheel.
Simply, learn, apply, then rise.
know what affiliate marketing is, join affiliate products, then promote products. This is how to start affiliate marketing
All you need is the right tools and the right method. If you need a little help, watch this free video.
However, you should also consider affiliate marketing pros and cons before deciding to start your journey as an affiliate.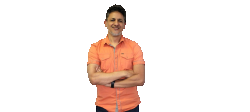 Latest posts by Nabil Al-Baidhani
(see all)