Legendary Marketer's Products (What Do They Offer?) 15 Day Challenge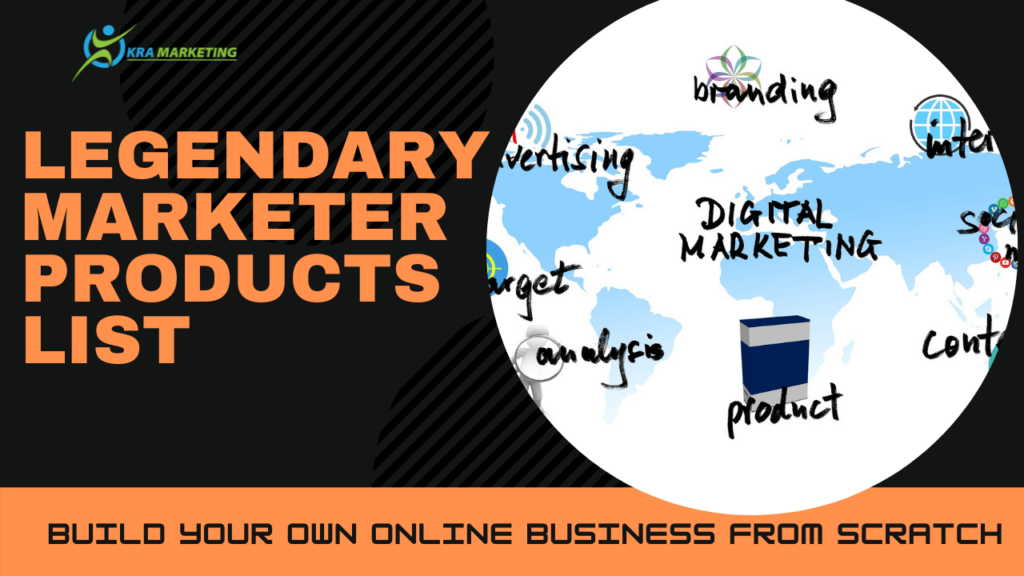 In this post, I am going to show you a list of Legendary Marketer products, show you exactly what they do and how you can use them to your advantage.
With the huge hype that Legendary Marketer created in the market, it became a little complicated for some people to know what they offer and how they can help marketers start or advance their marketing courier. So, without much fluff, let's get started and see a list of these products.
LIST OF LEGENDARY MARKETER PRODUCTS
The 15-day online business builder challenge is one of the most popular products of legendary marketer and one of the most sold.
It is 15 video training to start an affiliate marketing business online that is packed with valuable content presented by Dave Sharpe the founder of legendary marketer and the person who made more than $200M in affiliate commission.
The 15-day challenge is a good way to start affiliate marketing without breaking the bank since it costs only $7 and the training is high quality.
The challenge is action-oriented that saves you countless time and money in figuring out where and how to start since it is designed for those who want to start a profitable online business but don't know where to begin.  
With the 15-day business builder challenge, you will be able to launch your online business in 15 days
Summary Of The 15-Day Business Builder Challenge;
It focuses on high ticket products
You will have a dedicated business coach if you choose to have one
They show you how to do things through videos instead of telling you
You have 30-day money back guarantee
The 15 second free leads training is the second most popular course and product of legendary marketer, and the cheapest one.
It is all about driving unlimited traffic from TikTok to your website or to anything you want. I am sure by now, you know the power of TikTok and how people are making tons of money by driving traffic from TikTok.
The training is 5 video training presented by 5 affiliate marketers who found great success doing this and talk about their experience, what worked, and what didn't work for them.
The training covers all aspects like finding video topics, setting up your profile, figuring out what people want, and many more.
The price of the training is $1 with a 30-day money-back guarantee.
3. LEGENDARY MARKETERS CLUB
This legendary marketer product is a monthly subscription-based that costs $30/month and it can give you the following advantages;
If you are a legendary marketer affiliate, it gives you a commission percentage of 40 to 60% instead of 10 to 30%
Access to unlimited weekly marketing training
Access to an exclusive interview with Kevin Harrington from Shark tank
Many more
If you are an affiliate for a legendary marketer, this membership is a must since it takes your business and your earnings to the next level.
You realize the difference it makes when you sell a high ticket product, the percentage of earning between a member of the club and a non-member is uncomparable.
The Omni-Branding Formula is a video training presented by Dave Sharpe himself including some worksheets and reading material.
The Omni-Branding formula is all about branding and making your business or name known all over the internet and for you to be everywhere to dominate the market.
That sounds like a lot of work, but the technique depends on creating a piece of content and repurpose it to be used on different platforms.
At the end of the day, the training aims to teach you how to create seven days worth of content in one hour. 
This legendary marketer product costs $47 but packed with value and bonuses
The training consists of six modules;
The Omni-Branding Formula Foundation
How To Find Your Million Dollar Message
The 5-Minute Topic Hack
My Complete Equipment List
How to Outsource Everything For Pennies On The Dollar!
TECHIE-HOW-TO SCREENSHARE TUTORIAL WITH DAVID SHARPE
5. THE INSIDER'S GUIDE TO AFFILIATE MARKETING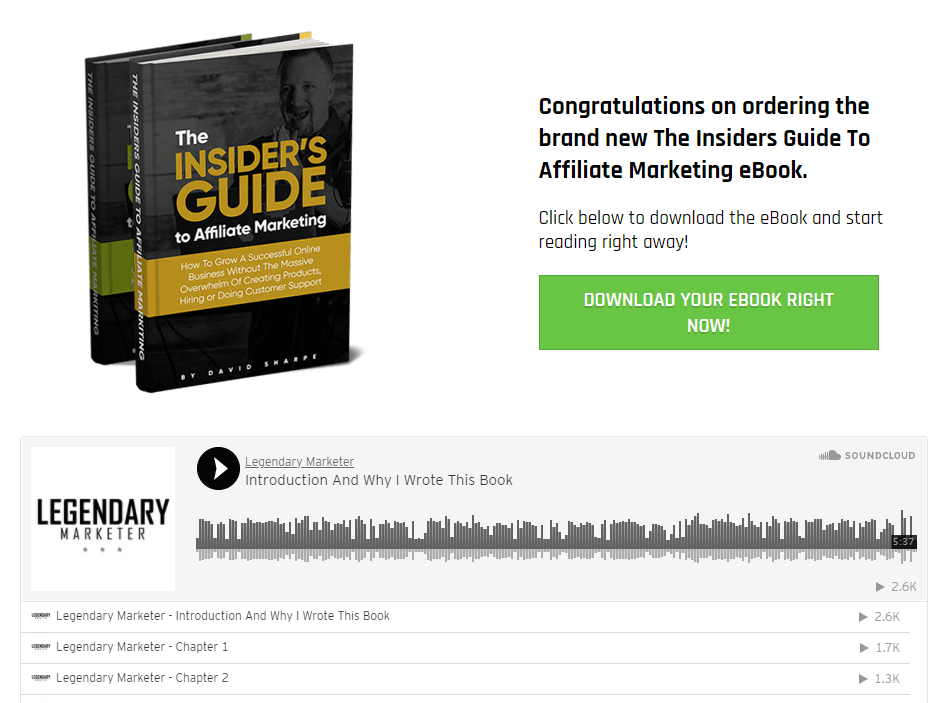 Insider's guide to affiliate marketing is a complete guide to affiliate marketing as the name suggests and it comes in two versions;
Ebook
Audiobook
It costs $1.99 for both which is very cheap.
The book contains 3 sections, The foundation of success, affiliate domination, and the foundation longevity. Each section contains several chapters.
The book gives a complete road map from choosing a niche to selecting products and making sales with content that you create to drive traffic to your offer and to your content.
It also explains why affiliate marketing is the best form of an online business giving you many reasons for it.
The book contains 92 pages and comes with a 30-day money-back guarantee
Copywriter's Playbook is an audio and PDF book teaching beginners how to write better and how they can see results with the writings they do.
It teaches writing pretty much everything like blog posts, Facebook ads, landing page contents, and much more.
This legendary marketer product contains eight modules and a lot of bonuses all of that for $1 with a 30-day money-back guarantee.
In this book, Dave Sharpe teaches from his own life experience and shows what worked and didn't work for him.
At the end of the day, the book teaches you how to craft an offer no one can refuse and surely makes you more money.
The most I like about the product is, it has the text and audio version
Traffic University could be the most valuable product or training you purchase if you are running paid ads on any platform. If you are running paid ads, and you see your ads getting nowhere by generating leads for you, then this legendary marketer product is for you.
The course focuses on three areas;
Writing effective ads and creating campaigns
Creating landing pages
Customizing the ads to agree with the policies of the platform you advertise on
The training includes nine different courses lead by top advertisers who are leading the market. Each course can be sold for hundreds of dollars each, but this bundle is sold for $1,497 one-time payment as a bundle.
Traffic university teaches advertising on platforms like Facebook, Google, Youtube, Instagram, and others
8. AFFILIATE MARKETING BUSINESS BLUEPRINT
Affiliate marketing business blueprint is all about promoting other people's products for a commission and the training is aimed at those who want to make this type of business a full-time income.
This legendary marketer product is not cheap, it costs $2,500 one-time payment, so if you purchase this, you have to make sure it is what you want to do for a living.
This training aims to make you a passive income, meaning you wake up on a daily basis and you find out you make money while you were asleep.
In order to reach that level, there is a lot of work and procedure to be done, and that what the affiliate marketing blueprint teaches you on doing.
9. DIGITAL PRODUCTS BUSINESS BLUEPRINT
Digital Products Business Blueprint is all about starting a six or even seven-figure business from your kitchen table. 
Let's have a comparison of physical and digital products business, when it comes to physical products, you have major expenses like creating the products, inventory management, shipping, customs, taxes, and many more.
When it comes to digital products, all you need is a laptop, internet connection, and a kitchen table.
Also, for a digital product, once it is created it will be there forever with no management needed to bring you money day in and day out.
This training shows you how to do this kind of business from start to finish and getting you your first sale and many more after that.
The course costs $2,500 one time payment with three days money back guarantee
10. COACHING & CONSULTING BUSINESS BLUEPRINT
Coaching and consulting business blueprint is needed in this day and age more than ever because there is an information overload on the internet today.
People are consuming an overwhelming amount of information each day and yet, to find what they are looking for and continue the search the next day. 
As you know, today, anyone can publish anything anytime on the internet and people don't know what is working and what is not.
For that reason, people tend to use coaches and consultants to help them figure out that way, where you come in as a consultant.
coaching and consulting blueprint teaches you exactly how to do that, starting from selecting a niche, to delivering help, to making money.
The beauty of this business is the minimum overhead since all you need is a laptop and internet connection. meetings can be done online through zoom, invoicing and payment can be done through PayPal or Stripe, so you could be making a lot of money from home this way.
11. EVENTS & MASTERMIND BUSINESS BLUEPRINT
Every time I see this legendary marketer product, I remember what Bill Gates said "If your business is not on the internet, then your business will be out of business"
However, there are still people who want a human touch, want to meet people, and want to network. The event and mastermind business blueprint is aimed to teach you how to facilitate, plan, and create the event with the minimum cost possible and for your profit margin to be greater than 100%
If you are a person who likes to speak in public and motivate people, this legendary product is for you.
12. LEGENDARY MARKETER MASTERMIND
Legendary Marketer Mastermind is definitely the most intense and epic product legendary has. The training is done in a mansion, top marketers gathered in one room exchanging experience and showing what works and what it doesn't.
This training is not for everyone since it costs a fortune, but if you can afford it, it is well worth it.
For complete honesty, I have not taken this training yet, but I hear a lot of good things about it.
13. CLIENT COACHING PROGRAM WITH DAVE SHARPE
Dave Sharpe is a person who made more than $200 million in affiliate commission and the founder of the legendary marketer. being coached by him personally means something.
With the private client coaching program, you will get the following;
All legendary marketer products with no exception
Meet with Dave Sharpe and a small group live to be coached on a monthly basis
It is like Dave himself building your business and making sure it makes money and keeps growing.
Here you have it, a list of legendary marketer products, what are they, and how much they cost so you can make an informed decision if you plan to join them. 
If you have more questions about legendary marketers or legendary marketer products, I have FAQ here.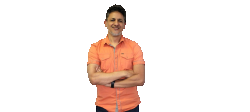 Latest posts by Nabil Al-Baidhani
(see all)