The Complete Guide To: How To Make Money With Legendary Marketer?
When starting a new business, most people tell you you have to decide on the niche then find a product to promote.
That is fine and working well for many people but, for me, it is easier to find a product first then find customers to promote that product to. This way, as an affiliate marketer, all you have to do is, put a product in front of people who are looking for it and it makes your job easier.
There is no shortage of products to promote in the market, but, for me, the product must have three criteria 
Must solve a problem as per your best assessment
Must have a "buzz" around it in the market
Must have a sellable record or result
I am writing this article on Dec 1, 2020, and from what I can see, Legendary Marketer has all the three criteria I mentioned above.
It solves a problem by getting people to where they want to be in making money online with affiliate marketing, It has a "Buzz" around it since countless people are talking about this product, and it has a sellable record since people are buying it because you don't want to spend a lot of time on it just to find out that it doesn't sell.
WHAT IS LEGENDARY MARKETER?

Legendary Marketer is an organization that teaches people how to make money online with affiliate marketing. It focuses on high ticket products however, it also has some low ticket products.
I don't want to go to details talking about LM because that is not the topic here but, I have a complete and detailed review here if you want to read.
What we will focus on today is How to make money with legendary marketer; so, the first thing we need to do with this or any other product is, to know the product.
Legendary has many products but, our entry point in becoming partners for Legendary Marketer is a product called The 15-Day Online business builder challenge because we have to complete this challenge to be able to apply to become partners.
I have a complete review of the challenge here if you want to read more
WHAT IS THE 15-DAY ONLINE BUSINESS BUILDER CHALLENGE?
The 15-Day online business builder challenge is a 15 day video training where you learn affiliate marketing online that focuses on high ticket products.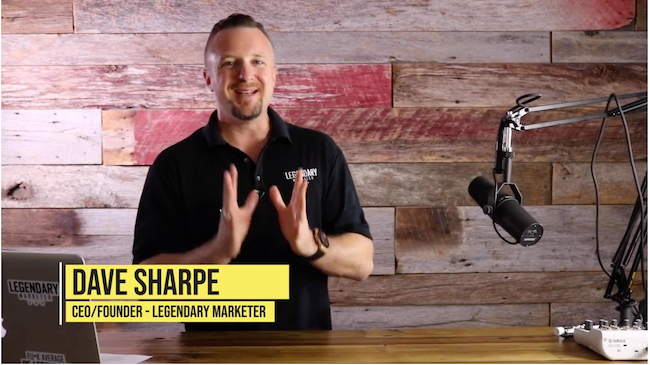 Here are the main points you need to know about the training;
The completion of this challenge is a requirement to becoming a partner of Legendary Marketer
It takes 15 days to complete the training
You will have your personal coach in case you need help or have questions
The training is video lessons showing you how to do everything step-by-step
It costs $7 
HOW CAN I PROMOTE LEGENDARY MARKETER WITHOUT A SOCIAL PROOF?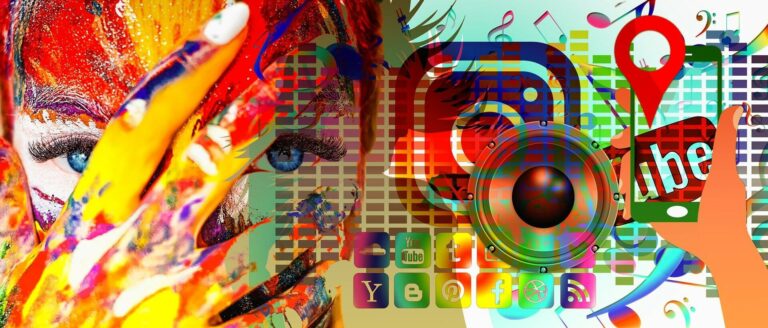 The question here is, how can I promote LM if I have never made any money online? 
That is a good question that I asked myself when starting but, there are two things to be addressed here;
Legendary teaches you how to make money online and it is an earn while you learn to model, so, once you make your first dollar, you become your own social proof, you will be more relatable than those big gurus who are flashing their expensive watches and taking pictures in front of their fancy cards. That's why you will be more believable to those who are in your situation. They would trust you, they buy from you.
You will be promoting low-ticket products, something that costs $1 or $7 at the most which not that difficult to sell at all. but, don't forget these products are meant only to get a potential customer into the door which might lead to thousands of dollars of commission.
So, the point is, you can sell and make money even if you have not made a dollar online in the past.
That is another good question. You buy LM's product and promote it to others…..
There is a fundamental difference between LM and MLM. With MLM or Network marketing, your income depends on the effort of Tier 2 or your team, while with Legendary Marketer there is no Tier 2 and you don't have a team.
Another thing is, with MLM you have to promote that particular product while with LM you are free to promote other products outside of Legendary and still make money.
Simply Legendary is affiliate marketing education.
WHO IS MY TARGET CUSTOMER?
Just ask yourself the following questions and you will answer the question ……
Who wants to make extra money?
Who wants to quit his/her job and start his/her own business?
Who wants to be his own boss?
Who wants the freedom of working anytime and anywhere? 
With this economical uncertainty and the move to digital presence, that is everyone
So, everyone is your potential customer.
HOW CAN I PROMOTE LEGENDARY MARKETER?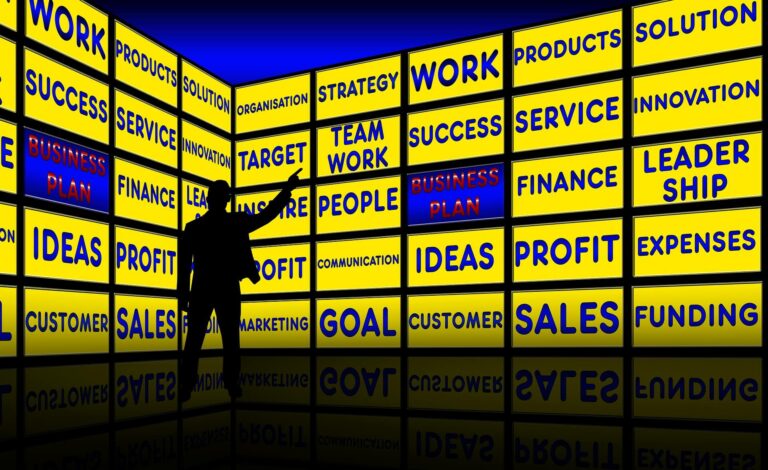 There are many ways of promoting any product, some are free and some paid. In this article, I will focus on free methods;
TikTok – This method is the trend these days. People are making a fortune promoting LM with 15 and 60 seconds videos. This is the opportunity today that you need to jump on if you really want to take advantage of. Legendary also has training on this that costs $1
Youtube – Again, it is free and the reach is amazing if you are not shy on camera. It is not as fast as TikTok, but, if you are patient, you can see big results.
Blog posts – Just like what I am doing here, make a website, write about LM, and wait for Google to rank your article. This is a slow process but, if you are consistent, it pays off
Email Marketing – This is something that is thought of by Legendary in the 15-Day business builder challenge. All you have to do is, collect email and send your offer to your subscribers through email just like what Wal-Mart and Amazon is doing
Facebook Groups – You can create your own Facebook group free and have subscribers who trust you, then, promote products.
Having said that, it is always better to combine two or three methods that are mentioned above. I know it sounds hards if you never tried that before but, that is what exactly thought in the 15-day business builder challenge which you need to complete in order for you to be able to become an affiliate for LM.
LEGENDARY MARKETER RANKING LEVELS & SCOREBOARD
One of the things I like about Legendary marketer is ranking levels and scoreboard.
This is a nice encouragement to affiliates to keep going and boost their efforts.
It is a ranking system that shows how much you made in commissions
Affiliate – This is someone who just started and made no commission income or less than $100
Bronze – This is someone who made $100 in affiliate commissions
Silver – This is someone who made $1,000 in affiliate commissions
Gold – This is someone who made $10,000 in affiliate commissions
Platinum – This is someone who made $100,000 in affiliate commissions
Diamond – This is someone who made $1,000,000 in affiliate commissions
As the name said, this scoreboard is updated on a daily basis to show the leading 15 legendary marketer affiliates today, last seven days, and last 30 days
Every time someone ranks or makes high ticket sales, Dave Sharpe mention the name on Legendary's Facebook group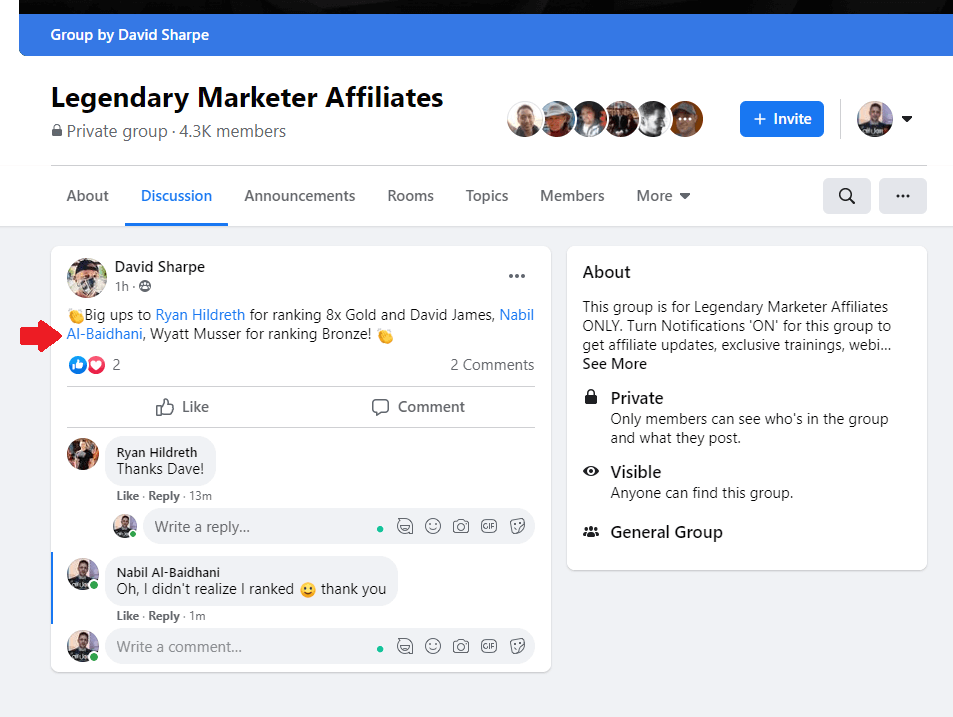 HOW CAN I START PROMOTING LEGENDARY?
As I said above, the only way in becoming a partner of Legendary Marketer is by completing the 15-Day business challenge which costs $7
you will learn everything you need to know about affiliate marketing then you will be eligible to apply to become a partner. You can start by clicking the button below 
The steps above are the practical steps on how to make money with legendary marketer in 2021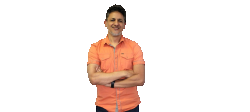 Latest posts by Nabil Al-Baidhani
(see all)